What possible reason could Neil Young have for continuing to work at such a pace? A perennial inspiration to all subsequent generations of guitar-based music, Young is also the world's most prolific septuagenarian rocker and it's not even close. Since firing up his archival series of live recordings in 2005, he's put out at least one release every year, and most of those years have seen a studio release of brand new songs. Of course, "new" is sometimes a stretch when it comes to the stringing together of guitar chords, but even when he's recycling well-worn musical themes, he's usually got a timely message to convey. Not that he's touring in support of any particular album; such concerns seem to have little bearing on his performance schedule.
The cheap seats for Wednesday night's show at the Riverside were $95 plus fees, virtually unprecedented for a Pabst venue, a preposterous fee to see a 73-year-old man with nothing to prove. Yet, with only seven U.S. dates on his calendar thus far for 2019, a capacity crowd of fans managed to squeeze this rare opportunity into their budgets.
Benjamin Booker was a last-minute announcement as the opening act, and if that was a strategy to benefit Booker, it was a good one; the place was more packed for his subdued warmup set than plenty of so-called sold-out shows ever get. "I only ever stole one thing in my life," Booker admitted. "I worked at a record store, and on my last day…On The Beach." He tempered his voice to a raspy whisper and kept it simple on acoustic guitar, allowing his lyrics to take center stage, and the remarkably respectful crowd felt it; his finale, "The Future Is Coming Slow," cut deep: "Even though computers are taking up my time / Even though there's satellites roaming in space / Even though my phone predicts the weather / We still can't help you."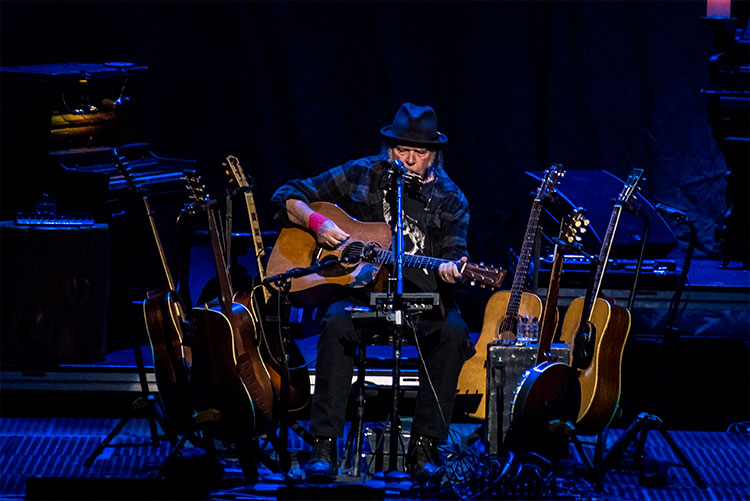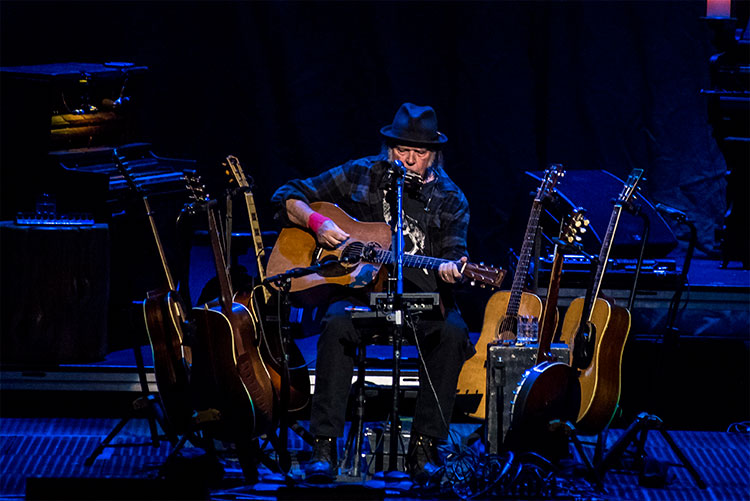 Unlike other elder statesmen, Young doesn't stick to a standard setlist night to night—he simply has too many essentials to choose from. The stage was set with a piano at each side and an organ in back, and in the center, a stool encircled by a full arsenal of acoustic guitars. After each song, Young would ponder his options, trying out different harmonicas, picking up one guitar and then another, or shuffling over to the piano. Despite his well-known political leanings, he didn't have much to say in between tunes, and he also didn't bother with any material from his most recent albums. Perhaps he'll get more fired up as the tour goes on, but he was in a fairly contemplative, sentimental mood in Milwaukee.
One exception was an unreleased song that may have been titled "Green Is Blue," based on its chorus. It was a plaintive environmental ballad, possessed of the poignant lyrical simplicity that characterizes some of Young's best work. Nestled in amongst classics like "Out On The Weekend" and "Cortez The Killer," it was a welcome reminder that Young isn't merely out here milking his legacy.
Of course, the older tunes got the biggest crowd reactions, and not just the big hits one might expect. "Out On The Weekend" and "Cowgirl In The Sand" got respectable hushed singalongs, and the Rust Never Sleeps deep cut "Thrasher" inspired some to rise to their feet in appreciation. It wasn't until the set was nearly over that Young ventured to pick up the electric guitar that was leaning up near the untouched organ. He cranked the volume and belted out "Ohio" before returning to the acoustic for a surprise mellow take on "Everybody Knows This Is Nowhere" and the all-too-brief "My My, Hey Hey (Out Of The Blue)" to close out the set.
Another presumably new song that arrived late in the set was a crushing commentary on old age and nostalgia that we won't hazard a guess as to its title. Playing delicately on the piano, Young seemed nearly overcome by emotion. The song fit nicely with the smattering of selections from 1992's Harvest Moon, particularly "One Of These Days," itself somewhat of an old-age musing—and that was 26 years ago. It can't be easy in the late twilight of such a long career to keep writing about the cruel passage of time.
But Neil Young is not like you or me. He has an unquenchable need to keep doing this, to walk away from pretty much anything else in his life in service of creative expression, in whatever mode and with whichever musicians he feels like collaborating with at the time. He's already given his fans more treasured songs than virtually anyone who ever picked up a pen; it's all been gravy for decades, really, but for Young personally, the quest for the next song is never over.