There are a lot of factors that can go into making a show a "can't-miss" event. Perhaps an artist is at the height of his of her popularity or is making an ultra-rare live appearance after years of seclusion. Maybe a band seemingly destined for arenas and international notoriety is playing a weeknight affair at a small club or neighborhood bar. Occasionally, there's appeal in seeing an act whose popularity has faded perform at a halftime show, fair, or under the beating sun at a free festival. Every now and then, though, a set of wholly unrelated factors that seem to have been thrown randomly into a scenario come together like a Mad Lib brought to life to produce a set of circumstances that, when combined, simply must be witnessed in person.
Some recent instances of these remarkable entertainment oddities include watching certified gold record recipient Bubba Sparxxx run down his hits on the patio of a Cudahy sports bar, seeing 2 Live Crew limping through a set at strip club, and seeing Pauly Shore weasel his way into a stand-up show in that same strip club's basement. These types of shows aren't easy to put your finger on, but you know them when you see them. The latest in this line of very strange and very specific "can't-miss" shows brought a modest crowd to the parking lot of the Hardee's in St. Francis on a Monday evening to watch Milwaukee's premier Elvis impersonator do his thing in the presence of vintage automobiles during the burger franchise's weekly Classic Car Show.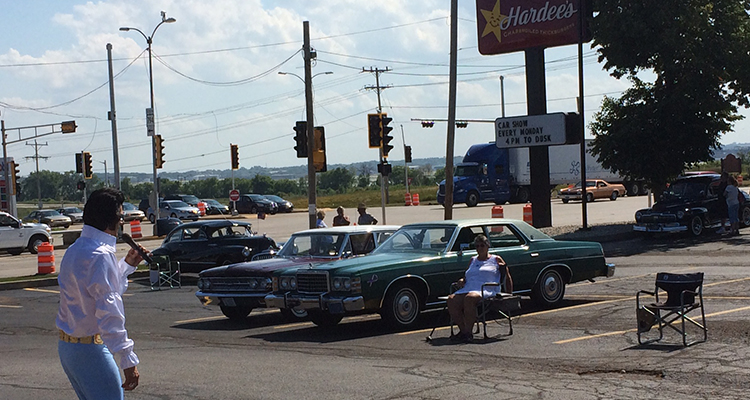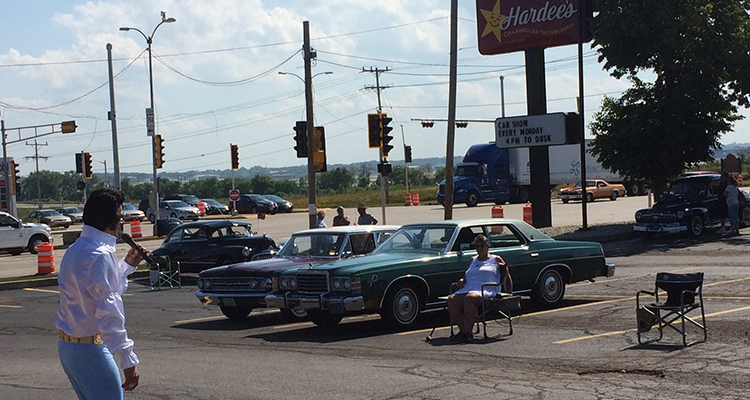 Billed as a 4 p.m. start, the parking lot of the perpetually struggling fast food purveyor was promptly filled with the distinct voice of The King himself—or The Burger King, in this situation—belting out Presley's 1970 single "Cold Kentucky Rain" before a crowd that already crept toward two dozen patrons, along with a respectable grouping of muscle cars, hot rods, and various other autos that qualify for blue collector plates. That molasses-y warble struggling to cut through the humid mid-July air belonged to Alan Graveen, a self-described "Elvis Tribute Artist" with 20 years of experience beneath his rhinestone-bedazzled belt. Over that time frame—which, based on appearance alone, seems to be just under half his life—Graveen has performed at senior events, weddings, corporate events, anniversaries, school dances, graduations, holiday parties, class reunions, birthdays, bar mitzvahs, retirement parties, and (as you already know) car shows.
In 2000, he added mobile DJ to his résumé, which showed when he smoothly transitioned the mix to "In The Ghetto." The somber song of poverty and "another hungry mouth to feed" on a cold, gray Chicago morning was an odd thing to hear on a 90-degree day in the parking lot of a business on the Cudahy/St. Francis border that sold an item called "The 1/2 Pound Ham 'N' Cheese Thickburger" that contained more than the recommended daily value of fat grams, but the Elvis du jour ably plowed through it anyway. He then made sure to yank the still-building crowd from the pit of despair he'd just placed them in by way of a peppy rendition of "Return To Sender" that found him leaping off the curb (that doubled as the unconventional venue's stage) to hug an elderly woman wearing an Elvis T-shirt and using his free hand to offer handshakes to classic car and oldies enthusiasts alike.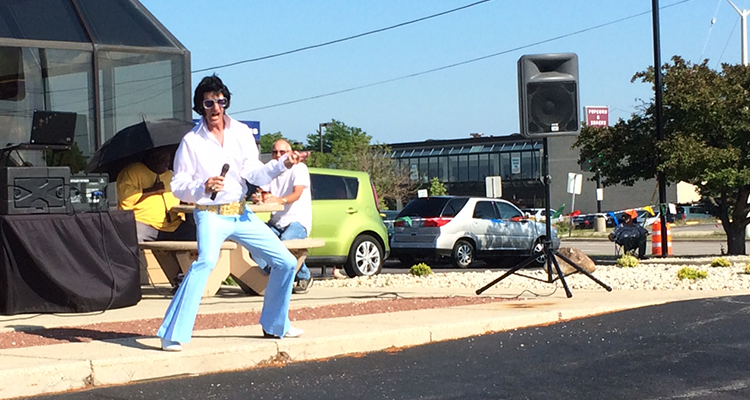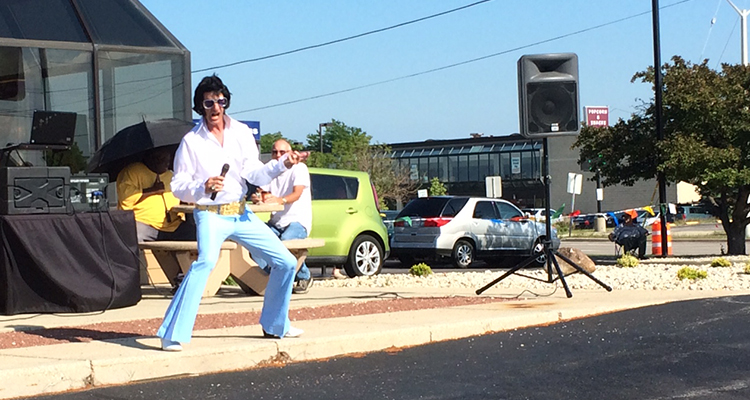 By the time Graveen tore into "Don't Be Cruel," he had Hardee's customers—at least those not already chowing down on Thickburgers and cheese fries—eating out of his hand. Donning a white satin dress shirt, baby blue bell bottoms, and an onyx pompadour he insisted was not a wig, Graveen was bobbing his leg, drooping his lip, and he even busted out a kick from time to time. The owner of TheStrictlyElvisShow.com was even bold enough to defy his domain name's guarantee and perform Elvis covers of Lloyd Price's "Lawdy Miss Clawdy" and Peggy Lee's "Fever" before, suddenly, Elvis left the building parking lot.
Minutes later, Graveen re-emerged clutching a Hardee's cup, no doubt taking advantage of the "$1 Ice Tea" special touted on the restaurant's exterior sign. In his absence, The Drifters' "This Magic Moment" played on the mobile DJ's modest speaker setup. Then, Chubby Checker instructed listeners to twist again. Some people stood up in their chairs and followed the song's command. One person chose to comply in the form of a twist ice cream cone. Even though Elvis was back, he wasn't performing. More songs came and went as he made the rounds and chatted with people in attendance, some of whom he knew by name and their go-to Elvis request. In total, more than 20 minutes passed, which makes sense for a show slated to run "4 PM TO DUSK." Finally, going with the car theme, "Greased Lightning" played, prompting The King to grab the mic and say, "All right, Elvis is coming right up, so hold on."
When John Travolta's last line drifted out into the lot, glided past the Blockbuster Video-turned-wing joint and into the suburban air, Graveen was back, hydrated, and ready to entertain. "There's nothing like a little grease," he said in perhaps the only situation that sentence could be equally applicable in three ways. Was he referring to the song? The food? The cars? Either way, he was right. The film's soundtrack remains relevant decades later. The hamburger, like the muscle car, was something both born and perfected right here in the Midwest. When separated, though, hearing a mix played by an Elvis impersonator wasn't an enticing prospect. There's a reason Hardee's struggles to cling to the fourth place ranking in the nation's collective burger preference. And as beautiful as some of the classic cars were, the collector plates also functioned as a strike against their durability and efficiency when compared to modern conveyances. Still, out there on the torrid asphalt of a suburban beef emporium among a museum of endangered cars and a karaoke King, it all came together to form something special.
As Graveen's voice wavered through "Burning Love," I, too, felt my temperature rising. An hour into an Elvis impersonator's performance at a classic car show at the Hardee's in St. Francis, I left the parking lot confident I'd witnessed something I'd never see again. I mean, unless I decide to go back when the same thing happens August 15.