In Sugar Ray's last known hit, 2001's "When It's Over," singer Mark McGrath asks, "When it's over is it really over?" For the SoCal pop-rock band, yes, it pretty much was, despite the two albums that followed between then and 2009. McGrath went on to host Extra and a variety of other television shows within the last 14 years, but as either a means of squeezing some residual '90s nostalgia from a world that's showed itself partially interested in taking a second sonic lap, or because he just missed playing music (maybe both?), the personable Sugar Ray singer founded the Under The Sun Tour in 2013. In the inaugural installment, McGrath's band was joined by Smash Mouth, Gin Blossoms, Vertical Horizon, and Fastball. Last year, Smash Mouth stayed on with Sugar Ray and were joined by Blues Traveler and Uncle Kracker on the tour, which made a stop at the 2014 Wisconsin State Fair.
Wednesday night, Under The Sun returned to the fairgrounds in West Allis. After—or perhaps between—cream puff consumption, stocking up on bath salts and dreamcatchers in the market place, watching pigs race, and eating things with the suffix "On A Stick" employed, a modest crowd approaching 750 or so sporadically made its way to folding chairs or metallic bleachers to see Better Than Ezra, Sugar Ray, Uncle Kracker, and Eve 6 reprise memorable songs from a transitional era of music that's not particularly known for its staying power.
Following a warm welcome "to a night of a special era of music" by McGrath himself, Eve 6 emerged at 7 o'clock sharp to play to about 200 people in the cruel light of day. Having its first number-one single when some members were still in their teens, the California trio and its style that careens between pop-rock and pop-punk was an outlier on the lineup, both in terms of age and sound. Now in their mid-30s, singer Max Collins and the newly-reunited original lineup kicked off Under The Sun with "Promise," the first single of certified gold 2001 record, Horrorscope. They kept the level of energy that was befitting of a much larger crowd up as they chased the opener with "Open Road Song" that's probably best remembered from the soundtrack of 1998 classic teen comedy Can't Hardly Wait. As a few more fairgoers filed in, Eve 6 broke format and played 2012 song "Victoria" and chased the dark semi-recent song with "Think Twice," the first and only single from 2003's It's All In Your Head, the band's major label swan song. "This song was in the only good movie Zach Galifianakis ever made," Collins said before playing "Anytime" from Out Cold, a snowboarding movie wherein Galifinakis' penis gets caught in a hot tub jet. As the late-summer sun dipped, Eve 6 (who openly considered these shows "a vacation") concluded a tight, actually enjoyable 30-minute performance with its two biggest songs, "Here's To The Night," and a crowd-pleasing rendition of "Inside Out."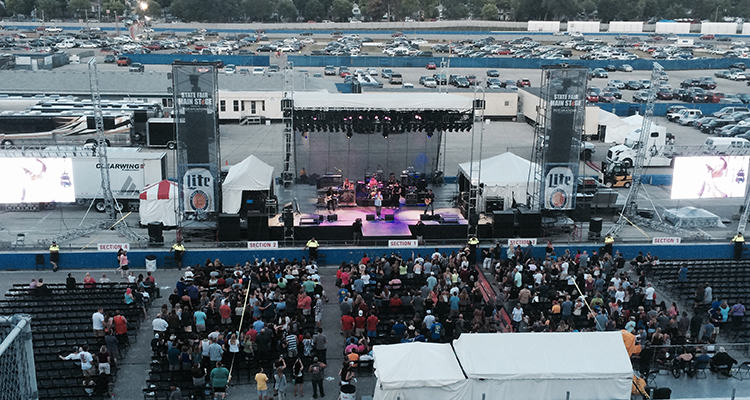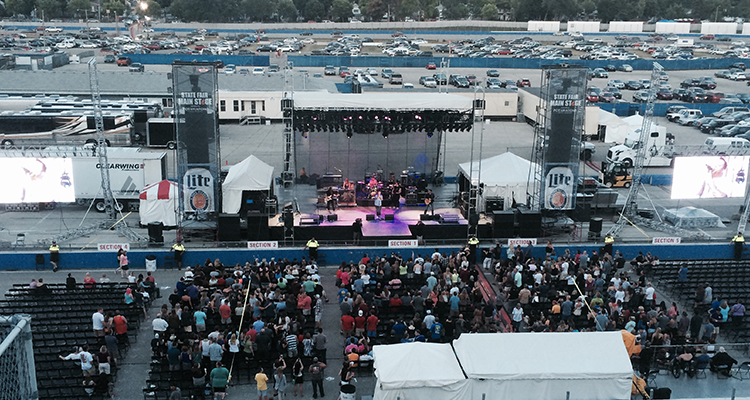 Any goodwill that Eve 6 provided was quickly nullified by one Matthew Shafer, who is better known to your dad as Uncle Kracker. As McGrath noted in his introduction, Kracker actually had a song chart in 2010. Despite his modern relevance—at least compared to the rest of the bill—the Detroit singer lacked material. Of his paltry nine songs, four were covers, including Kid Rock's "All Summer Long" and Kenny Chesney's "When The Sun Goes Down" (both of which were co-written but not popularized by Uncle Kracker). Kid Soft-Rock and his backing band essentially filled time between "Follow Me" and the aforementioned 2010 song "Smile" with labored renditions of Sublime's "What I Got" and Doobie Brothers' "Drift Away" that were surely being played almost as well and for free elsewhere at the fair.
Once the world's most commercially successful cover band departed, Sugar Ray came out, despite being listed at the top of all Under The Sun promotion. Even though under 1,000 people assembled to watch the five-times platinum pop project, Sugar Ray seemed to be having a blast. Donning an era-specific outfit that featured white slacks and a polo shirt, the band's ever-affable frontman asked, "Do you mind if we play a number one song from the '90s?" before easing into "Someday" and "Every Morning." With earnest, true-to-album singing and upbeat between-song interactions, McGrath was winning over the patchwork audience like a game of Rock & Roll Jeopardy. Now 47 years old and with kids in their 20s, it was strange to hear a periphery pop-culture icon from the end of the 20th century referencing his role in Sharknado 2: The Other One with pride, and pulling out dad jokes when recounting Sugar Ray's 1997 show at The Rave. "It was so long ago, there was still water in the pool. Boy, my G-string sure got a workout that day!" Sooooo…back to the show, they played a cover of EMF's "Unbelievable" and, of course, finished off their set with "Fly," to the biggest response in front of the biggest crowd of the evening.
Though a noticeable number departed after the purported headliner left the stage, most of the audience stayed to see Better Than Ezra play "Good" and a few other semi-singles the long-running act managed in the early- and mid-'90s. That crowd thinned a bit more when the New Orleans alt-rockers opened with a shaky version of its one true hit. The 40 minutes that followed featured singer-guitarist Kevin Griffin and bass player Tom Drummond riffing about eating cream puffs, alleging the only (other) guy on the third level was BTE super fan Aaron Rodgers in disguise, talking about season two of True Detective (mid-song), and splicing a lengthy medley of popular rap songs into "Juicy." Amid a set that featured low-charting efforts like "Extra Ordinary" and "Desperately Wanting," Better Than Ezra covered "Blister In The Sun" from Violent Femmes, their favorite Milwaukee band ("We coulda said BoDeans, we know that,") and let their drummer play a cowbell solo in the middle of set-ender "In The Blood."
It wasn't high art, nor was it a legendary lineup of anyone with staying power, but you have to hand it to the acts on the Under The Sun Tour for knowing their lot (or, more specifically, suburban Milwaukee race track) in the modern music landscape, embracing it, and putting on a fairly fun, goofy show in a weird-ass setting.