Though Summerfest books bands from all corners of the country and brings in a fair amount of international talent, The Big Gig has recently gone about narrowing the disparaging gap between its hometown talent and its grounds stage headliners by working hard to fill mid-day and late evening slots with locally-sourced musicians. In addition to saving Summerfest money (which, realistically, likely plays at least a small part in that), it also gives Summerfest attendees more opportunities to see a wider array of in-state talent throughout the day and everywhere on the grounds. What very recently was five or six bands sloppily thrown on a small stage each day has quickly found entire days that can be done locally. We should know, since we did it last year. Moreover, there are entire weekends in which one can walk past noted national talent in favor of area acts.
This Saturday and Sunday, instead of seeing "Weird Al" Yankovic, Smash Mouth, Neil Young, Jane's Addiction, and more, one Milwaukee Record writer went to the "World's Largest Music Festival" and only watched bands based in Milwaukee, and didn't regret it for an instant.
SATURDAY
Joseph Huber at KNE New Music Stage
Unintentional best albums list snubs aside, Joseph Huber is one of our favorites. When we caught wind that he was asked to serve as a last-minute 5:30 p.m. fill-in on July 4, we adjusted our weekend plans to get to the grounds early so we could see him. The .357 String Band member didn't disappoint, as he offset old material with new songs like "Same River Twice" and "The Hanging Road"—the latter of which coerced the Summerfest Dancing Guy (adorning his tightest-fitting pot leaf plants) to shake what his mother gave him some 60 years prior.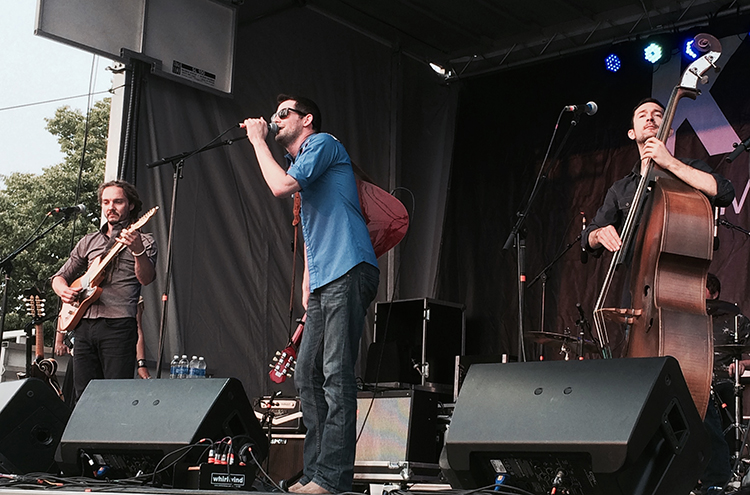 Buffalo Gospel at KNE New Music Stage
One great thing about Summerfest is its ability to rally busy band members of acts who don't play out often to get together on stage. This 7 p.m. Independence Day slot brought all the band's original members on stage together for the first time ever, excluding guitarist Josh Tovar, who passed away. Christopher Porterfield played guitar with the band. Singer Ryan Necci dedicated the show to Tovar, and Buffalo Gospel made good on the dedication with a set that careened from fun, day-drinking classic country cuts to devastating numbers like "Here Lies Our Lovin'."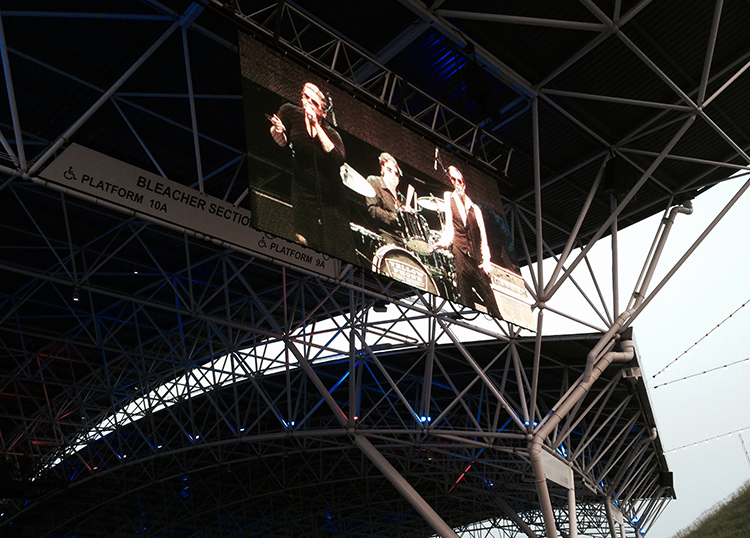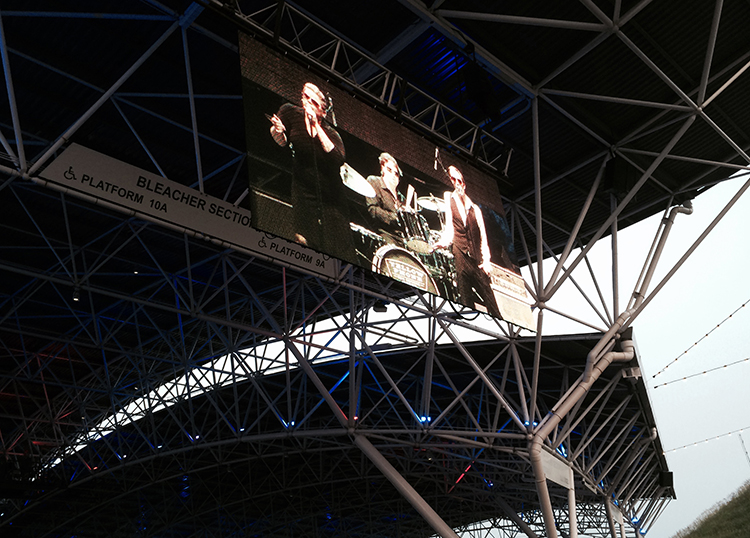 5 Card Studs at BMO Harris Pavilion
After a post-Gospel bite to eat, we remembered that 5 Card Studs were given the distinct honor of opening for "Weird Al" at the BMO Harris Pavilion. We couldn't squeeze into the already-brimming venue, but we watched the wig-wearing, suit-clad Milwaukee festival-season staple play a few tribute songs, including Hall & Oates' smooth 1981 jam, "I Can't Go For That." Though lyrics weren't substituted out with types of food, Mr. Yankovic's loyal hoard of weirdos seemed to enjoy the homegrown opener.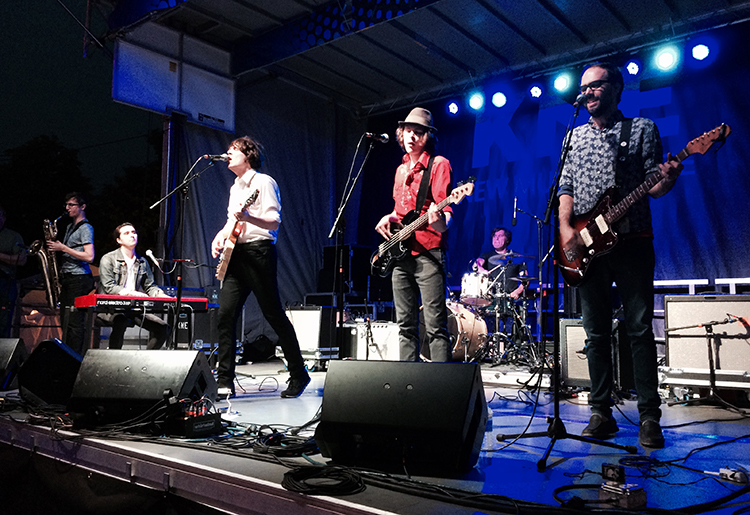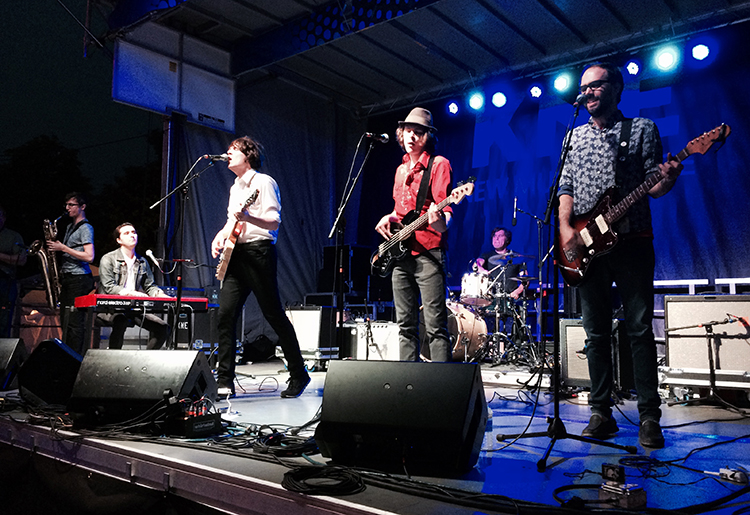 Trapper Schoepp at KNE New Music Stage
We returned to the northeast end of the grounds just in time to catch the start of Trapper Schoepp, who is playing a rare Milwaukee show while nestled in that awkward post-recording and pre-record release place. A respectable crowd turned out to hear Schoepp and company play beloved selections from Run, Engine, Run and new tracks, such as standout "Don't Go," to put a bow on day one of our local weekend.
SUNDAY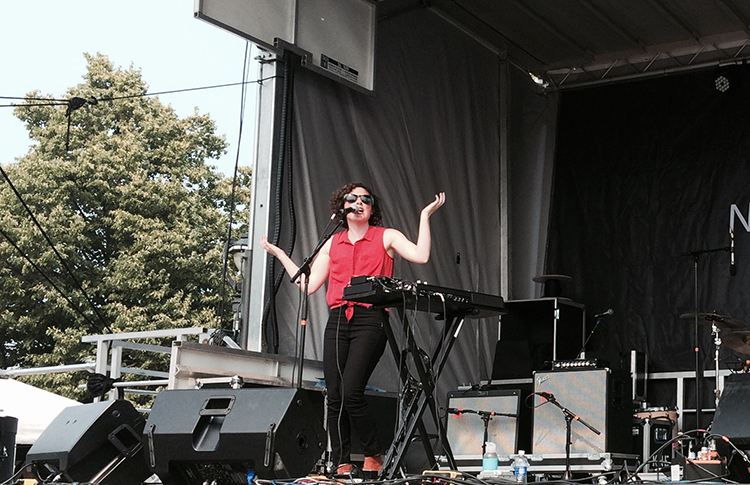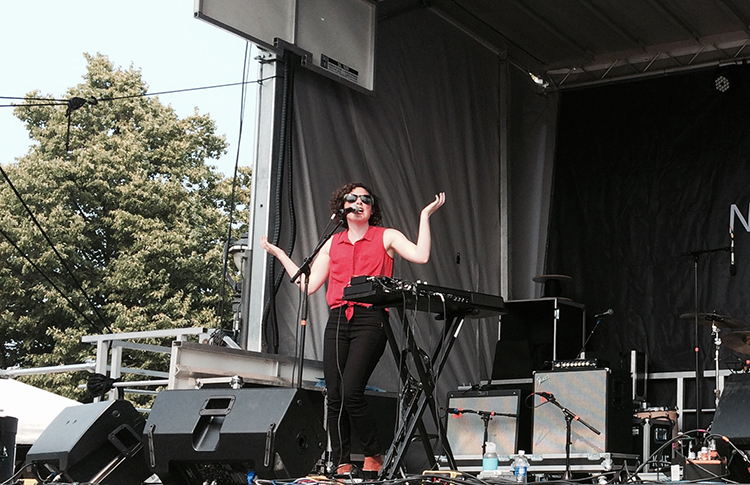 Bright Kind at KNE New Music Stage
We got an earlier start on Sunday, but still arrived a bit too late to see most of Bright Kind's set. However, we were lucky enough to catch their cover of Ugly Brothers' "Caroline" that has been an occasional part of their sets since playing it at our Local Coverage benefit in January. They ended the song with a dance-y and upbeat song called "Banger" that had a demeanor that matched the sunny afternoon.
The Midwestern Charm at U.S. Cellular Connection Stage
Just a stone's throw away from Bright Kind, we caught The Midwestern Charm partway through their 4:15 p.m. set, playing to a patchwork crowd that was slowly filling in the expansive sea of bleachers at the U.S. Cellular stage. While the rock trio was cruising through songs from its latest EP and satisfying summer tracks from last year's Growing Pains like "With A Lime," we were taken with the between-song quips of bassist-singer Connor La Mue, which included sneering "You don't know us!" in the direction of an especially emphatic audience member, and then asking if anyone out there was hiring.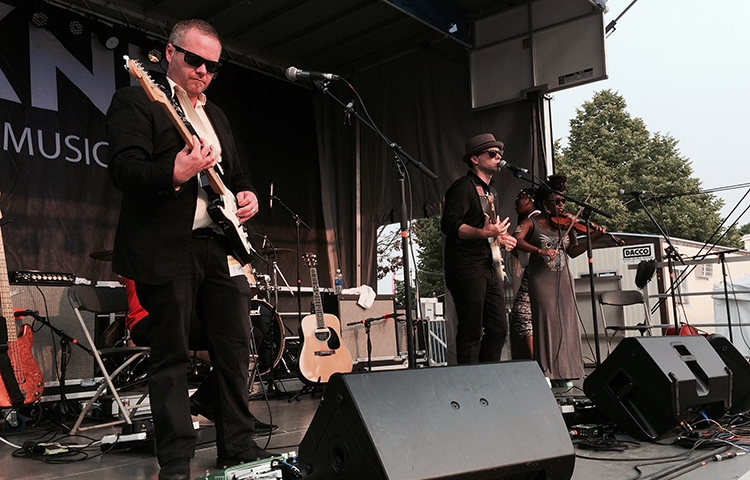 Mike Mangione & The Union at KNE New Music Stage
The wealth of local music happening at an almost hourly clip at Summerfest also grants a prime opportunity to catch those handful of acts you've been aware of for years but have managed to miss seeing. Orchestra folk outfit Mike Mangione & The Union is that band. At least they were until we enjoyed the rich arrangements and the soulful vocals of the eponymous bandleader, both of which reached a glorious crescendo during the set-closing title track from 2013's "Red-Winged Blackbird Man." It won't take years for our paths to cross again.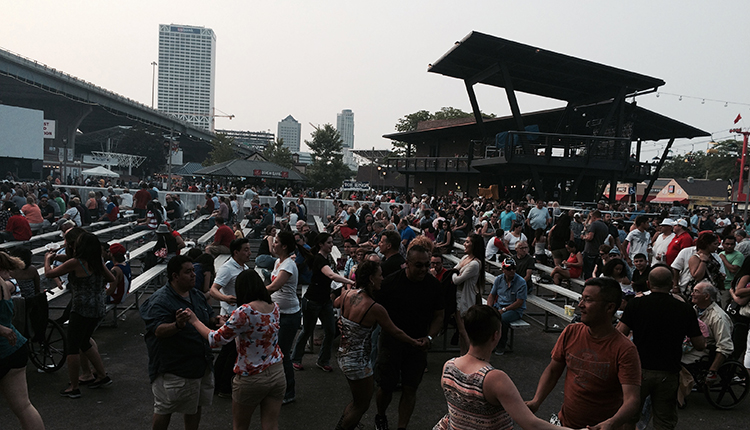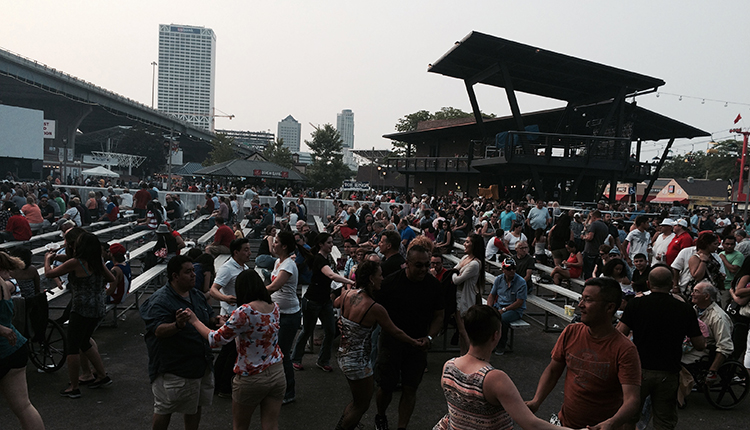 De La Buena at Harley-Davidson Roadhouse
Before last week's Pabst Street Party at Burnhearts, De La Buena was filed in the same category as Mangione. Our second De La Buena show in eight days was as much a concert as it was an experience. As the band (highlighted by its five-piece horn section) got countless toes in the vicinity of the H-D Roadhouse tapping with captivating Latin-infused rhythms, a few dozen festers alongside the bleachers paired off and danced along.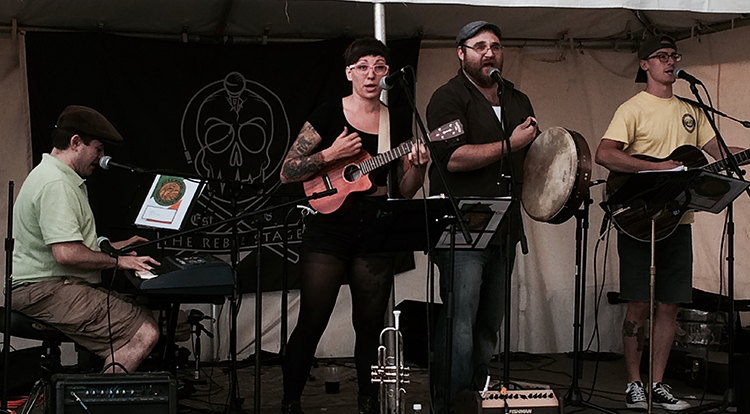 Uncle Fergus's Magic Whiskey Band at Rebel Music Stage
Meanwhile, over at the Rebel Stage, the crowd was much smaller and remained seated on the lakeside picnic tables. Still, the sparse crowd laughed and clapped along as Uncle Fergus's Magic Whiskey Band—which features Jessie Mahne, Nick Firer, and other members of Milwaukee's comedy community—performed Irish-inspired takes on classic and contemporary songs. From "The Fresh Prince Of Belfast" theme song, to a Gaelic take on Taylor Swift's "Shake It Off" and a rap about having "99 problems, but a bloody lass ain't one," it served to showcase the diversity and the quality of one of Summerfest's most under-appreciated stages.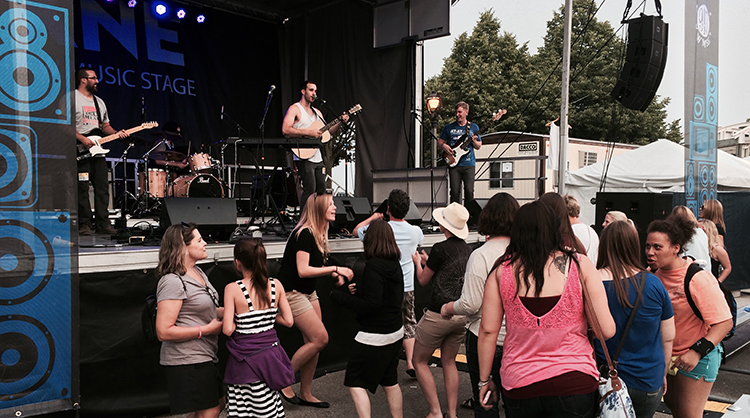 The Middle Ground at KNE New Music Stage
Alternative pop is one of those ultra-specific musical subsets that's tough to explain, but you know it the second you hear it. Milwaukee's answer to Jason Mraz, The Middle Ground, isn't reinventing the wheel, but an impressive crowd turned out to take in the positive vibes, upbeat sounds, and smooth falsetto of Joe Neary and his Middle Ground cohorts. They tossed two shirts into the crowd (the only two they didn't seem to sell to fans after the show) and inspired a makeshift dance party late in the show with their "Where We Come From" and a cover of Justin Timberlake"s "Suit And Tie."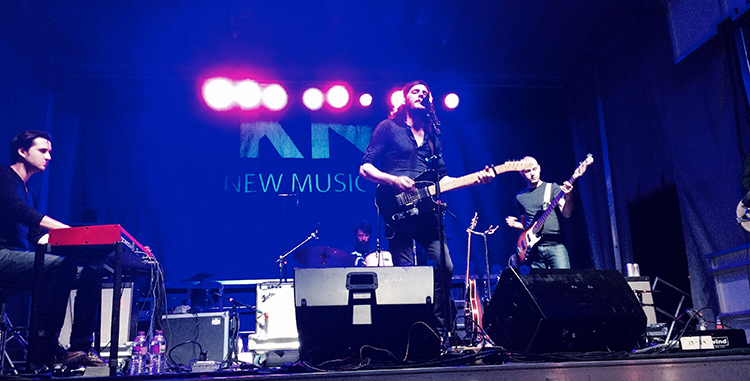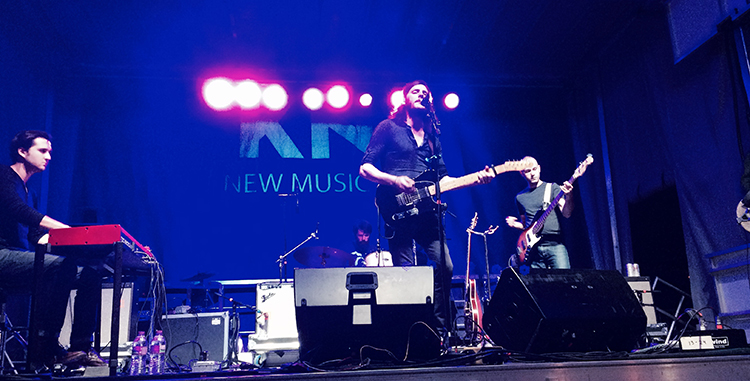 The Championship at KNE New Music Stage
We can't think of many bands we'd rather have put an end to our all-local weekend and Summerfest itself than The Championship. With more than 10 years to their credit, bandleader Joe Crockett and his impressive cast of folk rock collaborators have quietly amassed an hour-long greatest hits set they should feel comfortable putting up against pretty much any other band in town. The early part of the set skewed older, with "A Change" and "Motorcar" off its great 2005 record Dance Casador! before getting heavier with a run of songs from 2012's High Feather. The 30-40 people still seated at the KNE New Music Stage didn't seem to regret spending their Sunday night watching an all-too-rare performance by The Championship.
Was it a wasted opportunity to bypass seeing national and international talents who don't frequent Milwaukee in favor of local bands we can see all the time throughout the city? Maybe, but as we overheard Smash Mouth play its opening number on the Miller Lite Oasis on our walk out, we felt pretty good with the decision to go to the World's Largest Music Festival and never leave home.