Between the NCAA tournament, the unpredictable weather, and the likelihood you're broke after paying taxes, March is a month that seems made for staying home and eating frozen pizza. Wisconsin is fortunate to be home to a wealth of frozen pizza purveyors. From nationally-distributed standbys to elaborate specialties, there's something to suit every taste. But which is the best?
Milwaukee Record has rounded up a diverse grouping of freezer-safe pies from all over the state to account for the Savory Sixteen. Throughout March, we'll post results from crust-to-crust match-ups from four regions—Taco/Cheeseburger, Deluxe, Cheese, Specialty Sauce—with the hope of determining Wisconsin's Best Frozen Pizza. Seeding is based on price. Individual brands can only be featured once. Winners are determined by a three-staffer vote.
In the final regional, four specialty sauce pizzas squared off to see which alfredo, pesto, or buffalo sauce pizza would earn the right to join Taco/Cheeseburger champ Pep's, Deluxe winner Luige's, and Cheese victor Connie's in the Frozen Four.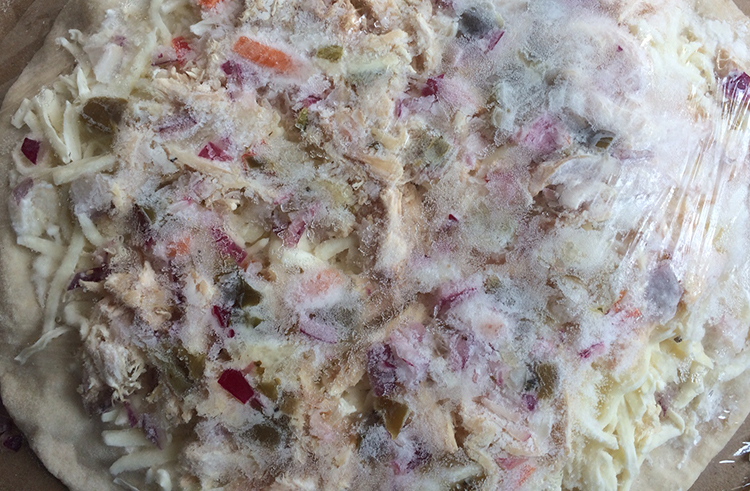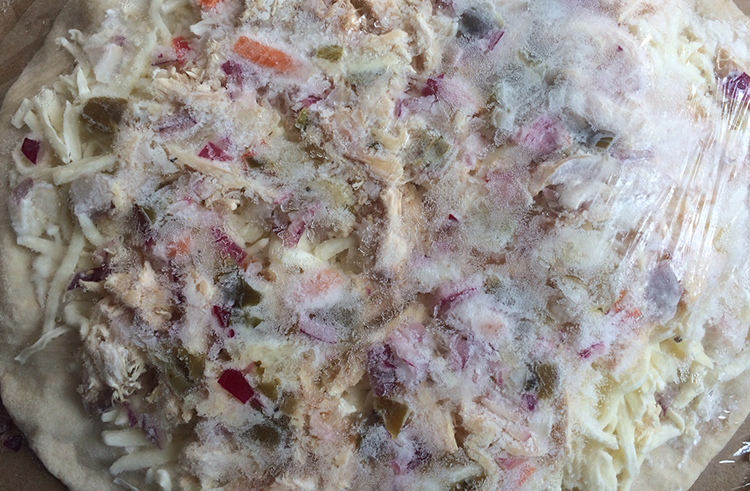 (1) Puddler's Hall Chicken Alfredo Pizza
From: Milwaukee
Price: $10
Bio: Despite being open since 1873, Puddler's Hall just started making and freezing their own pizzas. Though the handmade pizzas can only be purchased at the Bay View corner tap, strong reader recommendations—coupled with the difficulty to obtain any new brands in this fourth regional—made this a dark horse competitor. This one-seed comes from a place most haven't heard of. It's like Gonzaga. Emphasis on the "za" part.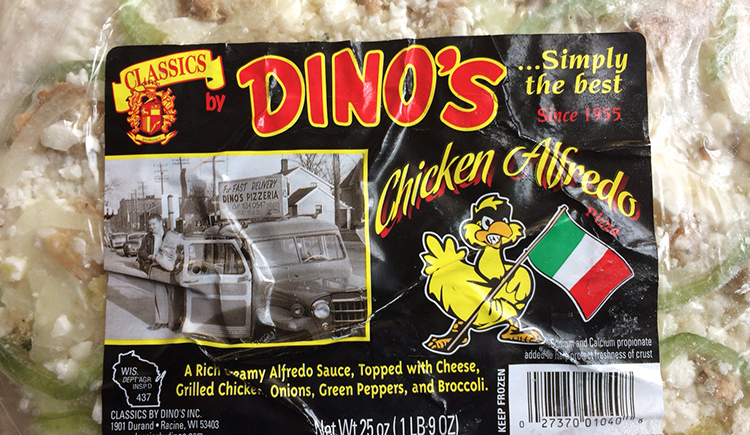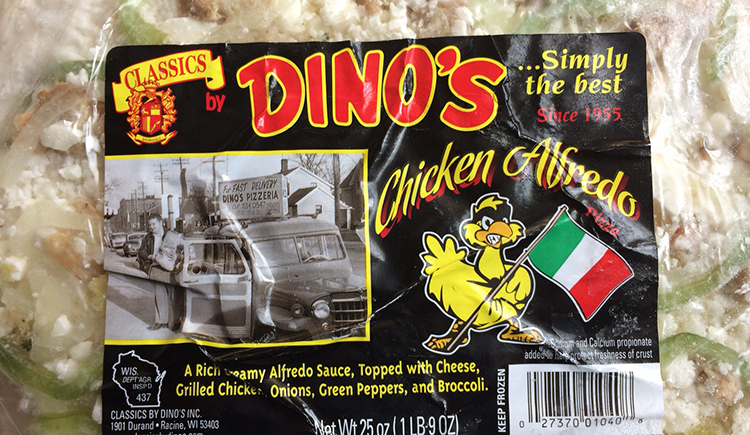 (2) Dino's Chicken Alfredo Pizza
From: Racine
Price: $8.99
Bio: Dino's is the vanguard of Racine's frozen pizza game. Since 1955, the pizzeria has been helping to spread the good word of Wisconsin pizza with exceptional ingredients set upon a crunchy semi-thin crust. Though most Dino's offerings lean toward traditional varieties, this alfredo sauce variation is boosted through the inclusion of chunks to grilled chicken, onions, green peppers, and particulate broccoli. It claims to be "simply the best," but we'll be the judge of that.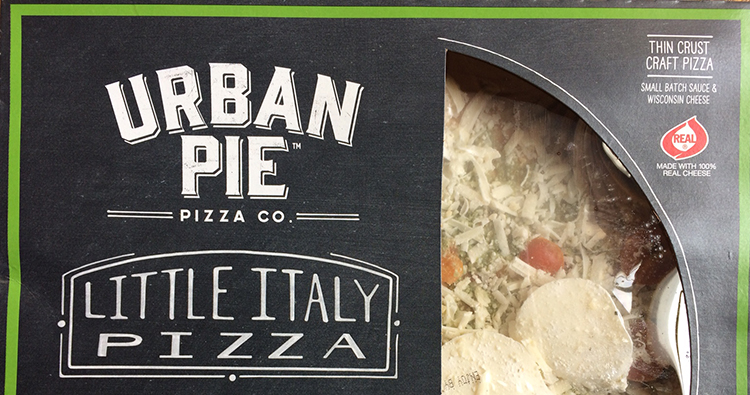 (3) Urban Pie Little Italy Pizza
From: Milwaukee
Price: $8.99
Bio: Yet another Palermo's offshoot, this new line of "craft" pizzas has a higher price point than most other pizzas that come from the Villa, but it has posh packaging and fancy fonts that imply quality. The "small batch, premium" pizza is made with Wisconsin ingredients. Urban Pie is the lone pesto sauce participant in the tourney. It's also the only entrant in the regional without chicken. Will those differences set Urban Pie apart? If so, will that be a good thing?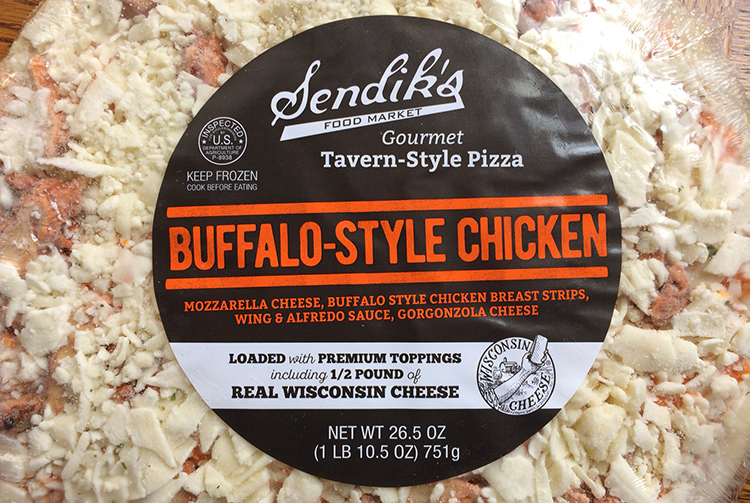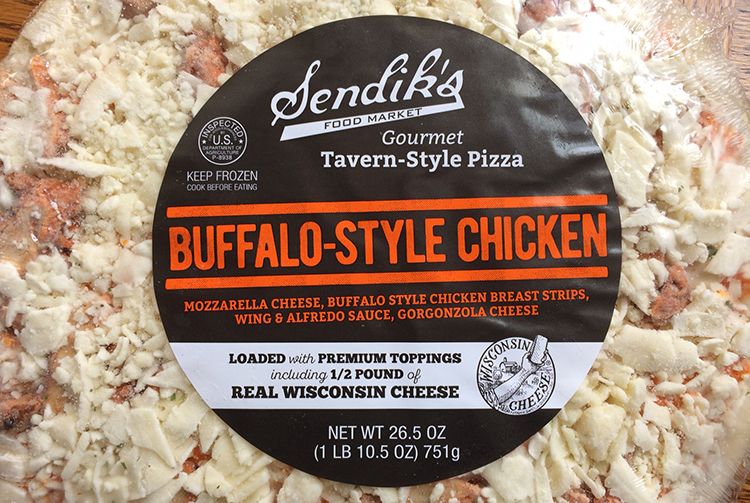 (4) Sendik's Buffalo-Style Chicken Pizza
From: Milwaukee
Price: $4.50
Bio: Sendik's has come a long way since its start as an East Side vegetable market in 1926. Through the decades, the humble family-owned grocer has evolved into a swanky boutique grocer with a strong presence in some of metro Milwaukee's more affluent areas. Very recently, they started offering Sendik's branded items like soda, meats, and an array of specialty pizzas. Miraculously, this "gourmet tavern-style" offering was on sale for a mere $4.50.
ROUND ONE
(1) Puddler's Hall Chicken Alfredo Pizza vs. (4) Sendik's Buffalo-Style Chicken Pizza
This battle of time-tested Milwaukee stalwarts was incredibly close. Puddler's Hall showed it deserved a place in the tourney with a heap of delicious shredded white meat chicken, a wealth of mozzarella, and best yet…giardiniera. The zippy and oily relish added another layer of Italian flare to the alfredo-based pie. Meanwhile, Sendik's came in with no expectation, but the tender (though sparing) chunks of chicken thrived in concert with the rich buffalo and alfredo sauces along with both mozzarella and gorgonzola cheeses to make this an incredibly close match-up. While every voter was on the fence with which to choose, all three eventually fell on the side of Sendik's.
(2) Dino's Chicken Alfredo Pizza vs. (3) Urban Pie Little Italy Pizza
Round two found Racine veteran Dino's and uppity newcomer Urban Pie squaring (well, triangle-ing) off for the right to meet Sendik's in the finals. Urban Pie had a crispy cracker crust, flavorful tomatoes, gooey dollops of mozzarella, and a generous smattering of pesto. Yes, it lacked meat, but the decadent pesto and notably high-grade cheese made up for it. However, there's a reason Dino's has thrived for 50-some years. The cubed chicken breast had presence in every bite, the veggies had a surprising crunch for a frozen pizza, and the alfredo sauce was super creamy. The ranks were split, but history prevailed. Dino's advanced at a 2-1 margin.
ROUND TWO
(2) Dino's Chicken Alfredo Pizza vs. (4) Sendik's Buffalo-Style Chicken Pizza
Before the pizzas could cool and our minds could change following two close rounds, we revisited Dino's and Sendik's in a head-to-head match-up. The heavy sauce of the former proved daunting after excessive eating, but the classic thin crust and ample presence of chicken kept us eating. The latter had a fluffy rising crust and fairly rich sauce as well, but the fresh local cheese—accented by the subtle bite of gorgonzola— and higher-caliber chicken made this seemingly-one-sided round closer than in looked on paper. Could a grocery store brand pizza really advance to the Frozen Four? Yes. Sendik's Buffalo-Style Chicken Pizza earned two votes and the win. Anything is possible.
Wisconsin's Best Frozen Pizza will be named on Wednesday, March 29.