Between the NCAA tournament, the unpredictable weather, and the likelihood you're broke after paying taxes, March is a month that seems made for staying home and eating frozen pizza. Wisconsin is fortunate to be home to a wealth of frozen pizza purveyors. From nationally-distributed standbys to elaborate specialties, there's something to suit every taste. But which is the best?
Milwaukee Record has rounded up a diverse grouping of freezer-safe pies from all over the state to account for the Savory Sixteen. Throughout March, we'll post results from crust-to-crust match-ups from four regions—Taco/Cheeseburger, Deluxe, Cheese, White Sauce/Garlic Butter—with the hope of determining Wisconsin's Best Frozen Pizza. Seeding is based on price. Each brand can only be featured once. Winners are determined by a three-staffer vote. Up first, the Taco/Cheeseburger Regional. Here are your competitors: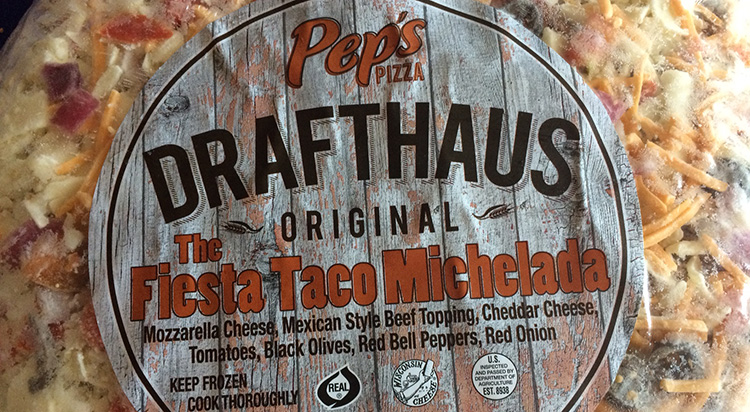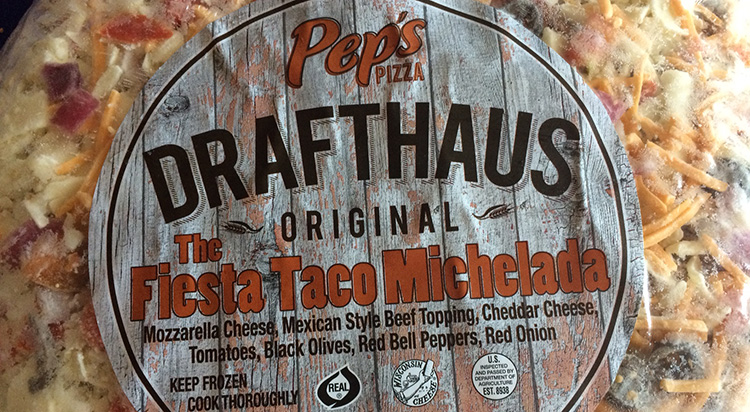 (1) Pep's Drafthaus Original Fiesta Taco Michelada
From: Green Bay
Price: $7.99
Bio: A regular player in Wisconsin fundraisers, this high-quality "Drafthaus" pizza is the crown jewel of Pep's, which also sells thin crust and flatbread 'zas.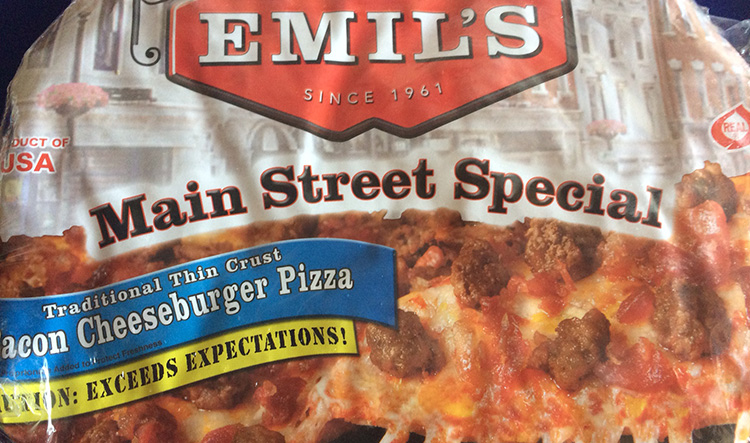 (2) Emil's Bacon Cheeseburger Pizza
From: Watertown
Price: $7.49
Bio: Like a small conference powerhouse, Emil's has quietly reigned supreme (and other toppings!) in tiny Watertown since 1961. Lately, the brand has slowly worked its way onto bar menus and into regional grocery freezers by way of local cheese, abundant toppings, and packaging that warns consumer that the pizza "EXCEEDS EXPECTATIONS!"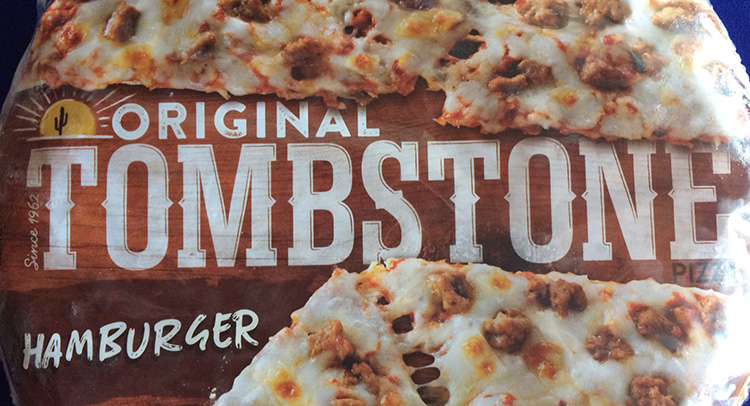 (3) Original Tombstone Hamburger
From: Medford
Price: $4.99
Bio: Before nationally-aired television commercials asked America what it wanted on its Tombstone, the question was being uttered by servers The Tombstone Tap in the northern Wisconsin town of Medford. The brand has come a long way since that unassuming rural origin that dates back to 1962, but it's possible that being sold to Kraft (and subsequently Nestle) has taken its toll on the freezer section standard's quality in the process.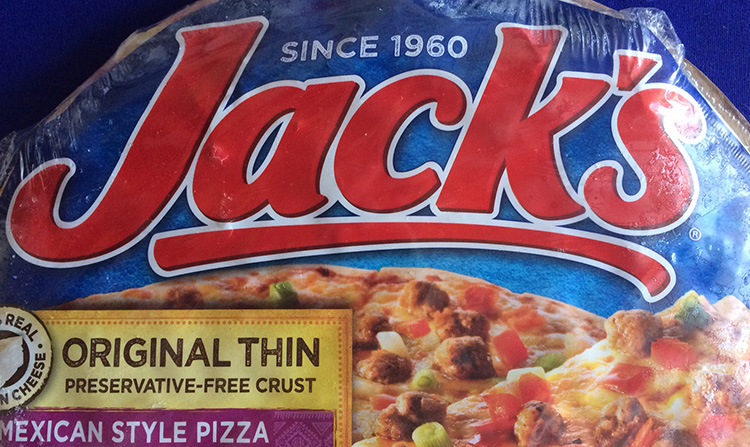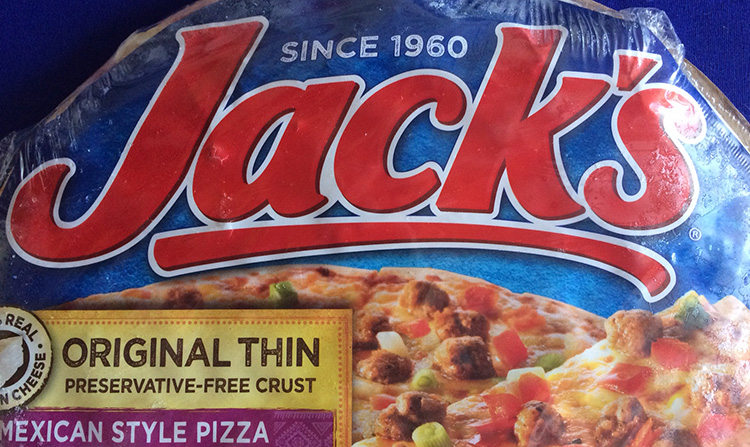 (4) Jack's Mexican Style Pizza
From: Little Chute
Price: $3.99
Bio: Believe it or not, Jack's Pizza is made right here in Wisconsin. Hailing from the Appleton-adjacent town of Little Chute, the mozzarella orb magnate resides beneath the impossibly vast Nestle umbrella. The reliable razor-thin crust pizza is a staple at grocery stores, convenience stores, and virtually anywhere else with available freezer space throughout the Midwest.
ROUND ONE
(1) Pep's Drafthaus Original Fiesta Taco Michelada vs. (4) Jack's Mexican Style Pizza
The mysterious one-seed proved its worth with a generous pile of two cheese varieties, taco-seasoned beef, and high-end toppings (at least by frozen pizza standards) that included red peppers, diced tomatoes, black olives, and red onion. The sauce was slightly zesty, but not offensively so. The weighty Pep's pizza trounced the over-matched and under-topped Jack's Mexican that was inundated with green onion and an overriding spice of its off-putting taco-esque sauce. Pep's prevailed 3-0.
(2) Emil's Bacon Cheeseburger Pizza vs. (3) Original Tombstone Hamburger
This meeting between the workmanlike Emil's and under-performing major conference juggernaut that is Tombstone was actually much closer than it appeared to be on paper. The bacon should have given for former a sizable advantage, but the staggering saltiness of pork from the bed of bacon pieces and generous sausage coverage arguably worked against Emil's chances. Meanwhile, the focus-group approved flavor of Tombstone's tangy sauce and airy crust bolstered so-so sausage (all the same size and shape) and a coagulation of plastic-like cheese to keep things close. Ultimately, the favored Emil's narrowly advanced with a 2-1 victory.
ROUND TWO

(1) Pep's Drafthaus Original Fiesta Taco Michelada vs. (2) Emil's Bacon Cheeseburger Pizza
The remaining slices of Pep's and Emil's were tossed back into the pizza oven for a reheating. Miraculously, the Fiesta Michelada's vegetables and soft, fluffy crust retained their integrity. The Bacon Cheeseburger stayed the course, too, but ultimately the nuances of the spicy Pep's sauce and the stringy cheese outperformed Emil's. Pep's emerged from this ultra-specific division undefeated with a unanimous 3-0 win en route to the Frozen Four. It will face the winner of the Deluxe Round, the results of which will be posted Thursday morning.
[Cover image courtesy of ebean design]