Tonight marks the first meeting of the Milwaukee Record Beer Club. Basically, we've partnered with Lakefront Brewery to give away free beer for two hours (or while supplies last) at a bar in or around Milwaukee. This first installment will take place at Cactus Club from 7-9 p.m., where we'll be giving out Lakefront's Citra SMaSH Ale to people who RSVP ahead of time.
If you can't make tonight's meeting, worry not. We hope to be doing these on a regular basis. It's also worth noting there's a wealth of local breweries, bars, restaurants, distilleries, and other Milwaukee businesses working together on a variety of one-off occasions centered around the city's most famous export. Here are some standouts.
Thursday, October 20
Lakefront Citra SMaSH Ale tasting @ Hooligans
If you didn't RSVP to Beer Club in time or you're trapped on the East Side, North Avenue mainstay Hooligans Bar is said to be giving out samples of Lakefront Citra SMaSH Ale from 7-9 p.m., too. Real original, guys!
Monday, October 24
Good City Beer Dinner @ Good City Brewing
Though there's been a massive exodus of bars and restaurants on Milwaukee's East Side this year, Good City Brewing signals better days ahead. Since opening in June, the Farwell Ave. brewpub has quickly made a name for itself, both with the beer and bites they serve in house, and by landing on draft lines at respected beer-focused bars all across the city. Less than a month removed from being Milwaukee Film Festival's official beer and not a week after its tap takeover at Fink's, Good City will invite gourmands to their gorgeous quasi-industrial space for its inaugural public beer dinner. For $70 a head ($89.12 after tax and gratuity), Good City will pair five of its beers with off-menu food items as part of a lavish four-course meal.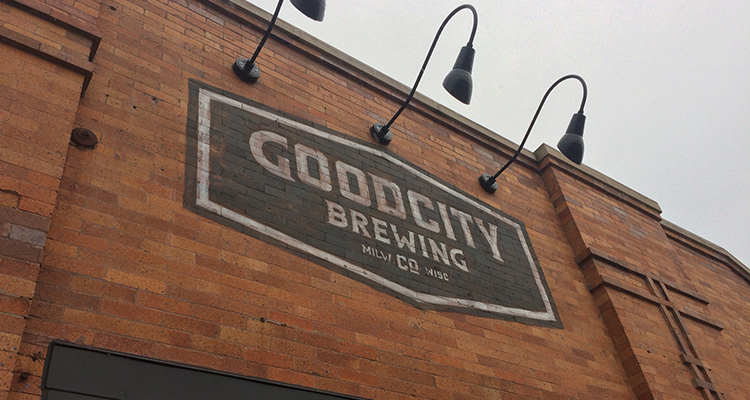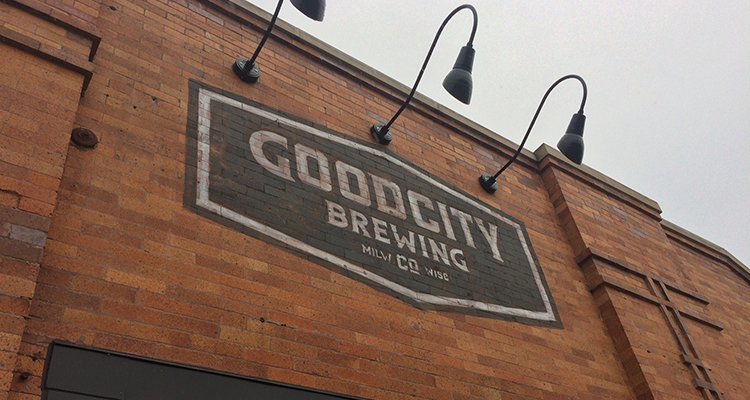 Thursday, October 27
Boo'z & Cheez @ Lincoln Warehouse
There's something special happening in the Lincoln Warehouse. Not even counting the audio and visual wonders Howl Street Recordings and Hear Here Presents are managing in the space, respectively, the ground floor of the industrial complex's ongoing renaissance (both figuratively and literally) hinges on the delicious beers, cocktails, spirits, and even aromatic bitters being carefully crafted by Enlightened Brewing Company, Dock18 Cocktail Lab, Twisted Path Distillery, and Bittercube. Those four operations will join forces with Milwaukee cheese maker Clock Shadow Creamery for a scary good Halloween-adjacent confluence of booze and cheese. Fittingly, it's called Boo'z & Cheez. The $40 price tag is good for two Enlightened beers, two Dock18 cocktails, cheese pairings for each beverage, and tours of Enlightened and Twisted Path. Here's your chance to get a firsthand look at the promising future of Milwaukee beverages. Oh, and there's cheese, too.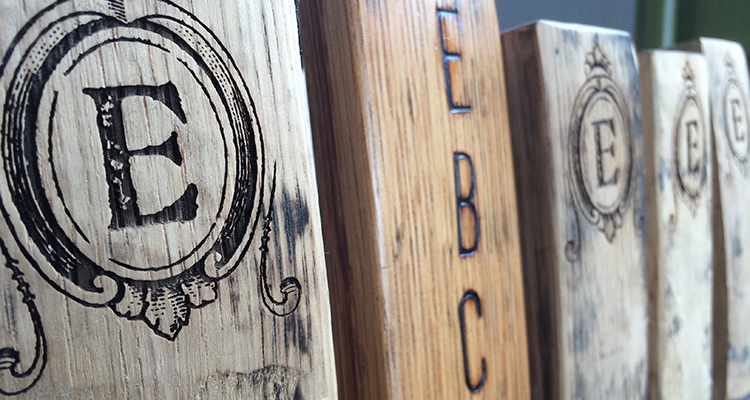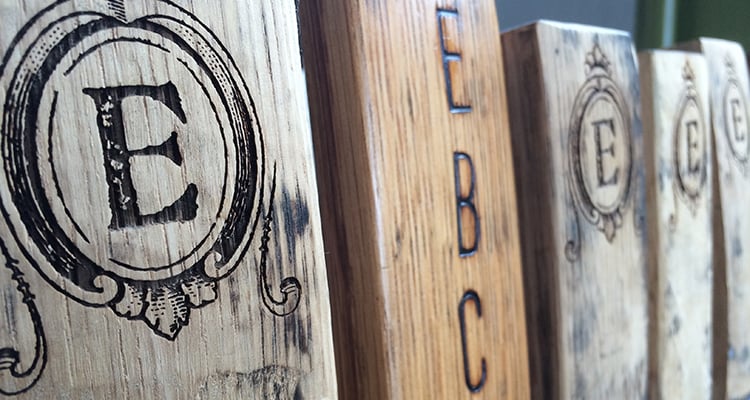 Tuesday, November 1
Beer School #131: Staff Picks @ Comet Cafe
Perhaps you've heard of Comet Cafe's "Beer School" from one of the 130 (!) monthly iterations of the event previously held at the popular bar and greasy spoon. This one will break format a bit, as Comet's staff will select beers they're thankful for. Expect some strange things and, likely, lots of High Life. RSVP soon because seating is limited.
Tuesday, November 8
#TacoTrucksOnEveryCorner @ Burnhearts, Boone & Crockett, and Sugar Maple
As we reported Tuesday, Election Night will bring taco trucks to every corner of Bay View. Okay, more like three corners, but that's still pretty sweet. Burnhearts, Boone & Crockett, and Sugar Maple will host a trio of mobile Mexican food purveyors as part of a topical multi-site event orchestrated by Chicago-based 5 Rabbit Cerveceria. Finally, a good part of this Election cycle!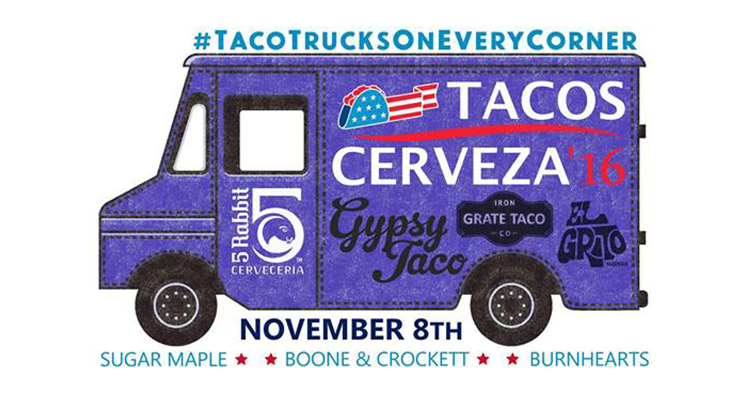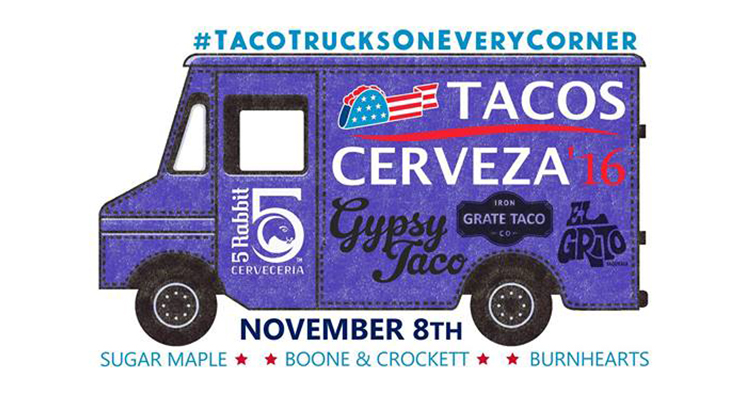 Saturday, November 19
Hello Lakefront! @ Sugar Maple
Speaking of awesome food pairings at Sugar Maple, the Bay View bar will host a combination nosh from two of Milwaukee's most lovable businesses. From 2-6 p.m., Lakefront Brewery will have six of its uncommon craft beers on tap. Each purchase will come with a free dish from Hello Falafel. If you've been meaning to try Lakefront's new Warm Front and Hello's roasted red pepper dip, you can kill two birds with one stone. It's the responsible thing to do. Here are the beers and food pairings:
Warm Front – Spiced Pita Chips with Roasted Red Pepper Dip
Citra SMaSH Ale – Falafel with House Pickles, Tahini & Charred Eggplant
Bridge Burner – Roasted Carrots with Pistachio, Couscous & Raisins
Imperial Porter with chai (cask) – Cheese & Walnut Stuffed Dates
Brandy Barrel-aged Holiday Spice – Rosewater Pound Cake with Cranberry Compote
My Turn: Latif – Cardamom Pomegranate Molasses Cookies
Thursday, December 8
Three Floyds Punk House Kegger @ Burnhearts
Burnhearts' third annual Three Floyds Punk House Kegger combines the clashing concepts of punk—or at least punk-adjacent—bands and rare beer from a small Indiana-based craft brewery. The first two Keggers were smashing successes. This time around, new punk powerhouse Bad Grades and blistering Milwaukee rockers Hot Coffin will provide the soundtrack to the tap takeover. The beers Three Floyds will put on the lines aren't yet known, but you can pretty much bank on regional regulars like Yum Yum, Gumball Head, and Alpha King making cameos, and if the first two Keggers are any indication, a half barrel of Zombie Dust isn't out of the question.