With Packers season in full swing and the Brewers extending their postseason hopes to the regular season's final days, it's hard to believe that another Milwaukee Bucks season in right around the corner. Yes, in roughly two weeks, the young franchise's 2017-18 campaign will officially tip-off. Fresh off a playoff season in which Malcolm Brogdon was named Rookie Of The Year, Giannis Antetokounmpo cemented his status as a top-tier NBA superstar with an All-Star appearance and Most Improved Player award, and the organization retained most of its core players as the majority of the Eastern Conference weakened, the Bucks are giving fans a lot to be excited about.
If the product the franchise is bringing to the court somehow isn't enough for you, the organization will make the prospect of seeing one of the most enticing NBA teams even sweeter with a dozen promotional giveaways spread throughout the season. The team released its promo schedule late last week, and it's full of both expected treats and some downright awesome stuff. We'd never look a gift horse in the mouth, but we will rank the gifts for you in descending order.
12. Magnet Schedule (October 21 vs. Portland)
During the season, a magnetic schedule is an excellent way to keep tabs on the Bucks' whereabouts and keep things attached to your refrigerator. However, once late April rolls around, it'll just be a magnet.
11. Tote Bag (November 15 vs. Detroit)
Totes are like can koozies at this point (koozie cameo forthcoming, by the way) in that you've probably never had to pay for one and they're actually pretty useful. If the Sendik's tote you got at a Brewers game four years ago is wearing down, this Bucks 50th anniversary tote that'll be given to the first 10,000 fans looks to be a solid replacement.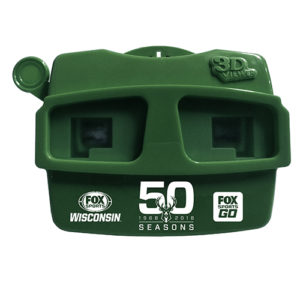 10. Viewfinder (March 25 vs. San Antonio)
Viewfinders don't seem to have the same level of importance they had before the age of five or prior to 1981, but if you happen to be among the lucky 5,000 fans to get this Bucks viewfinder, you'll have a neat throwback gift for a youngster in your life…and something to look at if the perennially-formidable Spurs blowout the Bucks in this late March meeting.
9. B Sweater Koozie (December 22 vs. Charlotte)
Like we said before, can koozies are usually a dime a dozen (that price is actually pretty close to accurate), but if the piece of insulated fabric you got at Mike and Alicia's wedding three summers back is in even worse shape than Mike and Alicia's marriage at this point, this classic sweater with a B knit into it will do the trick. We're rooting for you, Mike and Alicia!
8. 50th Anniversary Cap (December 8 vs. Dallas)
Roughly a year removed from giving out some rather cool Melonwear caps, the team will distribute green retro Bango hats to the first 5,000 adults who pass through the turnstiles before a December 8 game vs the Mavs.
7. Retro Pennant (April 5 vs. Brooklyn)
Keeping with the retro theme to commemorate a half century of Bucks basketball, this throwback pennant will spruce up the bedrooms and…ugh "mancaves" of 10,000 fans who dare endure a Brooklyn Nets game in April. If not for the Pink 'N Save logo at its tip, the pennant could be a dead ringer for something out of the late 1960s.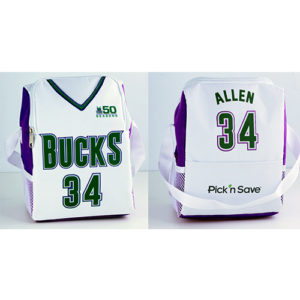 6. Ray Allen Lunch Bag (March 4 vs. Philadelphia)
Speaking of Pick 'N Save promos, this '90s era Ray Allen jersey lunch bag is so cool that you'll barely remember it's a lunch bag that you'll probably use to transport an unsatisfying lunch to your unsatisfying job. This one is limited to 5,000 kids ages 14 and under, so if you're looking for a game to bring your niece or nephew to, here you go.
5. Jonny Mac Jersey (January 26 vs. Brooklyn)
If a kid-themed giveaway that's focused on Allen (a guy who hasn't worn a bucks uniform since 2003) is a tad confusing, this 14 and under promo centered on 1970s Bucks player-turned-announcer Jon McGlocklin is downright puzzling. Still, a free jersey is a free jersey, and you don't see any other Wisconsin pro sports teams handing out 5,000 free jerseys to kids every season.
4. Alarm Clock (February 27 vs. Washington)
If you missed out on that sweet Bob Uecker alarm clock in 2016, the Bucks will offer the next best thing during what's sure to be a meaningful February game against the Wizards. Sure, it's no Uecker alarm clock, but what is?
3. Retro Bango Toothbrush Holder (February 25 vs. New Orleans)
Last season, an unexpected trade that sent Miles Plumlee (and his crippling salary) to Charlotte forced Milwaukee to change its Plumlee Toothbrush Holder promotion to a Thon Maker Growth Chart giveaway. Not wanting to get burned again, the organization made Bango the figure gracing this year's toothbrush holder.
Unless Bango gets traded for Roy Hibbert's expiring contract in February or something, this one should go off without a hitch. Once again, this one is for the first 5,000 kids 14 and under, which is kind of bullshit, but you have time to figure out how to get one.
2. Giannis Starting Lineup Figure (January 5 vs. Toronto)
Remember Kenner, the toy company who delighted the childish desires of sports nerds in the '80s and '90s with their Starting Lineup line of action figures? Well, since nostalgia is all the rage and nothing can ever go away forever, Kenner is bringing back Starting Lineup figures. Antetokounmpo has been chosen as one of the few NBA players who will have a figure made in his honor. This one is limited to the first 5,000 fans, so if getting a toy modeled after a 22-year-old multi-millionaire is your type of thing, buy your tickets now and get to the arena early on January 5.
1. Retro Shooting Shirt (October 20 vs. Cleveland)
God damn, that's a nice shirt. On top of being the home opener and a new installment of the suddenly-quite-heated rivalry between the Bucks and Cavs, 10,000 adults will get to go home with one of these babies.