Back on February 2, the Milwaukee Bucks traded underperforming center Miles Plumlee to the Charlotte Hornets in exchange for Roy Hibbert and Spencer Hawes. For a Bucks squad whose playoff hopes were in question, the move made a lot of sense. Not only did it give Milwaukee some much-needed size (and a guy with two more Parks & Recreation credits than Plumlee), it also got Plumlee's four-year, $52M contract off the books. By most accounts, it was a great pre-trade deadline transaction for the Bucks, but there was one problem.
Figuring the high-paid center was in the team's long-term future, the organization decided to make 5,000 Miles Plumlee toothbrush holders that would be given away to children in attendance for the Bucks' February 26 game against the Suns. Sponsored by Dental Associates, the giveaway was pretty awesome. At least based on the prototype.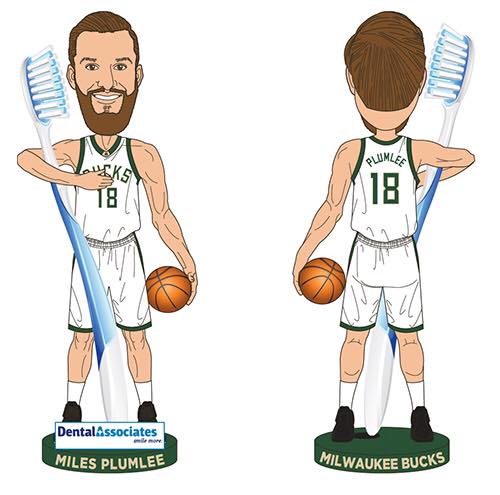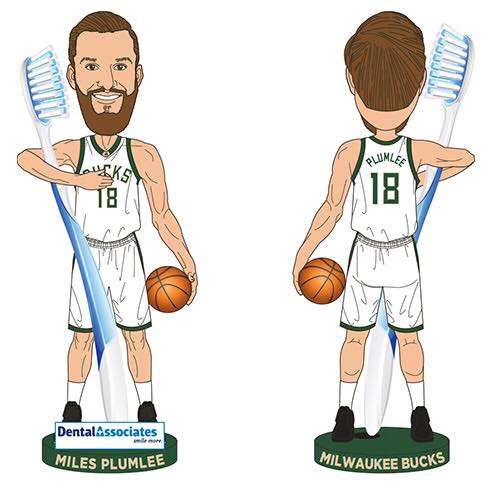 However, with Plumlee gone, the Bucks were now faced with a dilemma. Would they dare give kids an outdated gift? Would they give them nothing at all? Would they frantically try to make a trade for Miles' brother Mason and quickly assign him number 18? Would they think of another promotional giveaway? The choices!
At the end of the day, the team decided on the fourth option, perhaps after realizing Mason would never be able to grow a beard as good as his brother. On Sunday, February 26, the first 5,000 kids in attendance will get a Thon Maker growth chart. The massive poster—also sponsored by Dental Associates—features all 7'1″ of the sharpshooting rookie, with a spool of dental floss to establish scale. If you want to get something that will track the growth of your young Bucks fan (at least until they reach 7'1″), there are still plenty of tickets available.
No word on what, if anything, will replace the March 11 Jabari Parker bobblehead giveaway. 🙁