Sunday afternoon, Fiserv Forum was alive with the sounds of squeaking sneakers, emphatic cheers, and bass thumps from backing music during the BIG3's Milwaukee stop. Now in the midst of its third season, the 3-on-3 league founded by multi-hyphenate entertainer Ice Cube and his CubeVision business partner Jeff Kwatinetz is really starting to hit its stride. Prior to this season, four new teams were added and, along the way, the upstart association landed a television deal with CBS. Still, it's quite possible you've never heard of BIG3 basketball or, if you have, you don't know much about it.
Though we've watched and enjoyed a few games on TV since the league debuted, we wanted to get a firsthand glimpse of the in-game experience when the BIG3 made its Wisconsin debut. After checking out yesterday's triple-header, here are some highlights, general observations, and takeaways from the experience.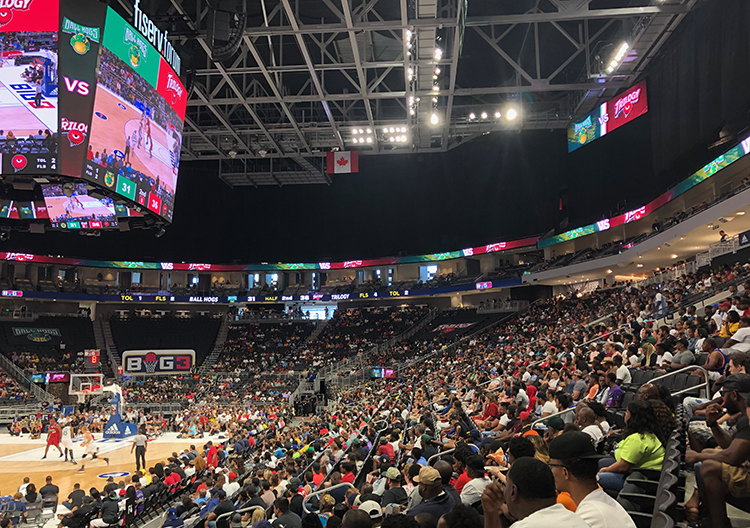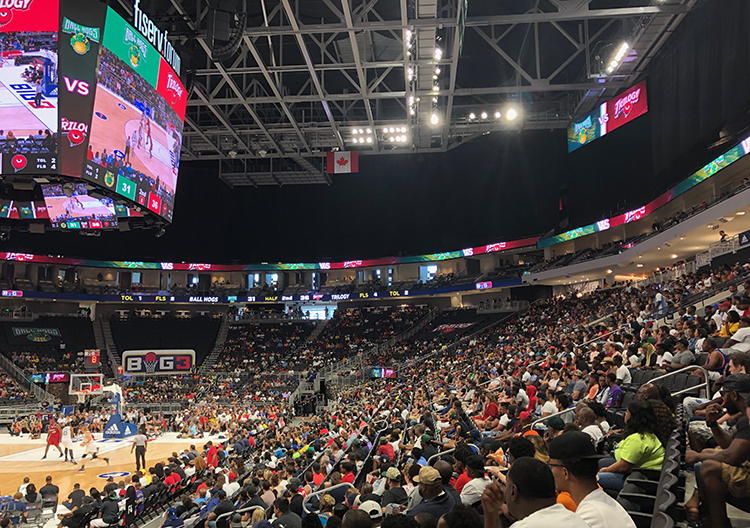 Milwaukee came out (and dressed up) for BIG3.
In all honesty, we had no idea what the turnout would be like for Sunday's event. Those uncertainties were quickly put to rest upon entering the arena and seeing the concourse buzzing with activity. The upper level was blocked off and, yes, specific sections were covered with team banners (likely with broadcast needs in mind), but the lower bowl was almost entirely packed with people. Some people were even wearing BIG3 shirts, and others used it as an excuse to don retro NBA jerseys of new BIG3 players/coaches—Gilbert Arenas, Kenyon Martin, and Nate Robinson apparel was spotted—and unaffiliated ex-NBAers alike.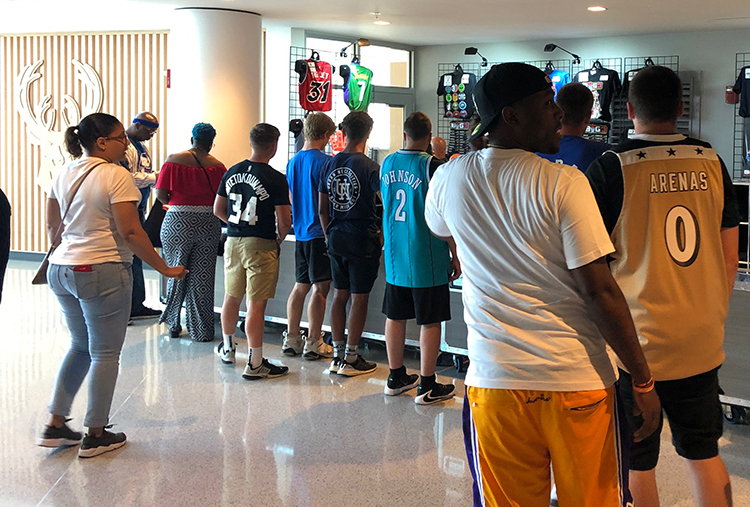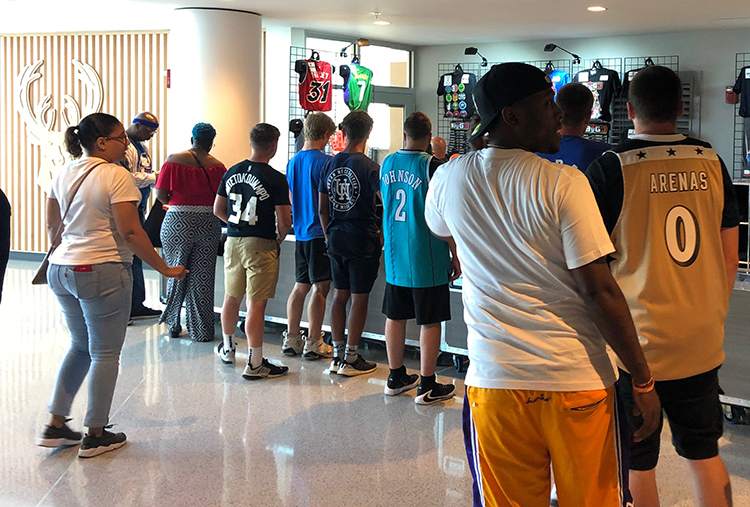 There doesn't seem to be any team allegiances, at least not yet.
Being a young traveling league whose teams have no local connections, fans at Fiserv didn't appear to be rooting for any single team over others. It seemed like people were interested in individual players and, more so, just wanted to see great plays…no matter what jersey the people making the play wore. It was kind of strange to see a live sporting event with onlookers who didn't appear to care who won, but it was oddly positive. People just wanted to see great plays.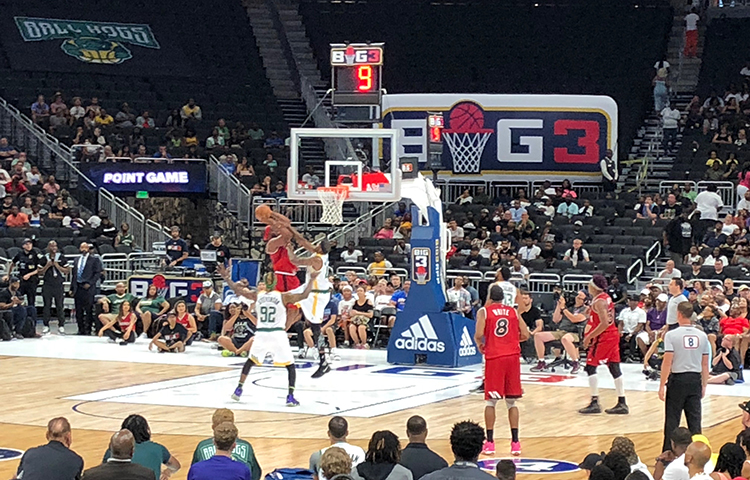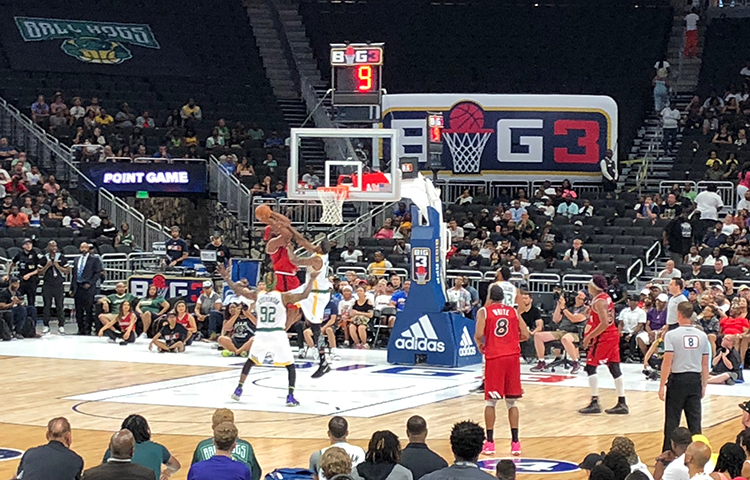 Players and coaches really seem to care.
You might think that BIG3's players and personnel would go through the motions. Think again. Every team played physically and truly seemed to care about winning. That spirit extended to the coaches as well. Lisa Leslie was on her feet the entire time her squad played. Though he wasn't able to suit up, Ball Hogs player Josh Childress was standing up and cheering on his teammates too. Kenyon Martin was fired up as well.
Joe Johnson is on another level.
A year removed from his last NBA stop as a member of the Houston Rockets, Joe Johnson showed Fiserv Forum he's the cream of the BIG3 crop. The seven-time All-Star seemed to be able to score at will. The Tri-State Triplets star scored 26 points and hit the game-winning four-point shot to keep his team at the top of the standings.
Mahmoud Abdul-Rauf's still got it.
Mahmoud Abdul-Rauf was a rookie in 1990. His final NBA season was with Vancouver (who no longer has a team) in 2001. He's less than a year younger than his head coach. Even at 50 years old, Rauf can still play at a high level. The 3 Headed Monsters Co-Captain came off the bench on Sunday, but played well both offensively and defensively to keep his team in a good place to upset Triplets before Johnson hit the clutch 4-pointer.
Greg Oden finally has it.
You probably remember Greg Oden as the Ohio State standout who was taken first overall by Portland. Though his NBA career never materialized due to injuries and off-the-court issues, he seems to have found his place in the BIG3. The Aliens center came through with some blocks, a few rim-rocking slams, and key highlights during his team's 50-35 win over 3's Company.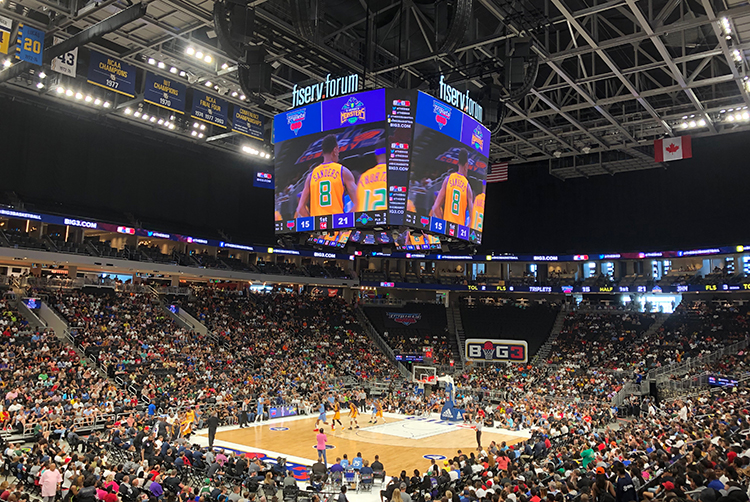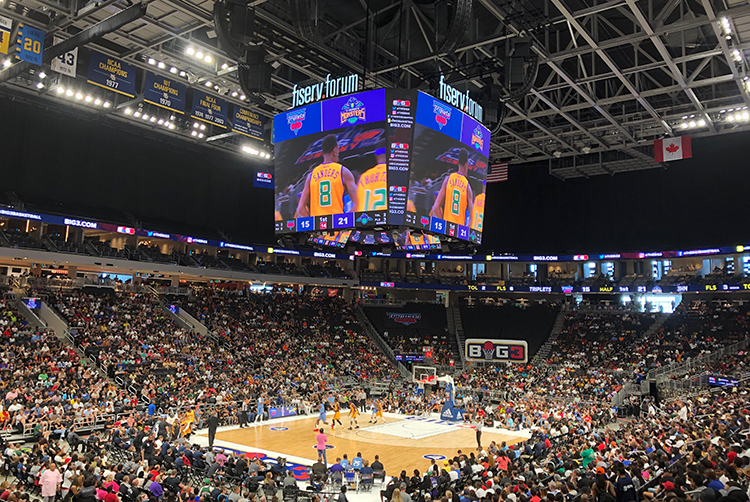 Larry Sanders (and other former Bucks) received a warm welcome.
As noted in our preview, last weekend's BIG3 event had more than a few players with connections to the Bucks. Perhaps the biggest uncertainty was regarding the reception Larry Sanders would receive in his Milwaukee return. It went well! Sanders' introduction came with loads of fan fare, which was echoed when he checked into the game and whenever he scored. Drew Gooden, Jason Terry, and Shannon Brown (NBA vet, Sterling's big brother, and one-time Wisconsin Herd player) also got noticeable reactions.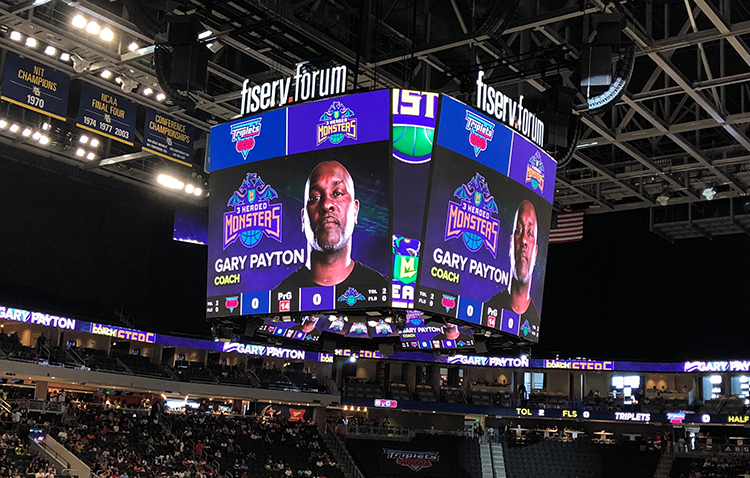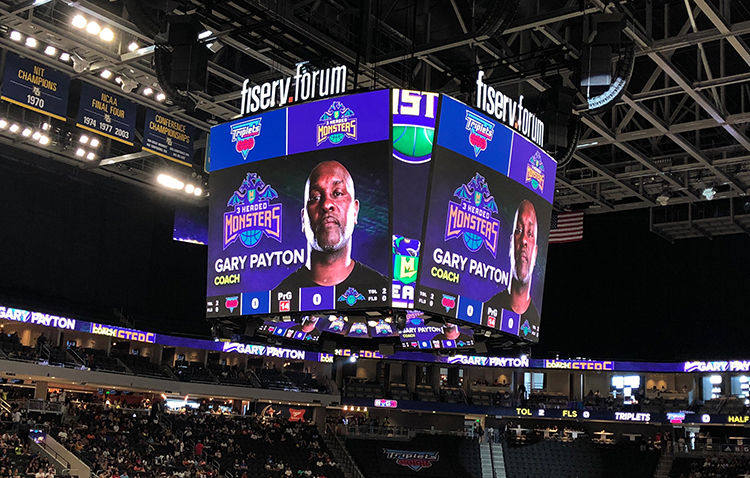 Even coach Gary Payton got a favorable pop when he was announced.
People love Brian Scalabrine.
For reasons we can't fully grasp, people love Brian Scalabrine. The big man inspired signage from fans and earned heaps of applause whenever he did anything for the still-winless Ball Hogs. Brian Scalabrine. Hmm.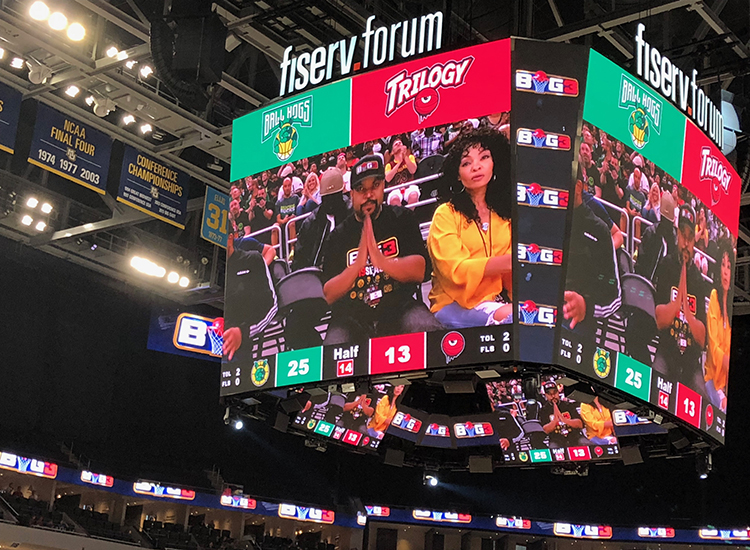 Ice Cube is a great league ambassador.
Ice Cube showed Fiserv Forum he isn't just a league figurehead. The rapper, actor, and BIG3 co-founder was courtside for Sunday's action. Throughout the games, he was engaged, upbeat, and appeared to be appreciative throughout.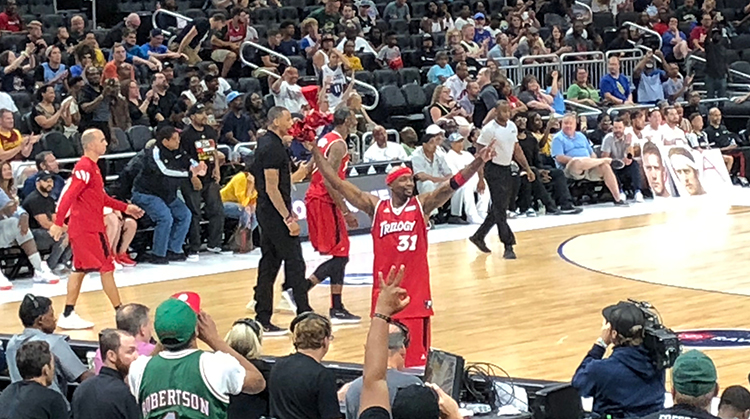 BIG3 is fast, fun, fan-oriented, and (hopefully) here to stay.
Here are some key takeaways we were left with after watching three BIG3 games at Fiserv Forum. The games go by quick and there are no lulls. The fan-focused four-point shootout is an awesome in-game promo. We could get used to five-minute halftime shows. It was cool to see Shannon Brown make his way into the stands after his game and take pictures with people. In all, BIG3 was a fun and overwhelmingly positive experience that we hope comes back to Milwaukee next year. It will never overtake the NBA, but it doesn't have to. We've love an excuse to watch high-caliber pro basketball at Fiserv Forum in the middle of summer, and we can say with confidence that we're not alone.