Between beloved and well-established local staples and a steady wave of new bars and restaurants popping up in and around Milwaukee almost every week, worthwhile dining and drinking gems can occasionally get lost in the shuffle. With Tucked Away, Milwaukee Record digs deep with the hope of unearthing some of these gems.
South Milwaukee is a place between identities. The word "Milwaukee" is in its name, but it shares no borders with the nearby metropolis and, in terms of population and demographics, it has much more in common with neighboring Cudahy. Once an industrial hub whose existence hinged on the Bucyrus-Erie factory for more than a century, the community is slowly and methodically revitalizing its downtown with small local businesses (and a proposed statue of The Crusher). Its residual grit will always remain, but the community is also privy to some of the most gorgeous scenery in southeast Wisconsin, with amenities like Seven Bridges Hiking Trail and the other visual wonders at Grant Park. Hell, even the city's "Proud Past, Promising Future" motto resides in two places.
The dichotomy of present day South Milwaukee is also represented in its food. Yes, there with (thankfully) always be a menagerie of charming and unassuming bars serving up cheap beer and Friday Fish Fry, but the city is also becoming a destination for other, less conventional types of cuisine. In 2016, a Wal-Mart-adjacent part of Chicago Avenue was given a refreshing dash of local flare when Taco Stop MKE brought delicious Mexican fare to an old gyro stand. Last year, the Epicurean acumen of South Milwaukee improved even more when a former tavern a few miles from Taco Stop became the city's first authentic Jamaican restaurant.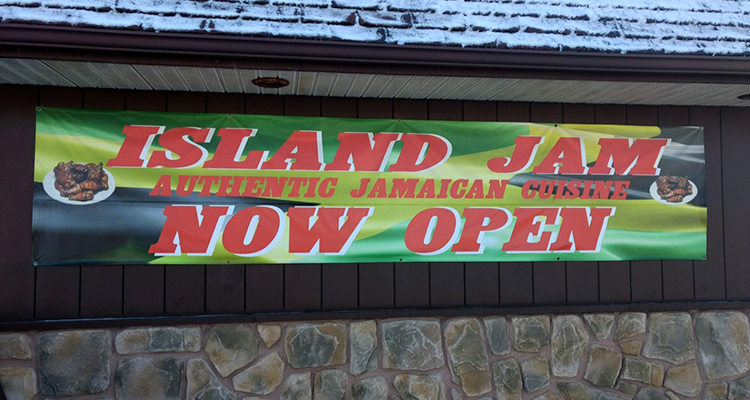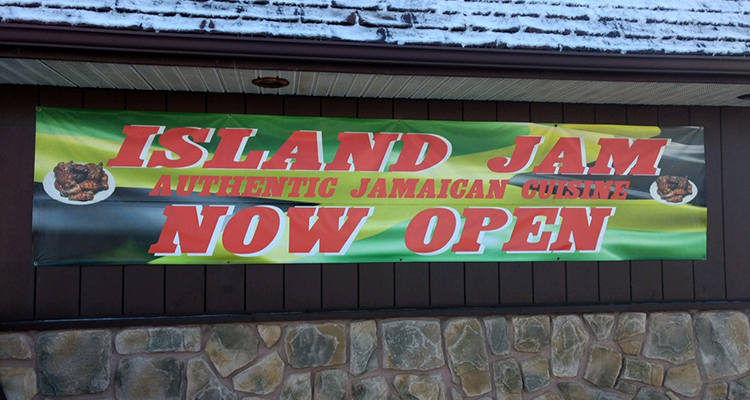 Island Jam (2703 S. Chicago Ave., 414-301-4699) quietly opened in the old site of a dive called Hickory Inn last winter. With a marketing budget that begins and ends with the above banner and exactly zero critical acclaim, the oddly-placed operation has amassed a modest following and a respectable reputation among locals with its small arsenal of Irie offerings. On a snowy late winter night, we headed deep into this ever-changing suburb to see if high-caliber Jamaican eats could really be enjoyed in South Milwaukee.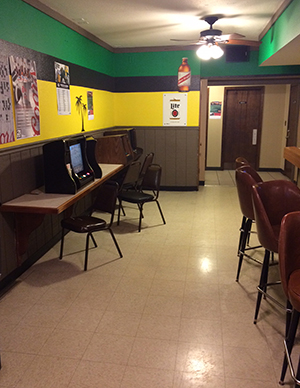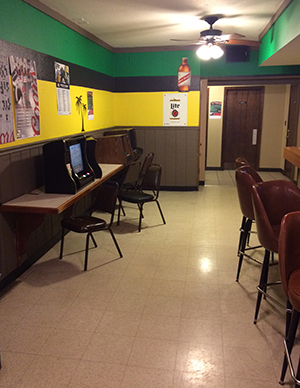 The space: We'd actually been to the property before, in what feels like a past life at this point. However, we didn't realize it until we saw the still-illuminated neon with "Hickory Inn," the former tenant's name, beneath Island Jam's signage. The building was painted black, green, and yellow to resemble the island nation's flag.
Once we got inside, though, memories flooded back. We recalled the long, bent L-shaped bar that ran almost the entirety of the space's main room. We recognized the bar stools, the disorganized array of tables with padded chairs scattered in what could generously be called a dining room. The tile floor wasn't touched, and it appears both the video poker machines and the man drinking while feeding dollars into one were the same as they were when we'd visited some seven years earlier. To the right of the bar, Steve Harvey was suggestively grinning and vamping his way through a Family Feud episode on the restaurant's lone television.
While there were some similarities, the new occupant made sure to add some less-than-subtle decorative touches. The national pride continued inside, with the color pattern making its way on Island Jam's interior walls. The yellow was occasionally broken up with a black stencil-sprayed accents of palm trees and Bob Marley. There were Red Stripe cutouts, but there was also signage advertising Miller Lite, Coors Light, and Pabst (all of which essentially represented its entire tap and bottled beer selection).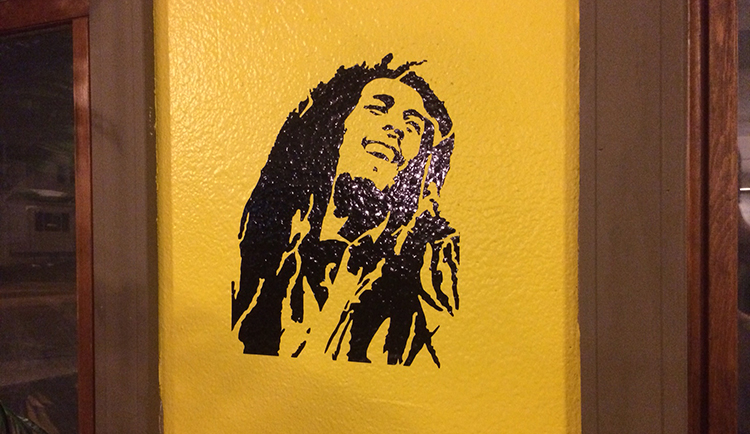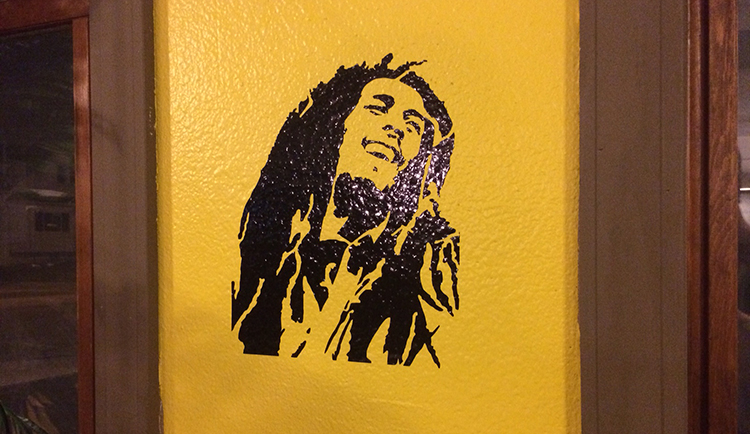 Milwaukee Record's food: We ordered a bottle of Pabst ($2.50) and examined Island Jam's laminated single-page food menu. The entrees are limited to three chicken preparations, curry goat, oxtails, red snapper, and (on Friday and Saturday) jerk pork. That's it! Side dishes extend to steamed cabbage, plantains, rice and peas, salad, and both chicken and goat soups. No single entree is more than $15, with one two-meat combo running $16. That said, most small meals—a meat item, rice, and another side—cost less than $9, with large options predominately priced about $11 apiece.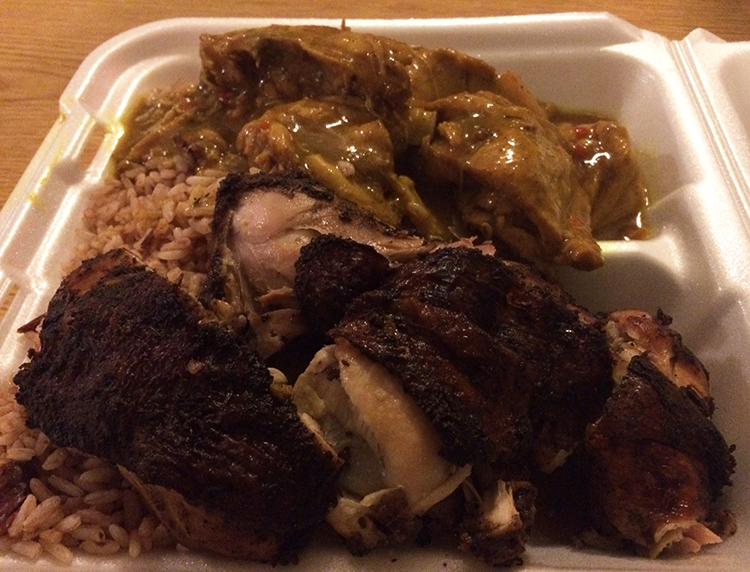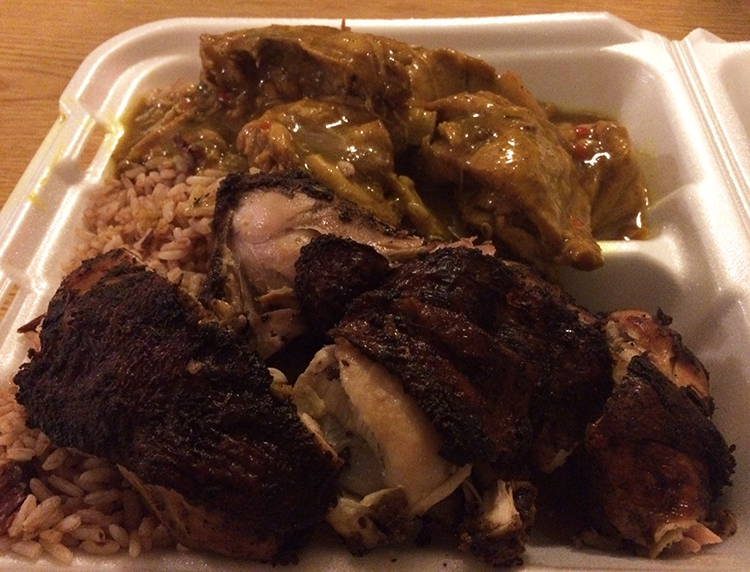 Among the limited customer reviews at our disposal, the most lauded dish was the jerk chicken. We were set on that, until we saw the two chicken combo ($13.99), which prompted us to add curry chicken to the order as well. We selected cabbage to accompany our poultry and rice. After a few minutes spent enjoying a bottle of beer and not enjoying the Feud, the bartender/server/cashier delivered our food to our table in Styrofoam containers and distributed plastic forks. Unsure if this was done with the assumption we were taking the food home with us (it was then we noticed nobody else was dining in) or it was just part of an unsustainable business model, we ordered another beer and decided to stay and eat.
We had doubts about how well the plastic forks would work with bone-in chicken, but we were instantly proven to be fools. The meat was moist and tender enough to fall off the bone. Literally, gravity could do the job. The jerk chicken was dry-rubbed with a coarse blend of herbs and spices that tingled the tongue, cleared our sinuses, reddened our cheeks, and spoke to our soul. It lived up to (no, it exceeded) the limited hype it had received in Island Jam's brief existence. The curry chicken had less fanfare than the jerk chicken, but just as much flavor. The similarly tender chicken thighs were coated with a deluge of spicy curry that had an almost gravy-like consistency. The remaining sauce proved an excellent addition to our fluffy, flavorful, and ABUNDANT assemblage of seasoned brown rice and "peas" (beans). Last but not least, our additional to-go container of buttery steamed cabbage (not pictured) with diced chilies and yellow peppers was a welcomed and surprisingly memorable respite from the boldly spiced meat and starch.
The verdict: Having an absolutely awesome option for authentic Jamaican food that's hidden in a townie bar is only making the present identity of South Milwaukee—a place currently reinventing itself with a growing downtown, natural wonders, and an impending wrestler statue—more difficult to determine. But that's okay with us. We're not sure why Island Jam picked South Milwaukee of all places to be its home, but we don't have to figure it out to enjoy it.