These days, there seems to be a new Mexican joint popping up every month in or somewhere around Milwaukee. Even when one establishment bows out, another one quickly moves in nearby to take its place. Though such an influx of restaurants might have that outspoken relative we all have warning there will soon be a "taco truck on every corner" on Facebook, that prospect doesn't seem all that bad to us. Yet with saturation comes competition, as consumers are faced with deciding where to allocate their limited food funds. As a result, restaurateurs must take measures to differentiate their menus or risk getting lost in the swelling din of dining new establishments.
In its first two months in business, Taco Stop MKE (513 N. Chicago Ave., South Milwaukee) has tried to make a name for itself by specializing in genuine south of the border cuisine. With its simple "authentic Mexican food" promise, the young taqueria is hoping less is more. Can Taco Stop MKE extend the South Side's impeccable reputation for quality Mexican fare even further south—three cities south, to be exact—or should Milwaukeeans save the trip and just focus on the array of quality restaurants within city limits?
The space: Formerly a gyro shack on the corner of South Milwaukee's bustling and Walmart-adjacent Chicago Avenue, Taco Stop seems to have taken great steps to improve the exterior of a site that's long subsisted on takeout business. The exterior has been hit with a fresh coat of bright red paint, pristine patio seating has been installed, and if the parking lot hasn't been repaved in full, it's at least undergone quite a round of weeding. The dilapidated awning that stretched the length of the building has been removed to dispel any memories of its days as a drive-in, and, instead, invites people in to eat.
Inside seating is limited and spaced intimately, with two booths, a pair of four-tops, and a quartet of tables for two strewn in the cozy quarters. Though orders are placed at the counter (or can be placed outside for takeout), Taco Stop MKE ownership makes sure to note it is not a fast food operation. Our—actually quite minimal—wait time was spent watching a Spanish language soap opera playing on the restaurant's wall-mounted flatscreen. With expansive windows making up two of the building's four walls, interior decor was kept to a minimum.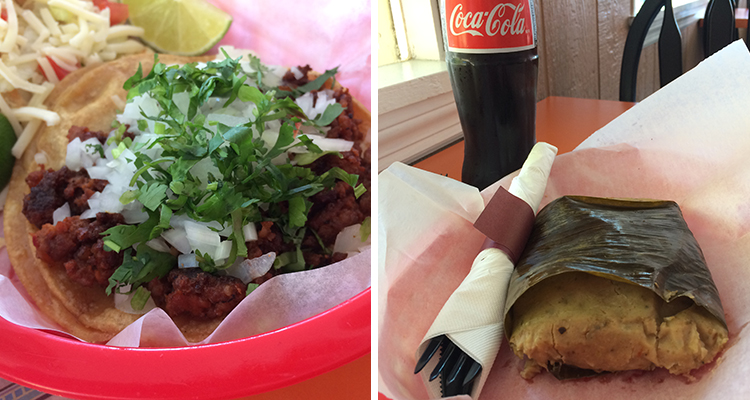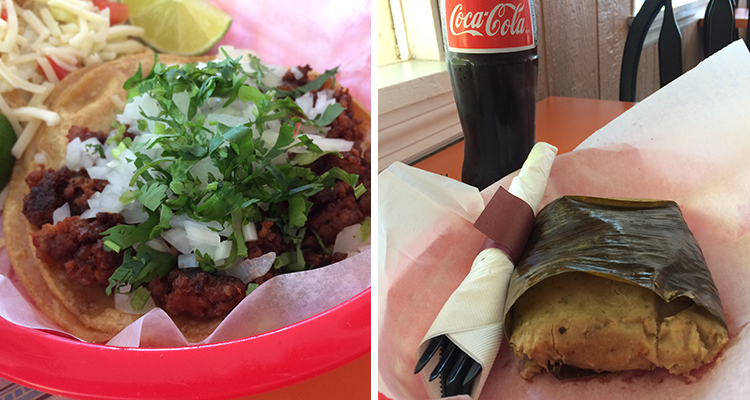 Milwaukee Record's food: Between having the word "taco" in its name and the numerous claims of authenticity, Taco Stop's limited menu hinges heavily on the eponymous edible. In all, there are seven types of meat available in tacos: chicken, steak, al pastor, chorizo, ground beef, barbacoa, and lengua (beef tongue). The default order is "Mexican Style," which features meat, a corn tortilla, raw onion, and cilantro. Taco Stop also serves a "U.S. Style" taco, complete with a flour tortilla, lettuce, tomato, and cheese. Beyond the namesake menu item, chicken enchiladas, a burrito, chimichangas, chilaquiles, and nachos are on hand daily, as well as occasional specialties like fajitas tacos, tostadas, and tamales.
Knowing we'd never be able to tackle the entire rundown of tacos, we took a stab at two of the more disparate offerings: a Mexican style chorizo taco ($2.25, top left) and a U.S. style chicken taco ($2.25). The former was shockingly low on grease, but packed the familiar sodium bomb we've come to know and love from chorizo. The fresh onion and cilantro added some depth without complicating things or detracting from the meat's starring role. The chicken taco was topped with an almost sarcastic amount of lettuce, tomatoes, and cheese, which we gladly split in two to make another chicken taco with the second flour tortilla we received. Once halved, the lemon-pepper seasoning of the grilled chicken chunks was allowed to come to the surface.
Figuring it wasn't an everyday occurrence, we also opted for the tamale oaxaqueno ($4.75), a fluffy, pork- and pepper-stuffed tamale that was wrapped in a plantain leaf. Somehow, the corn encasement remained flaky and crumbly while still allowing the strips of pork to stay tender and full of smoky, spicy goodness. We washed it all down with a bottle Mexican Coca-Cola ($2.75), sweetened with cane sugar. How have we never had Mexican Coke before? Holy shit.
The verdict: We can't attest to its authenticity, but we can speak to its quality. Even with a fairly small menu and an unorthodox space, if you find yourself in South Milwaukee with a hankering for Mexican food that has at least a traditional bent, you now have a place to stop.