Way back in 1892, a small village came into existence along the Lake Michigan shoreline just a few miles south of Milwaukee. For reasons we can only speculate, the suburb was named South Milwaukee. The following year, an Ohio-born manufacturing corporation called Bucyrus-Erie moved its headquarters to this young village. With the foundry came a sudden influx of new citizens, a modest commercial base, and other amenities put in place to make this new settlement into somewhere people could call home. In 1897, South Milwaukee became a full-fledged city and, with Bucyrus as its ever-present economic bedrock all the way up until its 2011 acquisition by Caterpillar (which remains a major employer in town today), has come quite a way since its humble origin.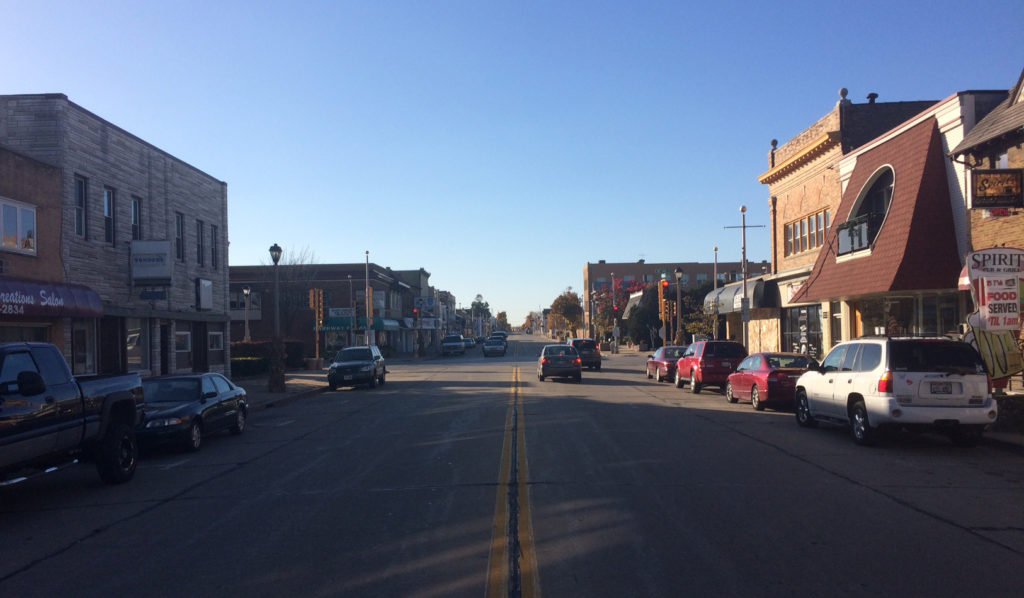 South Milwaukee is associated with Milwaukee in name alone. In fact, the two cities don't share a border anywhere. At some points, two cities—St. Francis and Cudahy—sit between Milwaukee and its similarly-named southern suburb. The disconnect continues into the city's makeup, as 21,000-resident South Milwaukee has a decidedly small town feel, because, well, it's a small town. This is best displayed on Milwaukee Avenue, the city's unofficial main street. Last weekend, I drove down to Milwaukee Avenue to learn about the "proud past, promising future" and the untold story of South Milwaukee's present from Erik Brooks, the mayor himself.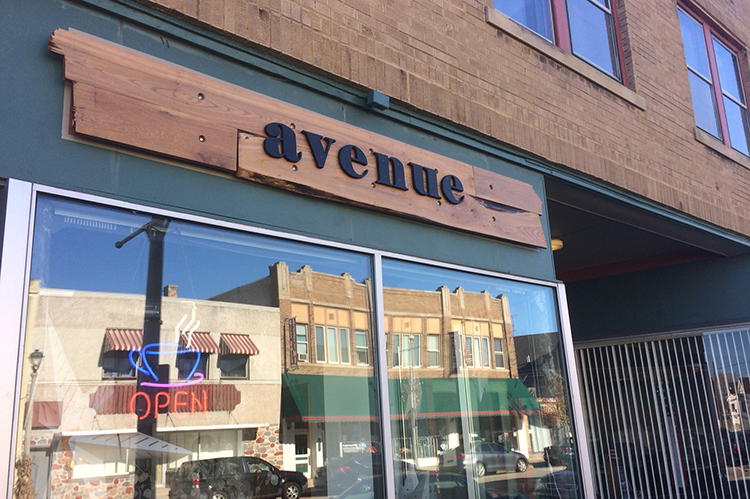 I met mayor Brooks at Avenue Coffeehouse, one of the many new businesses popping up in the heart of the city. The cozy coffee shop had the look and feel of an Anodyne satellite, even down to serving the roaster's products. As we sipped our drinks and plotted the rest of our journey, I got to know a bit more about the first-term mayor. The 41-year-old husband and father of two grew on Milwaukee's south side, but moved to South Milwaukee 14 years ago. Following a five-year stint as an alderman, Brooks was elected to the demanding part-time position (which pays him about a $12,000 stipend annually) of mayor in 2014. He's the fourth South Milwaukee mayor in 50 years. His full-time job is a position in communications for Miller-Coors. Prior to that, he was a journalist, who had stints at the Waukesha Freeman and Business Journal.
Beverages in hand, we strolled down to see some other nearby businesses that had recently come into the community: A sewing shop that made thousands of American flags this year, a disc golf shop, a photography studio, a screen printing business, a soccer bar, and a martial arts school. From there, we drove around the corner to the site of its vibrant farmer's market, which takes place on the lot 20 Thursday evenings each year. The spot is the proposed site for a $6.6M development that could include a microbrewery, residences, and a dedicated space for the market to continue. Its fate will be decided next spring.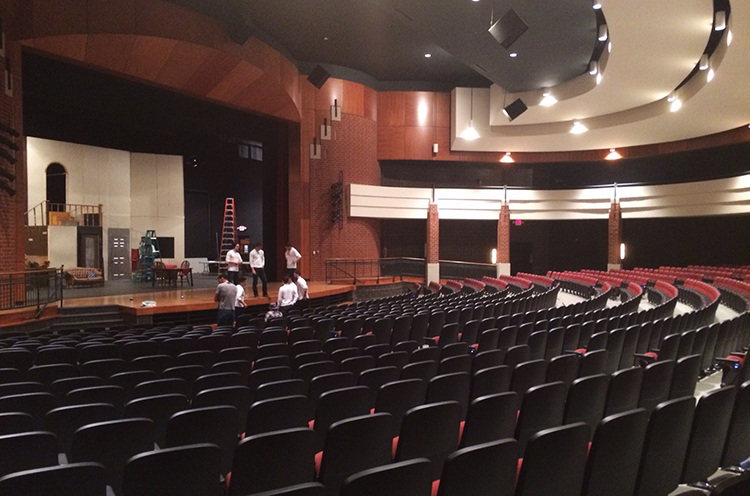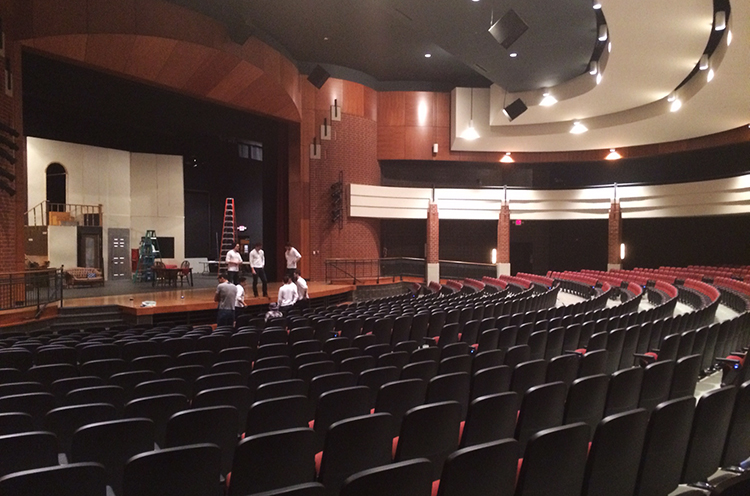 We continued on our way, leaving the proposed $6.6M development and going to a $42M development that was approved and built. Sitting near Oak Creek (the actual creek, not the neighboring city) are South Milwaukee Performing Arts Center and South Milwaukee High School. The shared site features the school itself, as well as a community fitness center and indoor track, and a pristine 786-seat performance venue that's used for school performances as well as national and international talent. Since its 2004 inception, the PAC has hosted notable acts like Lindsey Buckingham, Arlo Guthrie, Travis Tritt, and a 2016 homecoming by South Milwaukee-born comedian Jackie Kashian.
At the end of a tour led by the PAC's Executive Director, Rachel Sorce, the mayor said that the facility and its programming "challenges [South Milwaukee] artistically," and that shows in the wide breadth of upcoming events: a rhythm and dance display called Step Afrika!, a Milwaukee Ballet showcase, and a comedy called Broadway's Next H!t Musical among them. Given its lengthy and prominent manufacturing past, it was surprising to see shows like these on the books, and to be in such a nice facility.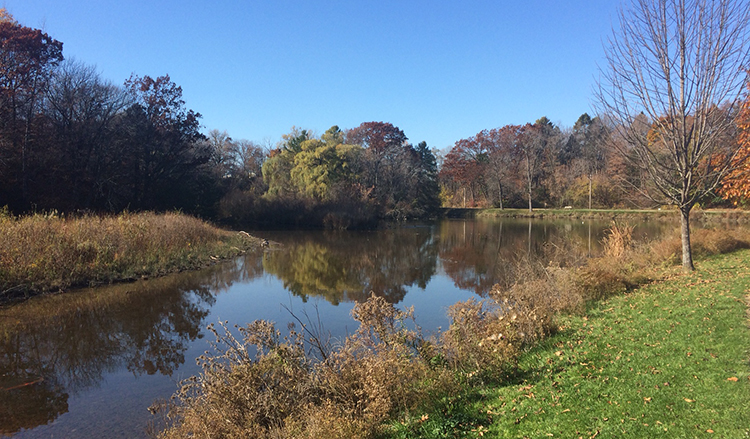 Also bucking South Milwaukee's industrial stereotype is the wealth of park land. Mayor Brooks told me 27 percent of the 4.8-square mile city is some type of natural amenity. Grant Park—one of the largest parks in all of Milwaukee County—is nestled against Lake Michigan and it offers a golf course, tennis courts, a pond, and a dam by an old mill (which Brooks says he'd like to restore and utilize in some capacity down the line).
The beach can be accessed either at Seven Bridges Hiking Trail—which, itself, is easily one of the most picturesque places in all of southeast Wisconsin—or by roadway, which offers entry near the South Milwaukee Yacht Club. Yes, South Milwaukee has a yacht club. As we walked the beach and talked about our fantasy football teams and the mayor's love of fishing, I took note of the expansive and glorious beach and its backdrop of factories with plumes of smoke billowing out to the lake in the distance. Industry is why people came here, and it could be argued the view is what convinced them to stay.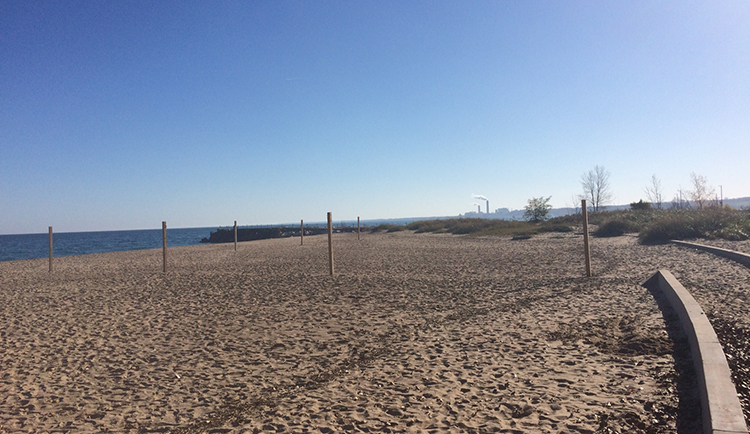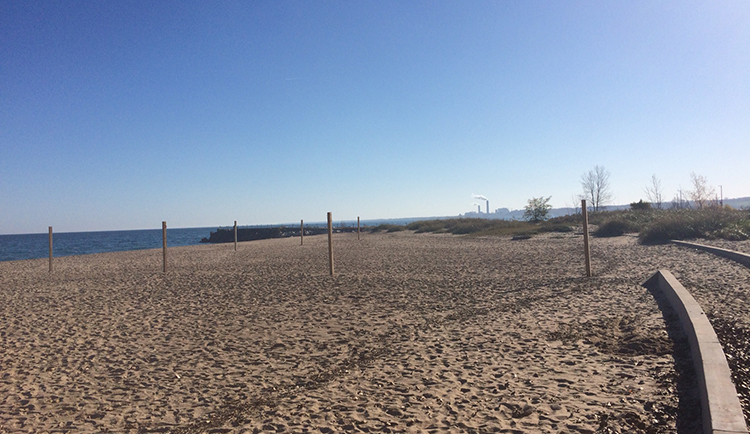 Just a few blocks down the road from the dam is the edge of downtown. An unfamiliar visitor such as myself would never expect that sort of proximity. We ended our trip at Azteca, a Mexican restaurant the mayor says is one of his favorite places to eat. He celebrated his most recent birthday there. At 2 p.m. on a Sunday, the restaurant was packed. Busy as they were, owners Rocelía Calderón and Nahum "Carlos" Velazco took time to stop by our table and tell us their story. After working together in West Allis for a number of years, the Mexican-born entrepreneurs decided to open their own restaurant in South Milwaukee, citing the affordability.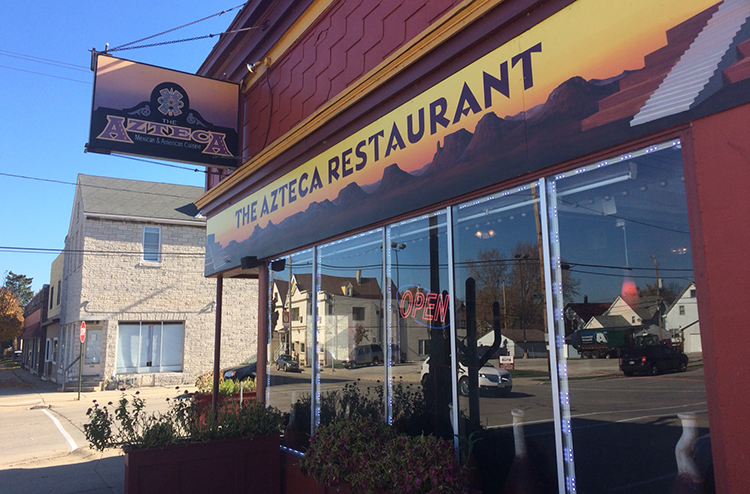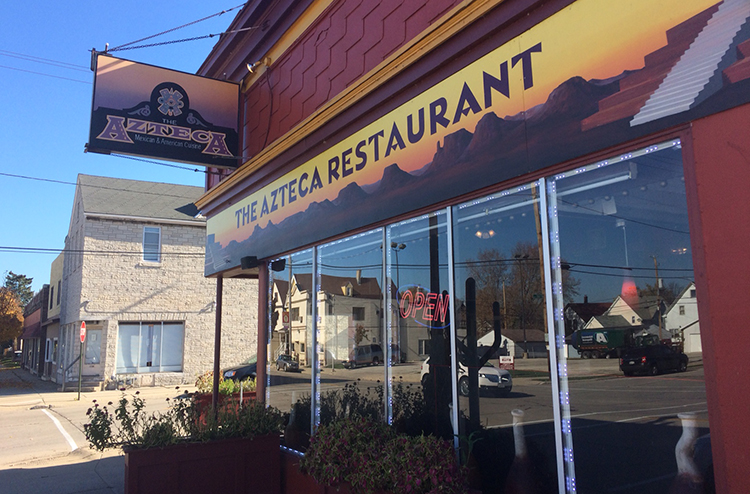 As we ate, mayor Brooks discussed the importance of telling South Milwaukee's story, which he tries to do on his widely-read blog. Over his first two years, he's put an emphasis on revitalizing the city's downtown commercial sector, highlighting its artistic strides, and touting its various natural wonders. Still, Brooks knows the roots put in place with Bucyrus' 1893 arrival will always be an invaluable piece of South Milwaukee's proud past. Similarly, powerhouses like Caterpillar, Eaton, Emerson, Everbrite, and Johnson Health Tech make manufacturing an important part of the city's promising future. "We wear our blue collar proudly here," he told me. "We're proud of the dirt underneath our fingernails."
The one period not addressed in the city motto is South Milwaukee's present standing. Sure, it—like any city, really—is a work in progress, but if you look in the right places (both metaphorically and literally), this often-overlooked community seems to be sitting pretty.