Between beloved and well-established local staples and a steady wave of new bars and restaurants popping up in and around Milwaukee almost every week, worthwhile dining and drinking gems can occasionally get lost in the shuffle. With Tucked Away, Milwaukee Record digs deep with the hope of unearthing some of these gems.
Even though the much-maligned Milwaukee suburb of West Allis is a misunderstood and underappreciated place, it's home to a pretty cool mayor, a growing list of amenities, and a few great restaurants. Down National Ave., Chef Paz is proving (or Peruvian? Sorry!) preconceived notions of 'Stallis dining wrong with delectable South American cuisine. Blocks away from there, Phở Cali is sating the community's cravings for Vietnamese delights (even if Phở King was a way better name). Down Burnham St., Antigua is turning heads with inspired Latin cuisine. At the edge of the State Fair grounds out on Greenfield Ave., Tomken's has earned a spot on many people's short list of the best places to get wings in metro Milwaukee.
The unexpected wealth of dining options in West Allis becomes a little more surprising yet when encountering Chilango Express (6821 W. Lincoln Ave., 414-807-7948). After enjoying some success with a food truck in Oconomowoc and a small stand at 27th and National, owners Guadalupe and Juan Ortiz decided to expand its Mexican restaurant to a brick and mortar location on a main causeway in West Allis in 2015. More specifically, they decided to set up shop inside of a gas station. If Chilango Express could catch on in a truck, surely it could succeed in a site where both trucks and patrons can fill up at the same time.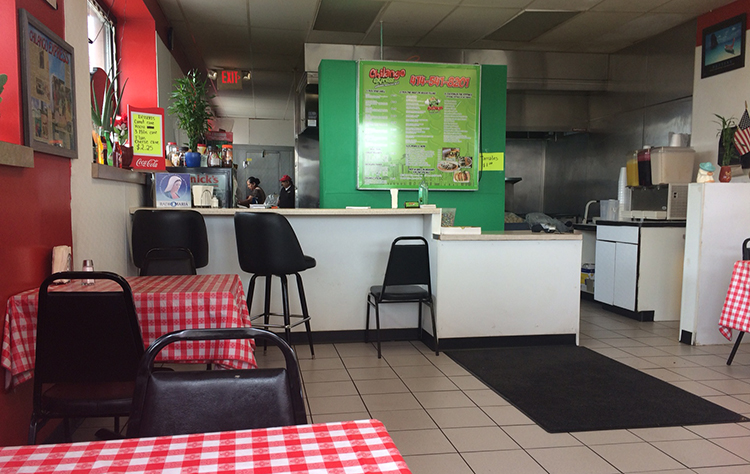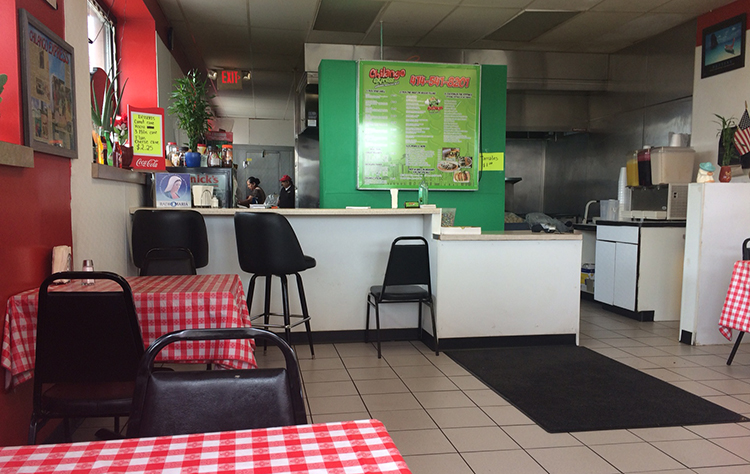 The space: As noted above, Chilango's Express is attached to Bro's Petro Mart, a small gas station situated at a three-way stop between Lincoln Ave, Beloit Rd., and 68th St. There's some angled parking past the pumps, and the tiny taqueria is connected to the mini mart, but separated by a doorway and glass partitions. In all, Chilango has five tables (two of which can seat four patrons) and a few stools stuck against the counter where orders are taken by one of the two-person team that operates the maybe 20-person capacity restaurant.
As we waited after placing our order—barely, since the "Express" part of the name isn't a lie—we listened to the house soundtrack provided by a perfect mix of La Grand D on a boom box, nearby diners conversing in Spanish, and the comforting sizzle of meat emanating from the exposed kitchen. While small and minimalist, the space was warm and inviting with the presence of plants, figurines, and classic checkered tablecloths. The speed and location seem to suggest Chilango Express subsists on takeout business, but we didn't feel at all out of place taking our time to dine in.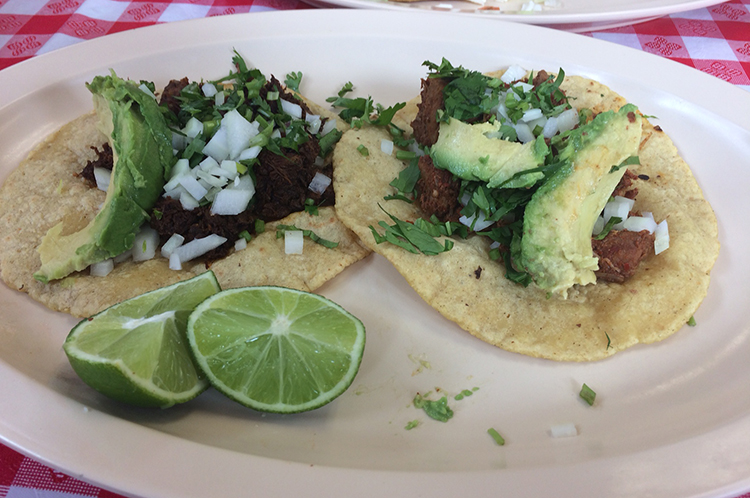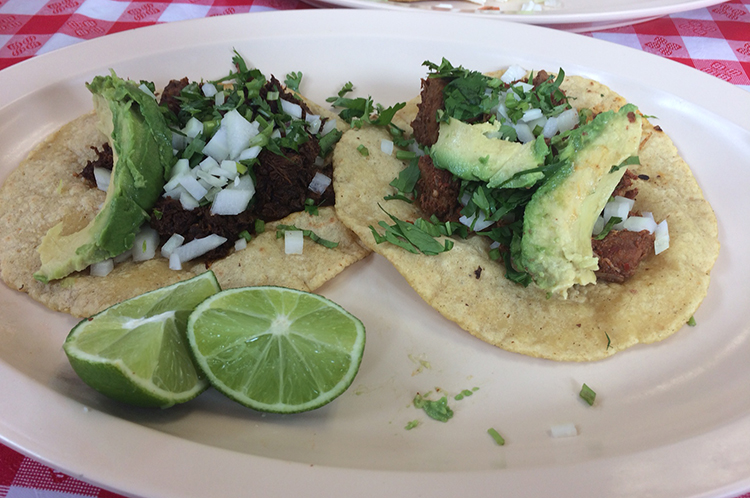 Milwaukee Record's food: The restaurant's limited space does, however, reflect the size of the menu. In all, there are just over 10 main items, ranging from tacos and burritos to tostadas and tortas, and the like. That said, there are 10 meat and vegetable variations that include standard fillings like steak, pork, chicken, and beef as well as uncommon options like nopales (grilled cactus) and grilled pumpkin flower. On weekends, a limited number of specials such as roasted lamb, menudo, and tamales are on hand while they last.
We sipped a large cup of refreshing and cinnamon-y horchata ($2.50) while we waited a mere few hundred seconds before our food came. Soon, our order of two tacos ($1.75 each) and a gordita ($6.25) was dropped off at our table. As a default, tacos are served on corn tortillas, which Chilango makes in house, topped with cilantro, raw onion, and avocado. An "especial" option with tomato, lettuce, cheese, and sour cream caters to Americanized tastes, but we wanted to enjoy our pastor and barbacoa tacos as they were intended to be (not counting the liberal smattering of outstanding homemade green hot sauce we employed on both). The former was a generous heap of savory, semi-spicy pork stacked atop of a pillow-y tortilla. As good as it—countered perfectly by the rich chunks of cool avocado and onion—was, the tender hunks of marinated beef made the barbacoa the unabashed star of the show.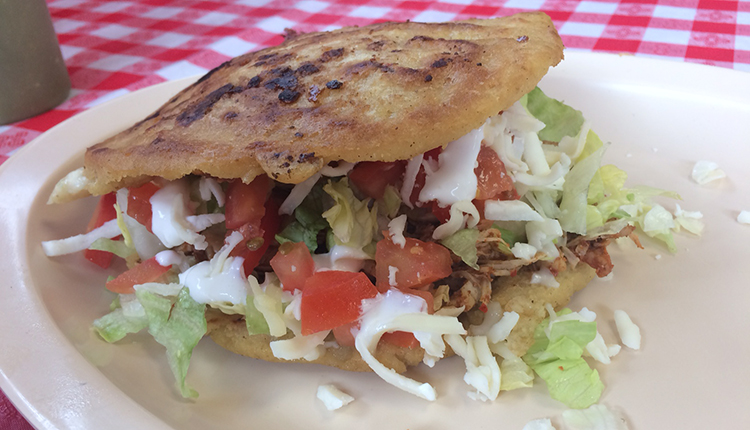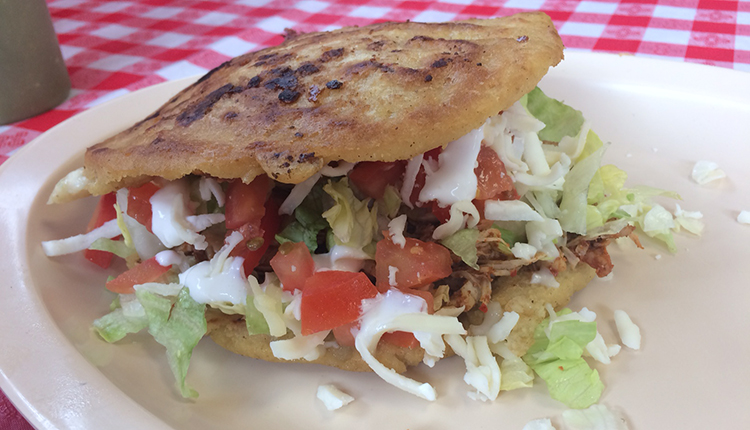 Seeking a change, we immediately understood why the gordita was priced over $6. The massive mound of chicken, beans, and "especial" ingredients (which come standard on it) mashed between deep fried corn shells was like a tostada sandwich of sorts. The somehow-even-more-tender mess of seasoned shredded chicken melded with the conduit of beans, sour cream, and queso fresco to forge a dense Mexican masterpiece. However, with two tacos and most of a large horchata already swimming in our system, we eventually abandoned the thick fried tortilla lid to make way for every morsel of marinated chicken beneath.
The verdict: Forget everything you thought you knew about West Allis and gas station restaurants. Chilango Express isn't just a place to refuel on the way to somewhere else. It's the destination.