Way back in March, we posted a video—once again, a video we had absolutely NO role in producing—that displayed a rough, unflattering, and altogether bleak view of West Allis that alleged it was "the worst city in the universe." Milwaukee's much-maligned western neighbor has seen its reputation sink incrementally as the region's industrial presence has waned. The "Dirty 'Stallis" identity also casts a net of perception and blind, unsavory assumption over the city's 61,000-some residents. There's even a 'Stallis Haiku page that doles out cruel (but, admittedly, sometimes pretty funny) West Allis-directed jabs in five-seven-five syllable portions.
A lot of people read our post with the anonymous 'Stallis-slamming video embedded. It led to a spirited debate on our Facebook page and rampant commenting below the post (some of which needed to be deleted on account of their incredibly racist overtones). At the time this was written, the post has racked up close to 75,000 views. At least one of those views came from Dan Devine, Mayor of West Allis. Devine was elected to office in 2008, following a stint on the Milwaukee County Board from 2004 to 2008. Obviously, he took issue with the broad negativity put on display by the video. Instead of issuing another word-laden volley into the ongoing comment war, though, Devine emailed us with a simple offer to show us a firsthand glimpse of the city he loves. I'm no expert on etiquette, but when a city's mayor asks to hang out, you pretty much need to say yes, right? So that's what I did. One fateful Friday night, I headed west down National Avenue and spent an evening eating, drinking, playing horseshoes, and trading Simpsons quotes with the mayor of West Allis, and, in the process, getting an extended inside look at a polarizing place so many have judged before giving it a fair shot.
This adventure was especially appealing to me because I, too, grew up in a city that's looked down in its region. Sitting directly between Appleton and Neenah (two larger cities with bigger populations, lower crime rates, and higher average household incomes), Menasha is known throughout northeast Wisconsin and beyond as "Ma-Trasha." Yeah, some of the criticism is well deserved, but every negative was offset by something, someone, or some place that redeemed the city's image. It was a fine place to grow up. It's the same reason I legitimately like Cudahy. I assumed West Allis was the same, but—save for going to Inspiration Studios a couple times, interviewing bands at Bobby Peru Studios, chatting with 'Stallis resident Christopher Porterfield at his home, eating at Golden Gyros once, and seeing Cheeseheads With Attitude at Whammy Bar for a Noisey article (where, yes, I proceeded to totally shit all over West Allis)—I've never really spent time there. With next-to-no knowledge of the place, I opened my mind and headed to a sports bar for a happy hour beer and whatever else might come thereafter.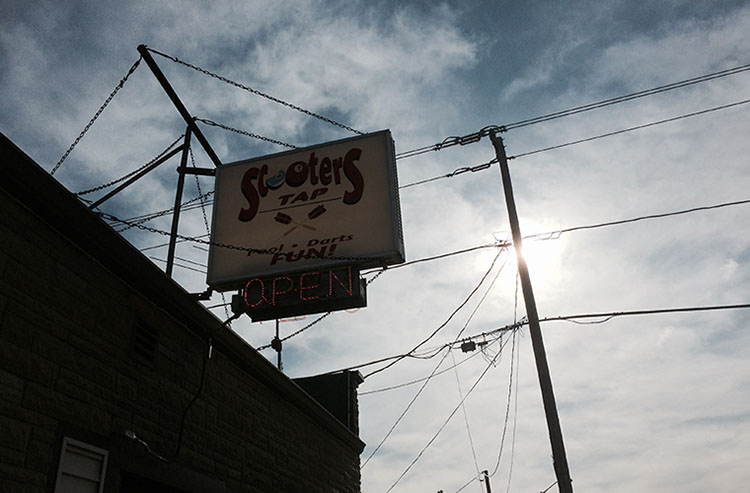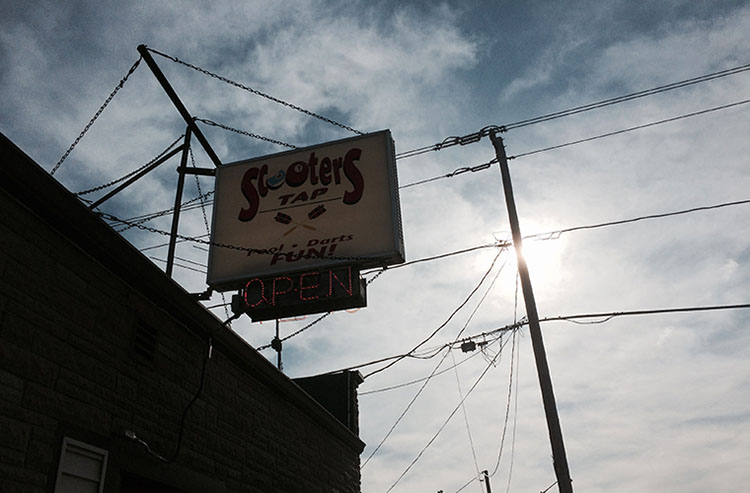 Sitting on the corner of a bustling three-way stop with its faded stone facade, blinking NASCAR neon signs, and absence of an apostrophe, the exterior of Scooters Tap didn't do much to work against the Dirty 'Stallis stereotype. Though it seemed to be an odd meeting spot for a journey with the assumed goal of telling me how cool West Allis was, I went in anyway, hoping at least one third of the bar's "Pool. Darts. Fun." motto held true. Being 5:30 p.m. on a Friday in Wisconsin, the quaint tavern was already packed with patrons getting a prompt start to the weekend. One of them was a guy named Bart, a West Allis city planner who wanted to join in on the fun. As I paid a whopping $1.50 for a frosty mug of High Life, he came up to introduce himself and let me know the mayor was on his way. While we waited for Mr. Mayor, Bart told me a little about himself, including that he's an avid cyclist and the interesting tidbit that, as a proud native of microscopic Mayville (now with its own Subway!), he is loosely related to Milwaukee Record's own Matt Wild. Meanwhile, people enjoyed unthinkably inexpensive drinks in generally good spirits. Both of the jovial bartenders convinced us to play shake of the day. I lost.
Not long after I finished my first mug, Dan showed up. After he ordered a PBR, one of the bartenders beamed with pride as she told him her daughter got an academic scholarship to University Of Wisconsin, to which Dan responded with other stuff this girl did at school. This would be a precursor to him needing to be "on" almost the entire night. Random people walked up to him with whatever tidbits they deemed important. Even standing at a bar, beer in hand on a Friday evening, Dan Devine was on duty. I glanced around the small bar and saw some people looking at our trio with legitimate interest. Others seemed less-than-pleased the guy they didn't vote for was in their bar. Some people didn't seem to give a shit either way. We plotted the rest of our night, finished our beers, and walked to a nearby restaurant for dinner.
When one thinks of West Allis cuisine, Peruvian food doesn't immediately come to mind, but maybe it should. One of Dan's favorite restaurants, Chef Paz Restaurant, was quickly filling up during the 6:15 p.m. dinner rush, and with good reason. Even though the restaurant's menu is as limited as its seating, I was quickly taken by the Lomo Saltado. The $11 entree came with a generous portion of sauteed tenderloin, tomato, and onion on a bed of white rice and french fries. While the delicious meal was being prepared, we enjoyed cheese empanadas, and I began to notice there were a bunch of young people, who likely don't want their secret spot ruined, coming in. We washed our meals down with a pitcher of pisco sour, the official drink of Peru (like a margarita with frothed egg whites and cinnamon). I got to know Dan and Bart better. Bart loves to travel. Dan, a 43-year-old Racine native who moved to town from Milwaukee's East Side after graduating from UWM, is married and has two kids. After I quoted the Simpsons offhand, I quickly learned that Dan knows the show better than I do. Having known the pair for about an hour, I was actually enjoying myself. After splitting the bill three ways, we waddled out of the restaurant with full bellies and each of our wallets just $23 (plus tip) lighter. Mayoral invitation or not, I'll be back.
Having just decided my tour would have a nightlife focus, we ambled on to Walleye's Saloon a few blocks away. Our entrance was welcomed by a wave of awful nu metal (the first of many, many encounters we'd face on this excursion) and what looked to be a bar fight percolating between two hammered 20-somethings (that ultimately wouldn't occur). The combination of the two and the nice weather drove us and our $3 pints out to the rear patio, where we met a nice woman named Jody and played two games of horseshoes. Mayor Devine (right) and I won both games. One of Bart's (left) horseshoes took a crazy bounce and nailed me in the kneecap as Keith Swea''s "Twisted" played on the patio speakers. Upon learning more about her opponents, Jody said, "I didn't even know West Allis had a mayor." Beyond the horseshoe hobbling, this was probably the highlight of the night.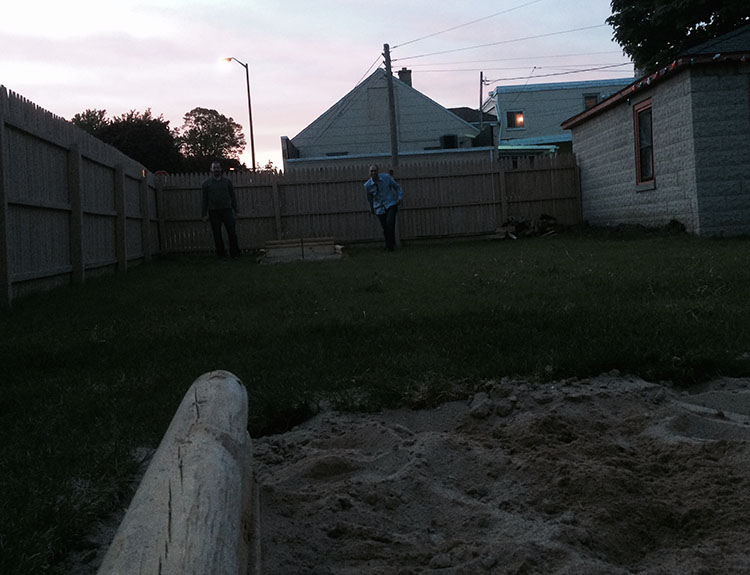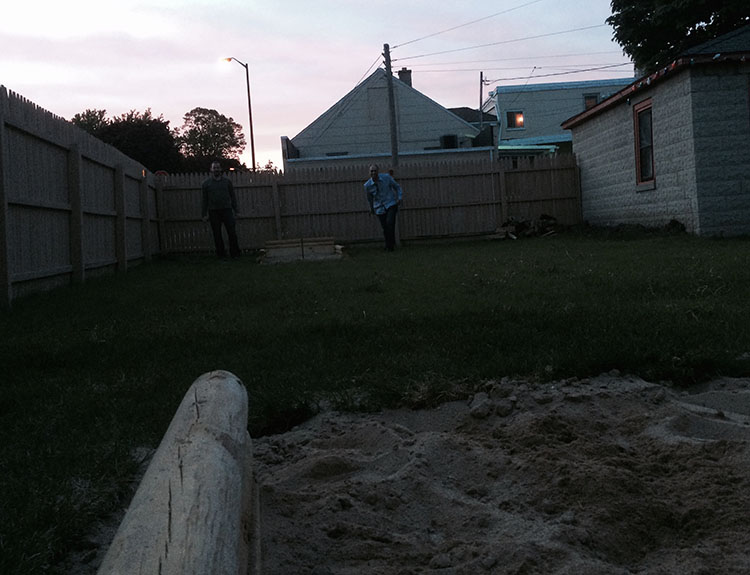 From there, we drove to the city's new skatepark, a pristine corner amenity (that Bart was especially passionate about) that opened late last year. It was partially funded through a federal block grant and a grant from Quad Graphics. Even with it being after 8 o'clock and already dark, the park was definitely being utilized by young skaters and mountain bikers. It was important to Dan and Bart that gears from the old Allis Chalmers factory were incorporated into the design as an ode to one of the employers responsible for bringing so many families to the city. This summer, a tree will be planted in honor of Patty Kompas, a woman who was instrumental in the project's success before she lost her battle with brain cancer last year.
After taking in the park, we proceeded downtown to Benno's, a bar and grill on 74th and Greenfield. With a lounge-like feel and a great draft beer selection, this was like the Burnhearts of West Allis…if Burnhearts played "With Arms Wide Open" by Creed. I enjoyed one of the bar's five Three Floyd's draft options and got to know more about the mayor. In finding I grew up near Green Bay, Dan reminisced about seeing The Queers and Boris The Sprinkler at Concert Cafe. He told me he prefers IPAs and that he brews his own beer. He loves baseball and throws a knuckleball. (He knew who Steve Sparks was!) We both think new Simpsons episodes suck. In short, the mayor of West Allis is my new best friend. While there, I was introduced to the owner of Benno's, an alderman who got my attention by pointing out every piece of the bar's decor that came from County Stadium, including a massive restroom sign. Before unlocking any subsequent IPA achievements, we went to Paulie's Field Trip, a bar on 81st Street that specializes in only Wisconsin beer and cider…and partially hidden cans of Bud Light. (I saw them, Paulie!) The small, classic dive had all the makings of being great, if not for the invasive aural accompaniment of a piss-drunk "musician" named EROCK, who was slurring partial lyrics to Tom Petty's "American Girl" he'd forgotten a few dozen drinks ago. Paulie, who seemed to be a friend of the mayor's, was a really nice dude.
Finally, we ended an otherwise enjoyable night at a bar a short walk away called Capt'n Nick's, which was far and away the worst place we'd been all night, even if three mugs of beer (one of which was Riverwest Stein) came to $4.50. While we sipped our almost assuredly tainted tap beers and the pissed-off-looking middle-aged bartender returned to her stool beside the other five 'Stallis caricatures at the U-shaped bar, Bart poignantly compared West Allis to Wauwatosa. Both are on the border of Milwaukee, but only one has its own identity. Sure, West Allis, its buildings, and its people can be a little rough around the edges. We heard enough trashy music, encountered a few weirdos, and had some beers in sketchy settings, but there were also opposing examples to offset each. West Allis is like its big brother to the east in that it's a proud, character-laden locale with a rich industrial past that's in the process of reinventing itself while continually combating stereotypes and preconceived notions from outside sources. Wauwatosa is like Milwaukee in that it handpicks elements of its neighboring metro's successful restaurants, bars, and cafes to incorporate into its own idyllic, whitewashed utopia. I'll take a real city like West Allis over that any day.
That's right, 'Tosa, I said you're not a real city. Want to change my mind? Have your mayor email me to hang out.