This week, various news outlets reported that Funai Electric, which is thought to be the final company that produces VCRs, will stop manufacturing VHS players in August. With major studios ceasing tape releases way back in 2006 and, now, an end to player production, this has to be the deathblow for the format, right? Not even close. As the VHS, as well as even older formats like Betamax and LaserDisc, become film relics, a small-but-passionate group of collectors are keeping these endangered analog mediums alive while building a tight-knit community in the process.
Saturday, a group of collectors from all over Wisconsin and neighboring states will come together at a South Milwaukee bar and grill to compare collections, swap tapes, sell their wares, and enjoy a shared affinity for forgotten formats in the first installment of Catacombs: A Cream City Cinema Swap. One such collector is Northless singer-guitarist Erik Stenglein, who helped Christopher Gruber organize the event. Stenglein, a movie buff and avid horror fan, estimates his personal collection consists of approximately 1,500 VHS, 1,000 Beta, 350 LaserDisc, and a small batch of CED (Capacitive Electronic Disk), a short-lived and altogether terrible format no RCA executive would ever dare acknowledge.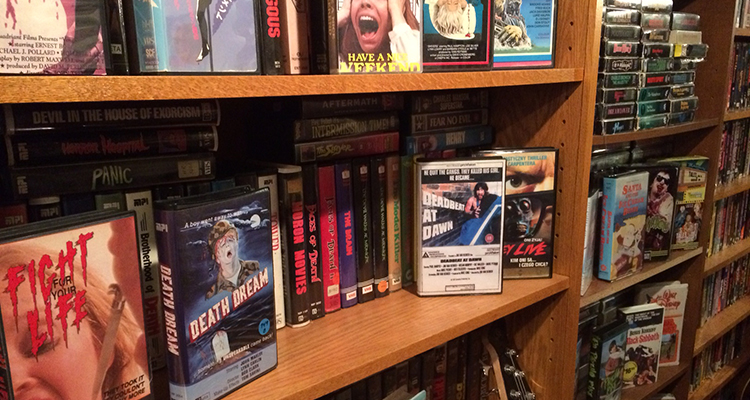 Stenglein says his love of film, and particularly the VHS format, started when he would watch movies with his father as a kid.
"I just loved watching movies with him. I loved going to the video store and renting movies, and seeing all kinds of movies sitting on the shelves. It was awesome, the whole video store experience," Stenglein says. "When all the stores were closing, I got kind of bummed."
He would snatch up copies tapes at thrift shops, garage sales, and eBay and purchase old VCRs and Betamax players to have restored. About two years ago, he says he got really serious about collecting. He now spends more than 20 hours each week searching out tapes around the region, both on his own and with friends. Through his love of these ailing film mediums, he found a unique kinship with fellow enthusiasts in online communities and with a few locals.
"I discovered Facebook groups that were dedicated to this kind of thing," Stenglein says. "I discovered there were people out there with even bigger collections who had been doing it even longer, so I started getting friendly with them and it just kind of took off from there."
With established conventions such as the five-year-old Severed tape swap in Stroudsburg, Pennsylvania bringing people together out east, Stenglein and Gruber are hoping to give a small guild of Midwestern tape aficionados an outlet to come together offline, bond over a shared love, and maybe fill some gaps in their collections.
Not unlike baseball cards, vinyl, and most other collectibles, scarcity is the paramount factor relating to an item's value. Given the small market of collectors and the sheer abundance of overproduced flicks cluttering Goodwill shelves (Stenglein references Jerry Maguire and Titanic), many tapes hold no value beyond the entertainment they provide. However, older films produced by small studios, rare imports, and campy treasures can net a few hundred dollars. Stenglein recently spent almost $100 for a copy of Alien Private Eye, which he believes could be one of 500 in existence, "certainly less than 750."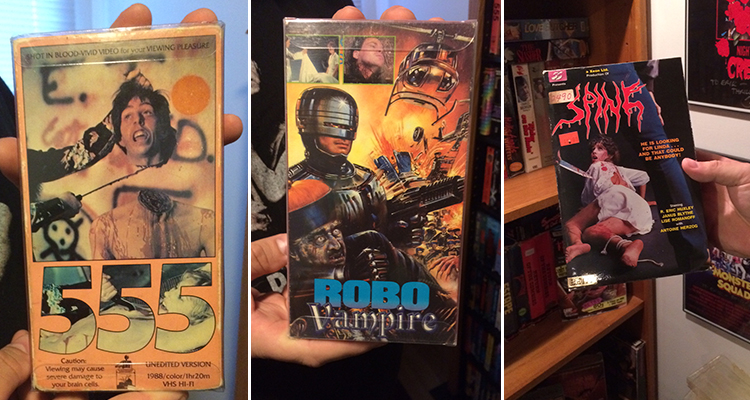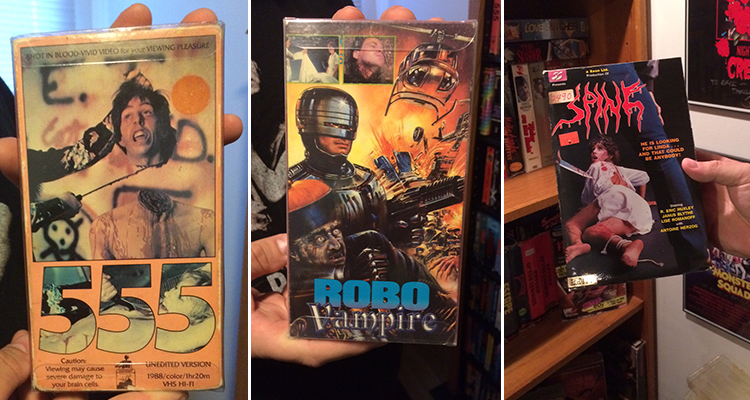 The metal guitarist and slasher film purist isn't in it for the money, though, and he certainly isn't precious about diminishing a tape's value by opening it so he can watch it. "I'm not averse to cutting it open," he says. Stenglein's collection might be valuable to a very specific subculture of people and he might have, by default more than anything, one of the state's largest collections of VHS, Beta, and LaserDisc. However, he gets the most value out of sitting in his basement theater with like-minded friends and watching fuzzy lo-fi versions of the films he loves. Hopefully Catacombs will bring more collectors out of the woodwork.
"I don't focus on a lot in my life," Stenglein says. "I've only focused on three things: getting a college degree, learning to play drums, and this. That's pretty much it. So I'm going to take it as far as it can go because it's really what I love."
Catacombs: A Cream City Cinema Swap comes to Tracker's Pub & Grub (South Milwaukee) on Saturday from noon to 4 p.m. Admission is free. Northless will play with Hot Coffin and Escape Is Not Freedom at Frank's Power Plant at 9 p.m.