Ron Funches is in a good place right now. The comic has amassed an impressive (and growing) résumé of acting and voiceover work. He's lost about 140 pounds. He's dating someone new and is having fun raising his 14-year-old son. Most relevant to Milwaukee, the charismatic comedian is winding down "Funch-A-Mania," his first theater tour. Thursday night, Funches discussed all that and so much more during an unforgettable 70-minute set that found the lovable laughsmith tossing "special" cookies into the crowd, consistently cracking himself up, and stealing the hearts of a few hundred people at Turner Hall with his versatile material and inimitable delivery that signal even better days are ahead.
Preceding Funch-A-Mania was Gabe Dinger, a Los Angeles (by way of Portland) comic who treated the still-filling ballroom to 20-minutes of affable and largely hilarious musings about legal weed, being the product of divorce, E.T.'s many plot holes, and a memorable set-ending dilemma regarding an overpriced three-pack of grocery store underwear. Tone effectively set, Dinger gave way the headliner—another L.A. comic and Portland ex-pat—who came out with a large box of cookies that a fan baked for him. He read the fan's note and started casually tossing the dank desserts into the audience.
After acknowledging the recent end of @midnight, Funches wasted little time endearing himself to his host city. "I like Wisconsin," he started. "I like your women. I like them because they're thick in all the right ways." The light local pandering and the possibility of a potent prize tested the decorum of some audience members early on, with the fine line between interaction and heckling being breached. That is, until the typically-friendly Funches put a swift stop to it. "The best route is to just shut the fuck up," he quipped in the direction of a particularly verbose table. Problem solved.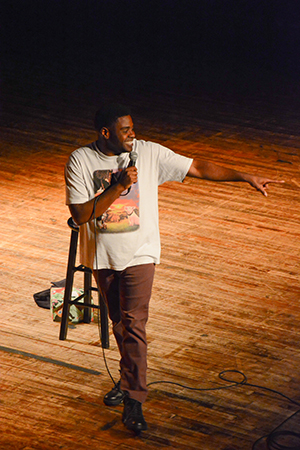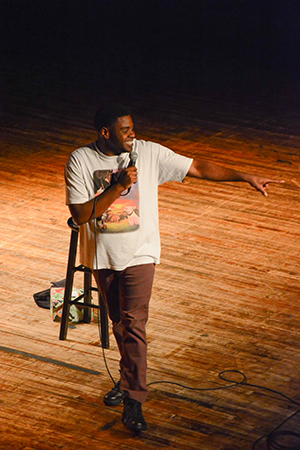 The rare moment of assertiveness proved to be an excellent transition into a story of accidentally getting into a fight at a Canadian pot store. "I thought they outlawed anything bigger than a kerfuffle," he said, making himself laugh, before telling the captivated crowd the ways his internal and external monologues differed during the exchange. For every joke or obviously off-the-cuff bit that landed, just as many cookies landed in the hands of audience members. "Throwing pot cookies off the stage was the best thing I've ever done," a gracious Funches exclaimed between instances of his trademark giggle.
The comedian—who says "stand-up is the most fun, but it pays the least" compared to his other artistic avenues—seemed to be thoroughly enjoying himself on stage. He joyously paced, he tried new or rarely-successful jokes, and he laughed just as hard as the audience when those jokes routinely worked. Of course, the continued to toss treats and interact with sections of the audience along the way.
"You're in the non-cookie corner," he said to a man sitting far right of the stage. "Didn't you read your ticket?" (He later yelled "cookie corner!" after a punchline and threw one to the man.)
His off-book moments went over marvelously, but his prepared material made the show sweeter than any comically-conveyed cookie. Funches spoke candidly about raising his autistic son and chased earnest remarks with a side-splitting story about the teen injuring himself as a direct result of not heeding his father's advice. He spoke of his love of video games and TV, as well as his hatred of working in TV (and working in general). He spoke of conspiracy theories, the Wishbone book series, trying to buy a home, and how he'd do anything (anything) for Dwayne "The Rock" Johnson.
Near the end of his freewheeling, funny-as-fuck set, Funches opened up about his weight loss. "I did it out of spite," he started. "I was sick of people talking shit. Like my doctor." The topic yielded especially well-received jokes about gummy bears, shepherd's pie, and the Wendy's Baconator, but was ultimately rooted in his improved confidence and a desire to keep being the best person he can be.
"I'm not done yet," Funches said, setting up the biggest laugh of the night. "I'm going to get real healthy. And not 'America healthy' … and especially not 'Wisconsin healthy!' That's right, we're all fat as fuck."
Though there's far less of him than there used to be, comedy fans should get ready to see much more of Ron Funches on television, in films, and commanding stages in increasingly large venues throughout the country. Even if the tour is almost over, Funch-A-Mania is only beginning. Judging by the reaction of the cookie-catching and wholly won-over audience who turned up at Turner Hall last night, that's a very good thing.