Our fat-free, dolphin-safe Milwaukee events calendar is chock-full of things to do, but only a handful of events are worthy of the lofty honor of "Record Recommended" (patent pending). Here are our recommendations for January 3-9, 2022.
TUESDAY, JANUARY 4
Ethan Jewell + Mae Krell, Trinity Grace @ X-Ray Arcade
Singer, songwriter, poet, and TikTok favorite Ethan Jewell comes to Cudahy's X-Ray Arcade! Don't forget to check ahead in case the show gets postponed or canceled!
THURSDAY, JANUARY 6
Ms. Pat @ Milwaukee Improv (through January 8)
The life story of Patricia Williams (aka Ms. Pat) is nothing short of astounding. Once a teen mom who was selling drugs in Atlanta, she turned her life around and, by way of her incomparable perspective and undeniable talent, shifted her focus to comedy. In the years that have followed that significant life change, Ms. Pat has amassed an abundance of TV credits, started a popular podcast, wrote a critically acclaimed and NAACP Award-nominated memoir, and has toured extensively. Ms. Pat will drop by Milwaukee Improv in nearby Brookfield for a total of five shows spread between three January nights. Don't forget to check ahead in case the shows get postponed or canceled!
FRIDAY, JANUARY 7
Koffin Kats + Mystery Actions, Sweetie, Candi Crucifix @ X-Ray Arcade
Detroit psychobilly punk veterans Koffins Kats come to Cudahy's X-Ray Arcade! Don't forget to check ahead in case the show gets postponed or canceled!
SATURDAY, JANUARY 8
N/A Day: A "Dry January" Beverage Festival @ The Cooperage
Join Milwaukee Record for the inaugural N/A Day! From 12-4 p.m., The Cooperage will play host to a "Dry January" beverage festival, which will feature dozens of local and national vendors giving out samples of some of their finest non-alcoholic offerings. The event—which is presented by Milwaukee Record and sponsored by Athletic Brewing Company, Budweiser Zero, Lagunitas IPNA, and WMSE—will feature a vast and varied array of booze-free drinks, including non-alcoholic beer and seltzer, kombucha, tonic, batched mocktails, N/A wine and spirits, craft sodas, and more. Admission is $20 in advance—or $25 the day of the event—and includes samples from every participating vendor. Don't forget to check ahead in case the event gets postponed or canceled!
Dislocation + Telethon, Life Looks Good, Amuse @ Cactus Club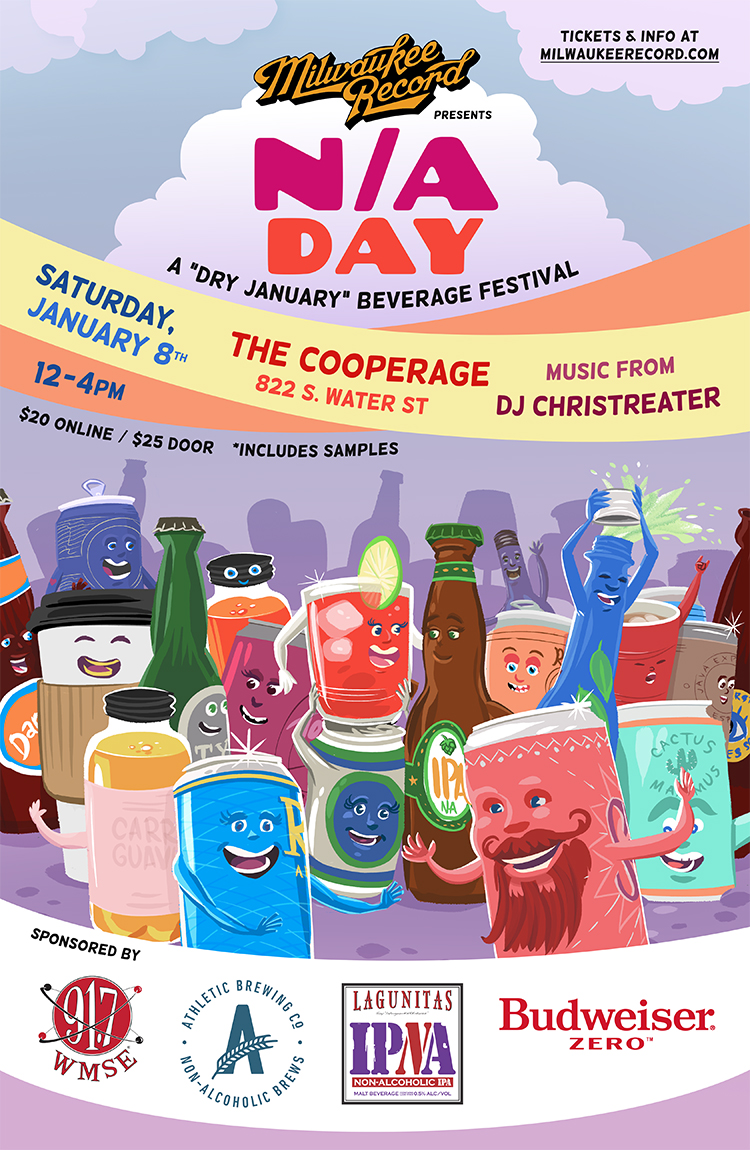 SUNDAY, JANUARY 9
Milwaukee Record Halftime Show: Peroxide @ Cactus Club
After a season away, the Milwaukee Record Halftime Show series has returned! This season, we've assembled a stacked roster of 17 performers that will provide FREE all-ages entertainment during halftime of Green Bay football games. Like previous seasons, our friends at Miller High Life will sponsor our football-focused festivities, meaning fans can enjoy "The Champagne Of Beers" and Miller Lite for $2.50 a bottle or $10 for a bucket of five beers all game long. Peroxide will treat Cactus Club to a halftime performance for the regular season finale.
Reena Calm @ The Laughing Tap
Formerly based in Chicago, now-nomadic comedian Reena Calm travels the country to treat audiences in all 50 states to her world-class puns and humorous musings. Calm will return to the Midwest to headline a show at The Laughing Tap on Sunday, January 9.