Back in 2016, Milwaukee poet Kavon Cortez-Jones released a 52-page book of poetry called Club Noir. Described as a "poetry novella," the book was steeped in Milwaukee references (the old Fuel Cafe got its own poem) and spanned approximately four years of Cortez Jones' work. Now, five years later, the homegrown poet is looking to raise some cash to fund a reprint of the book and a subsequent release party.
"I want to release Club Noir in February 2022 to celebrate Black History Month," Cortez Jones says in a GoFundMe. "My goal is to order/print 300 copies of our timeless 52 page brand. No venue, no exact time and date yet. Anyone is welcomed to come once everything is locked down. The night will be an hour and a half one man. I want to raise a measly $1,100 bucks to reprint. I know this is doable before the new year. I will love to your help to make this happen. Your favorite poet loves you."
As of this writing, the GoFundMe is more than halfway funded.
We talked to Cortez Jones about Club Noir back in 2016. Here's that interview, in full.
---
Poet Kavon Cortez-Jones pays homage to "Paris of the Midwest" in his first book, 'Club Noir'
When we last checked in with Kavon Cortez-Jones, the Milwaukee poet and so-called "Bard Of Center Street" was spreading holiday cheer to the city he loves. Cortez Jones' hometown pride extends well beyond the December. In fact, his love of Milwaukee permeates much of his work, which is prone to referencing local landmarks, area musicians, and shed a light on both the city's beauty and its blemishes.
Yesterday, Cortez Jones celebrated his 22nd birthday. Today marks the official release of Club Noir, his first book of poetry. The self-published collection of poems spans approximately four years of Cortez Jones' work. In accordance with Club Noir's release, Milwaukee Record asked Cortez Jones about his hyper-localized writing tendencies, the process that went into writing his debut, and why he considers Milwaukee to be "Paris of the Midwest."
Milwaukee Record: From making mention places like Oakland Gyros, Var Gallery, and giving Fuel Cafe its own poem to referencing locals like D'Amato and Lorde Fredd33, you make no effort to hide your attachment to Milwaukee. Why did you feel it was important to celebrate the city at the risk of possibly alienating out-of-towners?
Kavon Cortez-Jones: I feel it is important to celebrate the city because out-of-towners will get an idea of what us liberal, progressive, party junkie Milwaukeeans are all about.
MR: You manage to paint a very uplifting picture of Milwaukee at points, then give firsthand accounts to its glaring issues. Despite the city's dual identity, you consider Milwaukee to be "The Paris Of The Midwest." Why?
KCJ: I consider Milwaukee to be the Paris of the Midwest because Milwaukee is metropolis of artists. Artist meaning, not just from a visual point of view, but a multimedia prospective. This includes visual artists, of course, emcees, videographers, musicians, storytellers, and performance poets like me. Their is a place in Paris named Montmartre where famous artisans have gone such, as Jim Morrison, [Vincent] van Gogh, and [Pablo] Picasso. I consider Walker's Point and Riverwest to be Milwaukee's little Montmartres.
MR: Can you talk about Club Noir, the fictional place that inspired the poem and book's title? Why did you craft this all-encompassing cafe? What does the "Urban Utopia" represent?
KCJ: I wrote the poem "Club Noir" the summer of 2015 in the mist of B.B King's—and most recently Prince's—death. The piece is a persona of Emmett Till in the afterlife where he sees and meets deceased black musicians and poets like Jimi Hendrix and Langston Hughes. Emmett Till was a 14-year-old boy who was killed because of racism back in the 1950s. "Club Noir" gives Emmett a second chance at life and love, plus is it pays tribute to deceased legends.
MR: Each poem ends with the date it was written and how old you were. Why was it important that you include that? Did you include older, less polished works to illustrate your growth as a poet? A person? Both?

KCJ: The dates and times are important because I want the initial audience to get the full extent of time span it took this book to cultivate. This poetry novella, as I call it, is a display of my best poems written in the past four years. I didn't slapdash these pieces together, and in order to get the full gist, you have to read all 52 pages.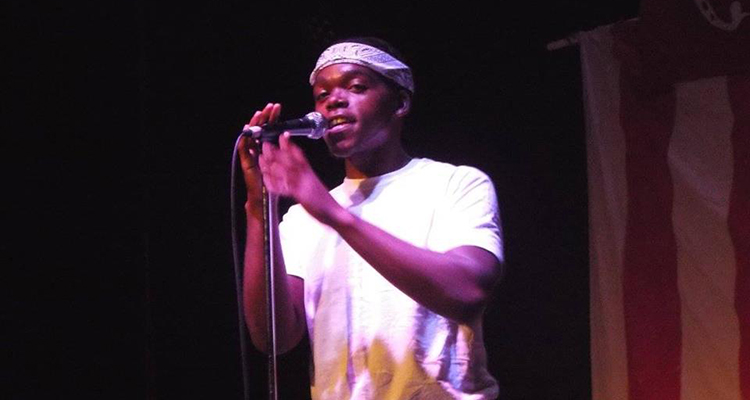 MR: As a person who always seems to be writing somewhere in Riverwest, how many pieces did you leave out of Club Noir? What went into deciding what would populate those 52 pages, and how did you know it was ready?
KCJ: I left out a couple of pieces, because my editor self figured they would go best in Bombs Over Arcadia, a Self-Portrait of Kavon Cortez Jones. It will be my second poetry book set to be released, September 26th, 2020, my golden birthday. I knew the book was done when a natural hiatus of me editing it occurred.
MR: Beyond getting the first 100 copies of Club Noir into people's hands and the next book, what's next for you? Are there more performances on the way?
KCJ: My next move is to put together a poetry tour around Midwest with my brother, mathe-musician Alex Heaton on the road. I will also be doing more backyard shows, Jazz Gallery experiences, and SoundCloud posts of my latest work.
Exclusive articles, podcasts, and more. Support Milwaukee Record on Patreon.
---
RELATED ARTICLES
• Listen to Kavon Cortez-Jones' poem, "A Love Letter To Milwaukee"
• On The Record Episode 91: Poet Kavon Cortez-Jones