Some places come and go, while some places become icons. Mandatory Milwaukee is all about the latter. Join us as we revisit beloved and well-worn local staples with fresh eyes, and explore how they might figure in the city's future.
Even before the COVID-19 crisis hit, The Tandem was considered an important and respected part of Milwaukee's culinary scene. And when the deadly and debilitating virus took hold and turned the world upside-down in an instant, the little chicken joint at 1848 W. Fond du Lac Ave. immediately jumped into action and showed itself to be an integral part of the community, a rare glimmer of good in a particularly dark point in time, and more crucial to Milwaukee than ever before.
The Tandem was opened in 2016 by owner/chef Caitlin Cullen, who'd previously spent time in the kitchens at Bavette and The Philly Way before striking out on her own. The Michigan native decided to move to Milwaukee, a city she had no attachment to at the time, after a stint teaching in the Dominican Republic. She decided to move to town when she closed her eyes and—quite literally—pointed to it on a map of the Midwest. Years and untold societal changes later, Milwaukee could have never expected the positive impact that chance decision would have on the city.
Cullen originally planned to serve Irish fare at The Tandem. However, when she met with nearby residents and took their input to heart, she decided to make the stark transition to specializing in southern cuisine. After a great deal of experimentation and lots of learning on the job (which she combined with her previous kitchen experience), she perfected her menu and was happy to impart that wisdom on her employees.
Much of The Tandem's staff is made up of young men and women with little-to-no food service experience, as well as people who are looking for a second chance or an opportunity to better themselves. Cullen applies her educational background to fashion a "program" to help employees learn new skills and develop as both food service workers and members of society.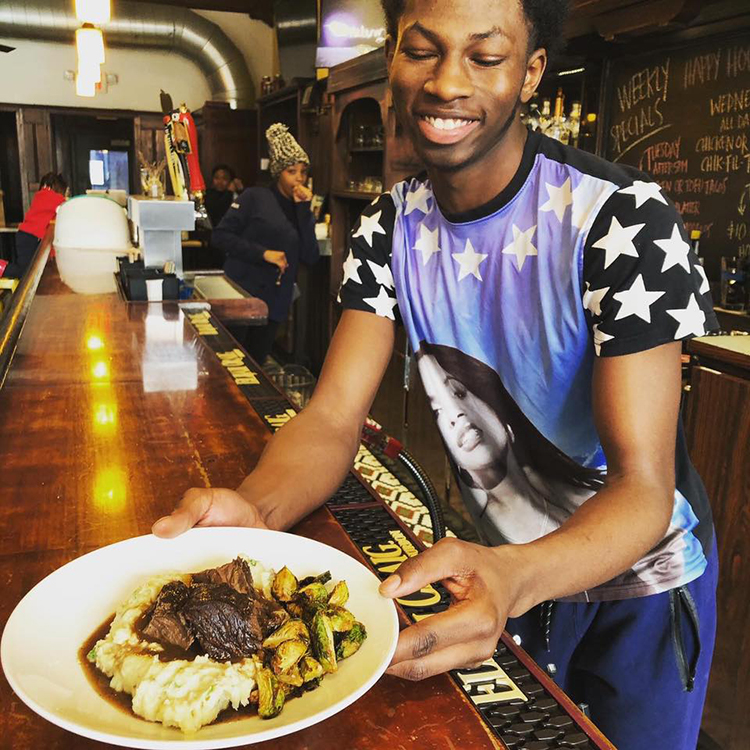 "You can't get a job if you don't have job experience, but you can't get job experience if you don't have a job," Cullen told Milwaukee Record in a 2019 interview. "The world wants you to have a job and a career at some point. We can be ground zero for you figuring out how to show up to work on time, how to interact with your co-workers, how to interact with your customers who are different from you, how to talk with folks, how to learn a skill, how to cook for yourself and your family. 'The program' is just Being A Young Adult 101."
Though her culinary know-how and her unique training approach has translated to some truly remarkable food that earns The Tandem excellent reviews (on both local and national levels) and routinely finds the unassuming establishment on pretty much every best Milwaukee restaurant list there is, Cullen's most important lesson to others came this March in the wake of coronavirus-related shutdowns.
On March 18, as many other restaurants were scrambling to pivot to takeout service or figuring out how to stay afloat during an unprecedented and altogether uncertain time, The Tandem suspended carryout sales and made the decision to give away what was left of its food to people in need. Cullen was fully expecting to go out of business, but was prepared to step up to offer underfed and impoverished Milwaukeeans meals as long as there was food to give.
A generous practice that the owner originally expected to be able last a few days has now sustained more than six weeks thanks to donations from customers and others who were taken by The Tandem's selflessness during the pandemic. The restaurant has helped extend that good will forward by paying other area restaurants like Goodkind, McBob's, Strange Town, and DanDan for some staples that help add variety, volume, and nutritional value to the free community meals. At this point, Cullen and co. have given away thousands of meals, stressing that people "take only what [they] need and only if [they] are in need." Those who can spare some money are also encouraged to donate to the restaurant's community meal program.
"We don't know how long this crisis will last," reads a message on The Tandem's website. "But we plan on cooking free meals for any Milwaukeean in need until we run out of food, run out of money, or are told to go home."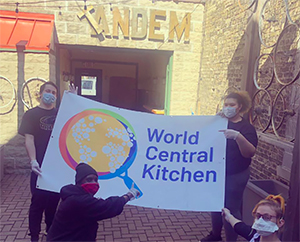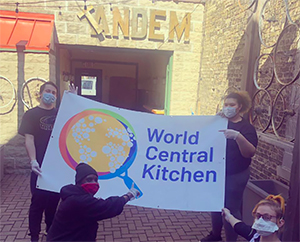 Last week, The Tandem—a business that was fully prepared to step up and give everything it had to those in need for as long as it possibly could—received an incredible gift from an unlikely source.
Thanks in part to an introduction by Tarik Moody from Radio Milwaukee, World Central Kitchen will now be backing The Tandem. The hunger relief organization founded by chef José Andrés will reimburse The Tandem $10 for every community meal the restaurant gives out. World Central Kitchen's backing—the first such instance for a Wisconsin restaurant—and the kindness so many others have shown since March 18 will allow The Tandem to provide more than 400 free meals to Milwaukee area residents every day (Monday through Friday, from 11 a.m. to 3 p.m.), has given Cullen the need and the financial flexibility to bring back a few more employees, and will let the restaurant buy more food from other area restaurants. The agreement will also help ensure the little southern spot on Fond du Lac Ave. that was willing to sacrifice itself for its city will still be around if and when things return to normal.
"Thank you for putting your money where your mouth is," The Tandem's website says. "It will not be forgotten. We will see you on the other side."