Some places come and go, while some places become icons. Mandatory Milwaukee is all about the latter. Join us as we revisit beloved and well-worn local staples with fresh eyes, and explore how they might figure in the city's future.
Built during the Jazz Age by architect George W. Adams, the red-brick Plaza Hotel and its adjoining café have been Milwaukee icons since 1925.
The four-story building's Art Deco style is clearly represented in colorful tile floors, crown molding, vintage lamps, and French-framed posters. The European-style lobby, with geometric carpeting, large potted plants, and wood-framed windows, is the perfect place to read your morning newspaper—or page through a copy of The Great Gatsby.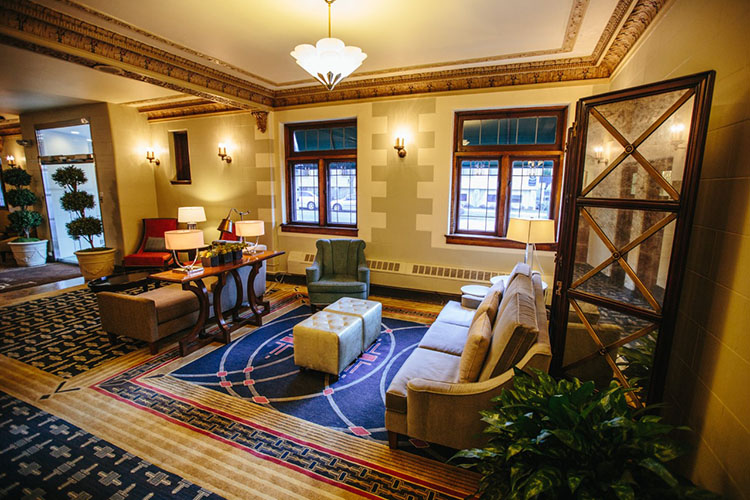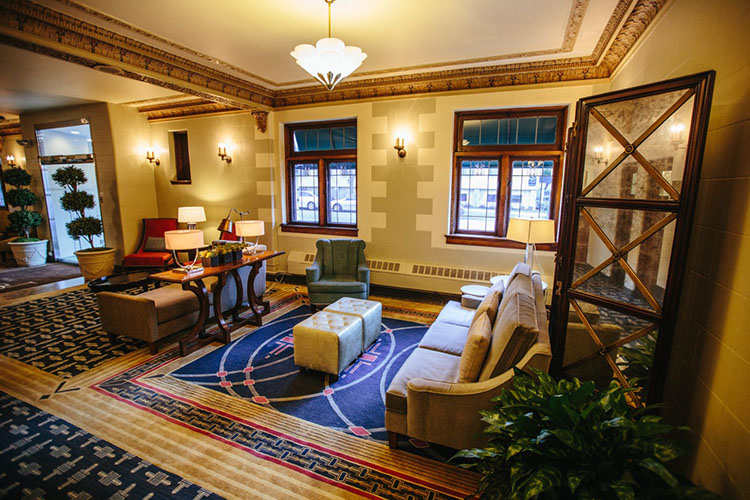 The Crichton family, who purchased the Plaza in 1984, have been successful in blending the old with the new. Rooms are modernized, with Wi-Fi, single-serving coffee makers, flatscreen TVs, iPad alarm clocks, and other 21st century amenities. Still, the hotel retains its flapper-era charm with small bathrooms, artwork, and other period details.
Despite the Plaza's historical significance and convenient location near downtown Milwaukee, room prices are surprisingly reasonable.
At the moment, a one-night stay for two adults in a queen-size room costs $79. The hotel also runs specials such as the Art Museum package, which includes two museum tickets plus a one-night stay for $99. It's an ideal place for couples to celebrate Valentine's Day, an anniversary, or a birthday without breaking the bank. A few cocktails at a nearby establishment such as the County Clare, and a hearty breakfast in the Plaza's café the next morning, make for a memorable occasion indeed. The boutique hotel also offers guests an extended-stay option, or "pied-a-terre"—French for "home away from home."
As the Plaza is within walking distance of the Pabst Theater and the Marcus Center, many actors from New York and other large cities, as well as ballet dancers and other artists, take up residence there, sometimes for as long as five months, according to hotel manager Jessica Korrison.
The Café At The Plaza serves up locally sourced cuisine from the likes of Jones Dairy Farm, Yuppie Hill Poultry, Rishi Tea, and Great Lakes Distillery. "We really, really try to keep everything local, down to the liquor we use," Korrison says.
Traditional menu favorites include the lemon poppy seed pancakes, an aromatic citrus breakfast served with toasted almonds, and—best of all—the café's handmade blueberry syrup. Korrison says egg dishes like the Plaza Scramble (scrambled eggs with caramelized onions, sausage, mushrooms, and tomatoes) are also very popular.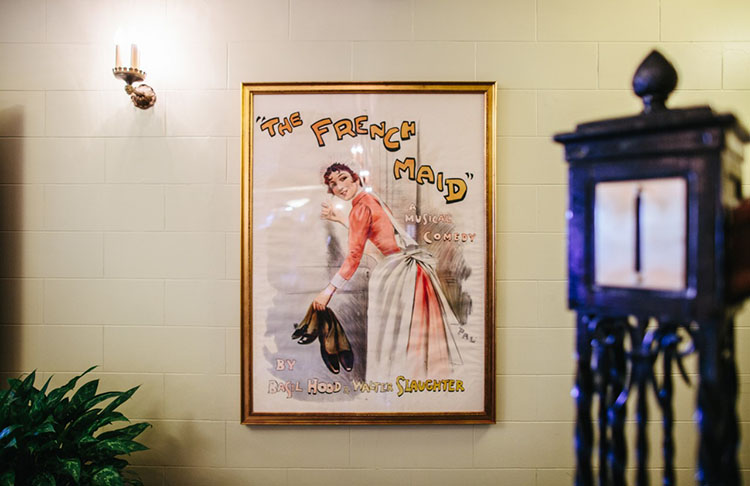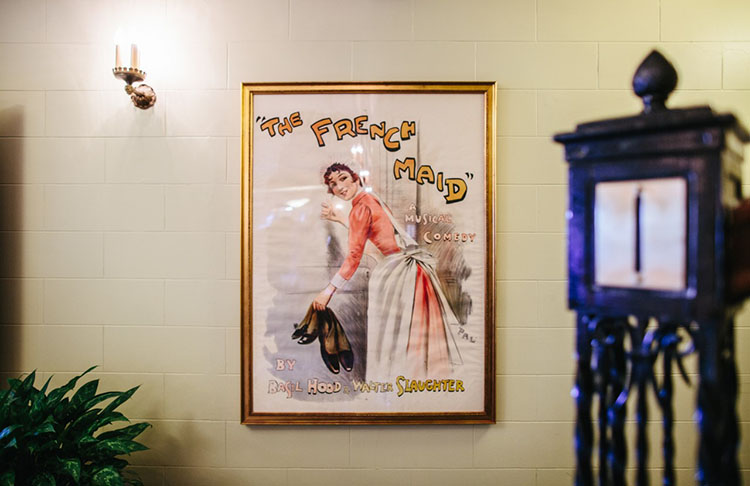 Although the café underwent a kitchen upgrade and partial remodel in 2015, and has introduced a loyalty phone app for customers to receive café specials, free items, and other rewards, it has still retained its vintage charm. Guests still sit on stools around the blue-green countertops and enjoy the atmosphere, from Grecian wall motifs to the tile floors. Writers looking to pen the next great American novel can find historical inspiration here.
Korrison says customers have embraced the café's new menu, which includes avocado toast and international dishes like pork belly empanadas and falafel made with harissa and oregano tzatziki.
Large brunch crowds, consisting mainly of locals, are common at the cafe on the weekends, especially in warm weather. The Parisian-style courtyard, with brick walls covered in greenery and umbrella tables, is open from late spring to early fall, depending on weather. "We'll sometimes have as many as 300 covers, especially during the summer," Korrison says.
Head chef Steven Zaharias, formerly of Mitchell's Fish Market, joined the Plaza last August. His time at the fish market allowed him to come in contact with many local ingredients, an experience which has quickly translated to café dishes.
During Zaharias' first couple of weeks on the job, the café served hundreds of customers on the weekends. "Summertime is insane," he says. "It was definitely an interesting first couple of weeks. Pretty intense."
Zaharias says the Plaza's menu is updated every few months to reflect product availability. New choices for spring will include different salads with proteins such as salmon, shrimp, and chicken.
"We like to have different things to give our guests options," Zaharias says.
Given all of the varied and delicious menu items, it might be hard for a chef to pick a favorite. But Zaharias doesn't hesitate when asked. "My go-to is always the corned beef and hash," he says. "It's a must."
With an ever-evolving menu served in an iconic hotel that's pushing a century, past and present both reside at The Café At The Plaza. And you're invited to join them for a meal, for a night, or for months at a time.