Caleb Westphal hasn't missed a Friday fish fry since 2013. Follow along with his record-in-the-making here.
Some people travel long distances for fish. In the 1880s an Italian immigrant, Giuseppe Cervi, set sail for America but ended up disembarking at Queenstown—which is now known as Cobh—in Ireland. He then proceeded to walk all the way to Dublin, and soon afterward set up the first chipper—a place that serves fish and chips— of Ireland. According to Google Maps, if Cervi would have walked nonstop, it would have taken him 51 hours to walk the distance. This week I made a journey a lot shorter than Cervi, as I traveled to County Clare Irish Inn & Pub. My only roadblock was the streetcar construction on Ogden Avenue (sign says "sidewalk closed use other side"—proceed to other side—sign says "sidewalk closed use other side"—stuck in a Catch-22 until deciding to barrel through construction in the name of fish).
As I was traveling solo this week, I took a spot at the bar. I ordered a Brandy Old Fashioned Sweet, which was handed to me in less than ten seconds. It wasn't exactly clear what happened, but apparently someone had just ordered one and no longer wanted it, so it was given to me. What a travesty for them and an auspicious occasion for me. Sipping my drink and looking around the room, I noticed a lot of stained glass, a fireplace, green walls with Irish sayings written on them, wooden booths, and a back bar with intricate woodwork. An untrained eye told me the place had been around for a very long time, but according to the bartender, it has only been open for 21 years.
He pointed out a picture hanging behind the bar. It was of a guest house in the Midlands of Ireland—an area that is located right where it seems, in the middle of Ireland, with Dublin to the east and Galway to the west—that he said County Clare had been modeled after. I was told that County Clare's parent company, Harp & Eagle, had owned the building until 2008. Fittingly, County Clare is not only a pub and a restaurant, but also a guest house, which I was told has about 30 rooms, similar to the building it was modeled after.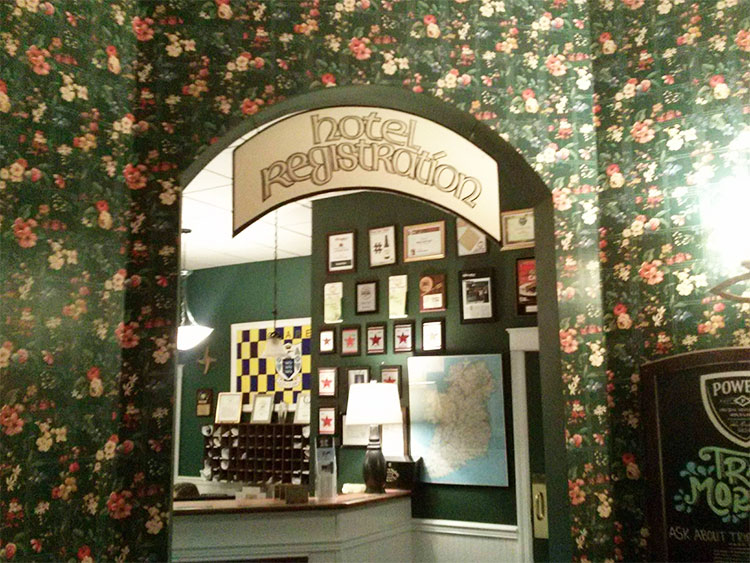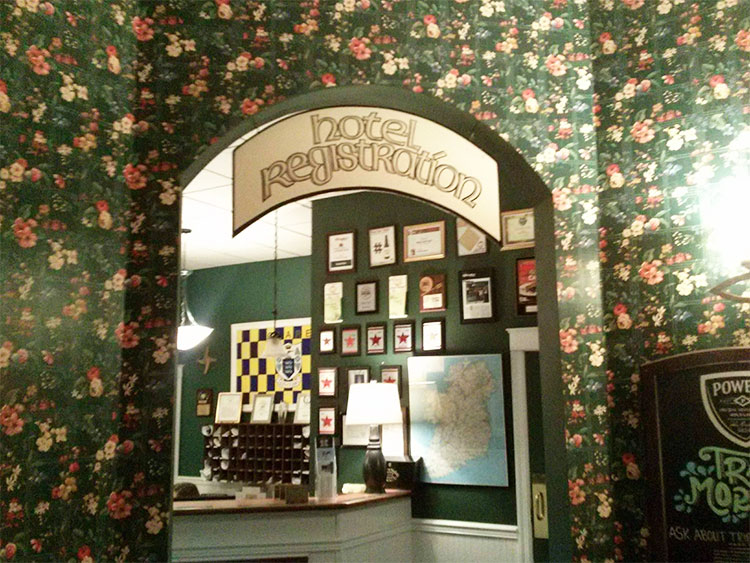 The soup of the day was clam chowder, and it was hearty, with corn, potatoes, and lots of clam. County Clare's menu has fish and chips listed, although its website claims, "We have a spectacular Fish Fry!" I checked to make sure the terms were being used interchangeably before ordering, which they were. Besides being popular in Ireland, fish and chips are a big deal in England, where they were invented in the mid-19th century. The meal came with three decent-sized portions of cod, which were battered in Smithwick's Irish Ale. The fish was meaty and flaked well, but the fish and batter flavor was average and didn't stand out too much to me. However, the homemade tartar sauce was memorable, original, and tangy, and paired well with the fish. Being that it was fish and chips, I also was brought a bottle of malt vinegar to put on the fish—but I mainly stuck to the tartar. The steak fries were superb, and were thin and crispy. The coleslaw was clean and light on cream, and the rye bread was a standard half slice. Also of note to the meal was its refined presentation: the ketchup came in a metal container, and the napkin was made of cloth.
As I lounged in Burns Commons after my meal, the irony of eating at County Clare dawned on me. I had picked the place because it was close to Shank Hall, where I was going to see Stiff Little Fingers on their 40th anniversary tour that night. Stiff Little Fingers, a punk band many compare to The Clash, came from the same island that Giuseppe Cervi had traveled to, bringing fish and chips all those years ago. Thank you Giuseppe, brother in fish, for sharing your fish with Ireland, and thank you County Clare, for in turn sharing your fish with me.
Rating: Excellent tartar sauce and chowder; good fish portion but average taste; pretty awesome steak fries; solid service; refined presentation; I don't care if the menu calls it fish and chips I'm still calling it a fish fry. 3.5 out of 5 stars.