When we last spoke with Karl Barth earlier this spring, the founder of Mini Golf Reviews and Jack-Putt LLC who goes by the moniker of "Mister Mini Golf" was raising funds for Leukemia & Lymphoma Society with a unique and socially distant contest called Putt4Pledges. As he was planning and organizing the benefit, the MSOE graduate and West Bend-based professional miniature golfer was holding back a pretty big secret: he was going to be on national television.
On Thursday, June 18, Barth will appear on Holey Moley, an extreme miniature golf competition that recently kicked off its second season on ABC. The show—which is presented by Stephen Curry and hosted by Rob Riggle and Joe Tessitore—finds contestants facing off in sudden death putt-offs on a gigantic miniature golf obstacle course. In addition to the difficulty they face on the green, competitors have to do things like dodge massive windmill blades, try to avoid a series of water hazards, and ride a zip line to avoid stroke penalties.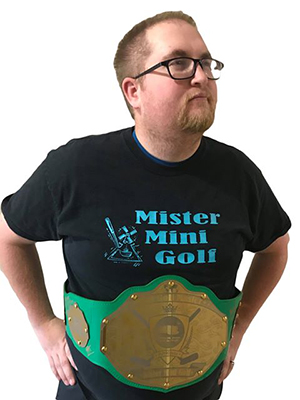 "The experience was one of the coolest things I have done in my life," Barth tells Milwaukee Record. "Being on set, interacting with producers, celebrities, and contestants was amazing. The holes are one-of-a-kind and so cool and brutal. There was no real preparation for what we had to do."
While no one could truly be ready for a course like the one in Holey Moley, Barth prepared for the experience pretty much as well as anyone can. In his lifetime, the 27-year-old has played close to 250 rounds of miniature golf on courses in approximately 30 U.S. states. He also builds courses that are available to rent or purchase. His love of miniature golf even led to him working part-time at Swing Time Germantown, which he considers to be his favorite course in Wisconsin.
Barth says he was able to rub elbows with some famous people during his Holey Moley appearance, but he's not allowed to say who was featured and, of course, he can't tell us whether he won "The Golden Putter" and the chance to compete for a $250,000 grand prize in the finale. You can find out for yourself by watching Barth on ABC's Holey Moley on Thursday, June 18. The episode airs at 7 p.m. CST (or it can be watched on Hulu the following day).