Some places come and go, while some places become icons. Mandatory Milwaukee is all about the latter. Join us as we revisit beloved and well-worn local staples with fresh eyes, and explore how they might figure in the city's future.
Bay View isn't exactly hurting for pizza. Between longstanding mom and pop places like Pietro's, vegan-friendly and specialty pizza staples such as Classic Slice, chains like Toppers and Pizza Hut, speedy and casual newcomers like RedBrick Pizza, relatively hidden heavy-hitters like Vinchi's, and neighborhood-adjacent gems like Transfer and Scotty's, there's a pack of pizzerias in and around Bay View that can make the decision of where to get pizza a tough one for some. However, for generations of south shore pizza fanatics, the answer to this oftentimes challenging dinner dilemma has been simple: DeMarinis.
That surname has been synonymous with delicious Italian cuisine and the upper crust of Milwaukee pizza since the 1950s. Through the years, DeMarinis has sustained a spate of litigation, inter-family disputes, and both affiliated and unaffiliated expansion of the restaurant to survive—albeit in an augmented form—on the strength of the incomparable and highly-touted "original recipes" that are served up at Dom & Phil DeMarinis.
Of course, you can't truly talk about Dom & Phil DeMarinis (1211 E. Conway St., 414-481-2348) without first making mention of its predecessor. Mama DeMarinis opened on the nearby corner of Wentworth and Potter avenues (in a building that's now home to Goodkind) in 1949. Two years later, owners Vincent and Lucille DeMarinis decided to turn their neighborhood tavern into an Italian eatery and their local legend grew. Reportedly, after daughters Josephine and Rosemary were picked to take over the restaurant's operations in 1996, the founders' sons, Dominic and Phillip, decided to open a strikingly similar restaurant less than two blocks away. Whether done out of spite or familial pride, they also made sure to highlight the "original recipes" available at the new—and entirely unaffiliated—DeMarinis establishment that was located less than 100 yards down the block from the place their parents started so many years earlier.
Any Milwaukee pizza lover worth their weight in mozzarella knows what happened next. Mama DeMarinis closed in 2012, leading Lucille and Vincent's granddaughter (and Josephine's daughter) Veronica Cieslak to keep that Mama sect of the fragmented family business alive by opening Little DeMarinis—also said to serve "original recipes"—in the basement of Bay View Post 180 in 2013. Sadly, Little DeMarinis closed in early 2018, leaving Dom & Phil's as the only restaurant with the DeMarinis namesake left in Bay View and, as a direct result, officially ending the decades-long feud between competing family businesses…at least for the time being.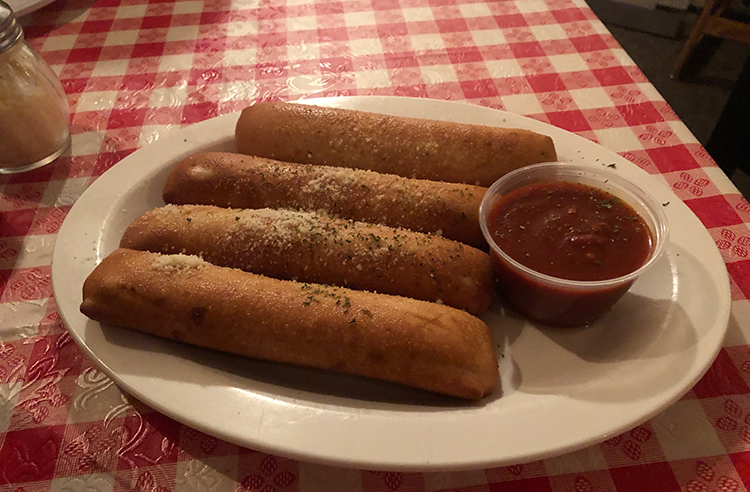 While the backstory is long and complicated, and the perspectives differ greatly depending on who you're asking, the food at Dom & Phil's is far easier to digest than the 20-plus years of family drama that accompanies it. Through the years, the restaurant has succeeded as a result of focusing on the classics. The so-called "original recipes" brought to the checkered tables of the timeless Bay View establishment include a variety of no-frills sandwiches, a small-but-stacked arsenal of pastas, simple salads, a heft of fried appetizers like the crunchy and cheesy Bosco Sticks pictured above, and a Friday night fish fry.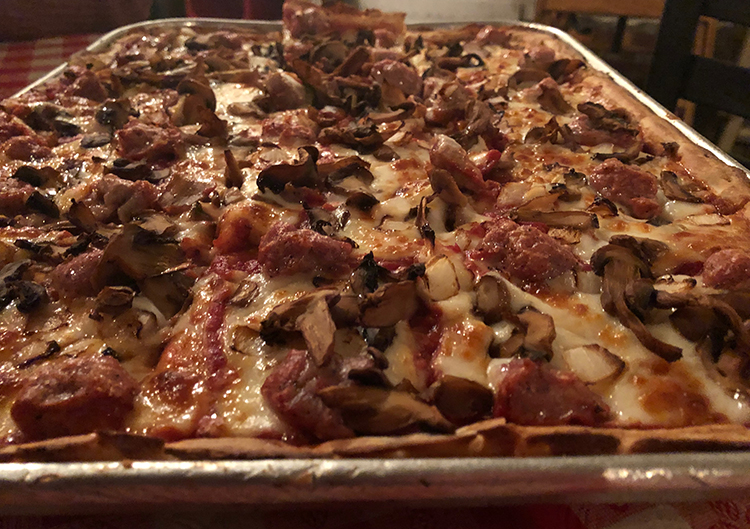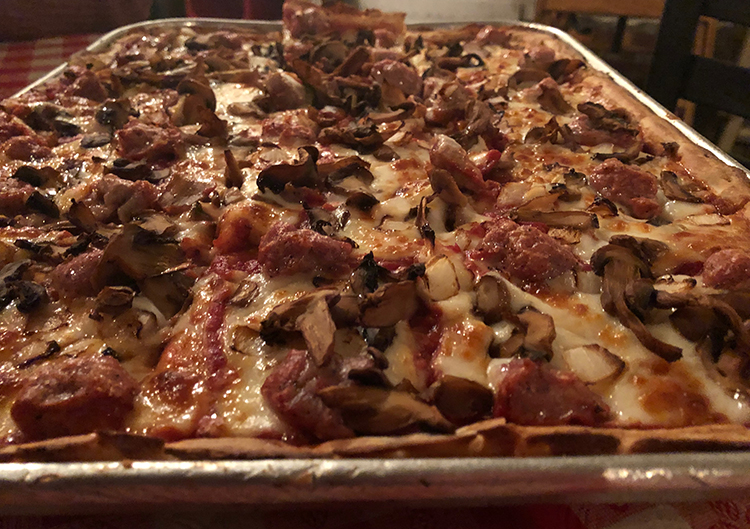 However, Dom & Phil DeMarinis—much like Mama DeMarinis—is best-known for its pizza, and with good reason. In all, there are only six types available. The toppings are kept incredibly basic for the most part, as its Steak Compobasa Pizza, some ingredients on the Italian Garden Pesto Pizza, and the option to add things like black olives and anchovies to any pizza are about as adventurous as the menu gets. Still, the house specialty pizzas at DeMarinis thrive in their simplicity.
Instead of shoehorning in an abundance of fancy fare or clashing ingredients, the restaurant allows the caliber of its limited selection of pan pizzas to do the heavy lifting. On a recent visit, we enjoyed a Milwaukee standby: sausage, mushroom, and onion (a.k.a. the #1 at Dom & Phil's). The sausage was abundant and packed with Italian spices. There was a generous dusting of thick-cut fresh mushrooms melted into the bubbly mozzarella and left to intermingle with a layer of tangy, savory red sauce. We'd be remiss if we didn't also touch on the crust.
Large pizzas come served on a 16 x 12 pan, which arrives to the table piping hot. With a soft, pillow-y foundation at the base and crispy crust that curls up the pan's edges, DeMarinis has mastered a sort of hybrid style that lands somewhere between classic Milwaukee pizza and Detroit style. That $18.25 item left our two-top with enough leftovers for another meal the next day. The most expensive items, by the way, are the aforementioned Steak Compobasa and Italian Garden Pesto pizzas, which each top out at $20 for a large.
Given the nature of the family split, it's only natural for locals to develop allegiances and to have strong opinions regarding their preferred version of DeMarinis. Having been fortunate enough to try Mama DeMarinis and Little DeMarinis in addition to Dom & Phils, we're left the impression that each of them were outstanding in their own way. It's not exactly a strong take, but that's the truth. There were loads of similarities and subtle differences from place to place, but they were all great.
Whether a result of competing with blood for the same clientele or simply a byproduct of time's passage, Mama and Little are gone. Even though it's not the original by any means, those hankering for a taste of iconic Milwaukee pizza can, fortunately, still enjoy the "original recipes" that were good enough to launch three restaurants at Dom & Phil DeMarinis.