There are currently more breweries and more beers than ever before. As a result of the unprecedented growth the industry has experienced, more brewers are crafting new beer at a staggering rate, and the lines between hop hobbyist and master brewer are blurring more with each new beer's release. Similarly, there are more musicians putting out more music than ever before and they're all vying for listener attention on more platforms than ever before. Occasionally, that shared saturation of sudsy and sonic output results in beers that are brewed for musicians.
How prevalent has it become? Well, between Wednesday and New Year's Eve, Milwaukee will host two different bands with a beer made in their honor. Before the "Mmmhops" inventors in Hanson play at Riverside Theater on December 20 and Wisconsin's own Horseshoes & Hand Grenades play their brand of bluegrass that's befitting of a Central Waters beer at Pabst Theater on December 31, Milwaukee Record found more than 15 instances of tap lists and playlists coming together.
1. American Beauty (Grateful Dead)
Delaware-based Dogfish Head was way ahead of the craft brewing curve and one of the first to make beer in honor of musicians. The 22-year-old operation has made a beer for Pearl Jam and a Miles Davis tribute called "Bitches Brew." The best-known and most popular Dogfish Head band beer is probably a Grateful Dead-inspired Imperial American Pale Ale. "American Beauty" was a limited release that was brewed in 2013 to mark 30 years of Grateful Dead music. The brewery solicited ingredient suggestions from fans before eventually using granola to anchor the 9 percent ABV ale. Unlike most Grateful Dead songs, this limited-run beer tribute beer didn't last too long.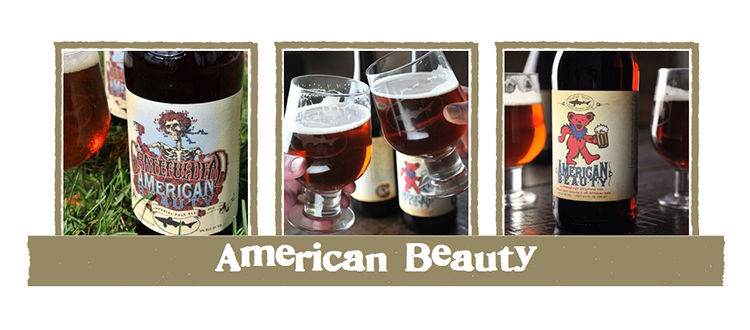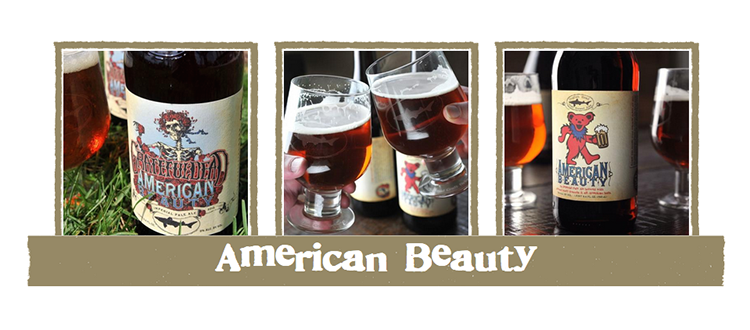 2. Badass Beer (Kid Rock)
With all due respect to Wisconsin, Michigan is probably the Mecca of Midwestern craft brewing at the moment. Even more impressive than what they're putting into the market is the fact their reputation remains so sterling despite Kid Rock's "Badass Beer" being made in the state. The cheap beer is "born in Michigan, made in America, and brewed in Detroit" in association with the musician, entrepreneur, and (now) brewer. Man, what can't Kid Rock do poorly?
3. Bastards Lager (Motörhead)
Only a band like Motörhead can inspire more than one type of beer. The better-known and better-reviewed of the two (that we know of) is Bastards Lager, which is brewed in Sweden. There's also a Lemmy Witbier brewed in Norway.
4. Blast (Snoop Dog)
In 2011, Snoop Dog signed a three-year endorsement deal for Blast, a Colt 45 malt beer that was owned by Pabst at the time. When a group of investors bought the Pabst brand for $700 million in late 2014, the legendary rapper sued the just-as-legendary brewery, claiming Pabst failed to make good on a contract entitling him to a cut of the company's profits that year. The endorsement deal is over, but before there was "so much drama in the P-B-R," when Snoop was a bastion for the Blast brand.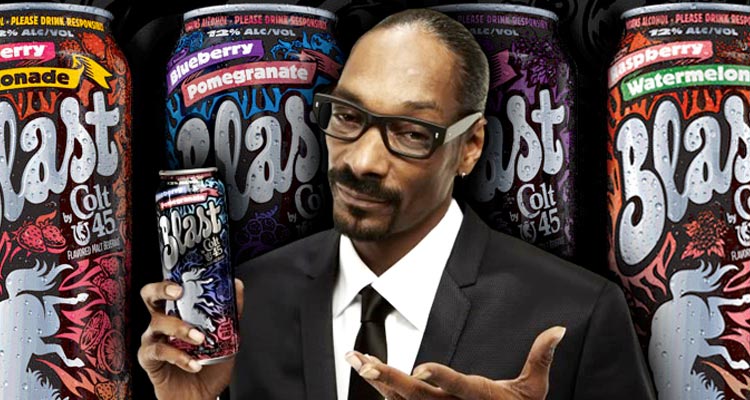 5. Dead Horses Cascadian Dark Ale (Dead Horses)
In 2015, Milwaukee (by way of Oshkosh) band Dead Horses helped ring in Oktoberfest and Blue Heron's 10th anniversary by playing a show at the Marshfield-based brewpub. The brewery returned the favor by crafting a small batch beer in the band's honor. According to the description, "Dead Horses Cascadian Dark Ale rides in with distinct Northwest-style hoppiness fused with malty, ebony highlights of coffee, chocolate, and molasses. The ample array of hops include Summit, Citra, Falconer's Flight, and Simcoe." Any beer that wasn't consumed at the event itself was bottled for to-go purchases. Sadly, none of the Cascadian Dark made it to Milwaukee, which is a shame because, hot damn, that sounds good.
6. Die Kreuzen Imperial Pumpkin Porter (Die Kreuzen)
When the time came for Georgia-based Burnt Hickory Brewery to name its new pumpkin beer, brewer Scott Hedeen decided to honor a band he enjoyed "back in the day," by releasing Die Kreuzen Imperial Pumpkin Porter. Finally, a pumpkin beer we can actually enjoy. Though it—much like the band—is no longer in circulation in Milwaukee, the beer is still listed among Burnt Hickory's quarterly offerings, which makes the a Milwaukee reunion with Die Kreuzen's beer much more likely than one by the band itself.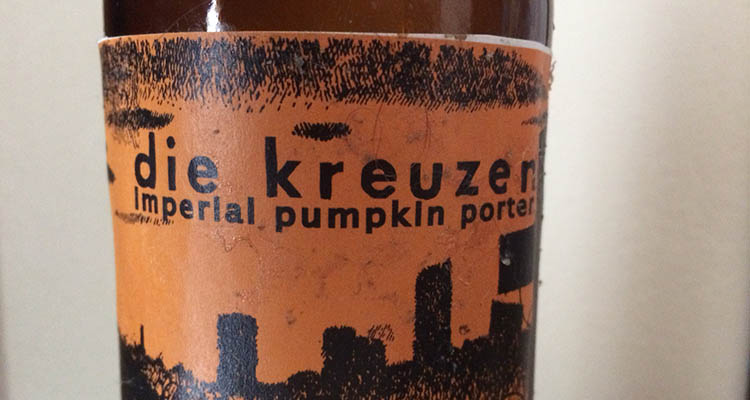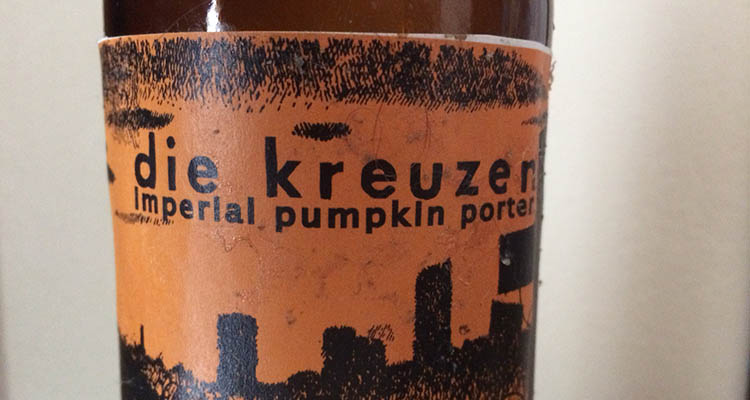 7. Doomtree (Doomtree)
Call us biased, but we're big fans of Surly. In addition to producing outstanding year-round and seasonal beers (both of which we're known to enjoy on our podcast from time to time) the Minnesota-based brewery also makes rare releases for special events…and special Minnesota musicians. One such rarity is Doomtree, a "bastardized style" beer Surly brewed in honor of the Minneapolis hip-hop collective by the same name, which boasts the likes of P.O.S, Dessa, Sims, and others. It's been a few years since Doomtree hit liquor stores and draft lines, but it's still getting referenced in new P.O.S songs. Over the last two summers, Surly has also put out "#Merica!," a pre-Prohibition American lager in honor of Minnesota punk legends Dillinger Four. Believe us, #Merica! is much better than its unsavory name suggests.
8. Eagle Park Brewing Company (Eagle Trace)
Eagle Park Brewing Company, a new Milwaukee-based venture and taproom spearheaded by brothers and Eagle Trace band members Jackson and Max Borgardt, started contract brewing small batch beers they created last fall. In February of this year, the Eagle landed in Lincoln Warehouse, as the small operation opened its taproom to the public. After some hit-and-miss output early on, both Eagle Trace and its brewery are finding their groove and are putting out some decent stuff. Eagle Park's beers have names like Line Check, Loop Station, Set List, and Huey Lewis And The Booze help to hammer the musical influence home even more.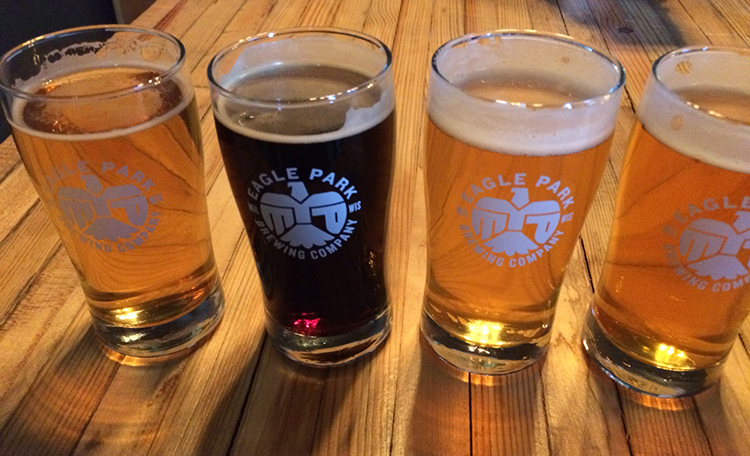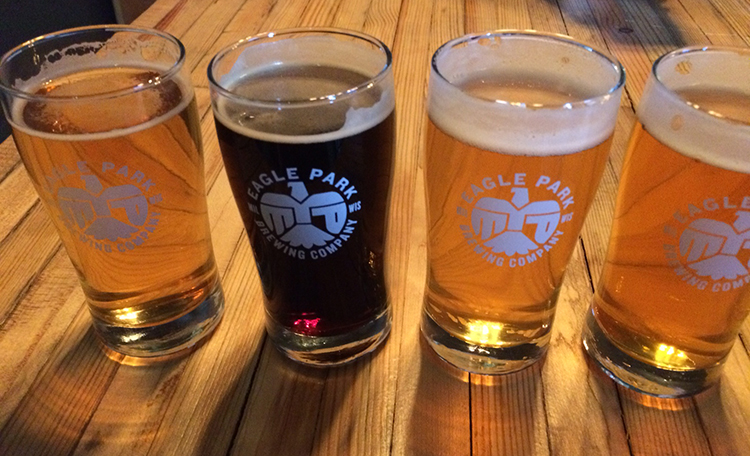 9. HHG (Horseshoes & Hand Grenades)
We'll just say it…Central Waters is the best brewery in Wisconsin. One of the best perennial beers Central Waters makes is an American Pale Ale devoted to a Wisconsin band. Per the brewery's description of HHG APA:
"Inspired by the music of Wisconsin band Horseshoes & Hand Grenades, this Citra and Mosaic hopped American Pale Ale is best enjoyed with friends old and new while playing or dancing to your favorite tunes. Let's make some memories today."
10. Hootie's Homegrown Ale (Hootie & The Blowfish)
Brewed by Rock Brothers Brewing in the band's hometown of Charleston, South Carolina, Hootie's Homegrown Ale is a blonde ale brewed in honor of Hootie & The Blowfish. The light beer that's brewed with rice and a hint of lemongrass seems to be as inoffensive and generally well-received as the band itself.
11. LandShark Lager (Jimmy Buffett)
LandShark Lager was launched in 2006 to be the official in-house lager of Jimmy Buffett's Margaritaville chain restaurant. Since that noble outset, the Corona clone became a product of Anheuser-Busch that was once marketed so aggressively that it was briefly the namesake of the stadium where the Miami Dolphins and (then) Florida Marlins played. The beer has since receded into relative obscurity in the brewery behemoth's arsenal, but like the musician it's made to honor, LandShark lives on to satisfy anyone who's into that sort of thing.
12. Mmmhops (Hanson)
As mentioned above, the boys in Hanson have grown up to become bonifide beer aficionados. In early 2013, the sibling songwriting trio responsible for "MMMBop" joined up with Mustang Brewing in Hanson's home state of Oklahoma to brew "Mmmhops." The American Pale Ale is actually pretty good. Don't believe us? Here's what a Master Brewer thought about it. Unfortunately, you can only get it throughout Oklahoma and just 11 other spots in the country.
13. Oderus Ale (GWAR)
GWAR fans knew Oderus as the singer of the long-running costumed metal band. Hopheads knew Oderus as the namesake of Oderus Ale, a special release beer Tampa-based Cigar Brewing made as a tribute to the band's fallen singer before the 7th annual GWAR B-Q.
14. Stickin' In My IPA (NOFX)
Within the last five years, Virginia-based Champion Brewing Company allocated some tank space to give thanks to punk stalwarts NOFX. "Stickin' In My IPA" is a 7 percent ABV West Coast-style rye IPA that's a collaboration between the brewery and the band. It's sold in 24-ounce cans bearing the image of a mohawk-sporting skull.  What, there's no "Don't Call Me Wit" available? That's okay. This summer, NOFX singer Fat Mike and Stone Brewing also collaborated on a "Punk In Drublic" Hoppy Lager that we can almost promise is excellent.
15. Trooper (Iron Maiden)
Named after Iron Maiden's song "The Trooper," the British-brewed "Trooper Ale" has become a full-on consumable collector's item for Maiden fans. The 6.6 ABV ale isn't the most metal beer style around, but if you're buying this, drinking it seems secondary to displaying it.