If there's one thing Milwaukee doesn't need, it's probably another pizza place. However, if there's one thing Milwaukee will never get tired of eating, it's probably pizza. Last month, we learned the city's East Side—already home to Zaffiro's, Lisa's, Pizza Shuttle, Zayna's, the fairly new DiModa, and a number of national pizza purveyors—got yet another pizza joint when Wisconsin Pizza Authority (1888 N. Humboldt Ave., 414-808-0899) opened on the corner of Humboldt Avenue and Kane Place.
With no shortage competition nearby, this young and unproven pizzeria boldly claims to be the "Pizza Authority" for a state (and even a neighborhood) full of respected 'Za czars. Just over three weeks into Wisconsin Pizza Authority's reign of supposed supremacy, Milwaukee Record stopped by to see if there was anything to the name or if the newcomer would soon be lost in the din of more established (and better) dining options.


The space: The first floor location on the bustling lower East Side intersection was the former home of Maglio Pizza, before a short stint as Greek Village Gyros. The space—which we included on a listing of "cursed" business locations last year—was most recently a Middle Eastern restaurant called Baba Ghanouj until it closed in April. In September, a Commercial Alteration Permit was issued to allow the owner to remodel the restaurant's kitchen. While we're admittedly not on top of what Baba Ghanouj's kitchen looked like, the uncharacteristically quick renovation process Wisconsin Pizza Authority took on isn't particularly evident. The same faintly yellowish, off-white paint job remains on the interior walls. So do the nine (predominately) two-top tables, some of which are clustered in the quaint restaurant's upper level.
The exposed kitchen seems to have gotten a touch up of bright red paint, and the dining room now features some vaguely Italian prints to subtly satisfy the new concept. Despite the minor modifications from the space's stints as a Middle Eastern restaurant, a Greek place, and its first time as a pizzeria, it still feels kind of like you're eating in the ground floor of a staged model home that's been made into a restaurant. That, combined with the premium on space, and the stacks of pizza boxes set in plain view all suggest delivery or carry-out are the preferred transactions for all parties.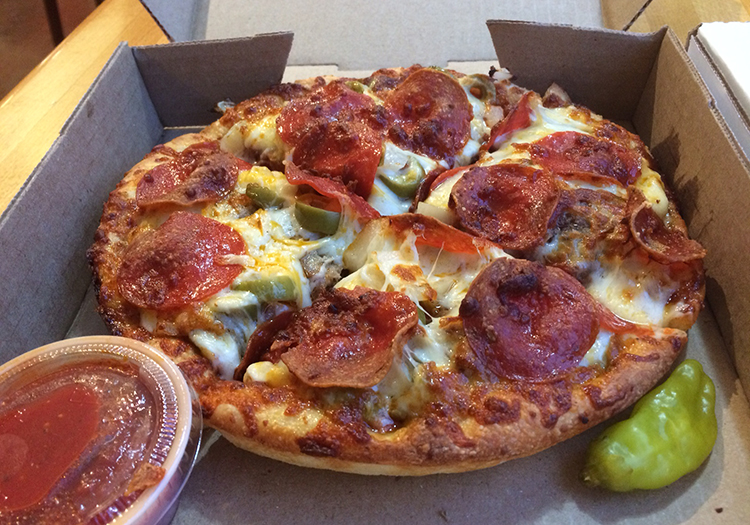 Milwaukee Record's food: In spite of all the aforementioned aspects, we decided to dine in. Wisconsin Pizza Authority's menu is shockingly massive for a restaurant its size. Peering down at the one laminated menu in the restaurant, we needed some time to traverse the 37 (!) specialty pizzas, 16 calzones, nine pasta dishes, nine sandwiches, eight salads, five desserts, four types of chicken wings, four kinds of specialty breadsticks, and seven sides that ranged in scope from chicken tenders and poppers to loaded fries and mac & cheese bites. After reading the bold promise that "the best pizza just arrived in town," we tested the assertion with a personal-size Sicily ($8.99)—one of the more standard options of the more than three dozen pizzas available. We also ordered some Pepperonisticks ($5.99) in some small effort to see whether the so-called "authority" extended beyond the realm of pizza.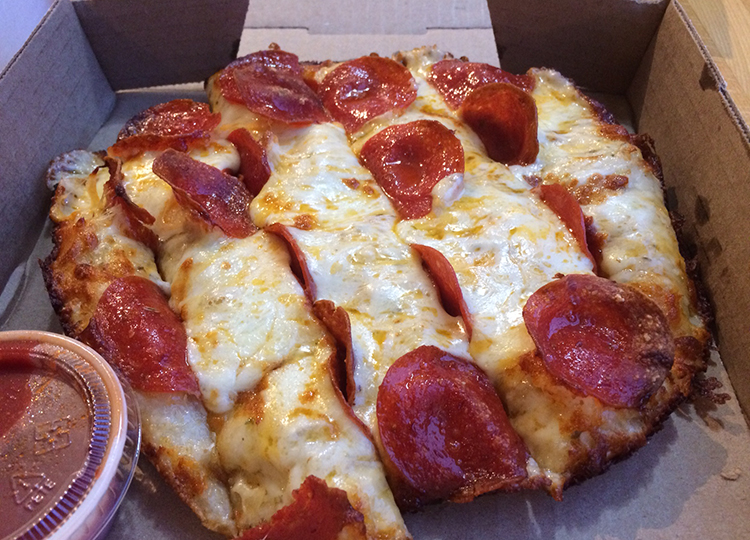 We sat alone in the space, admiring the fake plants and taking in the sweet sounds of Steppenwolf's "Magic Carpet Ride" and that ukulele cover of "Over The Rainbow" by Israel Kamakawiwo'ole for about 10 minutes before our order arrived in two small pizza boxes (further stressing the carry-out model?). We immediately noticed that in terms of both size and crust type, our Sicily was basically a grown-up version of a Book It! pizza with more toppings. The Pizza Hut personal pan tribute had a thin smear of tangy, spiced tomato sauce covered by a gooey blanket of melted mozzarella, sliced pieces of meatballs, crunchy medallions of pepperoni, diced onion, and green olives. The substantial and buttery crust brought us back to our days the Pizza Hut buffet as a kid, for better or worse.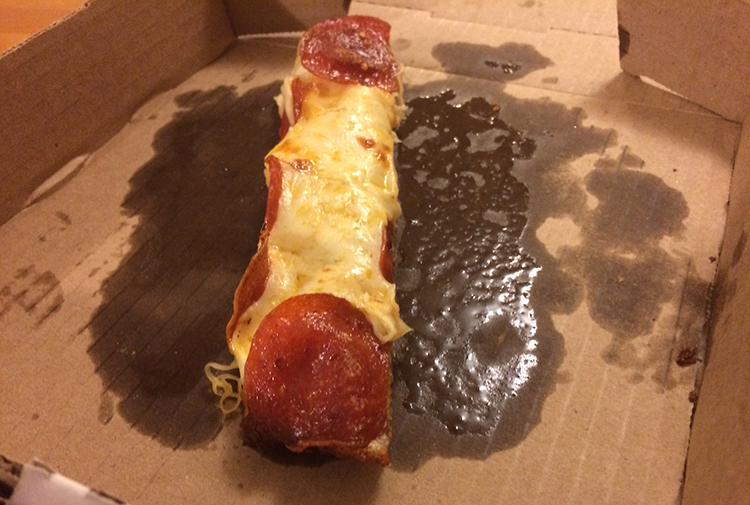 We weren't sure what to expect with the Pepperonisticks. What we got was a sauce-less plot of crunchy crust topped with an abundance of melted mozzarella and flimsy pepperonis that combined to produce a deluge of grease. By now, "Smooth" by Santana (featuring Rob Thomas) was playing over the speakers and the "give me your heart" lyric never seemed more apt than it did upon noticing the literal pool of viscosity resting beneath the sticks. It shimmered "just like the ocean under the moon" as the artificial light hit it. As unnatural as it seemed, they were actually pretty good in a "Topper's Sticks after midnight" sort of way…especially when dipped in the cold marinara sauce that came with the order.
The verdict: We can say with absolute confidence that the East Side's newest pizzeria is far from the authority of Wisconsin pizza. Though it's not even a remotely original take on pizza nor a reflection of the city's preferred pie, it could easily make for a quick lunch option, a decent delivery indulgence or a greasy aid to either precede or follow a night at the various bars nearby. Will Wisconsin Pizza Authority break the curse of 1888 N. Humboldt? Only time will tell.