As Milwaukee struggled to keep pace with the steady stream of news regarding East Side bar and restaurant closings throughout 2016 and up until [looks at watch], the slow demise of Trocadero got sort of lost in the shuffle back in January. Having been relegated from Lowlands Group when the restaurant was purchased in 2014 and subsequently made to endure a rash of road work and considerable condo construction on Tannery Row, even Trocadero's gorgeous patio and famous Bloody Marys couldn't save it. While the longtime occupant wasn't able to survive the newfound hardships, Wild Planet Hospitality Group swooped in less than two months later with a recession-proof concept they felt was capable of standing up to the challenges Trocadero faced: pizza.
DiModa Pizza & Hotspot (1758 N. Water St., 414-331-0020) opened in late June, following close to three months of preparation and renovations. The pizzeria (& Hotspot) has opened shop in a neighborhood that's already packed with quality pie purveyors. Can aspirations to bring woodfire pizza to a—their words—"trendy atmosphere" and a commitment to uphold Trocadero's standout patio and bloodies help set DiModa apart from its more established counterparts? Milwaukee Record paid an early visit to the new pizzeria to find out.
The space: Though much of Trocadero's skeleton remains intact, the front bar has been replaced and a second lower level bar has been added in one of the building's various dining areas. Most notably, a woodfire pizza oven has been installed to allow diners a front row glimpse of how the sausage (pizza) is made. As mentioned, the patio remains. Also, the second level—which readers may know better by one of the various names it went by during Troc's run—offers seating to accommodate large groups or weekend rushes instead of continuing to exist as an exclusive club or whatever it used to try to be. In all, it's the restaurant you've visited before, just cleaner, more spacious, and with the cozy functionality of a pizza oven.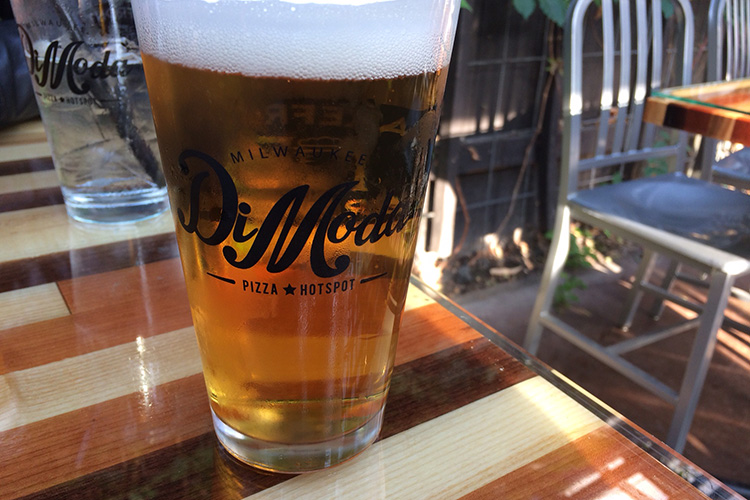 Milwaukee Record's food/drink: Beyond the bloodies, DiModa touts 14 specialty cocktails, including a Negroni, a Wisconsin old fashioned, a "tradicional" margarita, and two sangria selections. There are currently 32 wine and champagne options on hand, most hailing from California, Italy, Spain, and New Zealand. Of course, there's beer, too. Of the 35 brews on hand, brews from Deschutes, Three Floyds, and Ballast Point are about as exciting as things get. Oh, and DiModa also sells 40-ounce bottles of High Life for $7. We resisted temptation to take down a 40 and, instead, enjoyed a pint of Gumballhead ($7) as we waited for our food.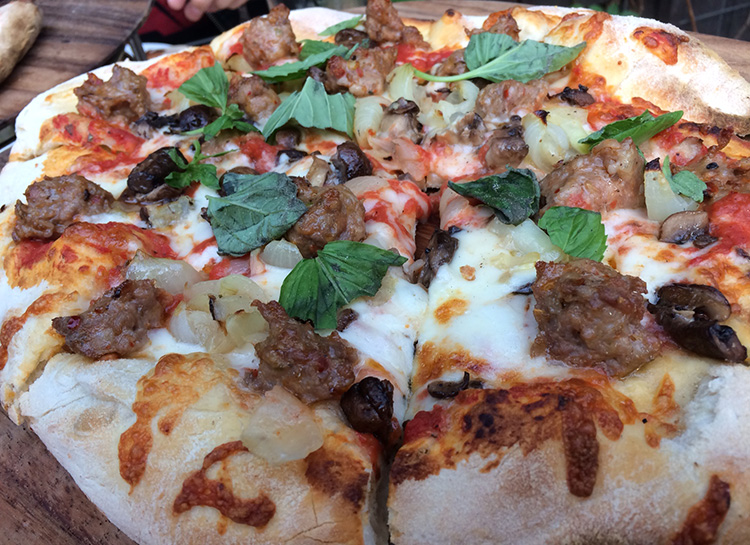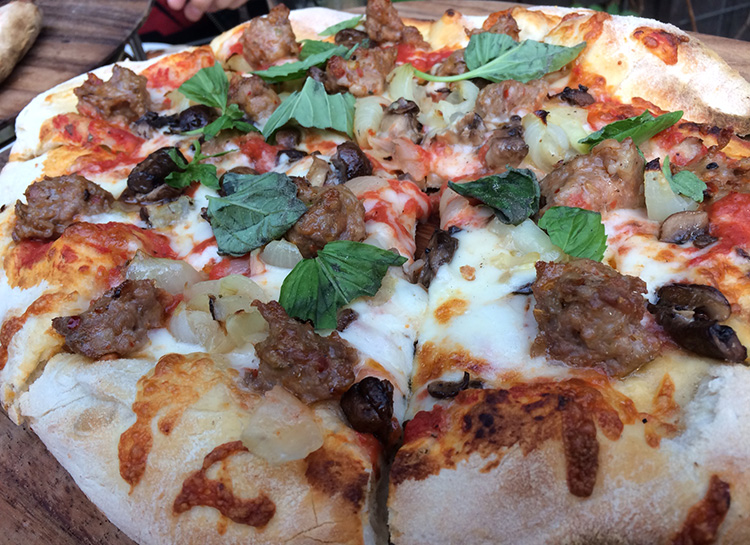 As enticing as some of DiModa's pasta dishes, sandwiches, and even a couple salads, and fish- or pork-forward entrees seemed, we figured it'd be foolish to bypass the restaurant's titular fare. The nine in-house pizzas range from the sweet and savory Fig & Prosciutto ($15) to the Bacon, Egg & Fig ($14) that appeared to be built for brunches, and the pepper-packed Devil's Own ($14). Ultimately, we opted for DiModa's equivalent of a Milwaukee favorite. The unfortunately-named "Fuggedaboutit" ($14) was a thick and fluffy medium-sized crust that was topped with a generous dotting of zesty, house-made Italian sausage pieces. The meat intermingled with tender chunks of sauteed mushrooms, onion, and basil that sat atop an ample spread of rich San Marzano tomato sauce and gooey globs of melted mozzarella.
The spiced sausage and sauce were memorable takeaways, as was the crust that greatly benefited from the woodfire oven, even though the bottom was a bit too flour-caked for our liking. It was enjoyable enough to be absolutely worth uttering "Fuggedaboutit" in public. That's saying something. In terms of portions, a pizza is probably enough to leave one diner very full or is capable of feeding two people if an appetizer is brought into the mix. We tried to do the latter by ordering "DiModa Loco Bread" ($10)—a loaf of Italian bread stuffed with peppers, garlic, cheese, herbs, and tomato—but, sadly, our server Fuggotaboutit.
The verdict: Forgetting the appetizer is an absolutely forgivable offense, especially for a fairly new restaurant. Yet between the lack of bread, the iffy beer list, and atmosphere that had yet to fully take shape, we left DiModa wanting a little more. Those who mourned Trocadero's swift extinction will continue to do so and the Zaffiro's bandwagon won't soon lose any members on account of this newcomer. That said, if DiModa is evaluated on its own merit and not tasked with replacing or overtaking another neighborhood staple, it's definitely worth a visit.