Poké is sweeping the city. As recently as a couple years ago, the edible island dish was only available at a select few establishments in and around Milwaukee. However, the Hawaiian delicacy has quickly caught on locally, and it's become available at a number of Milwaukee area haunts—including two dedicated East Side poké places that are literally a stone's throw away from each other. Hey, better late than never, right?!
Back in January, we learned Bay View would finally be getting in on the poké trend that's already made its way to Walker's Point, multiple North Avenue spots on the East Side, and a handful of suburban sites with news that a storefront in the Bay View Commons would be the future home of Fuji Poké (2121 S. Kinnickinnic Ave. Suite #8, 414-488-6777). On April 17, the new restaurant—an affiliate of a West Allis sushi and hibachi restaurant called Fujiyama—opened to a populace that's far more familiar with poké than it's ever been before.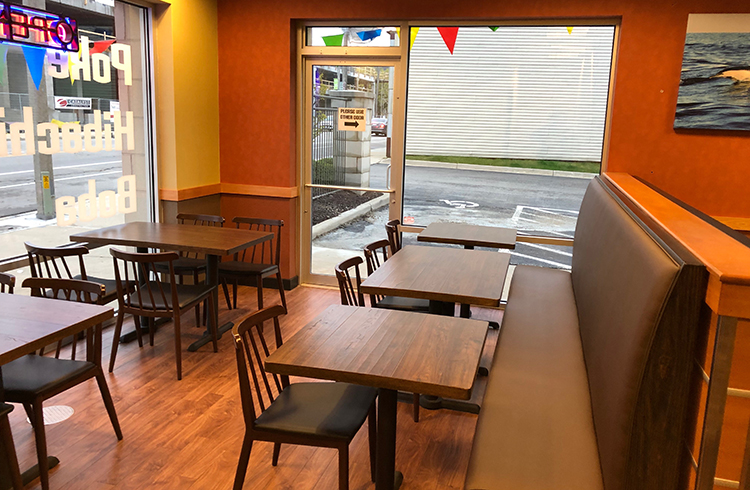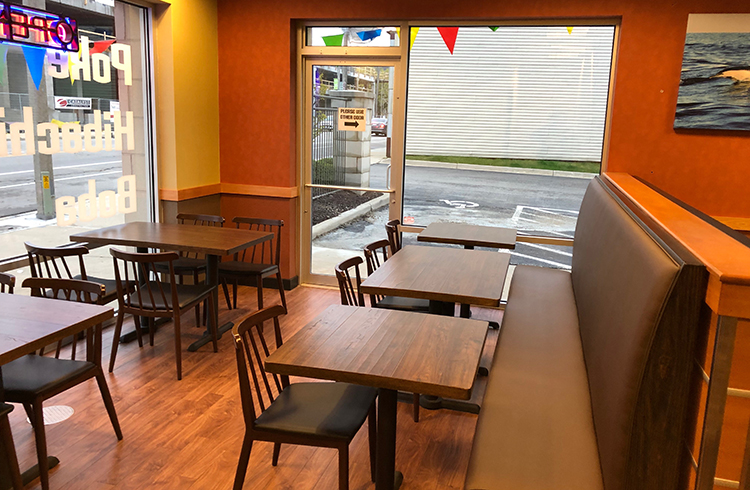 The space: Fuji Poké is located in an 1,800-square-foot site that was most recently a Subway restaurant location. Some evidence of the previous tenant remains, such as the counter where orders continue to be placed and the chain's overall look and feel. Though Fuji's interior modifications were minimal, the few changes were a refreshing upgrade from the previous tenant. The kitchen and front counter appear to be noticeably spruced up, the flooring looks brand new, and the tables are decidedly better than fast food-caliber. During our visit, a flat screen TV played an out-of-market baseball game. Oh, and there's a portrait of some dolphins! No, it's not fancy by any means, but it's still a few sizable steps above your average Subway and, ultimately, is a casual spot to enjoy a quick bite or to wait for a carryout order.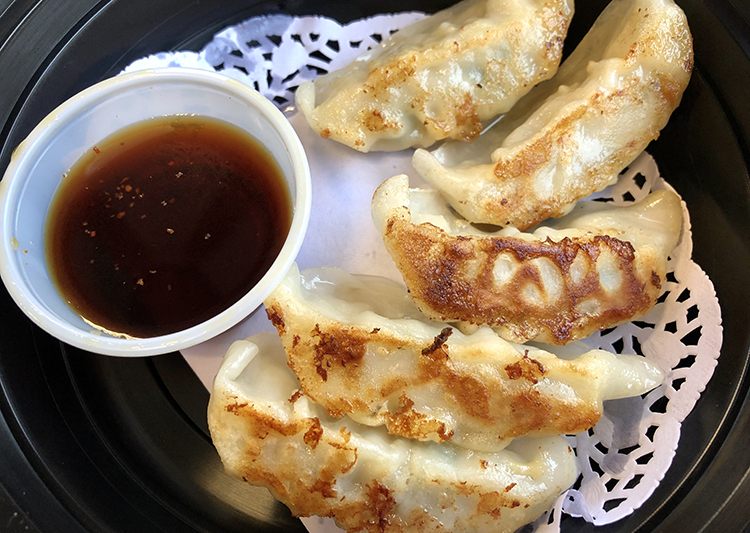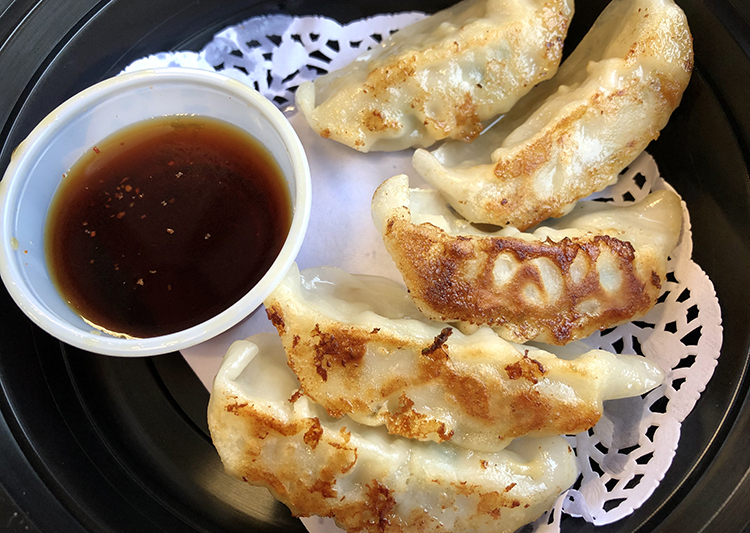 Milwaukee Record's food/drink: After receiving a warm welcome from the friendly staff during a recent visit, we spent a few minutes glancing at a wall-mounted menu before making our selection. While we're admittedly not especially well-versed in the inner workings of the raw fish salad, the menu's size and Fuji's selection weren't the least bit intimidating. The new establishment specializes in poké bowls, sushi burritos, hibachi (prepared in a kitchen, not in front of customers), boba tea, and a few appetizers. That's it, but that's more than enough.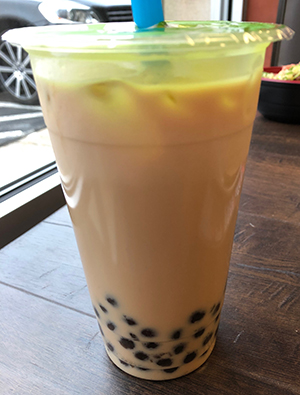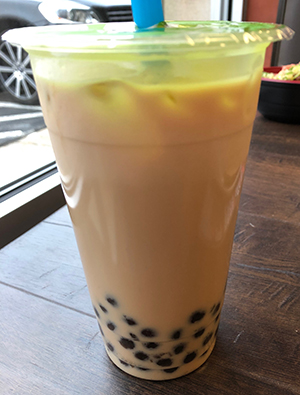 We started out with some meat gyoza ($5), a plastic platter with six pork-stuffed potstickers that did a great job holding us over until our main course arrived. As we enjoyed the simple-yet-satisfying appetizer, we sipped on some black milk tea boba ($5), which is one of 15 flavors that can be served blended or shaken on ice. Between gyoza, the tea itself, and the gelatinous balls that came funneling up our oversized straw with every boba sip we took, we were already feeling good by the time our group's poké bowls came (less than 10 minutes after ordering, by the way).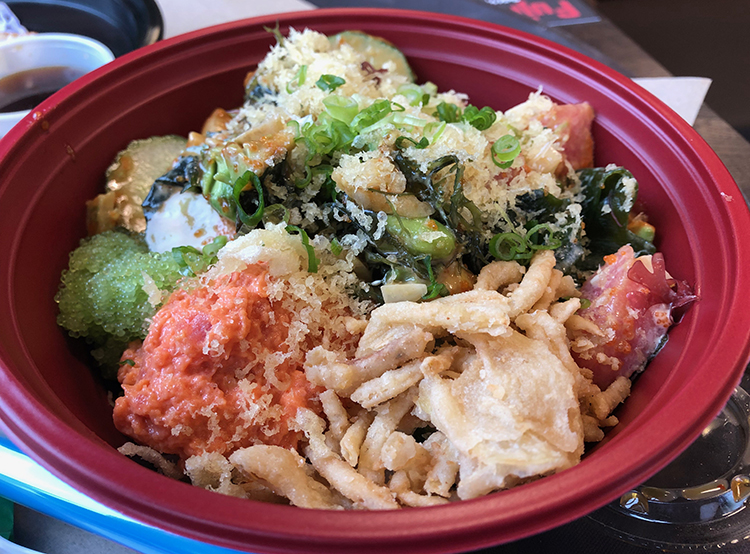 Within the poké bowl and sushi burrito segments, there are four options for bases (sushi rice, brown rice, cold soba, and romaine lettuce), a total of 11 proteins (a range of seafood, meat, and vegetarian/vegan choices), close to 30 "mix-ins" and topping choices, and an intriguing eight-pack of sauces.
Instead of trying—and likely failing—to build our own bowl, we opted to trust Fuji and pick from the restaurant's trio of specialty bowls. The Tuna Amazing Bowl ($14) comes full of generous chunks of raw tuna, spicy tuna paste, diced avocado, cucumber slices, edamame, masago, wasabi, seaweed, scallions, and crispy fried onion pieces that are topped with eel sauce and wasabi mayo. The tuna was excellent, especially with the addition of eel sauce and the creamy sinus-clearing zip of the wasabi mayonnaise. Beyond the excellent and seemingly-high-quality tuna, we thought the sushi rice was perfectly cooked, the vegetables were fresh, and the crunchy onions and scallions were both a solid addition to the bowl. We'd only intended to graze on the Tuna Amazing Bowl before moving to the next entree, but we eventually finished the entire thing, which we take as a great sign of how good it actually was.
We also enjoyed the Tri Color Bowl ($15), which also included cucumber, edamame, masago, seaweed, wasabi, scallions, and crispy fried onion pieces. On top of those familiar components, the "Tri" element was fulfilled with pieces of tuna, salmon, and shrimp. Additionally, the specialty bowl also came with cilantro, spicy poké sauce, and a massive portion of pickled ginger. Again, the meat was fresh and abundant, the sauce was wonderful, and the crunchy veggies as well as the fluffy white rice all coalesced into something so tasty that it seemed sacrilegious to be eating it in the former site of a Subway.
Both bowls were good, but we'd probably give the Tuna Amazing a slight edge. Next time through, we'll probably give the hibachi a shot or maybe try our hand at building our own bowl. We'll probably pass on the sushi burrito, though, as we've never really had a good experience with one of those.
The verdict: Yes, $14 to $15 is kind of steep for an entree in a casual spot with counter service, but we found the freshness, quality, and sheer quantity of Fuji Poké bowls to be well worth it. We're not about to anoint the newcomer with the title of Milwaukee's best poké place—both because we doubt that's true and, even if if it were, another poké joint is probably breaking ground somewhere in town as we speak—but if you're in Bay View and you're wishing to enjoy a solid take on the city's new favorite food trend in a very casual setting, Fuji Poké won't do you wrong.