Milwaukee loves donuts. Dozens of bakeries in the city and its surrounding suburbs help people get a sweet start to their day with long johns, crullers, jellies, powdered, cream-filled, cake donuts, and more. If you're looking for the "hole story" on Milwaukee-area breakfast pastries, let our weekly Dollars For Donuts column be your guide.
This March 5 wasn't your typical late-winter Tuesday. As you probably know, it was Fat Tuesday, which is a day of indulgence and celebration in the midst of Mardi Gras, which also precedes Ash Wednesday and the start of lent. For many Milwaukeeans, Fat Tuesday is also a day that's synonymous with a fruit-filled Polish pastry known as the "Pączki." Through the years, the Pączki (pronounced "Poonch-ki") has become an unflappable component of Milwaukee's Fat Tuesday tradition, even for those with no Polish lineage or Catholic affiliation. Basically, some see the day as an excuse to enjoy a delicious donut that's somewhat different from the jelly- and cream-filled pastries available at local bakeries all year long.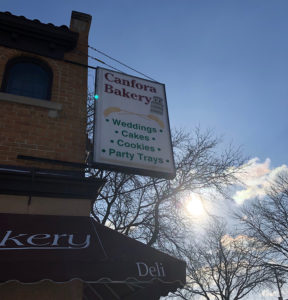 Many of those who partook in Pączki this year probably procured their traditional treat from Canfora Bakery (1100 E. Oklahoma Ave., 414-486-7747). Even though it's an Italian bakery and deli, for one day each year, it's one of Milwaukee's go-to spots for this Polish delicacy.
Canfora Bakery originally opened near 25th and Burnham streets way back in 1981. In 1994—a baker's dozen years later—owners Carl and Rosalba Canfora relocated the operation to its current Humboldt Park-adjacent site on Oklahoma Avenue, where it's thrived ever since. However, the fate of this longstanding bakery was briefly in question back in 2017, when the Canforas put the business up for sale. Fortunately, Eric and Karen Kreig stepped in to purchase Canfora Bakery and issue a promise to generations of regulars that nothing would be changing.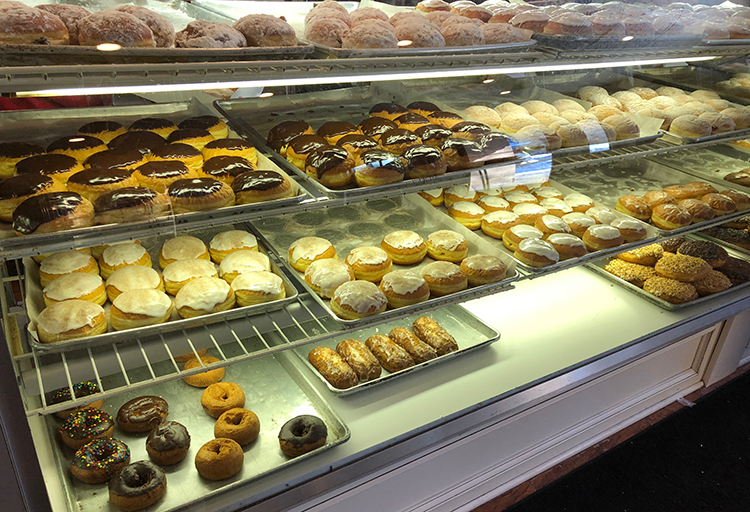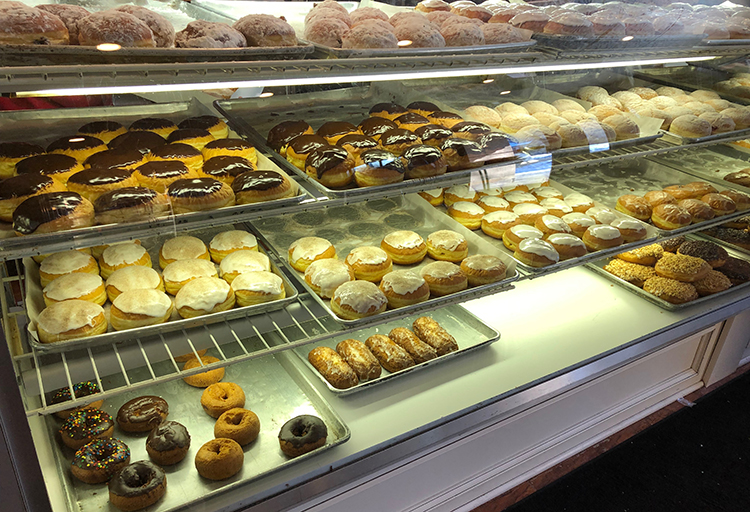 That promise means Canfora staples like its hot ham and rolls, its party trays and cakes, its cannolis and eclairs, its trademark Italian cookies, and yes, even its Pączki would stay exactly the same. Now about a year and a half since ownership changed hands, it seems as if the Kreig family has kept their promise to continue the Canfora tradition by sticking to their recipes that have helped to set the Bay View bakery apart.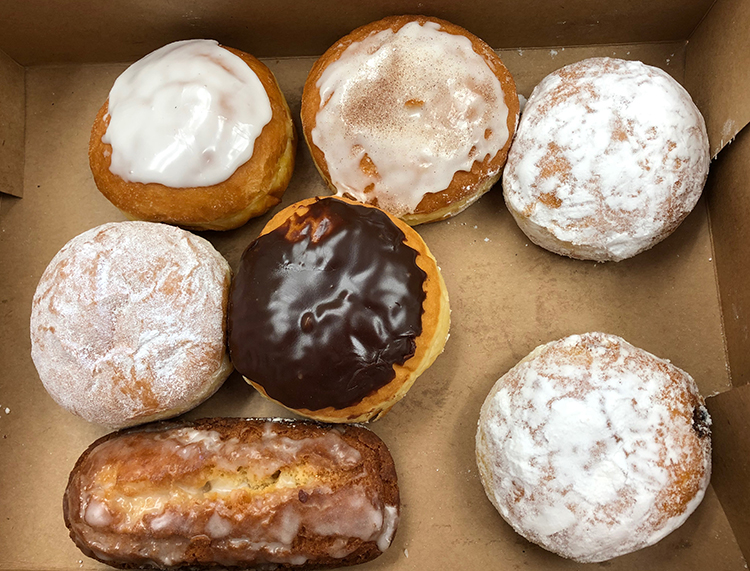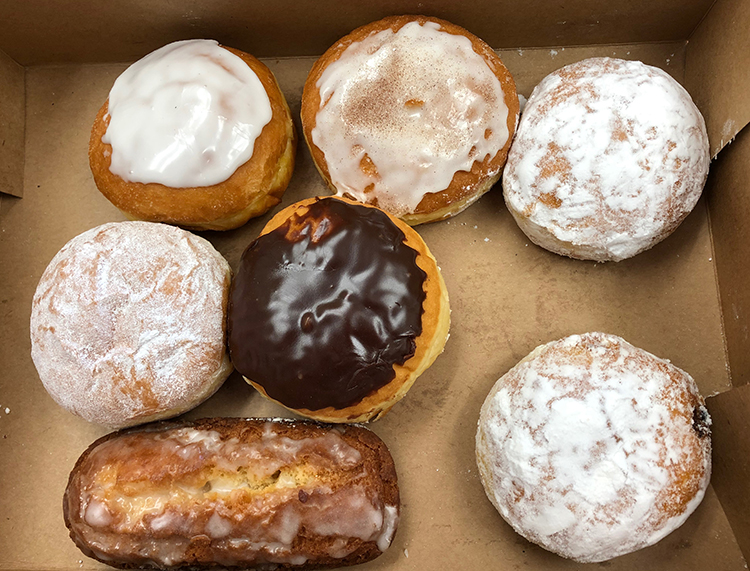 Prompted by the banner promoting the rare Polish goodie in the front window, as well as the sterling reputation Canfora Bakery crafted over the course of decades, we took a number Tuesday morning and stood in line for our opportunity to buy a few Pączkis…and a couple other donuts for good measure. All told, Canfora made an astonishing 8,000 Pączkis, and they sold out of them (at $1.25 a pop or $15 for a dozen) between its special 5 a.m. Fat Tuesday opening time and closing at 6 p.m. Arriving just after 8 a.m., the cozy shop was already busy, but the staff was on top of things and they cheerfully sped through the seemingly endless line of customers at an impressive clip.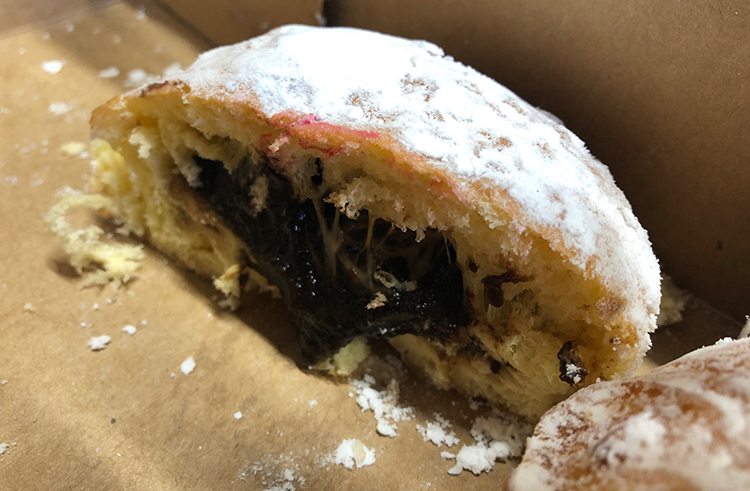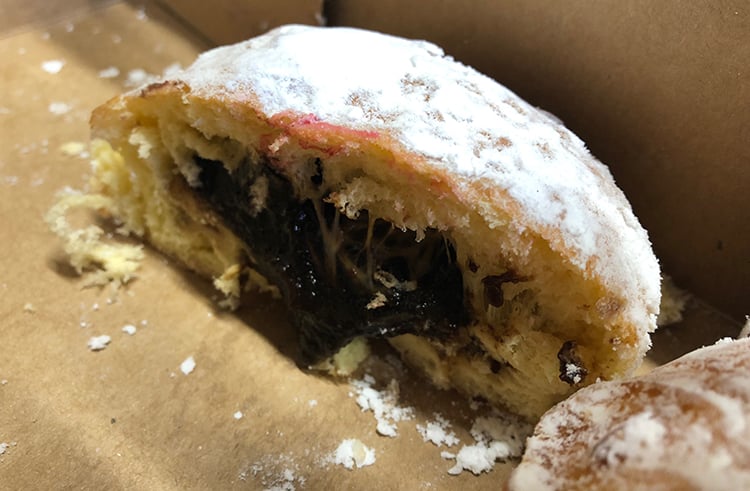 We intended to only get six donuts, but in our haste, we wound up with seven: One of each Pączki variety (except the less-than-appealing raisin, which we subbed for another prune) and a cruller. The apple was a subtly frosted and cinnamon-topped day-starter. The raspberry and lemon were akin to their typical jelly donut counterparts, except with fluffier dough surrounding the sweet innards. The Bavarian cream and cruller were on point as well. As great as everything was, the traditional prune-stuffed Pączki absolutely stole the show. With a deep and dark hue, the distinctly tart prune puree was encased in soft dough that was dusted with a powdered sugar.
Admittedly, this was one of our first experience eating a Pączki in some time, and it didn't disappoint. It was worth (almost) every bit of hype and is something we'll look forward to enjoying again next year. Even though the business' location, its owners, and the customer base in an ever-changing neighborhood aren't what they were in 1981, Canfora Bakery has been committed to staying the same in all the ways that really matter, very much including its Pączkis that Milwaukee gleefully gobbles up every Fat Tuesday.