Picking up hot ham and rolls on Sunday is as much of a Milwaukee tradition as beer and brats for a summer cookout. While local markets and bakeries have offered this Wisconsin delicacy for decades, there are a handful of other independently-owned establishments where you can stop to pick up this regional delicacy.
1. Rupena's Fine Foods (7641 W. Beloit Rd., West Allis)
Rupena's has served Milwaukee's south side and West Allis communities for over 90 years, and it continues to thrive today. Focusing on Eastern European dishes such as sarma (smoked meat, pork, rice and cabbage), the family-owned market also offers over 100 salads, including Tex-Mex caviar, calico bean, cucumber tomato, and Croatian potato, which are rotated daily, according to manager Maria Rupena Karczewski. Her grandfather, a Yugoslavian immigrant, opened Rupena's in 1926.
"We are small, but we offer so much variety," Karczewski says. "We are really a well-rounded business."
The store offers other specialties, such as fresh meats and sausages handmade by trained butchers, which Karczewski says is a lost art. Rupena's plans to sell a line of Boar's Head meats starting February.
For those with a sweet tooth, Rupena's bakery items, such as Grebe's donuts and homemade banana bread, compliment Sunday morning coffee.
Sunday special: One pound of Badger ham and half a dozen rolls for $6.99
2. Jen's Sweet Treats (4745 S. Packard Ave., Cudahy)
Jen's, which opened in 2014 after renting a commercial kitchen and selling baked goods at farmers' markets, browns their ham with honey, brown sugar, and cinnamon. Pulled pork is always available, too.
Owner Jennifer Clark says the bakery also customizes orders for cakes, pies and other desserts, and sells an assortment of bakery goods, including 18 kinds of muffins and chocolate barks. Cupcakes, rainbow sherbet are customer favorites. "They are by far our best sellers," Clark says.
Clark is very involved in the Cudahy community, and Jen's holds four fundraisers a year, including one that donates to needy South Shore families during the Christmas season.
Sunday special: One pound of Patrick Cudahy ham and a half-dozen rolls for $6.49
3. Scardina Specialties (822 E. Chambers St., Riverwest)
Besides selling hot Polish ham, a delicacy that's typically baked with pineapple or cherries and glazed with a mustard paste, on Sundays, Scardina has serveed up mouthwatering sandwiches such as the Diavolo (Soppressata, provolone, hot giardiniera, and salsa) in Riverwest since 2012. The Meatball Panini is the most popular according to owner Damien Scardina.
Meat lovers can choose from more than 10 different handmade link sausages, including jalapeno cheddar brats, Polish sausage, and both mild and spicy Italian sausage.
"My dad Peter's Italian sausage recipe was why we started the business in the first place," Scardina says. Peter has since retired, but his sausage and his legacy live on.
Sunday special: One pound of Polish ham and a half-dozen rolls for $6.99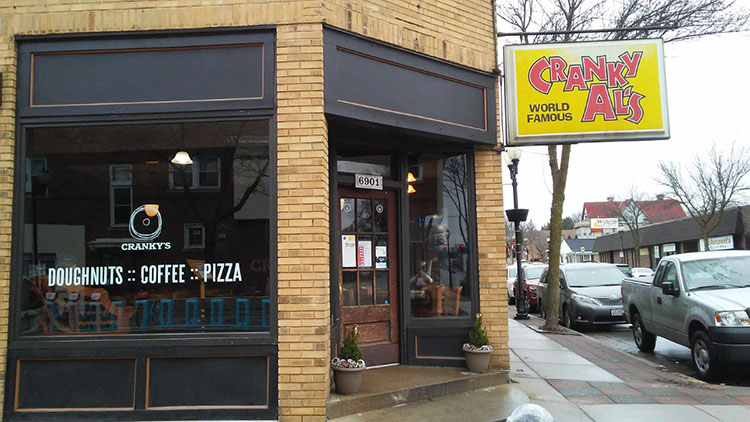 4. Cranky Al's (6901 W. North Ave., Wauwatosa)
Joey Carioti, who co-owns Cranky Al's with his aunt and uncle Susie and Alex Brkich, loves to make donuts—so much so that he quit his teaching profession to do it.
"I came up for a few weeks to help my aunt and uncle, and wound up staying and buying into the business," Carioti, an Illinois native, says.
Each donut at Cranky Al's is made from scratch and hand-cut, and the café carries 52 varieties of both yeast and cake donuts. "I'm pretty good at naming all of them," Carioti says.
Traditional favorites such as crullers ("we spell them 'cruellers'" Carioti says) are the most popular, but more inventive twists, such as maple bacon, chocolate peanut butter buttercream (a yeast donut with a chocolate peanut butter filling), and red velvet cake donut with cream cheese icing, are big hits as well.
Along with donuts, pastries, as well as the espresso drinks and coffee, the café serves breakfast burritos and pizzas, bagel sandwiches, and other morning goodies. Starting in February, the café will be open for lunch and will also offer pizza, salads and sandwiches on the menu. And of course, they sell hot ham and rolls on Sundays. According to Carioti, contributing to local schools and other charities, providing excellent customer service, and positive community interaction are key aspects of the business.
"We are very fortunate that this neighborhood, and other neighborhoods, believe in us," Carioti says.
Sunday special: One pound of Badger ham and a half-dozen Peter Sciortino rolls for $7.99
5. Gloriosos Italian Market (1011 E. Brady St., East Side)
Brady Street fixture Gloriosos' extensive in-store menu serves Mediterranean dishes such as pizza, pasta, ravioli, and more. Shoppers wanting takeout can order a specialty sandwich, such as the Milwaukee Muffalatta (genoa, mortadella, ham, provolone & mild or hot muffalatta) or Philly Italian Beef.
Since 1946, Gloriosos has sold items essential for Italian cooking and baking, such as handmade sauces, olive oil—even their own coffee and espresso blends. While not Italian in nature, Sunday ham and rolls is also a Gloriosos staple.
Sunday special: One pound of ham and a half-dozen rolls for $6.99
6. Canfora Bakery (1100 E. Oklahoma Ave., Bay View)
When Carl and Rosalba Canfora retired and sold their bakery to Karen and Eric Krieg last summer, faithful customers worried things would change too much for their liking.
Luckily, the lemon paczkis, cannolis, eclairs, and other tasty European treats in the bakery cases have remained, and Canfora is as popular as ever. People stopping in for a quick lunchtime bite can choose from a variety of sandwiches, soups and subs. Pick up some German or American potato salad with your ham and rolls, but plan accordingly—the place gets packed on Sundays, with lines often out the door. Customer service is always friendly and efficient, however.
Sunday special: One pound of Badger ham and a half-dozen of their specialty rolls
7. Layton Fruit Market (1838 E. Layton Ave., Saint Francis)
This small Saint Francis grocery store is big on specialty candies, gelato, savory dips, salads and wraps, wine and beer, and lots of fresh produce.
Open in its current location since the early 1990s, Layton Fruit Market owner Joe Priote helps the community by hosting fundraisers to benefit area schools and other causes. Pick up a cup of coffee and muffins made by local bakeries East Side Ovens and the Elegant Farmer for less than you'd spend at Starbucks, or grab a Grebe's donut, offered on the weekends, with your ham and rolls.
Saturday and Sunday special: One pound of Patrick Cudahy ham and a half-dozen rolls for $5.99