It's an unprecedented and incredibly difficult time for restaurants right now. Wanting to highlight local establishments who are keeping food quality high while also keeping its customers and employees as safe as possible during the ongoing COVID-19 crisis, we're going to focus on restaurants that have completely shifted to carryout and/or delivery service in a series we're calling "Carryout Chronicles."
What a difference a year makes. The last day of February in 2020, we made Grebe's Bakery (5132 W. Lincoln Ave., 414-543-7000) the penultimate stop on our late night Leap Day adventure. This year, we ended February with another morning trip to the beloved West Allis donut shop. Over the course of the 365 days between those visits, the world has changed immeasurably and Grebe's, too, has needed to make about as many modifications to the ways they do things within the past 12 month than it has over the span of much of its previous 83 years in business.
Though the way the bakery operates and the expectations it now places on its customers are both much different than they were last winter, we're pleased to report that its timeless treats that have become an indelible part of how metro Milwaukee starts its day remain just as delicious and iconic as ever. With a sudden hankering for breakfast pastries, hot ham, and familiar flavors, we made our way to 'Stallis last weekend to partake in a Sunday tradition that not even a pandemic can stop.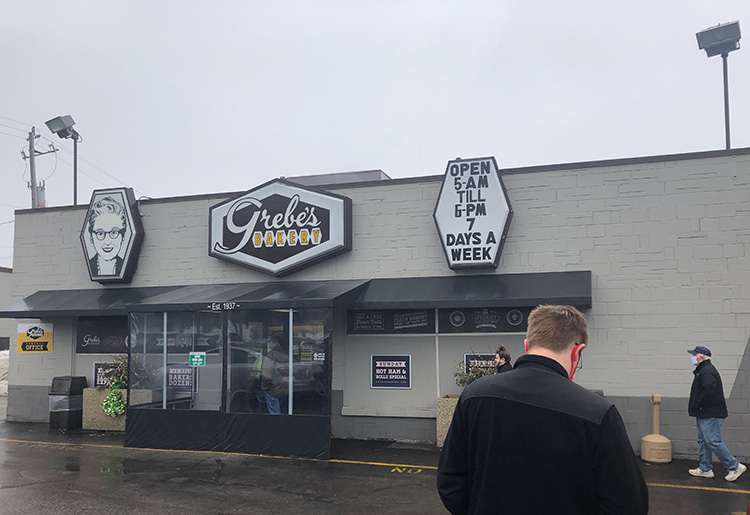 Policies And Procedures
Arriving around 9 a.m. last Sunday, we quickly learned we weren't the only ones with Grebe's on the mind that morning. Instead of crowding into the small establishment as they would in "normal times," a group of customers lined up outside. Everyone was wearing a mask (even outside) and keeping distance from one another. During our 10-15 minutes in line, we heard nothing even resembling a complaint.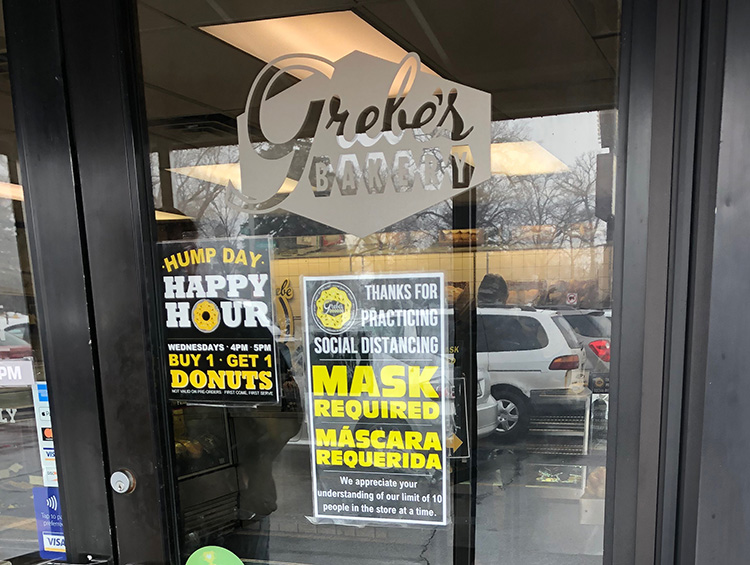 Beyond reasons rooted in common courtesy, the line was kept orderly because of the store's occupancy limit of 10 customers at a time. Like any other business at this point in time, face coverings are required, and there is no shortage of reminders of that fact both inside and outside the bakery.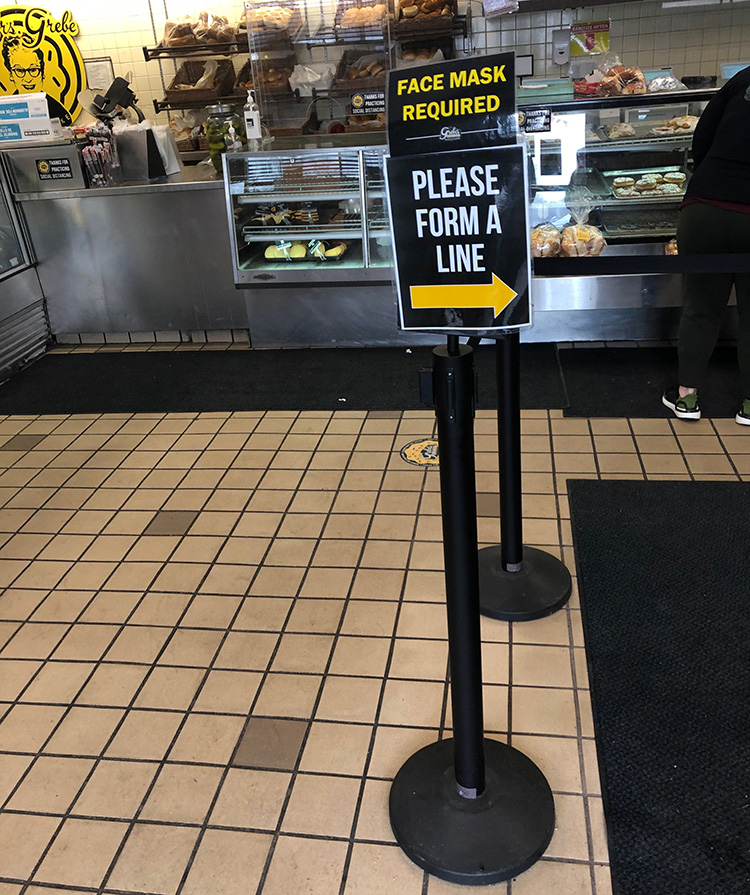 Once inside, customers confront another line, which seems done for the sake of customer safety and also to help keep the purchasing process more orderly and manageable. The queue to the counter is lined with some prepackaged bakery goods like donut holes, cookies, and cakes, as well as a beverage case stocked with things like milk and Robinade. When one of the cashiers—we counted five spaced-out staffers behind the counter in different stations during our visit—is available, they call up the next customer to place an order.
Carryout Quality
With it being our first visit to Grebe's in a year (though we did luck into a few donuts leftover over the summer after another writer penned a Grebe's/discing article), we wanted to pick up a few staples from its varied and altogether excellent list of offerings.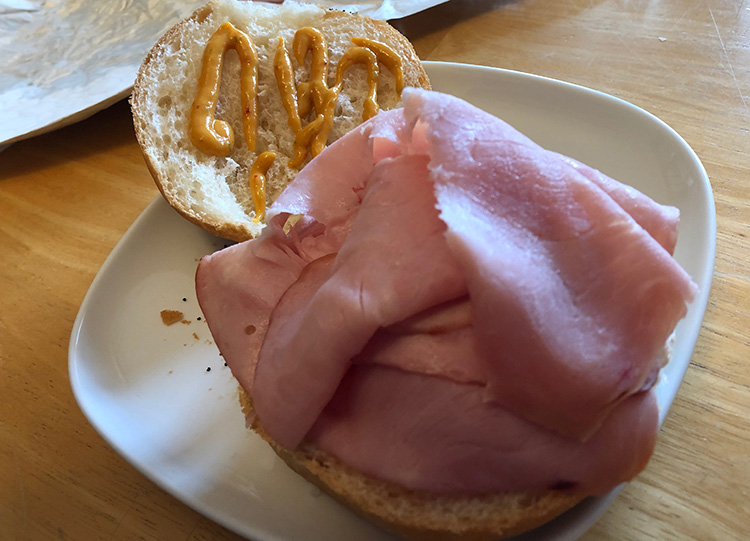 Figuring a hole might tear in the universe if we went to Grebe's on a Sunday morning and didn't leave with some hot ham and rolls, we took advantage of its everyday offer of one pound of baked ham (provided by Badger Ham, another Lincoln Ave. stalwart) and six rolls for a scant $6.99. There are at least six different varieties of rolls from which to choose. We hastily picked poppy seed hard rolls, but were left with no regrets once we cut into the bread, stacked one side high with thin-sliced hot ham, and drizzled some Koops' Arizona Heat from our private mustard stash on the other side. Perfection.
Of course, we had to get some donuts as well. Not wanting to clog the line and wander into someone else's "bubble," we went with an old favorite and a couple others that were right in front of us that looked especially appetizing. The old favorite we're referring to is the Glazed Cheese Pocket ($1.25, pictured top right), which was a well-crafted coalescence of a sugary glaze that encases pillow-y fried dough and rich cream cheese filling. It was even better than we remembered.
Frankly, that and a pile of ham would've been a fitting breakfast on its own, but figuring "When in West Allis…" we also picked up the Honeymooner Of The Month for February, the Chocolate Covered Cherry (99 cents, pictured top left) that was generously frosted and accented by a cherry-tinged buttercream to bring the soft, satisfying pastry to the next level. That one isn't available anymore, but March's Chocolate Mint Honeymooner looks just as appealing. We were also got a pink sprinkled donut (99 cents, pictured in the middle) for someone else. We opted for one with pink frosting because it looked like the kind Homer Simpson eats. It, too, got rave reviews akin to Homer's exaggerated drooling.

Other Info
If you don't live near the store itself, you might still be able to enjoy Grebe's. Its products are available at more than 300 locations throughout southeastern Wisconsin and northern Illinois, including Woodman's, Sendik's, Piggly Wiggly, and a few regional gas station chains. Online ordering (with "curbside pickup" accommodations) are also possible. Grebe's is open every day from 5 a.m. to 5 p.m. and business seems to still be booming. If you stop by in person, wear a face covering, practice social distancing, and don't be a dick. Those are incredibly easy rules to follow.
Grebe's Bakery has been helping the Milwaukee area start its day right for close to 85 years. It's safe to assume very few of those years, if any, have been as challenging as 2020 and early 2021 has been for the business. Yet by quickly and commendably adapting to the times, this historic bakery seems likely to keep forging on for years and years to come. Oh, and its outstanding food probably has something to do with it, too.