Between beloved and well-established local staples and a steady wave of new bars and restaurants popping up in and around Milwaukee almost every week, worthwhile dining and drinking gems can occasionally get lost in the shuffle. With Tucked Away, Milwaukee Record digs deep with the hope of unearthing some of these gems.
Almost exactly three years ago, Bay View lost an icon. In the first few days of 2017, Midwest Diner announced it had closed via a note posted on its door. That abrupt closure signaled a continuation of Bay View's rapid change that's priced some businesses out of the up-and-coming neighborhood and has brought far more competition to the now-restaurant-rich thoroughfare of Kinnickinnic Avenue. Midwest Diner's end left the neighborhood without a 24-hour restaurant. In the process, it also found the number of true blue diners in or around Bay View diminishing and teetering on the edge of extinction. Thankfully, there are still a select few spots.
On the corners of KK and Vollmer, where Bay View bleeds into Fernwood and Milwaukee prepares to give way to St. Francis, Landmark Family Restaurant (3451 S. Kinnickinnic Ave., 414-481-1300) has managed to thrive for more than 25 years on the strength of its immense and affordable menu items that are served by a friendly staff in a comfortable and altogether timeless setting. Landmark—along with Copper Kitchen on Howell Ave. in the nearby Tippecanoe neighborhood—are bucking trends and keeping the spirit of the classic diner alive on the city's south shore.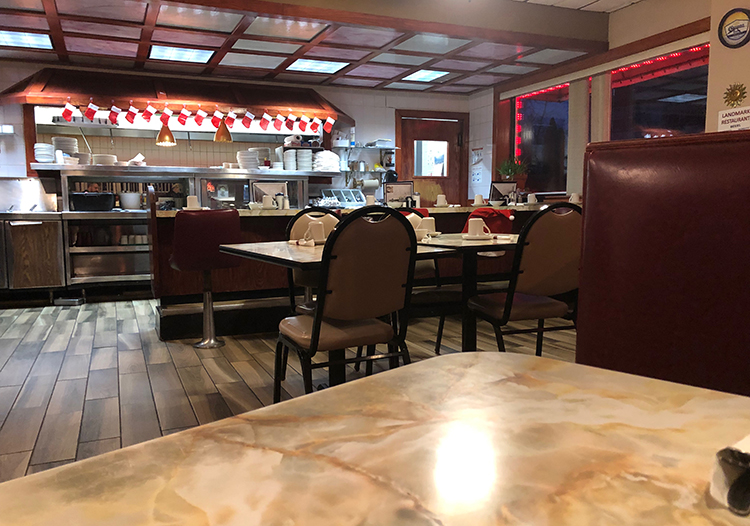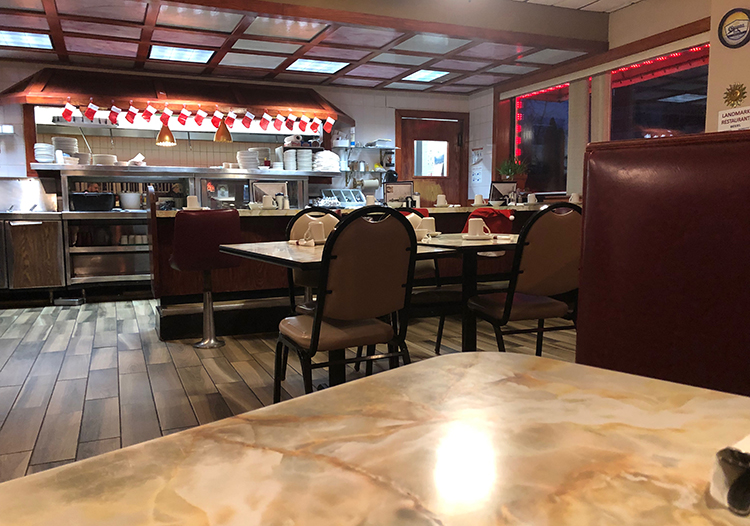 It doesn't appear as if much has changed at the restaurant over the last quarter-century. Within the walls of the weathered brick facade, the spacious corner diner is lined with vinyl booths, tables, and a counter with about half a dozen stools. The interior decor is simple and minimal, but it helps add to the cozy atmosphere and the inviting feel of the space. During our latest visit, audio from the local newscast playing on the lone television served as the restaurant's default soundtrack. While Landmark's layout and interior accents are simple, the family restaurant's extensive menu is anything but basic. The five-page tome—six pages, if you count the lengthy list of daily specials that's attached—runs the gamut of American mainstays.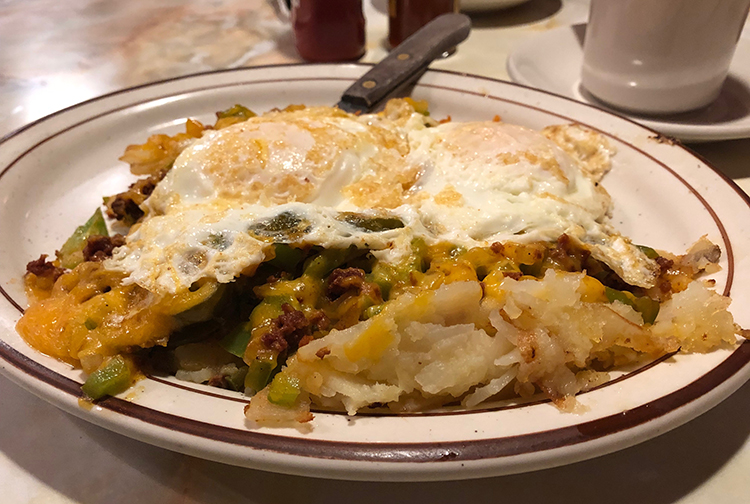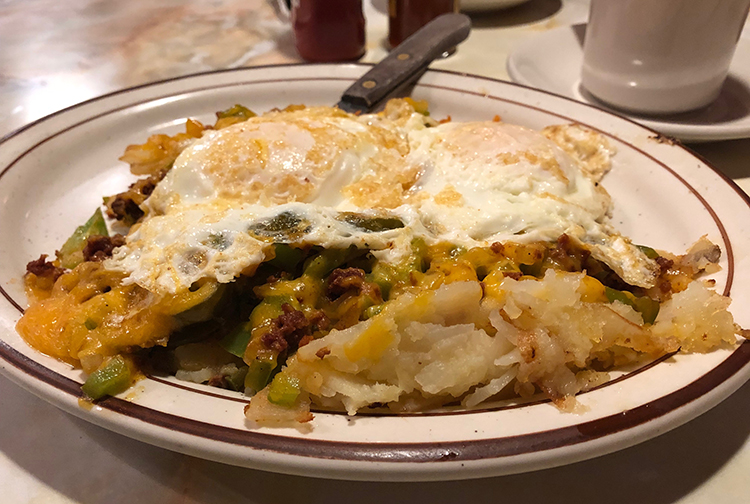 Approximately a third of the dozens upon dozens of "home cooking" selections land somewhere in the vicinity of breakfast. In addition to the a la carte options, diners can enjoy all-day availability of breakfast favorites like crepes, pancakes, croissants, waffles, french toast, eggs of any style (including a vast arsenal of omelette offerings, steak and eggs, and specialty skillets). In recent visits, we've found ourselves returning to the Mexican Skillet—a heaping platter of crumbled chorizo, sauteed peppers (green and jalapenos), fried onions, melted cheddar cheese, and two eggs piled atop a mess of hashbrowns. When mixed together and doused with hot sauce, it's a weighty and wonderful blend of rib-sticking goodness that's well worth the $9.25 price (0r $7.25 without eggs). Oh, and we recommend washing it down with a $1.85 cup of diner coffee.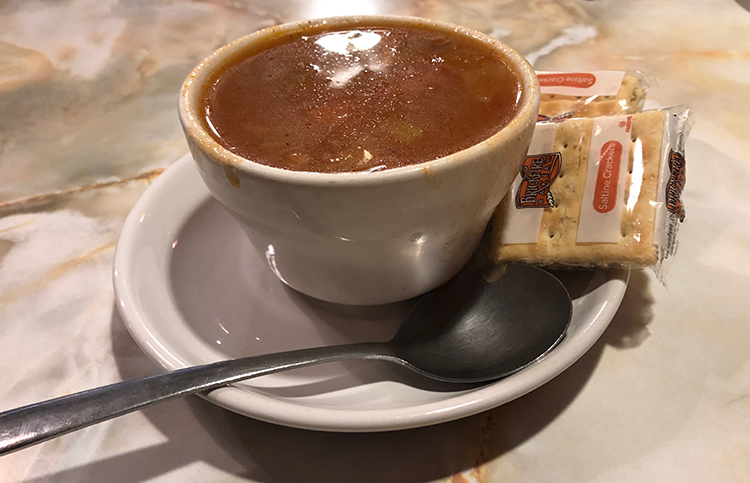 Those who aren't in the mood for breakfast will be glad to see an eclectic array of lunch and dinner standards on the rest of the menu. Of course, there are a few burgers (eight, to be specific), shakes and malts, chili, soups (see beef and vegetable soup above), salads, and a range of hot and cold sandwiches like the french dip, the tuna melt, and club sandwiches. However, some patrons might be impressed to see the expected fare is flanked with more specialized options like short ribs, roast turkey, fried chicken, veal cutlet, lasagna, stir fry, liver and onions, scallops, shrimp, a few types of steak, and alfredo.
Still, you can't go wrong with a good old fashioned patty melt, especially at just $5.95 including a cup of soup. As we enjoyed that amalgam of juicy ground beef, abundant fried onions, and melted American cheese pressed between slices of buttery toast, we took in the conversations some regulars were having with an upbeat server. We heard the laughter of high schoolers who were taking their time to finish their coffee and soda before seeking the next temporary hangout of the evening. We looked out the window and daydreamed as we engaged in the simplistic task of enjoying well-executed diner favorites between sips of piping hot pre-ground coffee.
It's a ritual we've all taken part in, but in this era of dwindling diners, it's one that's a little more difficult to come by of late. Thankfully, amid the onslaught of changing preferences, rising rent, and growing competition within the neighborhood, Landmark Family Restaurant continues to persist on the strength of offering good food and a fair price in a place you're happy to spend a good chunk of your day.