As the holidays approach, the stress begins to build in regard to what you'll be bringing to the abundance of gatherings on your seasonal social calendar. Do you risk the judgement of your grandparents and the one cousin that always goes above and beyond by just bringing a bottle of booze or a case of beer? Do you say "fuck it" and just pick up some cookies or a pre-made taco dip from the grocery store or gas station on your way? Do you make that one thing you're pretty good at making that everyone just assumes you're going to bring anyway? Or maybe—just maybe—this is the year you buck expectations, throw caution to the wind, and make a recipe that was published in a local newspaper 96 years ago.
Recently, Goodkind co-owner and nationally recognized mixologist Katie Rose unearthed a bunch of aged periodicals from the walls of her home she's currently in the process of renovating. She put a few of the more interesting articles from those shockingly well-preserved newspapers on Facebook and one of them caught our attention.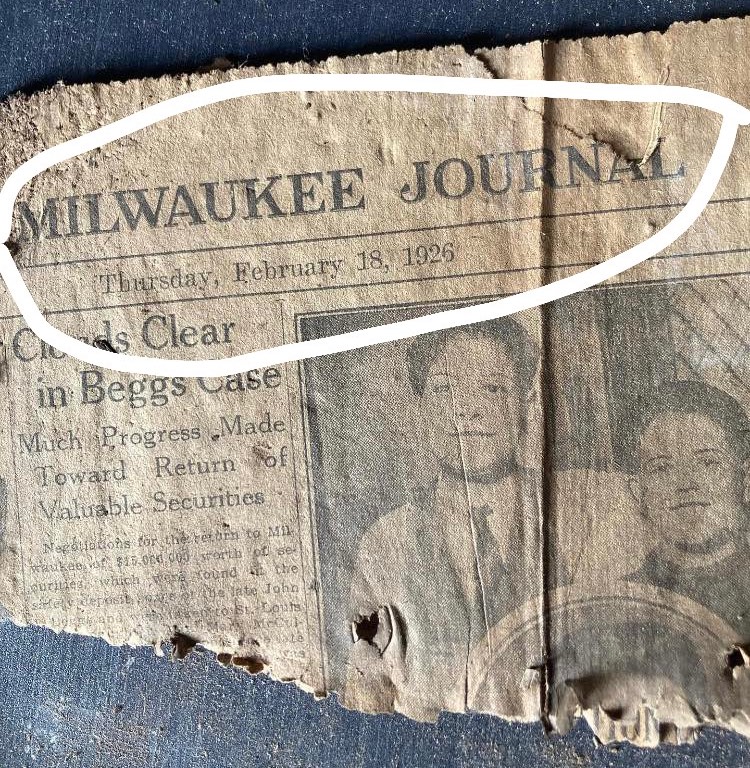 On Thursday, February 18, 1926, the Milwaukee Journal ran what can generously be considered a "recipe" for "A New Lenten Luncheon" for its readers. Since Lent and Christmas are pretty much the same shit ("Jesus good!"), we figured this near-century-old dish called "Frank's Kraut and Pineapple Salad" would also be appropriate for December dining.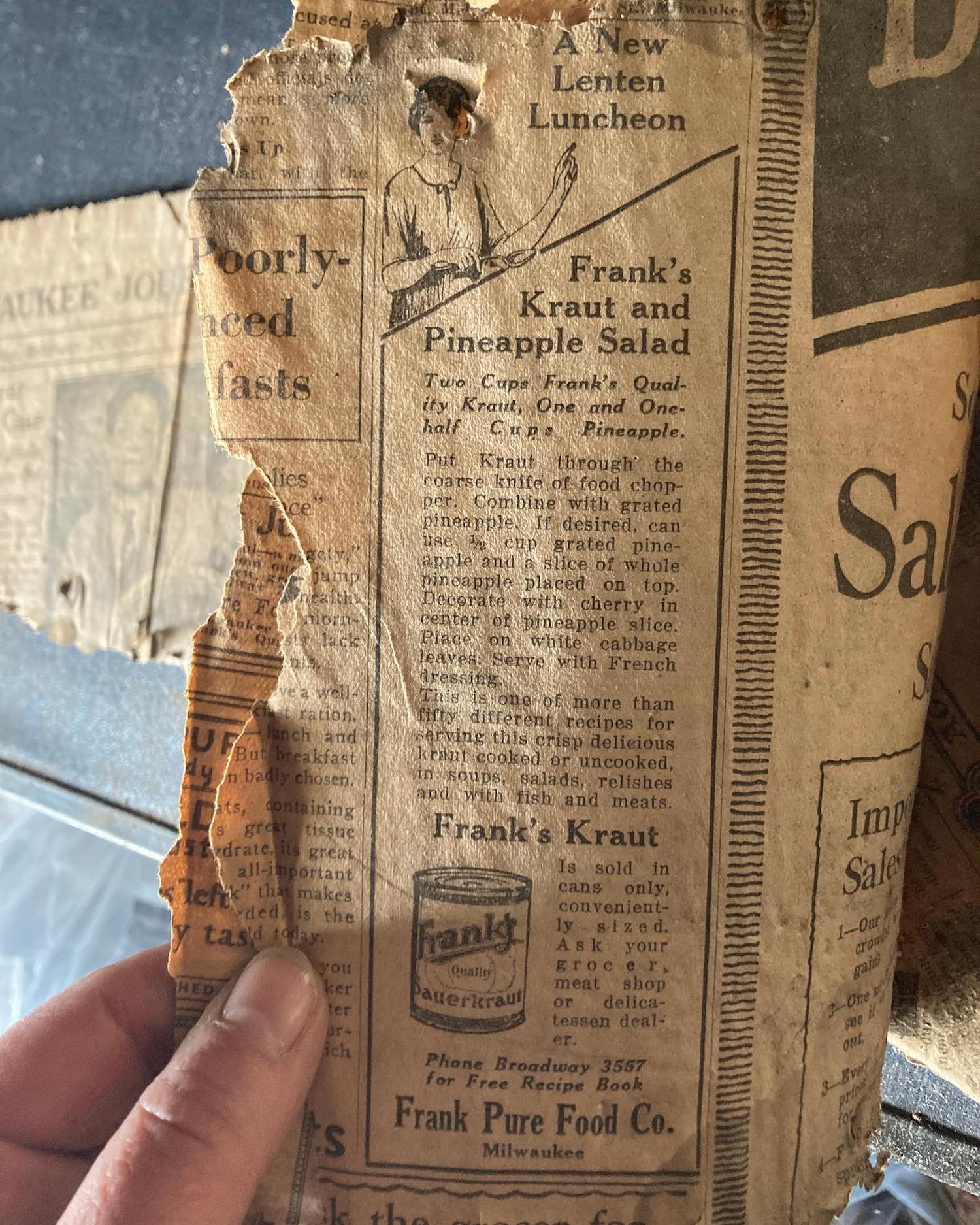 With Rose's permission and the aid of her photographs (thanks, Katie!), we hit the grocery store to see if we could replicate "Frank's Kraut and Pineapple Salad" and to find out whether it would agree with our modern palate.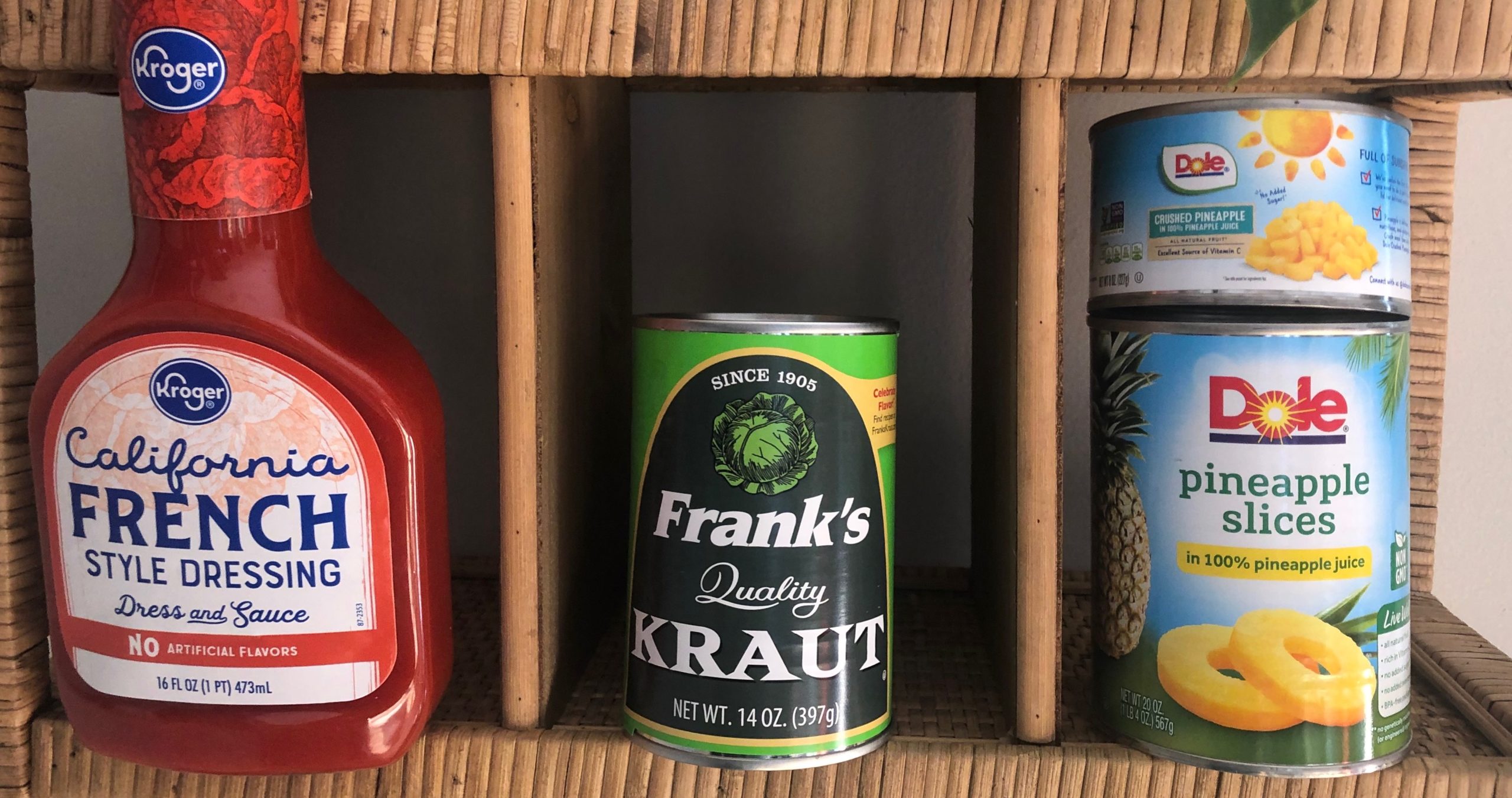 We got the kraut, we got the pineapple (which we were very surprised to learn was available to purchase in cans in the mid-1920s), and we purchased French dressing for the first time in our 38 years on this Earth. We had cherries already and, since Pick 'n Save seemed to be out of white cabbage or maybe they haven't carried it in full head form since the late '70s, we settled for a cabbage-forward bagged slaw mix. Sorry, readers! We love you, but it's not a "go to two grocery stores in search of the right kind of goddamn cabbage" sort of love.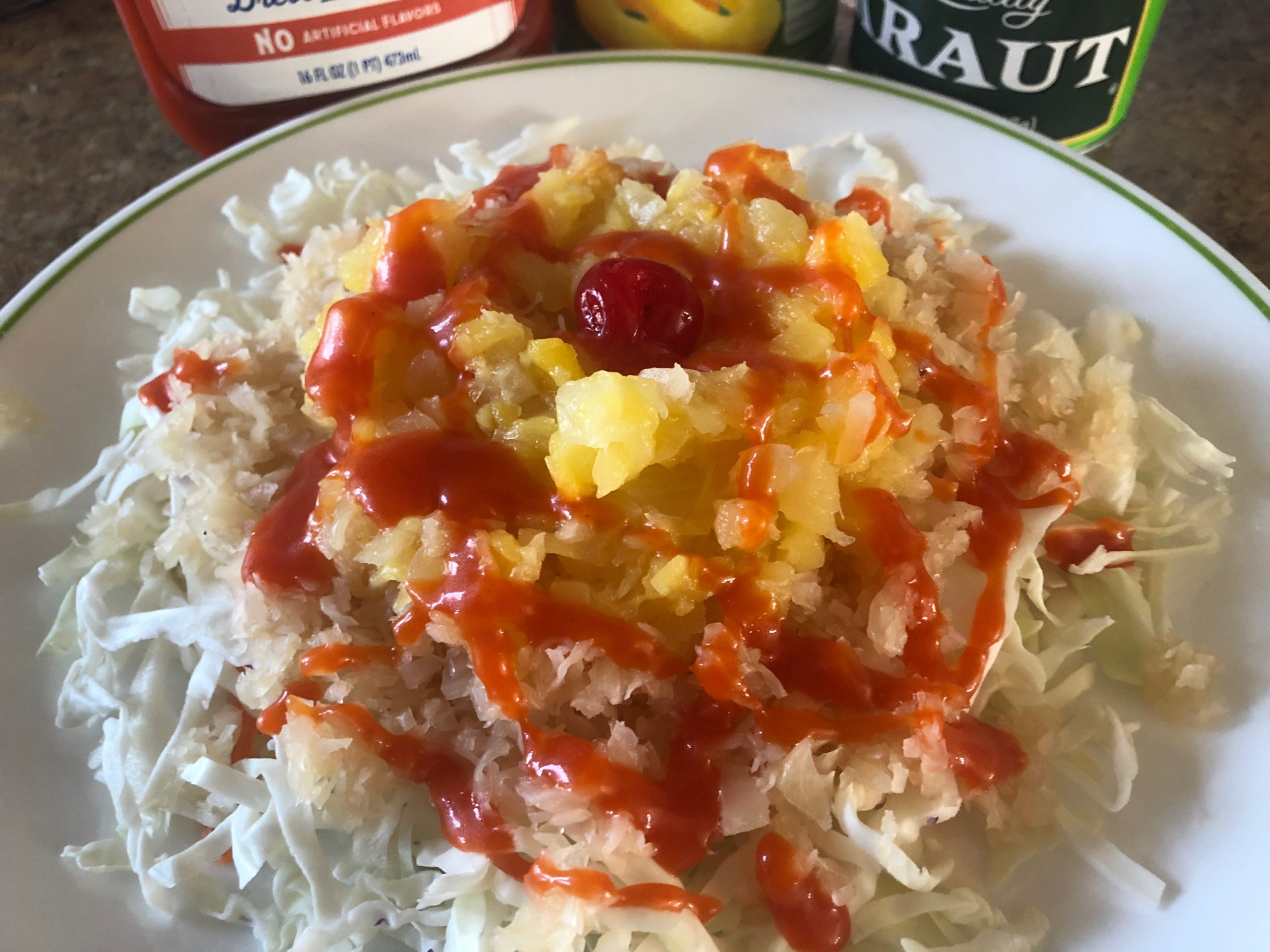 We put the kraut and some of the chopped pineapple through a food processor for like 30 seconds, then we piled that and more crushed pineapple atop a bed of the cabbage mix. We drizzled some French dressing, topped with a cherry and we had this.
As expected, it looked absolutely terrible. Even if we had put it atop actual cabbage leaves, the rest of the so-called "salad" would have been a messy amalgam of clashing colors and conflicting flavors. With some apprehension that was overtaken with the hope this article might garner as many clicks as that time we made Beef Fizz, we sunk a fork in and took a bite.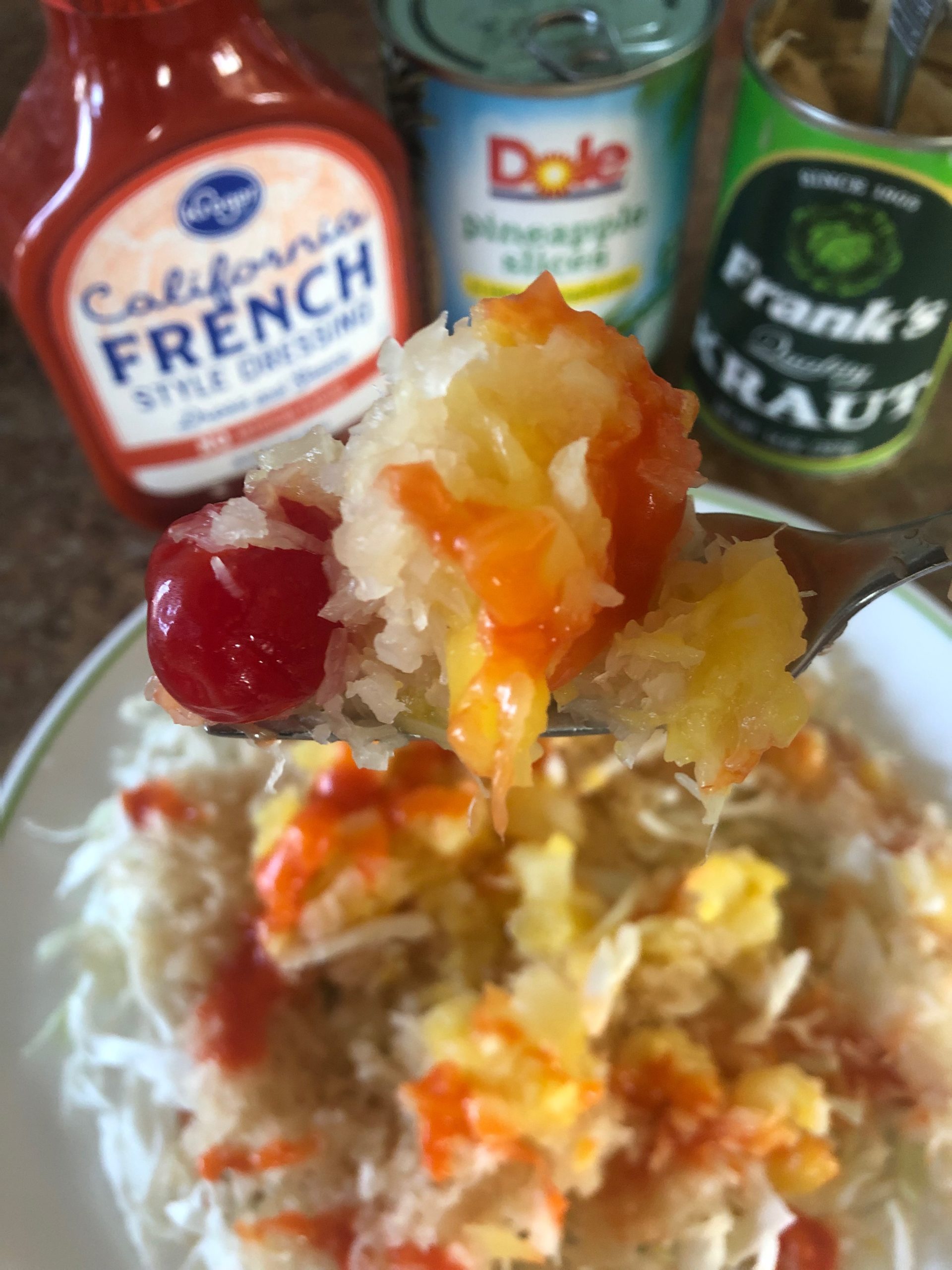 And…it wasn't very good. To be honest, though, we actually thought it would be worse than it was. We suspect our immense appreciation of sauerkraut had something to do with our not-entirely-unfavorable opinion of this monstrosity. Of course the fresh cabbage and the kraut (pickled cabbage) paired well. The pineapple was initially extremely off putting, but leveled off after blindsiding our taste buds early on. French dressing is ass and that single cherry garnish was a bridge too far for a culinary concoction that really only existed because Frank's paid a Milwaukee newspaper to run an advertisement disguised as a recipe in 1926.
It's possible we're wrong. Maybe the cabbage leaf makes all the difference. Perhaps your Memaw or your Poopee or whatever you call your grandparents make the world's best "Frank's Kraut and Pineapple Salad" and you'll be enjoying it this weekend. Could a Luxardo cherry have saved the day instead of the lowly Maraschino? We'll never know because we don't intend to ever make this again. However, if you're looking for a weird, Lent-approved dish from the depression era to bring to your holiday gathering and/or Roaring Twenties New Year's Eve party this year, this "recipe" exists. At least it did, briefly.