When The Original Pancake House closed its Downer Avenue location in January 2021, the East Side street lost a 16-year breakfast staple. Sure, The Original Pancake House was a national chain, but it was a good one. Would breakfast and brunch ever return to the Downer Avenue breakfast spot? (Shout-out to the Coffee Trader, which occupied the space before the Pancake House.) Nearby residents crossed their fingers and waited…
Seven months later, the wait was over. Canela Cafe opened at 2621 N. Downer Ave. last August. Does it stack up to the old Pancake House? You better believe it. The locally owned Canela turns what used to be a good breakfast and brunch spot into a great one.
Canela's menu features tried-and-true American breakfast/brunch items mixed with more Latin-inspired creations. Pancakes ($10-$13), omelettes ($14-$15), and waffles ($11-$13) share space with the delicious Big Boss Burrito ($13.50), the terrific Chilaquiles Verde ($16.50), and the jalapeños-happy Bangin' Breakfast Burger ($14.50). "Canela," meanwhile, is Spanish for "cinnamon."
In the mood for just eggs? Get two of them, any style, for $9. Want to go all out with the ridiculously great Three Amigos breakfast tacos? They're yours for $14.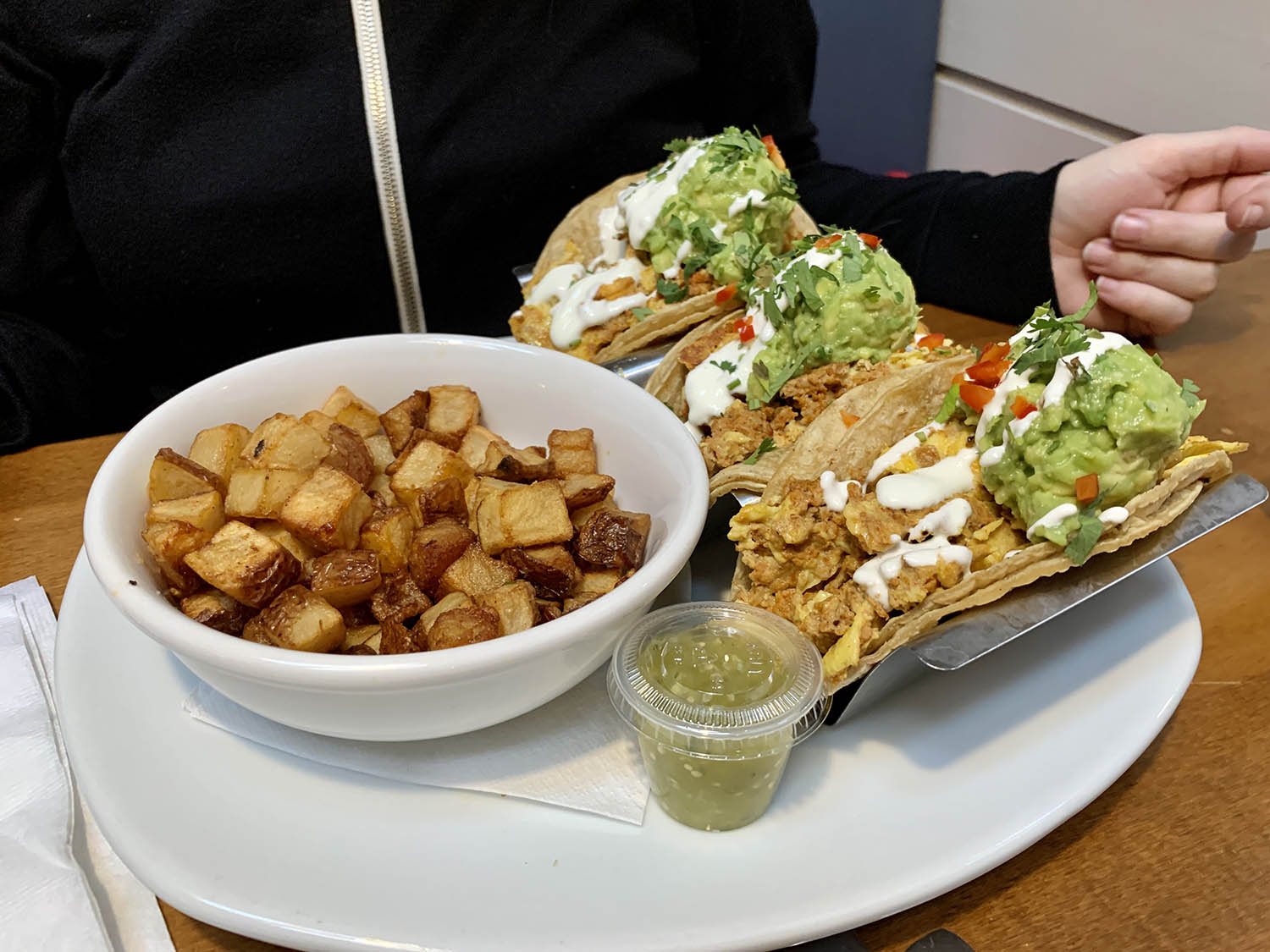 Smaller items like bagels ($3), oatmeal ($8), and avocado toast ($12) round out the offerings. And yes, there's a boozy drink menu with plenty of refreshing choices.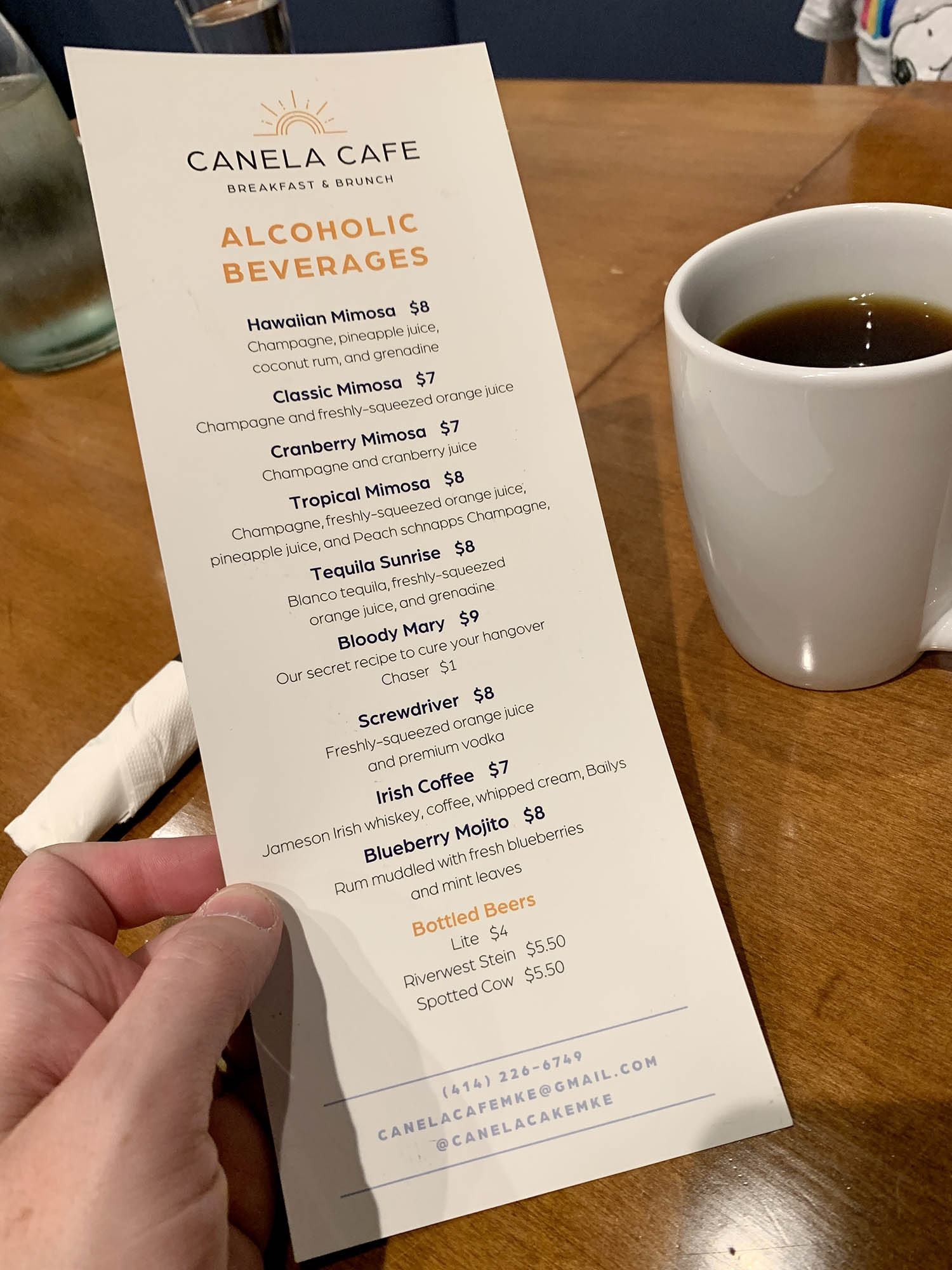 Canela is open seven days a week, 7 a.m. – 3 p.m. The afternoon hours allow for some lunch options, too. There's a grilled chicken breast sandwich ($14), a classic cheeseburger ($13.50), an Impossible Burger ($14.50), and more.
Canela's layout is largely unchanged from the space's Pancake House days. There are still plenty of booths, a few window seats, and a back room for larger parties. Some of the decorations may be Target-esque, but a nice mural from Persika Design Co. and an overall bright color scheme give Canela a sunny and welcoming vibe.
Prices are a little on the, well, pricey side, but make no mistake: Canela Cafe is really, really good. We've stopped in at least a half-dozen times since it opened, and each visit has been better than the last. It's a wonderful addition to Downer Avenue. It's a wonderful addition to the city. May it have a decade-plus, Pancake House-worthy run.
Exclusive articles, podcasts, and more. Support Milwaukee Record on Patreon.
---
RELATED ARTICLES
• New breakfast and lunch spot, Canela Cafe, planned for former Pancake House on Downer
• Shout-out to the old Chancery on Downer, which has been empty for 14 years
• Mandatory Milwaukee: Downer Theatre is a no-frills "neighborhood theater" at its finest
• Enjoy some pictures of the new Stone Creek cafe on Downer Avenue
• Mandatory Milwaukee: Boswell Book Company keeps the reading light burning on Downer Ave.