Milwaukee and its surrounding suburbs boast a wealth of great independent coffee shops, award-winning roasters, and other excellent area establishments where you can get a caffeine fix. We plan to celebrate some of these places in a bi-weekly series we're calling "Brewed City." This week: Avenue Coffeehouse in South Milwaukee.
This weekend, thousands of people will flock to South Milwaukee to partake in Crusherfest. June 3-4, the nearby suburb will celebrate its most famous son—wrestling legend Reggie "Da Crusher" Lisowski—with two days of live music, independent wrestling, food and beer, appearances by pro wrestler icons from yesteryear, good from local retailers, and nary a turkeyneck in sight. The festival will bring new life and loads of foot traffic to South Milwaukee's downtown, which is in the midst of an encouraging transformation. Should you or someone else in your life want a little pick-me-up while celebrating Da Crusher this weekend, South Milwaukee's up-and-coming Milwaukee Avenue is home to a great little cafe.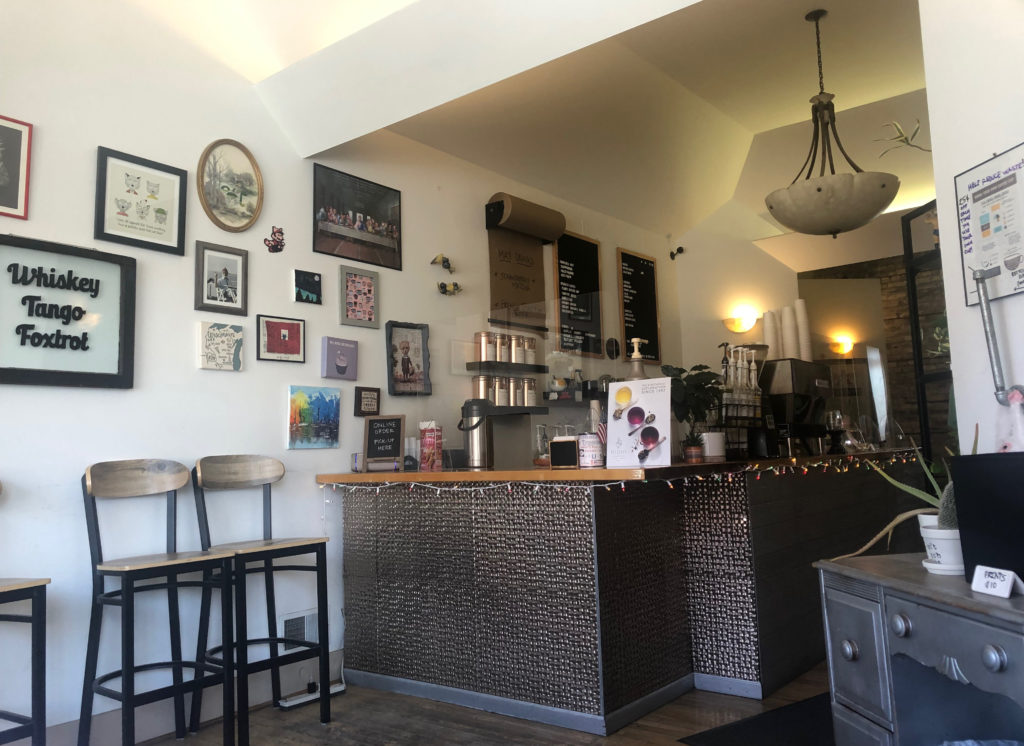 Since opening in 2016, Avenue Coffeehouse (911 Milwaukee Ave., 414-304-8060) has added a jolt to the sleepy suburb's main drag with tasty beverages, cozy vibes, and a distinct personality all its own. Shortly after it opened, we stopped by the coffee shop with then-South Milwaukee mayor Erik Brooks. Earlier this week, we got in the, er, da Crusherfest spirit by paying another visit to Avenue Coffeehouse. Though more than six years passed between stops and there were some minor modifications made to both the interior and exterior of Avenue since that previous visit, we felt the same sense of comfort and ease upon entering the quaint cafe.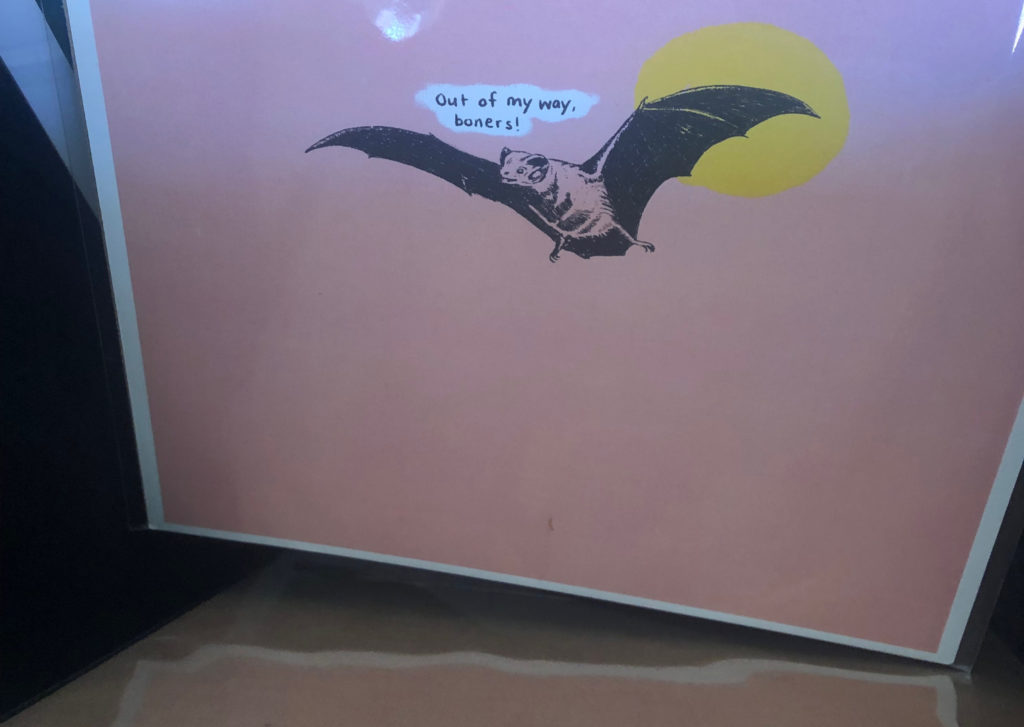 Walls are lined with goofy prints, Wisconsin-themed art, and other work by area creators. There are also silly prints for sale on-site, which we thumbed through as we waited for our drink order to be prepared.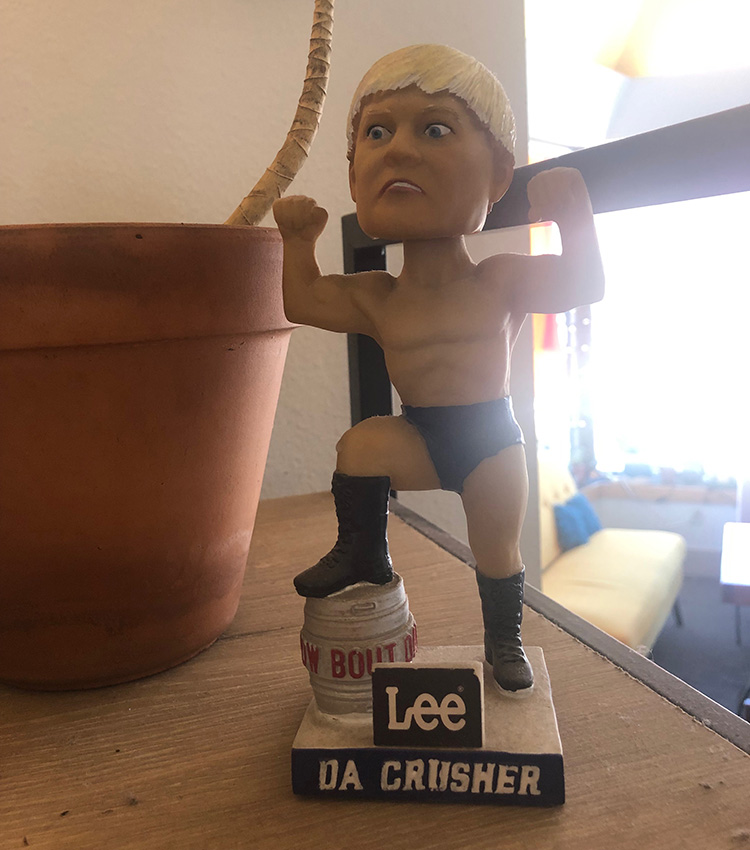 There are also knickknacks like Funko Pops, toys, and bobbleheads (including one of a familiar figure with local ties) on counters and shelves to serve as decoration. Potted plants line the windows. Seating is limited to a small cluster of couches near the entrance and a trio of stools situated near the counter. Fortunately, there are also a few picnic tables outside for use in warmer months. We imagine to-go orders account for much of Avenue's business, which makes sense with Seven Bridges Trail and Grant Park Beach being located so close to the shop.
It's clear Avenue Coffeehouse doesn't take itself too seriously, at least when it comes to its decor. That being said, they don't mess around when it comes to coffee and espresso drinks. Wanting to make up for lost time, we ordered two items in order to get a sense of Avenue's hot and cold programs.
Knowing they use Anodyne coffee and espresso, I started with the store's Honeybee latte-adjacent "Vanilla Bee" which is akin to the Anodyne specialty drink, except with a burst of rich vanilla flavoring and a subtle tingle of cinnamon added to the steamed milk and espresso. We thoroughly enjoyed our first few sips, which only upset us more when we accidentally dropped it while opening our car door, causing the milky mixture to explode all over the curb (and ourselves). Thankfully, we also ordered a cold brew, which was strong, sturdy, and packed a punch. If we weren't going to have two drinks, at least the bold and satisfying cold brew made us feel like we had two—if not three or four!—drinks in our system.
Though South Milwaukee (which doesn't actually touch Milwaukee at any point) is very much its own city with its own identity that's largely rooted in industry and a celebrated pro wrestler, that identity and its downtown are each evolving and becoming increasingly vibrant, especially of late. Avenue Coffeehouse, the comfy and forward-thinking cafe that makes great coffee and espresso drinks, is absolutely a part of that development. Whether you're looking for a cup of Joe at Crusherfest or you'd simply like to see what transitional Milwaukee Ave. has to offer in general, don't be a turkeyneck. Treat yourself to something from Avenue Coffeehouse.