Caleb Westphal hasn't missed a Friday fish fry since 2013. Follow along with his never-ending adventures here.
People have been telling me to go to Culver's for a fish fry for years, which I've always brushed off and ignored. Until now. Recently, a television commercial narrated by Culver's cofounder and chairman Craig Culver caught my attention. In it, Culver talks about the care in which their fish is prepared, as well as the importance of the fish fry tradition, saying: "We source the finest cod, and batter each fillet by hand, and always cook it to order. That beautiful golden-brown color and flaky on the inside. The fish fry is a Midwest tradition. It's about coming together—it's family, it's friends. I love bringing this tradition to guests everywhere. Mom and Dad would be proud." Hey, that doesn't sound too bad! I mean, Culver's is fast food, but it's not like other fast food restaurants, right? With summer arriving and an anything-goes-now-we're-in-a-pandemic feeling in my mind, I decided it was time.
Culver's got its start in 1984, a few years before I got my start, when the first location was opened in Sauk City by Craig and his wife, Lea, along with Craig's parents, George and Ruth. According to the Culver's website, there now are 140 Culver's restaurants in the state and 758 across the country, with more on the way. Although it would have been ideal to go to the Sauk City location, I decided to stay closer to home and headed to the restaurant on Layton Avenue (575 W. Layton Ave., 414-489-7777).
My anxiety started to rise a bit when I pulled into the parking lot. You see, while I have been going to a lot of curbside pickup fish frys during the past few months, it's been about a decade since I've driven myself through a drive-thru. (Unless you count The Packing House. Long live The Packing House.) I took a deep breath and ordered confidently. Culver's offers two and three piece dinners of North Atlantic cod, and naturally I went with the three piece ($12.59). I was asked if coleslaw and french fries were okay for my two sides, and I answered in the affirmative—Culver's doesn't offer potato pancakes, and this was no time for the steamed broccoli. I also ordered a caramel cashew sundae ($4.79) because I've been pining for Leon's and Kopp's for months.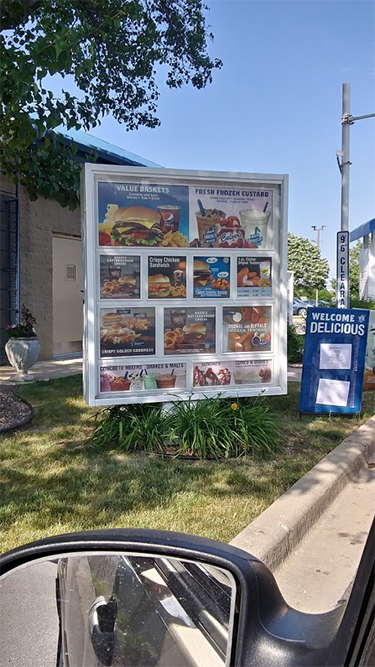 My only drive-thru faux pas was asking for my debit card back after it had already been given to me. The custard was handed to me almost immediately, and I was also given a piece of paper with a number on it and was told to park to wait for the rest of my food. I stared at the custard in the cup holder as it began to melt, and turned up the air conditioner thinking that would somehow help. Within five minutes my food arrived. I took a few pictures of the Culver's building and sign, and laughed when I noticed Beer Belly's—a place I had eaten 6 billion pieces of fish at just weeks earlier—was in the background of one of the photos. Then I headed home.
There were two main things I thought about when I ate this fish fry. First, does it live up to the version portrayed on television, and second, and more importantly, how does it compare to other fish frys I've had. Let's first examine the peripheral components of the meal. There were a fair amount of crinkle-cut fries. In listening back to a voice memo I recorded immediately after finishing the meal, where I had reflected on what I would have said about these french fries if I had had them at a fish fry that was not at a fast food restaurant, I sputtered, completely devoid of syntax: "I woulda been like, ehhh, these fries, they're just crinkle-cut fries, which they were, they're fine, they're good, whatever." There you have it, the un-profound musings of a food writer who either doesn't know how the hell to talk about food or who had just eaten way too much food, or likely, both. The fries were "fine" and "good" and "whatever." Hey, that's not bad for crinkle-cut fries! I'd eat them again.
The coleslaw came in a container that was bigger than most you'd get with a to-go fish fry. The composition of the slaw was more on point than any other component of it—it wasn't overly juicy, but it wasn't too dry. It was crunchy, but there wasn't much flavor. There was some seasoning, but not enough to give it any oomph. Culver's fish frys come with a dinner roll instead of rye bread. It was soft and savory, and although I put some butter on it, that wouldn't have been necessary.
Finally, there was the fish. Was it fried to a "beautiful golden-brown color"? I think you could say the color scheme was close to that, although the batter left a little bit to be desired. It was rather soft and soggy, although some of the edges were crispy. It didn't have much flavor, with the essence of beer notably being absent. Was the fish as meaty as it was in the commercial? Not quite, but it was leaning in that direction. Would I say it flaked well? Moderately so. The tartar sauce, of which I was given two containers, wasn't much beyond mayonnaise and relish. It is advertised as also having capers and olives, but if those were present here, they didn't really come through.
After the fish fry was gone, I pulled the sundae out of my freezer and devoured it. Moments later, I found myself decompressing on my couch, barely able to move and nursing a seltzer water while I attempted to record notes about the meal. The sundae had been unnecessary, but I didn't regret it one bit.
When compared to other fish frys I've had, I'd place the Culver's fish fry in the bottom half, but certainly not on the bottom. It was better than at least one or two fish frys that I've had this year, while the majority I've had surpassed it in quality. But Culver's is doing something invaluable for the fish fry tradition. They are making it more accessible within our state, and bringing it to people in 24 others. Plus, their fish frys are available every day of the week. And have you ever heard of any other fast food restaurant doing the fish fry better?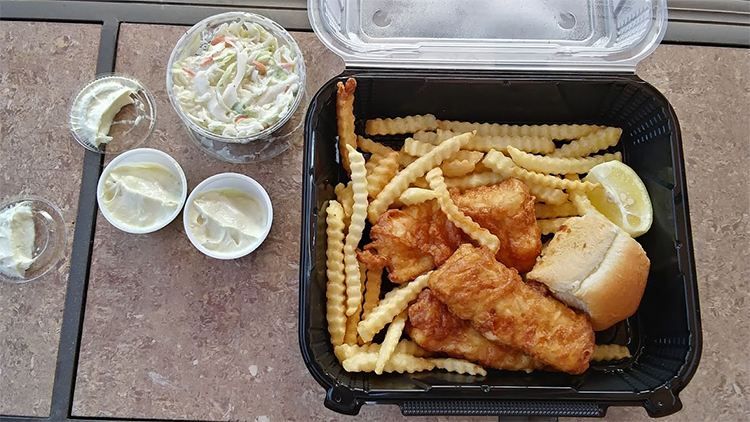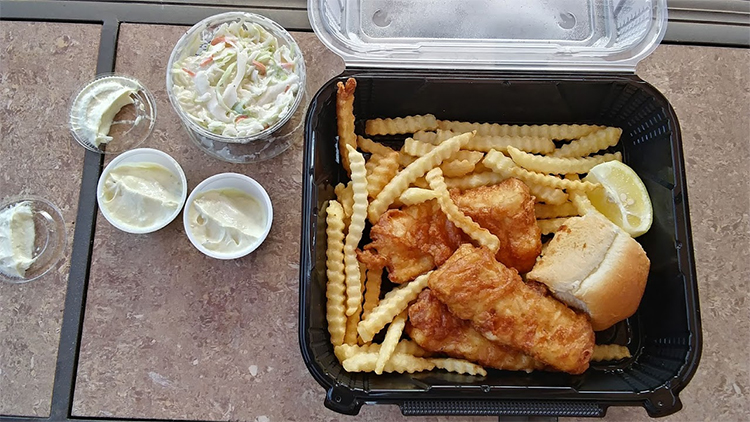 Well, it's been just shy of nine months that this column has been going since I last took an extended break from it, and I think it's time to take one. I had been planning to pause it in the summer anyway, but first wanted to make sure I had captured the fish fry experience during the early stages of the pandemic, at a time when there was so much uncertainty about what was going to happen. A great deal of uncertainty is still with us, of course, and it is my assumption that it will remain so for a long time to come. Many restaurants are now back open for inside dining, and there is much debate about how or when they should be patronized. Am I going to be eating inside a restaurant anytime soon? Probably not. Am I going to continue eating a fish fry every week and supporting local businesses? As long as I am physically able to, you bet. Will I go to any new places or just stick to my favorites? How many times will I go through The Packing House drive-thru? These answers remain to be seen.
In the best-case scenario, I plan on starting this column back up in October. It really depends on the virus. If it is about where it is right now—which seems to be what will be the case—I may wait even longer, until later in the year or into next year. In my view, it doesn't make much sense to start the column back up just to document more carryout fish frys. So, who knows, we'll see what happens. I'll take it week by week and fish fry by fish fry, similar to how we are thinking about everything else in our new reality. Stay vigilant. Stay focused. Enjoy every fish fry.
Takeaways: I went to one of like 758 Culver's; fish frys are available every night of the week at them; I used a drive-thru; no aspect of the meal was disappointing, and yet none of it rose to the level of memorable; soft batter without too much flavor covering fillets of a relatively high quality; there were crinkle cut fries and I'd eat them again; you don't get rye bread, you get a roll; the coleslaw was crunchy and mild; you can get custard with your fish fry; If I ate a fish fry at a different Culver's every week, it would take me something like fourteen-and-a-half years to eat at them all.