Caleb Westphal hasn't missed a Friday fish fry since 2013. Follow along with his never-ending adventures here.
A few weeks back, I called a restaurant and ordered fish and was told it would be ready in 15 minutes. I made the mistake of saying I wasn't ready to eat yet, canceled the order, and said I'd call back later. After trying to call back 124 times, I gave up. Lesson learned. From now on: have fish, will travel…immediately.
So when I made a call to Beer Belly's (512 W. Layton Ave., 414-481-5520) at 3:50 p.m. this past Friday and they told me my fish would be ready in 10 minutes, I was prepared. Well, sort of. Wearing a mask seemed particularly important on this trip, because when I asked if I should call them upon my arrival, they said I could just come inside to pick up the food. When I went to grab my recently washed mask out of my dryer, I found that one of the strings had come out of it, despite the string having a knot tied at its end. As the clock ticked, I started throwing my clothes around every which way while trying to find the string. Once I found it, I took a pencil and tried to shove the string back through the mask with it. I kept failing for what felt like five minutes. By the time I finally left my house, 10 minutes had already passed since I had placed my order.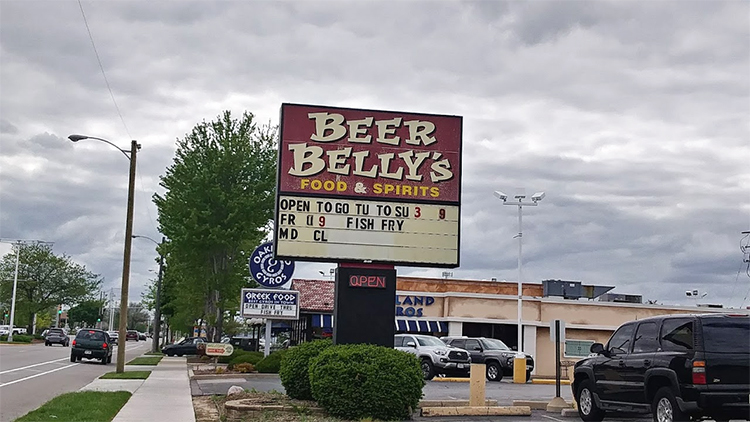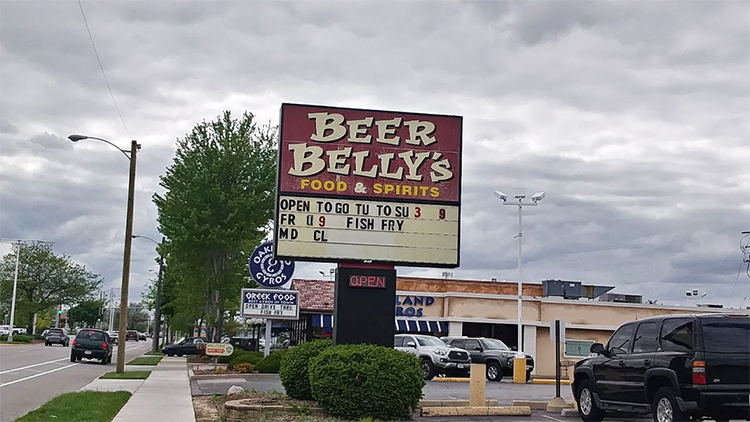 Beer Belly's has been in business since 1997, and for 22 years its founder, Ralph DiChristopher, was at the helm. Unfortunately, he had to sell because of health reasons at the end of last year, and he has since passed away. The new owner opened up in January, and kept the same name. (Having "beer" in the name of this Layton Avenue address appears to be a requirement. For decades prior to being Beer Belly's, the location was home to a restaurant with one of the most Wisconsin names ever: Brat 'n' Beer.)
I had been told Beer Belly's currently has a limited menu, and it appears their pre-COVID menu had more fish options than their current one. For takeout they currently are offering beer-battered cod ($13.99); a combo fish plate that consists of "a generous variety of beer-battered bluegill, cod, walleye & pike-perch all fried to a golden brown" ($17.49); and lake smelt ($12.99). All meals come with french fries, although their pre-COVID potato offerings also included potato pancakes and baked potatoes. All three of these meals also come with clam chowder, rye bread, and coleslaw. A family style bucket of cod with all the fixings is also available for $45.99. Being that many Milwaukee restaurants may be opening for dine-in as of today, it seems this menu could be changing again soon.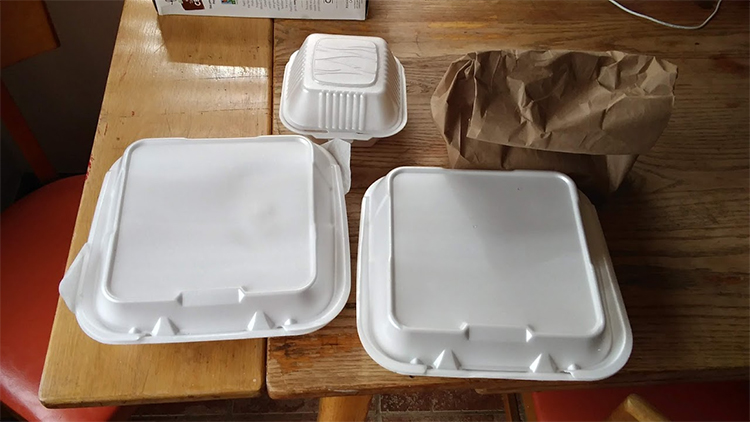 I arrived about 10 minutes late for my pickup, but it turned out they were just bagging my food up when I walked in. "That looks like a lot," I said from behind my mask, while looking at a bag that appeared like it had two or three fish frys in it. I had ordered the combo fish plate, so I was expecting a decent amount of food, but for a second I thought they were giving me someone else's fish. After paying, I attempted to use the gallon jug of hand sanitizer sitting on the bar and managed to completely miss my hand and sanitize the bar instead. "Oh, that bottle's been doing that," was the kind message I received as I walked out the door.
Inside of the plastic bag, I found two large styrofoam containers, one small styrofoam container, and a small paper bag. One large container was devoted to an organized display of coleslaw, tartar, lemons, butter, and rye bread. The other large container was brimming with fish. The smaller container was all french fries, and the paper bag had chowder and other odds and ends. It didn't look like I was going to go hungry this week.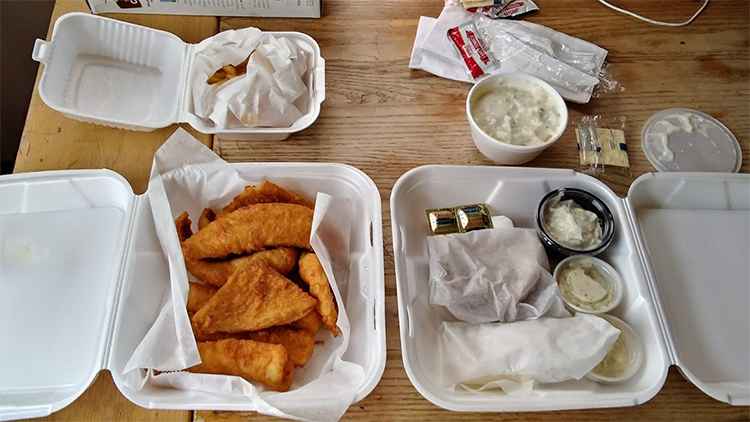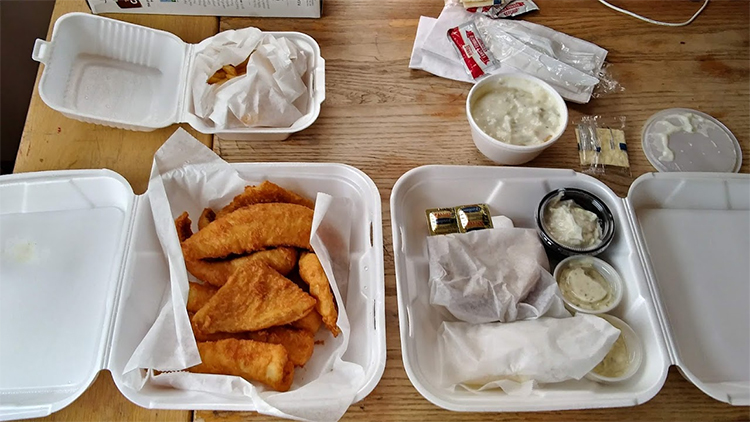 The chowder was airy and light, and it didn't seem that far removed from what you'd find in a store bought can. Overall, there wasn't much noteworthy about it, and as I was finishing it up I couldn't stop looking at the glowing pile of fish. There were nine fillets: three bluegill, three cod, two pike-perch, and one walleye. They were all covered with the same batter, which was thin, but sturdy, with a light beer flavor that was somewhat neutral. While the batter was all the same, each type of fish was distinct, and all four were the stuff of quality. The cod was compact and clean, the walleye was thick and meaty, the pike-perch was moderately flavorful and rather hefty in size, and the fillets of bluegill—which were the highlight for me—were medium to large in size and balanced in flavor. They all went well with the relish-forward, dipping-friendly tartar.
The large handful of french fries were soft but not limp, and had a grainy coating but weren't greasy. The coleslaw was immensely creamy, its contents almost drowning in dressing. From what I could tell, it was made almost exclusively of green cabbage. Lastly, there also was a halved piece of fresh marbled rye.
If you are looking for a carryout fish fry that doesn't leave you hungry and pining for an all-you-can-eat dine-in experience, the combo fish plate at Beer Belly's is for you. I only ate six of the nine pieces on my initial sitting, and had to take an hour break before finishing them off. While it is possible to find better fish elsewhere, all the fish here was enjoyable. Plus, chowder is included with the meal! Here's hoping that Beer Belly's continues the combo fish plate going forward.
Takeaways: The combo fish plate comes with nine pieces of fish of four different varieties; if you eat enough of these suckers you'll have a beer belly from going to Beer Belly's without even drinking any beer; I'm not even sure what a pike-perch is.