Caleb Westphal hasn't missed a Friday fish fry since 2013. Follow along with his never-ending adventures here.
Not long after April's chat-through-the-window-with-friends fish fry from Honeypie, one-time fish fry companion and friend Shea Frevele asked if we could partake in a similar type of socially distanced fish fry. It was agreed it would happen, but I wanted to wait a bit—there were a few fish frys I wanted to get to on my own first, I didn't want the "having friends eat in my backyard" thing to turn into a gimmick, and it seemed to make sense to wait until it warmed up a bit. A few weeks ago we decided June 5 would be the day. I would sit at the barzebo on my deck and Shea—as well as frequent fish fry guest Double Bass Dan from Dead Horses—would sit at a card table I would set up in the yard—a good 15 or so feet away from where I'd be sitting.
But what was planned to be a lighthearted socially distanced fish fry with friends ended up partly having a reflective and serious tone to it. COVID-19 may have upended our way of life over the past few months, but the murder of George Floyd has awakened our collective conscience to racial injustices and inequities that have persisted since the time of our nation's original sin. And now, in this moment, it looks like the nation might be ready for real change, finally. COVID-19 may have forced me to change the way I enjoy fish frys, but in light of the human rights movement currently sweeping our country, I couldn't just merely go to some random fish fry this past week and tell you how much onion flavor was in the potato pancakes or how much beer flavor was in the batter that covered the fish. How could I write only about such trivialities and ignore the immensity of this moment?
For a 30-some year old white dude like myself, above all else this is a time for listening and learning. It is also a time to show support. I thought about ways I could do so, and concluded one way could be to purchase food from Black-owned restaurants, and that I would go to one for this past week's fish fry. But I first had to ask myself a few questions. Would this be an empty gesture? What kind of statement is it to go to a Black-owned restaurant one week and then go back to what I was doing before, as if I had accomplished something, as if I had performed some duty that needed no further action? I remembered the piece I had written about Mr. J's Lounge, where I had reflected on race, the zip codes I usually frequent for fish frys, and segregation in Milwaukee. That was 123 fish frys ago! What have I been doing since then?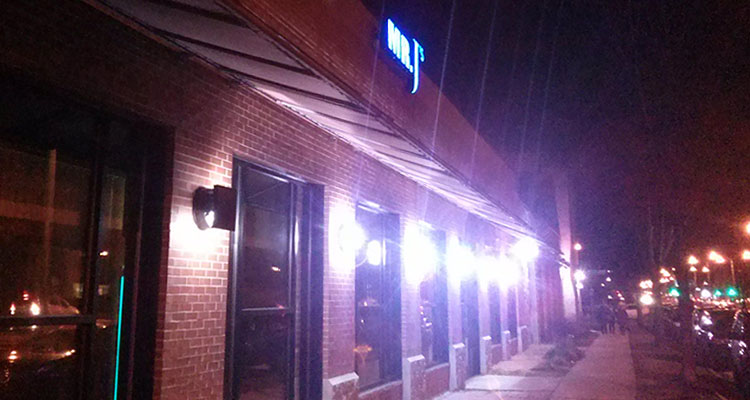 This also led me to reflect on what defines a traditional Friday night fish fry in Wisconsin and who has gotten to define it. Was it born solely of a German Catholic Lenten custom, and does it consist only of food offerings like cod, potato pancakes, and rye bread? Or did it also come from Black Americans who came to Wisconsin during the Great Migration, and does it also include catfish, fried okra, and cornbread? In the end, I concluded my motives were sincere, and decided to go to one of the most iconic and longest lasting Black-owned restaurants in the city.
Mr. Perkins Family Restaurant (2001 W. Atkinson Ave., 414-447-6660) was opened by Willie and Hilda Perkins in 1969. It originally was located at 1943 W. Atkinson Ave., but in the 1980s moved to its current location, about a block away. The Perkins' son Willie Jr. and his wife Cherry became owners of the business in 1999. Willie Jr. passed away of cancer in 2010, and Willie Sr. and Hilda stepped back in to help their daughter-in-law. Cherry still owns the business today, and Hilda and Willie are both still living, at the ages of 86 and 91.
Mr. Perkins is part diner and part soul food restaurant. "Soul Food Sundays" are held on the first Sunday of the month, when chitterlings, pork chops, baked chicken, catfish, and more are on the menu. Friday night fish frys take place on the first Friday of each month. Nationally known figures often stop at Mr Perkins. Charles Barkley called it his favorite soul food place last year, and Michael Jordan, LaVar Ball, Shaquille O'Neal, Danny Glover, Tom Brokaw, and Gary Payton have all stopped inside. Last year the restaurant celebrated its 50th anniversary, and Governor Evers even proclaimed Mr. Perkins Family Restaurant Day to take place in Wisconsin on May 31, 2019. Like many restaurants, they have been struggling over the past few months, and had lessened the days they are open to Fridays, Saturdays, and Soul Food Sundays.
Carry-out fish frys are offered from 3-7 p.m. Dinner choices include whole catfish ($9.95), catfish fillet ($15.95), perch ($13.95), shrimp ($11.95), and whiting ($10.95). Each comes with a choice of two of the following sides: coleslaw, french fries, spaghetti, tater tots, yams, cabbage, and fried okra. Either white bread, wheat bread, or cornbread is also included. I called at 3:50 p.m. and put in an order for the catfish fillet dinner with coleslaw, french fries, and cornbread, and also put in the fish orders that Shea and Dan wanted. The staff at the restaurant told me everything would be ready in about 15 minutes, and I told them I'd leave momentarily. I let my guests know I was heading out the door and then drove to my destination.
"Fish Fry" lit up on the electronic marquee on the side of the building and a sandwich board displayed "Fish Fry!" outside of it. Two employees greeted me as I came in, and the food had just been packaged up. I chatted briefly with one of the employees about the business being open for over 50 years and Charles Barkley stopping there, and I was out the door. As I got close to home, I alerted my fish fry guests of my approaching arrival.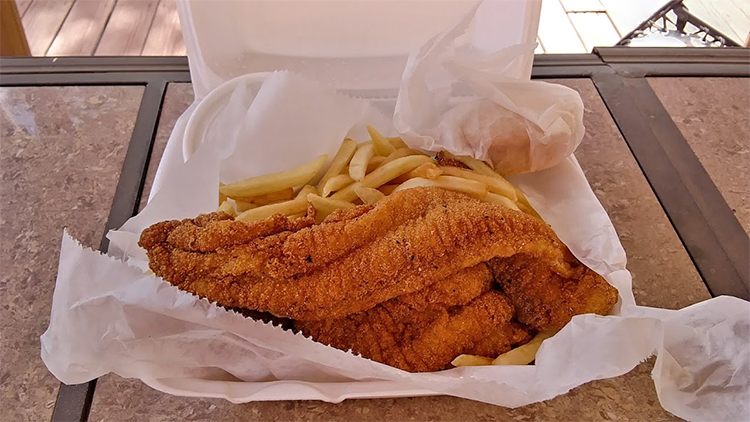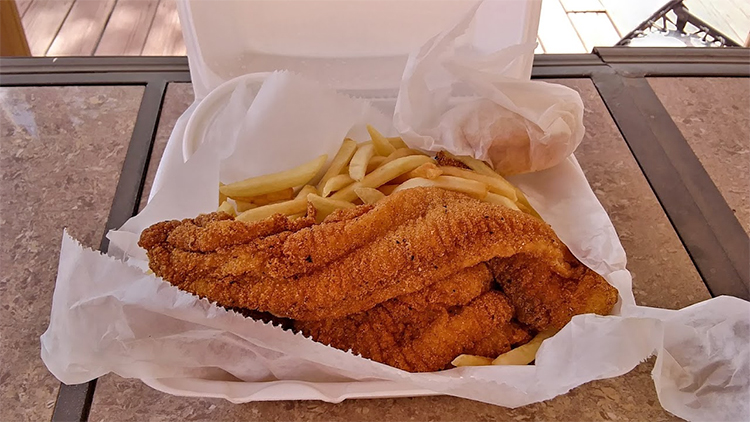 Enjoying a fish fry with friends while outside on a warm, sunny day is one of life's true joys, even if you are just sitting in your backyard and your friends are far enough away that you'd possibly miss their table if you tried to cast a fishing lure at it. We settled into our seats and as usual, my attention turned to the fish fry in front of me, and everything else receded. The catfish was the crown jewel of the meal. There were four pieces—an ample amount that probably at least equaled the weight of the rest of the food combined. Of particular note was the cornmeal breading, which had a robust and flavorful seasoning. I ate the fish with my hands, at first not dipping it into anything.
I had been given some tartar sauce packets, but was having trouble opening them on account of my greasy hands, and eventually gave up. I moved on to some hot sauce packets that also had come with the meal. Have I ever had hot sauce on fried fish before? No. Was this fish good enough that it didn't need any sauce? Yes. Did adding hot sauce still manage to make it even better? You betcha!
The french fries weren't too far removed from the skinny and skinless fries you'd find at a fast food restaurant. They were ever-so-slightly salted and on the softer side. There was nothing ostentatious about the small, round cornbread muffin. It was mild in flavor and still warm when I removed it from its paper wrapping. The coleslaw was creamy and extra juicy, but not too out of the ordinary.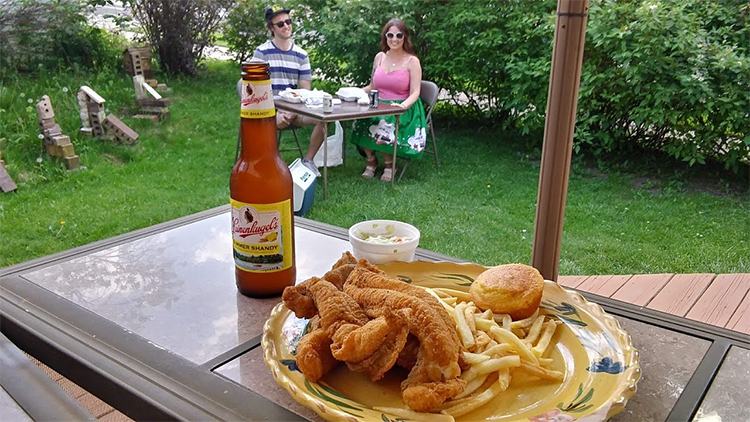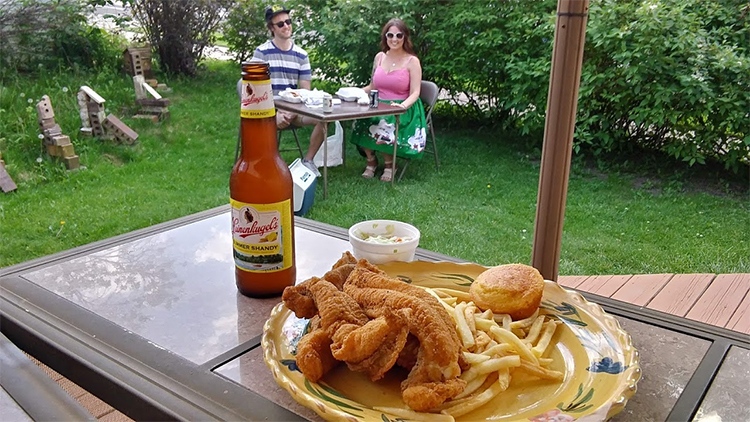 When we were finished eating, we continued to drink some beers and converse. It was the most time I'd spent face to face with anyone besides my roommate for months. Long after the sun went down, we noticed a news chopper circling overhead. We found a live video feed from it and saw that marchers were headed south on Howell Avenue towards Humboldt Park. We then walked over to the park to welcome the protestors as they returned from the 16-mile march which they had begun in the afternoon.
Ultimately, racism won't end because of one march and equality won't arrive from eating a fish fry from a certain restaurant (or even from eating many of them). It is that strenuous and persistent daily walk—rooted in empathy and dialogue—that will get us there. Each voice of protest and every other act of support sends out a "tiny ripple of hope," and eventually—maybe someday very soon—these ripples will build into a current that lets "justice roll down like waters and righteousness like an ever flowing stream." Black Lives Matter.
Takeaways: Mr. Perkins has been in business for 51 years; Soul Food Sundays and Friday Fish Frys on the first Sunday and Friday of the month; robust and seasoned breading on a healthy helping of catfish; four other Friday dinner options and a wide variety of sides; warm cornbread muffin; you might see Charles Barkley on one of your visits.