Caleb Westphal hasn't missed a Friday fish fry since 2013. Follow along with his never-ending adventures here.
The days blur together a bit more now than they used to, but there are still some daily markers that are helping me keep track of where I am in the week. Sunday mornings still mean Meet The Press ("Because if it's Sunday, it's Meet the Press"), although I squint at the television screen with even more horror than I did back when I was just getting a recap of the week's political news, now that a staggering death toll comes with it. Monday through Thursday evenings at 5:30 p.m. still mean NBC Nightly News. Unsettling news has filled most of the broadcasts over the past six weeks, but there's always a positive story at the end, and then Lester Holt tells everyone to "Please take care of yourself, and each other." His calm and reassuring presence has been a beacon of light during these times.
And, of course, there still is Friday night. I rarely watch the news then—there's another daily marker that supersedes it: the fish fry. There may not be much to look forward to on a daily basis right now, but somehow, Friday nights still have their allure. The excitement is still there. It builds throughout the afternoon until the time to pick up fish arrives. In some sense, I may be looking forward to Friday fish frys more now than I was before, even though I'm not even eating inside of restaurants. Seeing something besides my neighborhood—even if it is just for a quick drive across town—breathes life into me, and so does eating something that I haven't cooked myself, which rarely happens these days. And even the new routine of eating at my kitchen table every Friday night has brought its own sense of welcomed normalcy. This new normalcy exists concurrently with that old, abiding normalcy—the kind that wafts up to my senses from the plate of goodness in front of me.
These two normals—the new one of sitting at my kitchen table and the abiding one of eating fish—were with me this past Friday, but what struck me was just how normal everything was beyond that. There weren't any people dining outside of my window and there wasn't any waiting in a drive-thru line for half an hour. It was just an evening of quickly picking up fish at a place relatively close to my house and coming home and eating it. Considering all the upheaval everywhere, the ordinariness of it felt pretty all right.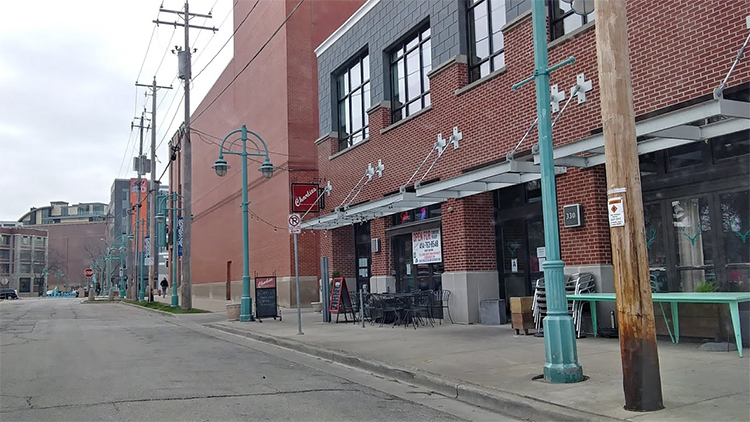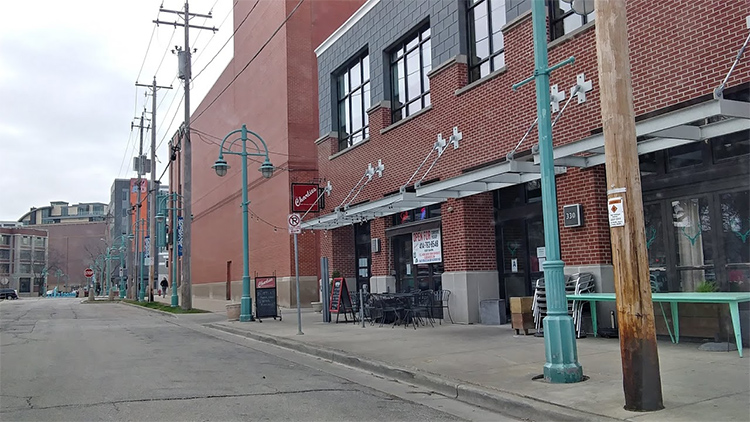 Located in the Historic Third Ward, Club Charlies (320 E. Menomonee St., 414-763-8548) just celebrated their 11-year anniversary as a business. I called them shortly after 3 p.m. and put in an order for cod and clam chowder for 5. (Okay, ordering chowder was a little out of my current normal routine; It's been almost two months since I've had any.) Their three-piece cod fry is $10.99 (it appears they dropped the price a dollar as of last week), and they also offer a two-piece cod/ six-piece shrimp combo for $14.99. Each comes with french fries. Containers of clam chowder are $5.
On my drive over I passed many establishments selling alcohol or fish frys, such as Lost Whale, The Bottle, Don's Diner & Cocktails (currently Don's Grocery & Liquor), and O'Lydia's. Arriving at about 5:05, I called and let them know I was outside. Someone came out quickly—masked and wearing gloves—and I traded them my debit card for the food. They ran back inside to swipe my card, returned quickly, and I was back on the road and home in no time.
As if I was dining at a restaurant, I started off with the clam chowder. Being that I had just uncovered it, it was still too hot to eat, and I decided to go over to the fish fry instead. It, on the other hand, was already starting to cool off, so that's where I kept my energy focused. But there was clear indication that it too had been steaming hot moments earlier. The rye bread had been pre-buttered, and the butter had completely melted on it. It was a half slice of marbled rye, more appealing than most.
Despite the standard smaller-sized coleslaw—which was immensely creamy and speckled with pepper—there was an ample amount of french fries and cod. Skinless, scantily salted, and on the softer side, the square-cut fries were rather plain. The cod was covered with a thick batter. It had a beer flavor that was neither faint nor overpowering, but somewhere in the middle. When broken open with a fork, the underside of the batter was more like a soft breading. The fish itself was middling. The first piece seemed halfway decent, but things really didn't go anywhere from there. The fish didn't flake well, and the third piece was particularly rubbery. The base of the tartar was thin, but the many skinny pickle chunks in it thickened it up a bit.
I circled back to the clam chowder, and it was as if the appetizer had become the dessert. Thick, herb heavy, and on the saltier side of the spectrum, it was the highpoint of the meal. Overall, the meal represented more quantity than quality. It wasn't bad—it just wasn't memorable or exceptional. But the ability to get fish at all during the times we find ourselves in feels like its own victory. Every Friday fish fry helps to keep things feeling a little bit more normal and the days from blurring too closely together. Onward through these uncertain days we march, with fish in our bellies and hope in our hearts.
Takeaways: Melted butter on a marbled rye; thick and herb-heavy chowder; middling fish; plain fries; extra creamy slaw; decent portion size for the price.