Though Bill Burr is known and loved throughout the world, the legendary comedian has a special connection to Milwaukee. In 2017, he raved about The Pfister Hotel, the Riverside Theater, the Harley-Davidson Museum, The Vanguard, Milwaukee's beer, and the city's comedy crowds on his Monday Morning Podcast. Adding to Burr's relationship with the place where he regularly performs to sold-out theaters is the comic's affiliation with a Milwaukee-based designer.
Brian Stefanik was born and raised in Oak Creek and he attended UW-Milwaukee. While the 36-year-old digital artist and associate creative director has never lived outside Wisconsin, his work has been seen by comedy fans and podcast listeners across the globe. Stefanik—whose day job is at a Milwaukee advertising agency—fell into his unique side gig as Burr's go-to artist in a rather unexpected way. The avid comedy fan credits Burr as one of his favorite comedians of all time and he's a frequent Monday Morning Podcast listener.
Stefanik's affinity for the show inspired him to make pictures referencing things Burr said on the podcast and share them online. Originally, he'd hoped to get a retweet or a "like" from the comedian. Within about a month, Stefanik achieved both of those goals, then he routinely had his work shared on the podcast's Twitter account. Soon, Stefanik says Burr started referencing his work on the show itself.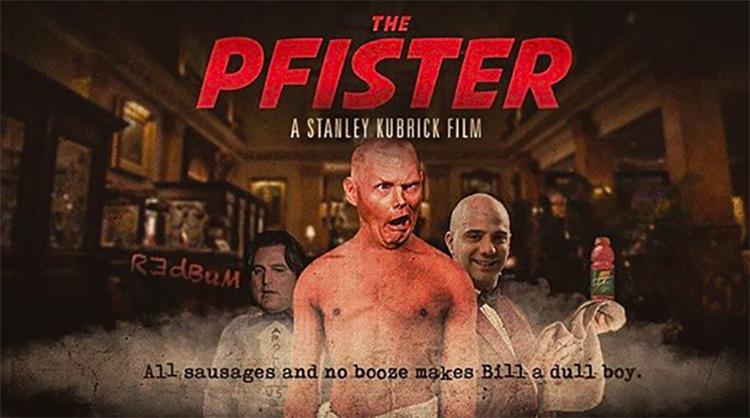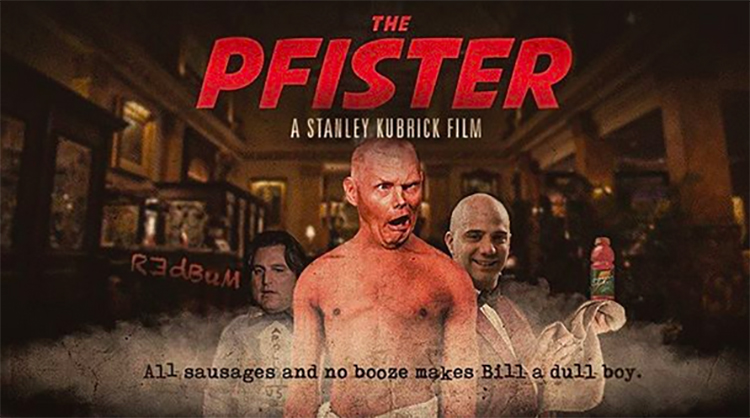 "It started to be requests after he would say something messed up, like 'Please Photoshop shop that' or 'Well, that's going to be the Photoshop this week,'" Stefanik says. "It was really cool, since it felt like I was a part of the podcast."
Eventually, what started as fan art turned into actual jobs for the comedian. Monday Morning Podcast producer Andrew Themeles asked Stefanik to design YouTube banner graphics and the logo for Burr's production company. From there, the assignments evolved to a poster for his first live podcast and, eventually, all of Burr's posters, flyers, and graphics.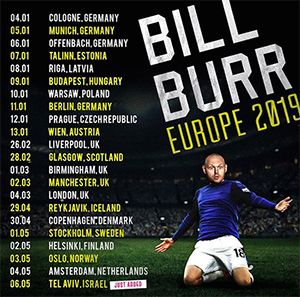 "The ultimate goal was honestly just to get a like from him on Twitter. I never thought it'd go farther than that," Stefanik says. "Next thing I know, I'm on the phone with Bill talking about how many tour posters we should send to his show in Dublin."
On top of phone and email exchanges, Stefanik has been able to have a few meaningful face-to-face interactions with his comedy hero. He's gotten to spend time with Burr backstage in Madison and hang around with him and his openers after Milwaukee shows. Back in October, he watched the record-setting 7-hour, 20-minute Red Sox-Dodgers World Series game with Burr in the green room after an arena gig.
"For being known for being this hot-headed comic, he always has gone out of his way to be kind," Stefanik says.
Burr also allowed Stefanik to sell some of his work at All Things Comedy Festival in Phoenix last year and offered to sign anything the artist sold, which obviously improved sales. In short, working with Burr has exceeded his wildest dreams.
"Just to be having my work associated with his work is crazy," Stefanik says. "I had a Burr tour poster hung on my wall before any of this, and now seeing people post pictures of Bill's tour poster I made hung up is just kind of surreal."
Getting to make art for Burr hasn't just been a dream come true for Stefanik, it's also resulted in some design work for other renowned actors and stand-up comedians.
"After having Bill Burr on your resume, you can approach other people and immediately have some street cred," Stefanik says.
So far, he's made some images for the likes of Ari Shaffir and Anna Faris. Each week, he makes a Photoshop for Faris' podcast, Anna Feris Is Unqualified. Most recently, Stefanik added Pauly Shore and The Comedy Store to his list of clients. The work for Shore has ranged from designing an "I Partied With Pauly" shirt for the actor and comic's 50th birthday party to making his podcast cover image and doing the movie poster for Shore's new short film, Sin City Psycho.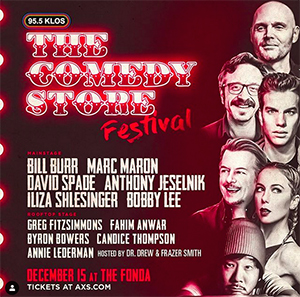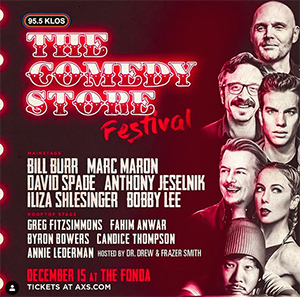 Though the money he makes on the side from these projects pales in comparison to what his day job brings in, the lifelong comedy fan is happy to have earned the unexpected opportunity to make artwork for some noted humorists, meet some of his favorite performers, and have his work been seen by audiences and listeners well outside of metro Milwaukee. And all of it stemmed from making some silly Photoshops and coming through for his comedic clients when it mattered.
"I have the luxury of having a great job in advertising, so all of this is mostly for fun, but its growing into a decent source of additional revenue," Stefanik says. "But it also lets me only have to take on work that I enjoy, so it never feels like work."
You can see some of Stefanik's work at @TheMMPhotoshop and @ComedyPhotoshop on Instagram.