Between beloved and well-established local staples and a steady wave of new bars and restaurants popping up in and around Milwaukee almost every week, worthwhile dining and drinking gems can occasionally get lost in the shuffle. With Tucked Away, Milwaukee Record digs deep with the hope of unearthing some of these gems.
For an often (and unfairly) maligned industrial suburb with a population hovering around the 20,000 mark, Cudahy has an impressive number of solid—if not just plain great—Mexican restaurants. Out on the main drag of Packard Avenue, Filis Cafe brings big taste to a little place with its winning blend of breakfast classics and Latin-leaning takes on lunch and dinner items. Down on Layton Avenue, Lala's Place treats locals and wayward Milwaukee visitors to delicious authentic Mexican cuisine that's served in a cozy dining room that's bathed in neon light and covered in Brett Favre memorabilia.
Last summer, Cudahy's already-respectable reputation for top-notch Mexican fare was further bolstered when Mexic 103 Mexican Restaurant (3506 E. Layton Ave., 414-231-9101) opened directly next door to Lala's. Started by Veracruz, Mexico native and Milwaukee kitchen vet Gilberto Isidoro and his wife Ericka Martell last July, the young establishment has quietly existed in the shadow of a long-tenured and well-liked neighborhood staple. However, with the oft-panned city's image quickly changing and development making its way to Layton Ave., there looks to be enough room to support two Mexican joints on the same block…at least as long as they're both good. After paying a belated visit to Mexic 103, we can confidently say that's absolutely the case.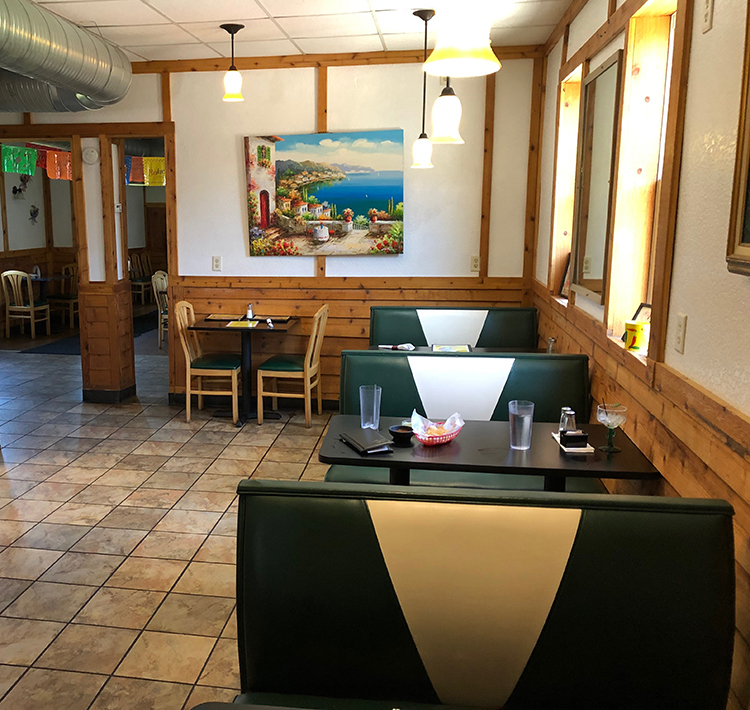 The space: Mexic 103 took over a spacious property on the high-traffic metro Milwaukee causeway that was left vacant for a few years following the brief occupancy of Tornado Brewing Company (which later relocated to Horicon). If memory from our one and only pilgrimage to Tornado serves, nothing significant has changed in terms of the interior. That said, each slight change is for the better. The tile flooring looks brand new, and we liked the warm decorative accents that featured work from artists based in Cudahy. Most notably, Mexic 103 utilizes its vast side yard for patio seating in warmer months.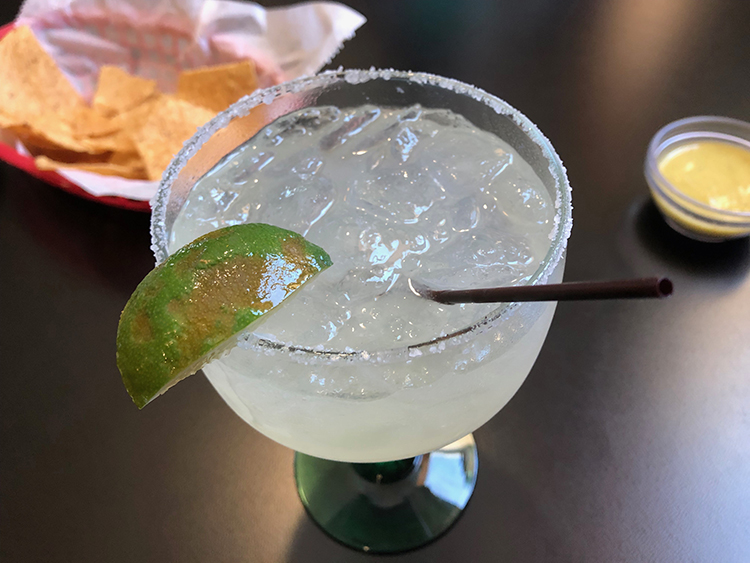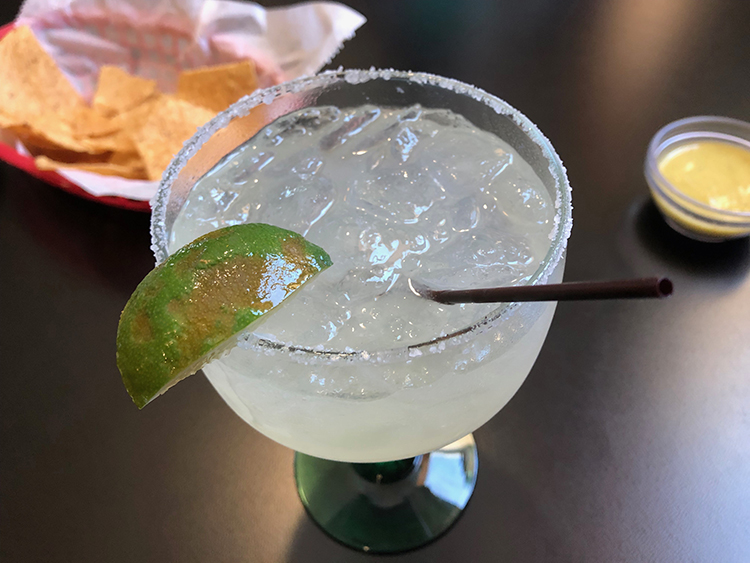 Milwaukee Record's food/drink: While we were tempted to sit outside, we ultimately opted to stay inside the restaurant and look over the massive menu as we sipped a simple-yet-satisfying execution of Mexic's tantalizingly tart house margarita ($6). If traditional lime isn't you thing, there's roughly a half-dozen other flavor options (including the tempting mango option) in addition to all the expected Mexican and domestic macro beer mainstays on draft and in bottles.
After bypassing the surprising abundance of breakfast options and appetizers and working our way through the wide range of lunch and dinner entrees, we landed on the Burrito Verde ($10). The behemoth burrito comes with your choice of meat—steak, grilled chicken, shredded chicken, ground beef, pastor, or barbacoa—melted Monterey Jack cheese, lettuce, diced tomatoes, and sour cream. Each entree also comes with a side of refried beans and a pyramid of Spanish rice. We threw caution to the wind and decided to go with grilled chicken for our protein, and left happy with our selection. The abundant pieces of poultry were tender and were seasoned with a citrus-y kick. Topped with the subtly spicy and creamy green sauce, it was an altogether enjoyable and extremely filling lunch.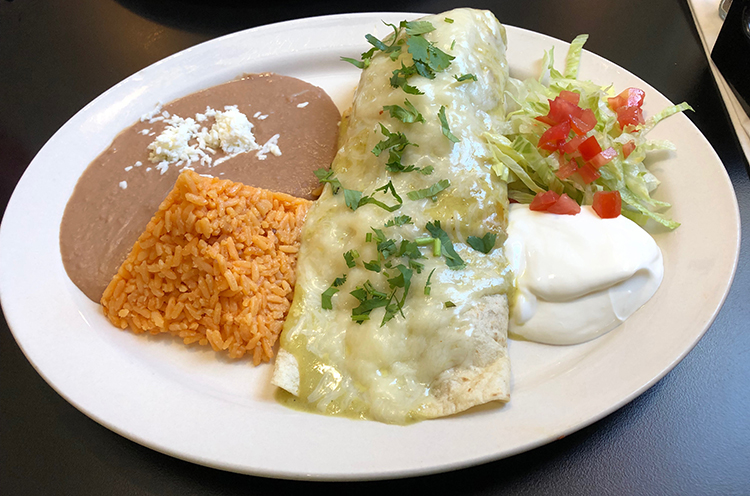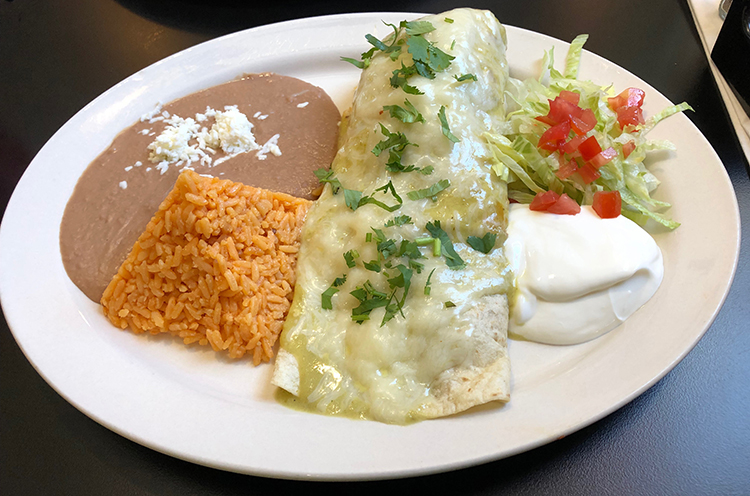 Still, we forged on a tried a bite of our guest's Tijuana Style Taco platter ($11), which had a trio of corn-tortilla tacos liberally stuffed with a holy trinity of perfectly-seasoned pastor, steak, and chorizo topped with diced raw onions and a sprinkling of cilantro. The tacos, too, were flanked by beans and a pyramid of fluffy and flavorful rice.
The verdict: Cudahy probably doesn't immediately come to mind when you think of high-quality Mexican food in southeastern Wisconsin. Maybe that should change. It's too early—and we're not nearly deep enough into the tome that is the restaurant's menu—for us to anoint Mexic 103 as the suburban city's front runner, but it's certainly entered the conversation. Whether you're on the south shore and looking to try something new or you're faced with a long wait at Lala's, consider heading over to Mexic 103 to "Eat. Drink. Enjoy."