Chapter 9: The Richland Resolution
In July, I challenged myself to bird in all 72 of Wisconsin's counties before the end of the year. By the beginning of December, I had birded all but nine of them. After months of playing catch up, it finally felt like I could start to breathe. Yet with the busy holidays fast approaching, I decided I didn't want to leave the fate of my challenge up to chance. The icy Snow Bunting photographs I took last time reminded me of Wisconsin's always-changing weather patterns. So I decided to load up a rental car and make a mad two-day sprint to the west side of the state. I had two pockets of counties to conquer before I could call this crazy six-month, state-wide birdathon complete. Without further ado, here is the way I finished off this amazing birding challenge.
Monroe County
I meant to hit Monroe County on the second day of birding, but as I was driving to my northernmost destinations, I ended up passing through the Monroe County town of Tomah. I decided to bird on a half-frozen lake riddled with American Crows. As I counted flying crows, a large bird with a white head whizzed past me: a Bald Eagle to start off this last adventure of the year.
I spent the rest of my time watching as a few flocks of Canada Geese touched down on the lake, bothering a lone Lesser Scaup. Lake Tomah forms the border of two parks, and at Butts Park, I ran into a who's who of common Wisconsin winter birds including House Sparrows and Finches, two types of woodpeckers, Mourning Doves, and the always cheery Black-capped Chickadee. Not a bad way to start us off!
Total Monroe Species Observed: 11
Favorite Monroe County Sighting: Lesser Scaup
Dunn County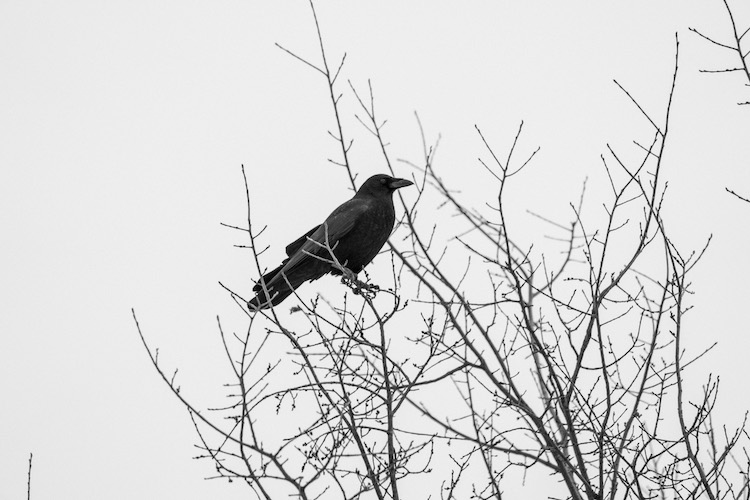 I hate following up good birding with bad, but that's what happened when I reached Menomin Park. The park is named after the lake it sits beside, and the side of Lake Menomin I was on was frozen over, which is usually a bad sign. Half-frozen lakes can be amazing places to bird but when a water source is locked up there's no reason to stay. I heard a nuthatch out in the distance and saw a few American Crows. As I made my way out of the county, I stopped to count feral Rock Pigeons, but otherwise, I considered the county Dunn (sorry, I'm practicing my dad jokes for holiday family time).
Total Dunn Species Observed: 3
Favorite Dunn County Sighting: American Crow
St. Croix County (And More?)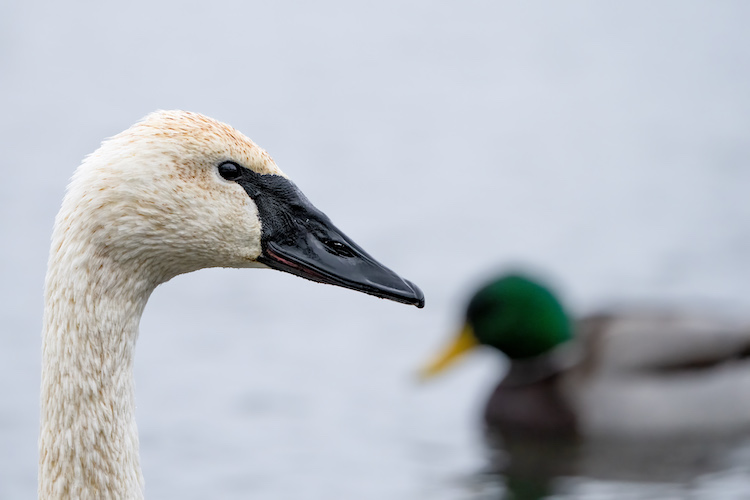 I thought I was in for another dud when I arrived in the city of Hudson to bird the infamous St. Croix River. After looking up and down Lakefront Park, my lens eventually settled on Trumpeter Swans, Common Goldeneye, and other waterfowl near the other shore. As I counted birds, a gentleman named Rick parked alongside me and took out a spotting scope, asking what I was looking at. I told him about the challenge and he gave a slight chuckle and told me that these sightings were of no use! The birds were technically positioned on the Minnesota side of the river!
Defeated, Rick was quick to bring my hopes up. He guided me a few minutes downriver towards a spot that had an amazing view of a mixed flock of Trumpeter Swans, Canada Geese, and Mallards. Before saving the day, Rick told me that a nearby nature center had Tufted Titmouse sightings. I'd never seen a titmouse before, so after taking some really fun photos, I dashed over to Carpenter Nature Center. No dice on the titmouse, but I brought my St. Croix County species total up to a respectable eight species, including a dazzling Northern Cardinal.
All in all, this segment of the trip was awesome. Most of my challenge has been conducted alone or alongside my wife, so to have an area birder find me and give great advice is something I was sorely missing. I am at my best when birding in Milwaukee areas that I frequent, and this was a great reminder that locals will always know the best spots. Also, I got a bonus in Minnesota County, so maybe I gotta start an end-of-the-year challenge where I bird all counties in Minnesota. Wait…there are 87 counties in Minnesota? Ah, scratch that thought.
Total Washington County, Minnesota Species observed: 5
Favorite Washington County, Minnesota Sighting: Trumpeter Swan
Total St. Croix County Species Observed: 8
Favorite St. Croix County Sighting: Mallard
Pierce County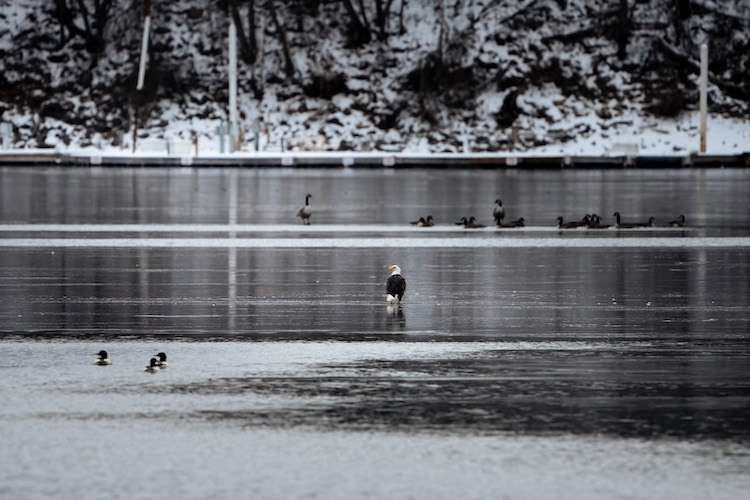 Pierce County is where the real fun of this trip began. While the Bald Eagle in Monroe County was a welcome hello to start the trip, Bald Eagles just hit differently when they're in their element. And boy are they in their element on the western border of the state. Why? Because, unlike Lake Menomin, the St. Croix and Mississippi Rivers are only half frozen, creating the ideal hunting conditions for these natural icons of Americana. I saw at least 10 Bald Eagles fishing amongst Trumpeter Swans, Common Merganser, and Canada Geese, which were all in abundance.
I stood in awe as the adults picked on a not-so-lucky immature eagle, wrestling away a fish it had plucked out from the chilly river. Prescott, Wisconsin sits on the St. Croix/Mississippi confluence, creating a perfect habitat for wintering bird life. The eagles would take turns making passes on the open water, catching their breath on frozen ice patches. If they got too frisky with each other, it would cause the swans and geese to take flight. At times, it felt like they were dogs leading their flock of sheep up and down the rivers. The whole experience was bliss, and while I stayed too long, I wanted to stay longer.
Total Pierce County Species Observed: 9
Favorite Pierce County Sighting: Bald Eagles, though it was the mix of birds and their activities that really got me going
Pepin County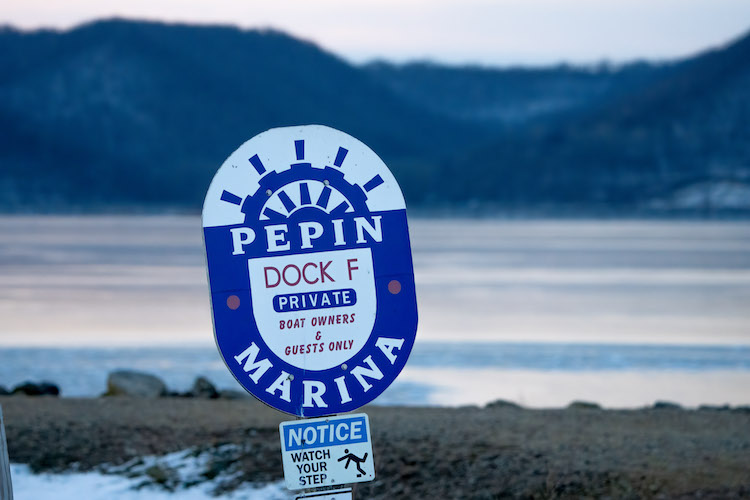 I found myself battling dark clouds all day, and by the time I had gotten to Pepin County, the dark clouds were accompanied by a rapidly setting sun. Winter days just go by too quickly. I had hoped to fit Pepin in so that I could drive during the night and stay in La Crosse, but as the sun left, there were no birds to be seen.
I grabbed dinner in the village of Pepin, which is the home of famed author Laura Ingalls Wilder. (I think my mother would like to have a word with the Milwaukee Record pollsters who voted her out in favor of Dunkey.) Snow drifted in throughout the night, and nightmares of missing a county swept into my mind as I came to terms with tomorrow being the last day of the challenge. I thought about the cool places I saw and had regrets about the counties I didn't give enough time to—all while Bald Eagle encounters swirled in the back of my mind. Before I took up birding, I had only encountered Bald Eagles once in my lifetime, and that was all the way down in Florida. This year alone, I had seen too many to count! It was a blessing, but as my eyes began to shut, I felt like it was a blessing wasted. I wanted an epic photograph of one.
The next morning I headed out toward the Mississippi River, where Minnesota's blue-blown bluffs became a scenic backdrop for a rather mundane birding adventure. There was a pair of crows, one Dark-eyed Junco, and a House Finch, alongside flocks of Mourning Doves and House Sparrows. Despite the slow start, beginning my final day with a sunrise on the Mississippi felt meaningful. Western Wisconsin has really grown on me this year.
Total Pepin County Species Observed: 5
Favorite Pepin County Sighting: Dark-eyed Junco
La Crosse County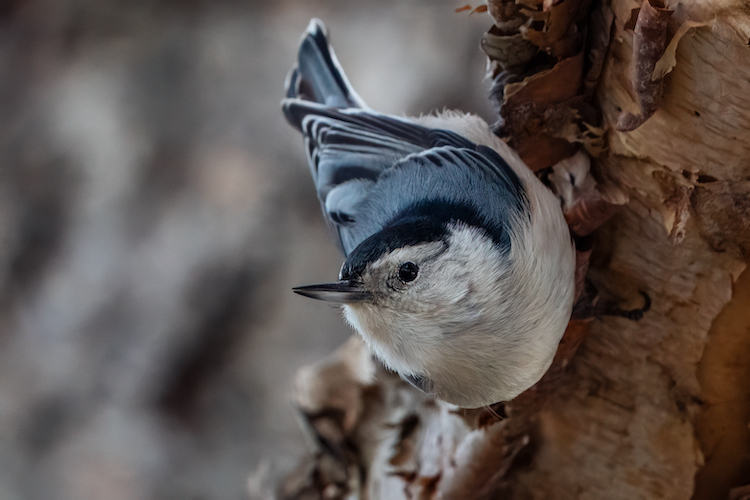 My route had me drive down Minnesota's Highway 14, where I had to constantly tell myself to just keep driving. Every 10 minutes or so, I would look out my driver's side window and see Bald Eagles fishing down the river. Normally, I would stop and take in every photo opportunity nature lends me, but I had gotten too far to blow my challenge with four counties to go. I was also convinced that if Bald Eagles were on this side of the Mississippi, they would be on the Wisconsin side too.
So on I drove for 90 minutes until I made it to French Island's Melson Park. French Island juts out from Onalaska and La Crosse into the Mississippi River and is considered a census-designed place. If anyone can tell me what that actually means, I am all ears. Is French Island a town? A village? A city? I have no clue, but it's located in La Crosse County so that's all that matters to me! Thanks for existing, French Island! You were legitimately a pretty cool place to visit.
The park is tiny, but loaded with small bird activity. It felt like too many birds to count upon arrival, but as I settled in, I could begin to pinpoint the sounds and movements of the island's various bird life. Lots of Blue Jays (including one that snagged a few Cheetos), White-breasted Nuthatches, and Black-capped Chickadees amongst a smattering of other common songbirds. They aren't the most compelling birds to report on, but it's really important that we have them, and that I saw all these species in bountiful numbers.
Total La Crosse County Species Observed: 9
Favorite La Crosse County Sighting: White-breasted Nuthatch
Vernon County
I followed the Mississippi River downstate, reaching Vernon County next. Driving down Wisconsin Highway 35 is a really neat experience. Every three minutes or so, you can pull off at the various overlooks. Some of the birding activity is far out and needs a scope, but I found accessible spots along my route. Roadside birding is a legitimately fun way to explore this region of Wisconsin, and even if you don't see birds, the views themselves are worth each and every stop.
For my first Highway 35 checklist, I chose to bird at Shady Maple Overlook, which is just outside Stoddard. An active railroad stood between the overlook and the frozen river, but that didn't stop eager ice fishermen from going out and getting their day's catch. This spot ended up being a strange birding location. The only small bird in the area was House Sparrows. I think my most seen bird during this challenge has been the Black-capped Chickadee, so things feel off at times when I don't hear or come across them at a location. While the majority of the river was frozen, there were a few pockets of water but next to nothing in them. Well, except for a single Canada Goose, which also felt like an anomaly. As I pointed my lens further out, I noticed over a dozen Bald Eagles dotting the outermost landscape. Additionally, I saw swans and waterfowl, but they were super far out and needed a spotting scope to ID correctly.
Driving further down Highway 35, I found some success in the form of a lifer. Over 300 Canvasbacks flew and swam along the riverbank as Bald Eagles continued to dominate the vista. I watched an American Crow slip on the ice, which was amusing, and heard a pair of Black-capped Chickadees, so all was right with the world again!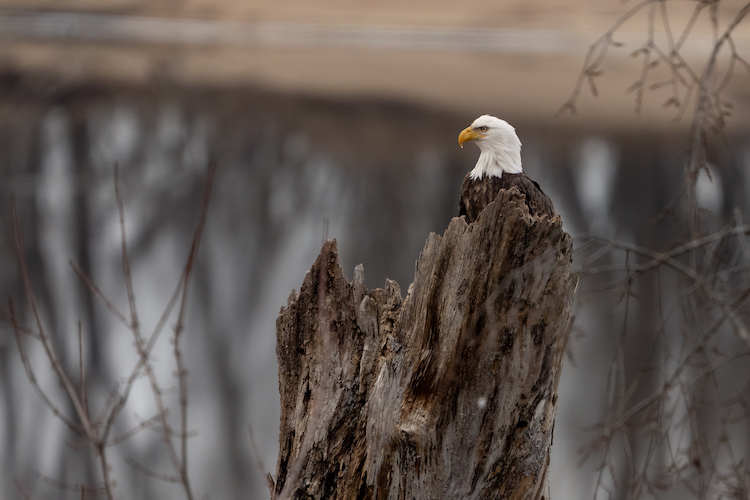 I continued to make my way downstream and eventually had to pump the brakes. Right alongside the road was the opportunity I had been waiting for: the picture-perfect Bald Eagle shot. I hugged my vehicle as close to the opposite side of the road, then dodged traffic as I ran across the highway to get my shot. A Bald Eagle was perched on the top of an old tree trunk, slightly wet from the light snow that just began to fall. I got my shot, returned safely to my car, and thanked Vernon County for its world-class hospitality!
Total Vernon County Species Observed: 15
Favorite Vernon County Sighting: While I want to say the Canvasback, I'd be lying. It's hard to beat a picturesque Bald Eagle encounter.
Crawford County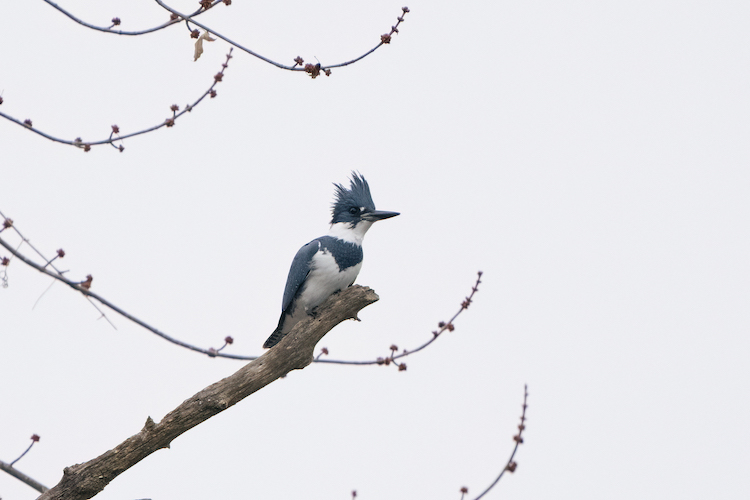 No less than 30 seconds after crossing the Crawford County line, I found a tiny boat landing and decided to test my luck. Right off the bat, I found a female Belted Kingfisher and heard another kingfisher circling above. The first time I ever saw a Belted Kingfisher was at Estabrook Park during a Christmas Bird Count, so it was fun to see them in December on the other side of the state. American Crows and a single Bald Eagle completed my boat landing journey.
I made my way into the nearest town, Ferryville, to see if I could add a few more birds to my count. It led me to River View Park, where the icy lake bled blue as the faintest of snowflakes paraded the sky. Unfortunately, there was not much more than a cackle of a crow and some really bad looks at Buffleheads and other waterfowl to be had. As temperatures dropped, I headed across the street for a chargrilled burger at the Wooden Nickel Saloon and contemplated one last county.
Total Crawford County Species Observed: 11
Favorite Crawford County Sighting: Belted Kingfisher
Richland County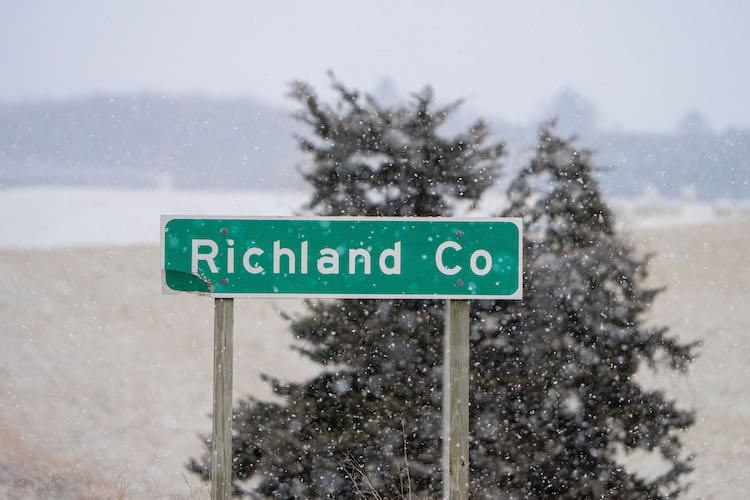 Large flakes peppered the drive as I left the Mississippi River and its Bald Eagles behind. My one hope was that the snow would stick at this consistency by the time I reached Richland County. For as much thought as I had put into this challenge, I really didn't think everything all the way through. Richland County is a very unassuming birding county compared to other regions in the state, so it's a bit of a weird "last hurrah" destination. But I'm prideful when it comes to my photography and showcasing the beauty in this state, so despite the lack of "must see birding locales," I knew I wouldn't be satisfied unless I came away with one last solid photograph on which to end this column. While I had a birding location in mind, I also knew I would be driving through farmland to get there. Country road birding led me to hawks in the past, so I decided to make the journey the priority instead of my initial destination.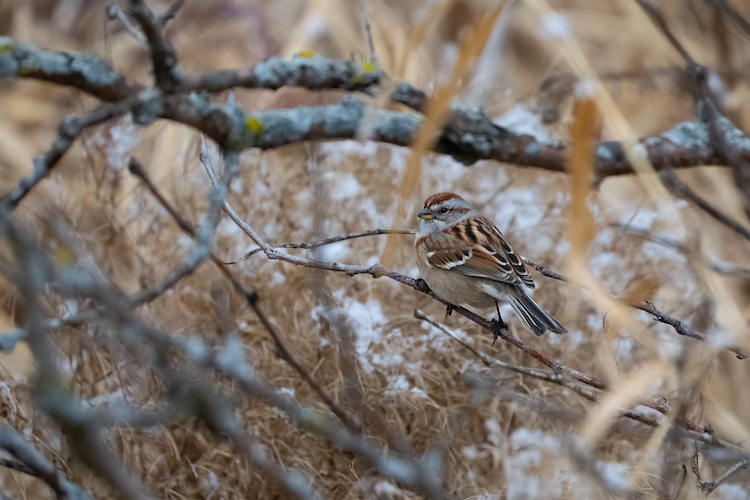 I stopped right at the Richland County border to snag a quick signpost shot. My final county: 72 of 72. And the snow was still gentle yet present. I was time to see and photograph something cool. I stopped at Boaz Mastadon Historic Marker and IDed my first-ever American Tree Sparrow, among other songbirds. I'm pretty positive I've seen tree sparrows before (I later found out I saw them in Vernon County, too) but this was the first time I could make them out for myself, so that was a real treat.
The snow picked up as I perused the skies and powerlines in search of something epic. As a photographer, you honestly never know how these situations will turn out. Some days, there's too much going on and you don't know where to best point your lens. Other days, the terrain is a barren birding desert. Add in the snow and your birding forecast becomes unpredictable. On this day, Tuesday, December 6, I found my shot in the form of a Red-tailed Hawk resting on a powerline. It's nowhere near the most epic shot in my portfolio, but there's something very calm and inviting about it. If nothing else I'm proud to end the column and challenge on such a pleasant shot.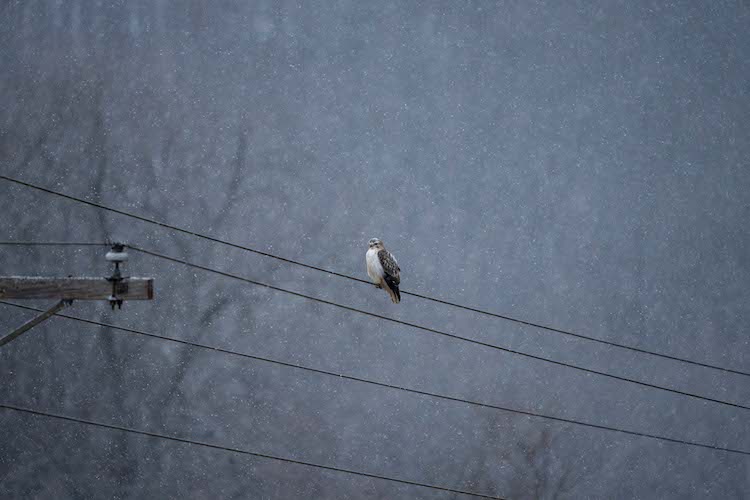 The 2022 Wisconsin Birding Challenge ended at 3:05 p.m. just outside the city of Richland Center, Wisconsin.
Total Richland County Species Observed: 6
Favorite Richland County Sighting: Red-tailed Hawk
Epilogue
What an experience. At times, it was thrilling. Other times, it was draining. I still don't know what to fully take away from it. I certainly don't believe the way I went about the challenge was the best way to bird or photograph birds. Sometimes I was really rushing with this challenge to fit it within the time constraints that I had put on myself. If I could run it back again, I would spend the whole year doing it instead of half a year, with the hope that I could hit one maybe two counties in a day to really get to know and spend time with the places that I travel to. At the same time, I had a lot of fun. There's a list of 20 places I want to return to, and a separate list of places and activities I still need to go and explore. (As God as my witness, I will ride the Alma Bird Train.) I came away with 33 lifers, traversed the state's main waterways, and found cool birding and wildlife photography strategies. I reconnected with friends and met other bird enthusiasts, too.
I've lived in this state my whole life, but I've never given it its full due. At its core, this challenge was a love letter, a give-back to the natural habitats that literally give us all life. And to traverse the state through this hobby that I sometimes feel like an infant in was really affirming. I've been birding for a little over two years now, and to just dive into it full force felt freeing. Life can be consumed by work, human life goals, and regular everyday tasks. To force myself to butt against that in favor of experiencing the other life that lives amongst us affected me deeply.
Snow Buntings make me giggle. Pileated Woodpeckers and soaring Bald Eagles make me gasp. Black-capped Chickadees make me smile. Seeking birds out has opened my eyes to the rich habitats that are, at most, a few hours away from us. We may have conquered these habitats, but they have mastered living inside them. I am in awe of the birds and the wildlife that we share the state and this city with, and it was an honor to capture some of them during this challenge. It's important that we are stewards of Wisconsin's wild places and diligent in efforts to conserve our biodiversity. Finally, we as humans must hold steadfast curiosity and respect for everything inside our planet. Earth is a marvel.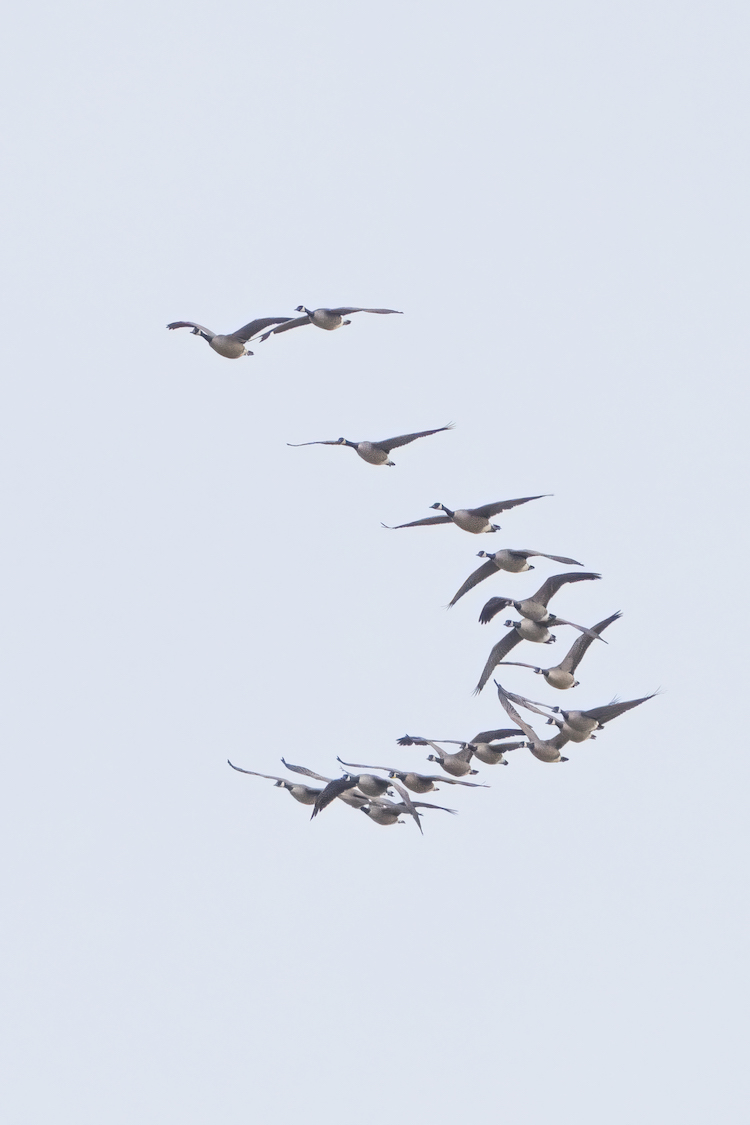 2022 County Count: 72
eBird Checklists: 219
Exclusive articles, podcasts, and more. Support Milwaukee Record on Patreon.
---
RELATED ARTICLES
• Wisconsin Birding Challenge 2022: Exploring every county in the state (Chapter 1)
• Wisconsin Birding Challenge 2022: Exploring every county in the state (Chapter 2)
• Wisconsin Birding Challenge 2022: Exploring every county in the state (Chapter 3)
• Wisconsin Birding Challenge 2022: Exploring every county in the state (Chapter 4)
• Wisconsin Birding Challenge 2022: Exploring every county in the state (Chapter 5)
• Wisconsin Birding Challenge 2022: Exploring every county in the state (Chapter 6)
• Wisconsin Birding Challenge 2022: Exploring every county in the state (Chapter 7)
• Wisconsin Birding Challenge 2022: Exploring every county in the state (Chapter 8)
• Migrating warblers, others bring a world of color to Milwaukee's spring landscape