Where has the summer gone? Okay, okay, so there's still a ton of summer left, but the bleakness of autumn will be upon us before you know it. Thus, it's important to use your limited summer entertainment allotment right. Not even counting the waning days of Summerfest, there's a ton of concerts, comedy shows, rare film screenings, and potentially meaningful Brewers games vying for your time and attention. And we're not even factoring in outdoor activities, if you're into that type of thing. July can be tough to navigate, but hopefully these 15 standout shows can help clear up any overlapping items on your social calendar.
Monday, July 1
Kiefer Sutherland + Raye Zaragoza @ Shank Hall
"Summerfest is rolling out their great schedule between June 26-July 7," says a Shank Hall press release, "but they do leave a gap when they close on July 1. Problem solved. Shank Hall is proud to present the return of Kiefer Sutherland." Problem solved, indeed.

Wednesday, July 3
Questlove + DJ Bizzon, Dope Folks Records @ The Cooperage
On July 3, at 9:45 p.m., The Roots will perform at the BMO Harris Pavilion during Summerfest 2019. It'll be a great show. Then, immediately following the set, Roots drummer Questlove will race over to The Cooperage for a special DJ appearance. It'll be a great show, too! Questlove's appearance will be presented by Milwaukee Film's Black Lens initiative, as part of its Groove Theory program. DJ Bizzon and Dope Folks Records will play in support.
Tuesday, July 9
Sarah Shook & The Disarmers + Big Eyes, Sunny War @ Cactus Club
Chapel Hill, North Carolina's Sarah Shook and her Disarmers bring their bold blend of outlaw country and punk rock sensibilities to the Bay View bar just over a year removed from the release of Years, Shook's latest and greatest effort on Bloodshot Records. Big Eyes and Sunny War will play in support.
Thursday, July 11
Lakefront Brewery's "My Turn: Junk" beer release with Holy Shit! + Nutritious And Delicious, and Chinese Telephones @ The Sugar Maple
Milwaukee musician, longtime Lakefront Brewery employee, and all-around local hero Andy Junk will finally have his day in the sun this month when his "My Turn: Junk" beer gets released by Lakefront. Despite being called "Junk," the kettle sour that's made with fresh cherries and sakura sounds downright delicious. You'll be able to find out at The Sugar Maple on July 11, when Lakefront unveils the limited-edition brew. Holy Shit! (Junk's band) will provide musical accompaniment, as will Nutritious And Delicious and Chinese Telephones. Doors at at 6 p.m. Music starts at 8 p.m.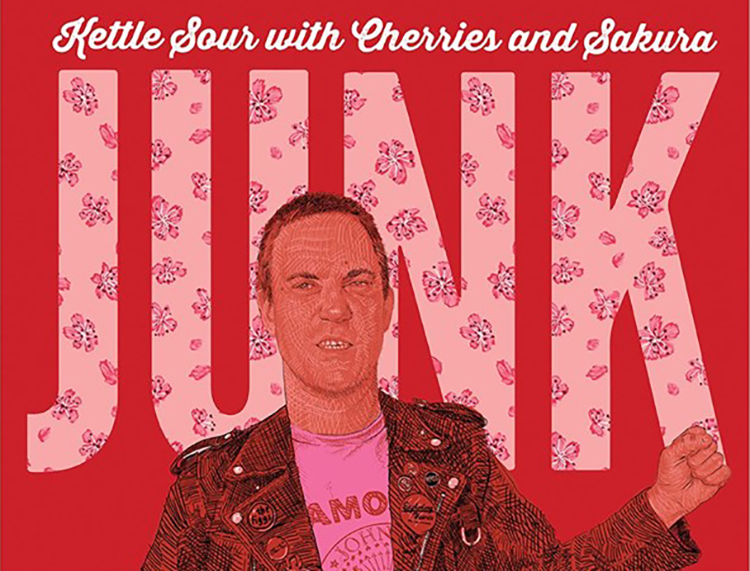 Friday, July 12
Ha Ha Tonka + Rx Drugs, Dramatic Lovers @ Pabst Milwaukee Brewery & Taproom
Speaking of Bloodshot Records, Shook's labelmates, Ha Ha Tonka, come back to Milwaukee to headline a stacked show that also features local support from the likes of Rx Drugs and Dramatic Lovers.
Sunday, July 14
The Raconteurs + Lillie Mae @ The Rave
Mere months after the release of The Raconteurs' long-awaited third studio album, Help Us Stranger, Jack White, Brendan Benson, Jack Lawrence, and Patrick Keeler will play the sure-to-be-sweaty confines of The Rave. And because White is involved, all phones will be locked in those little Yondr pouches before the show.
Ron Funches + Blair Socci, Gabe Dinger @ Turner Hall Ballroom
Roughly two years removed from throwing cookies and stealing hearts at Turner Hall and just a few months after coming to town with Conan O'Brien, Ron Funches will once again grace Milwaukee with his affable and altogether incomparable comic perspective. If you've never had the pleasure of seeing him, change that as soon as possible. If you've already watched him, you've probably already bought your tickets.
Tuesday, July 16
Johnny Pemberton @ The Underground Collaborative
On name alone, you might not be aware of who Johnny Pemberton is. Yet whether you know it or not, you're surely familiar with his face and his voice from virtually every recent film and television show. Okay, that might be a slight exaggeration, but the actor and comedian has appeared on the silver screen in 21 Jump Street (a role repeated in 22 Jump Street), This Is 40, Action Point, and The Watch; on shows like New Girl, It's Always Sunny In Philadelphia, Kroll Show, Superstore, and as the titular Son Of Zorn; and has voiced animated characters on Adventure Time and Bob's Burgers.
Still, Pemberton is a stand-up comic at heart. Some five years removed from his last Milwaukee show, the accomplished comic actor will return to the Underground Collaborative for a can't-miss weekday outing.
Wednesday, July 17
Milwaukee Record presents UHF (1989) @ Avalon Theater
Put down your remote control. Throw out your TV Guide. Put away your jacket. There's no need to go outside. Well, there is a need to go outside on Wednesday, July 17. Yes, that's the night Milwaukee Record will be screening the classic 1989 "Weird Al" Yankovic film UHF at Avalon Atmospheric Theater. Just like last year, we're doing it in honor of an upcoming Al gig (July 27 at the Miller High Life Theatre! More on that later in this article). The movie starts at 7 p.m. As always, tickets are $5 and Lakefront Brewery will have some of its great beers on tap. Milwaukee Record, Avalon Theater, and UHF: It's the reason movies were invented!
And because sometimes you gotta grab life by the lips and YANK as hard as you can, there's more. The screening will serve as the kickoff to the second annual "Weird Al Week" at Milwaukee Record. Buckle up for some fresh, funny, and weird content every day on the site, all leading up to Al's Miller High Life Theatre show. Oh, and we'll be giving away tickets to that show at the screening!
Friday, July 19 and Saturday, July 20
Cinema Hooligante: The Wicker Man (1975, final cut) @ Oriental Theatre
If you've been to the Milwaukee Film Festival in the past five years, you've probably encountered a peculiar set of films called Cinema Hooligante. This often bloody, disturbing, sick, subversive, and just plain fun program has been proudly sponsored by Milwaukee Record. Now, Cinema Hooligante is a year-round affair, with Hooligante-tastic films screening at the Oriental Theatre every other Friday and Saturday. On July 19 and 20, be sure to check out the final cut of the original Wicker Man, which rules. Even better, we're told there may be a surprise before each screening…
Saturday, July 20
The Posies + Big Mother Gig, Cabin Essence @ The Back Room @ Colectivo
You know who's great? The Posies. Jon Auer and Ken Stringfellow have been doing their power-pop thing since the '80s, and it's always a treat to see them live. (Their gig at Summerfest 2018 was a gem.) Don't miss out on this one, especially when you add openers Big Mother Gig and Cabin Essence to the mix.
Paper Holland (vinyl release) + Immortal Girlfriend, and Shle Berry @ The Cooperage
Last June, Paper Holland released its long-awaited sophomore album, Galápagos, a meticulously-crafted batch of summertime-suited songs that cracked the top 15 on our list of 2018's best Milwaukee records. This June, the band will finally release Galápagos on vinyl. To mark the momentous occasion, Paper Holland asked a bunch of other artists to record remixed versions of songs from the record. Also, they'll officially mark the album's release with a Cooperage show that features opening support from Immortal Girlfriend and Shle Berry.
Saturday, July 27
"Weird Al" Yankovic @ Miller High Life Theatre
Let's face it, "Weird Al" Yankovic fans: If you've seen one Weird Al show, you've seen 'em all. Well, unless you saw last year's "Ill-Advised Vanity" shows at Pabst Theater, which featured oodles of deep cuts and original songs. And, well, unless you plan to see this year's "Strings Attached" show at Miller High Life Theatre, which will feature Al's "usual big production—costumes, props, video wall—supported by his band, background singers, and…a full symphony orchestra!" YES.
Monday, July 29
Milwaukee Record's 5th Annual Roast Of Milwaukee @ Club Garibaldi
Okay, it's not a festival, but our annual Roast Of Milwaukee does informally kick off the Milwaukee Comedy Festival. Once again, we've asked local comedians, improvisers, and media personalities to gently (or, in some cases, straight-up viciously) rib the city they love. This year's installment is sponsored by our friends at Miller High Life. Stay tuned for the lineup and ticket link in a day or two!
Tuesday, July 30
Mary J. Blige + Nas @ Fiserv Forum
Together, Mary J. Blige and Nas have combined for an astounding 45 Grammy nominations, 80 million albums sold, decades of relevance, and countless hits. The king and queen of their respective fields will come to the palace that is the Fiserv Forum as part of The Royalty Tour. You don't often get the opportunity to see one superstar of this caliber, let alone two.