Hey! Welcome to (the end of) Weird Al Week! For a full week, Milwaukee Record filled your feed with fresh, funny, and slightly fanatical Al-related materiel. It all led up to the two Weird Al shows at Pabst Theater April 9 and 10, as well as a performance from longtime Al band members Steve Jay and Jim West at Shank Hall April 11. Fun!
Matt Wild: Remember that part in UHF when George sees the dumpy little station for the first time and exclaims, "Wow! This is even better than I imagined!" That was basically me for the past 48 hours. Not that I was expecting a dumpy time; the whole concept behind "Weird Al" Yankovic's Ridiculously Self-Indulgent, Ill-Advised Vanity Tour—obscure and non-parody cuts, played sans costume changes and video interludes—was something I'd been longing for for decades. But finally seeing it in action was, well, better than I imagined.
Beyond hearing so many of my hoped-for songs over the course of two nights—"Melanie," "You Don't Love Me Anymore," "One More Minute," "Midnight Star"—it was great seeing Al and his band clearly having fun up there. When I chatted with him on the phone (at my parents' house in my childhood bedroom, I might add), Al said many of these songs hadn't been played since they were first recorded in the '80s and '90s. How refreshing it must be to play, say, "Stuck In A Closet With Vanna White" (a Tuesday-night number that Al said only pops up "ten percent" of the time on this tour) instead of "The Saga Begins" and "Yoda" for the umpteenth time? Also, Monday's show ended with "The Saga Begins," and Tuesday night's show ended with "Yoda."
Anyway, I absolutely loved everything about these shows, and I'm curious to hear what you fellas thought. Before we get to that, though, here's the setlist for Tuesday night (Monday night's setlist is here):
Fun Zone
Close But No Cigar
My Own Eyes
If That Isn't Love
When I Was Your Age
UHF
Bob
Good Old Days
Craigslist (complete with a Colectivo shout-out, though Al pronounced it "collective-oh")
Airline Amy
Dog Eat Dog
The Night Santa Went Crazy
Stuck In A Closet With Vanna White
You Don't Love Me Anymore
Melanie
Albuquerque
Medley
Breakdown (Tom Petty)
Yoda
Rob Wieland: Concerts like this, set wise, are you win some, you lose some. You have a personal playlist you want the artist to send through the power of your mind, and you want them to ignore all the other assholes in the audience who are also doing their best Professor X impressions to play their hits. When I saw the setlist from Monday's show, I shook my fist at all the people I know who were at the show. Knowing that the shows were almost completely different, I was bummed I wasn't going to hear "Generic Blues." Or "Dare To Be Stupid." Or "The Biggest Ball Of Twine In Minnesota"!
As I gathered with the other humble Al correspondents before Tuesday's show, I couldn't shake this bad feeling. Would it all be songs I didn't know? Was my fandom in crisis? Would I be the lone dork in the audience not singing gleefully to songs about awful relationships and food?
Of course not. That was the guy next to me.
Emo Phillips kicked off the show with a short stream-of-consciousness set. I admit, I haven't been keeping up with him since Comedy Central was just airing random clips of stand-ups back in the day, but it was easy to see why Al brought him along as an opener. His surreal observations and sudden dark twists in his jokes show how much of a sense of humor he and Al share.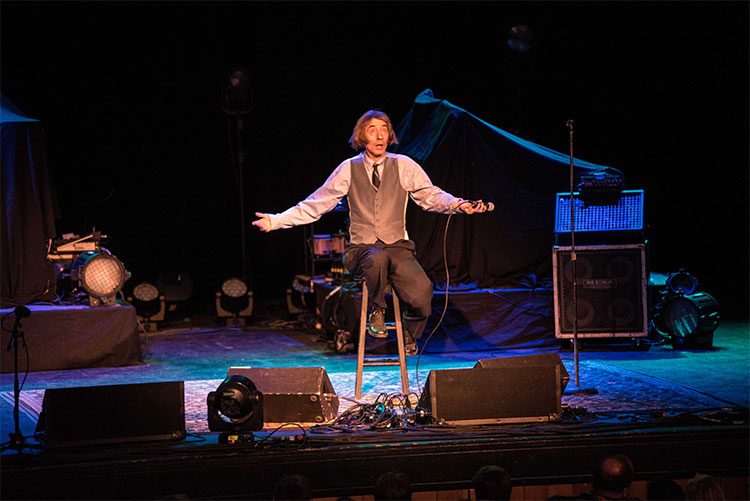 Once the concert started, the test of faith continued. I was stuck nodding my head to songs that were well-played and catchy but I didn't know the words to! But starting with "Close But No Cigar," Al's killer Cake riff, I began to calm down. These were the songs I grew up with, went to college hearing, and laughed along with the crowd when I wasn't shouting "Merry Christmas to you all, NOW YOU'RE ALL GONNA DIE!"
The set was still lively an energetic thanks to Al's performance. For all the talk of wanting to keep this a low-energy set, Al performed like an antsy kid who wanted to jump out of his seat during a boring slide show in class. A few arrangements were subtly changed for easier singing and some of the lighting was spot on in helping get the styles across for fans who might not be familiar with the styles being parodied. "Craigslist" and "Dog Eat Dog" stood out as staged very well to reflect the artists they were riffing on.
Al's Lounge Medley of some of his more famous parodies was a fun way to include the hits and feeling the audience slowly realizing what song was being sung gave a great energy to the encore. Al's Tuesday night cover was of Tom Petty's "Breakdown," and frankly, based on the strength of it, I wouldn't mind seeing a random cover slip back into his regular tour routine. He could probably call up the Heartbreakers and go on a memorial tour with them. But judging by how raucous the final sing-along of Yoda was—and the reaction to him stopping the song after the line about making Star Wars movies till the end of time to remind the audience he called it in 1983—he's got a pretty solid gig lined up being professionally weird.
Cal Roach: I was only marginally familiar with Emo Phillips' non-UHF work, so his warmup sets were a pleasantly deviant surprise, particularly shaming a mother into taking her crying baby out of the room on the first night. It hadn't occurred to me, but I suppose a sizable portion of the crowd was thinking of these as comedy shows rather than concerts. In a way, the rowdy singalongs at The Vanguard last Wednesday trumped the subdued crowd response at the Pabst. I almost felt guilty at times belting out all my old favorites, but at least no one shushed me or threw anything.
Thankfully, Al got some of my least favorites out of the way early on both nights; "Young, Dumb & Ugly" and "Close But No Cigar" are tunes I don't really need to hear again, but in keeping with the name of the tour, it's about what Al and his band enjoy playing, and if that happens to line up with our personal preferences as fans, well, lucky us. And there were plenty of deep cuts for us dorks. "Ball Of Twine" so early in night one felt like a rite of passage. The Grateful Dead-style "Dare To Be Stupid" I didn't see coming, and the "One More Minute" I had to see. Basically, everything I could've hoped for from Even Worse (except "You Make Me"), a generous helping of originals from UHF and In 3-D, and, well, only one song from Polka Party, but ya can't win 'em all.
As much as I was there for the oldies, though, the absolute highlight of the first night was "Jackson Park Express," a Mandatory Fun song I'd completely forgotten about. The crowd hung on every lyric, and the band executed the twists and turns of the epic tune flawlessly. "CNR" also came off great live, and on the second night, the Dylan ("Bob") and Doors ("Craigslist") spoofs that don't do much for me on record really came to life.
In fact, I don't know how even a vaguely curious non-fan could've walked out of the Pabst Tuesday night unimpressed. Across every imaginable genre over two nights, culminating in the never-ending garage-barrage of "Albuquerque," the band and Al himself showcased just how versatile and skilled they are at what they do. The banter was sometimes funny, sometimes incredibly heartwarming, a side of Al we don't usually get to see onstage. This tour is everything it's cracked up to be; going back to the "Weird" normalcy of parodies and costumes and whatnot at future shows ain't gonna be easy. Maybe I'll just go bowling instead.