It wasn't too long ago that January was pretty much a vacant, blustery tundra of Milwaukee entertainment options. Between frigid conditions, uncertainties regarding Packers playoff seeding, and the post-holiday hangover, most venues opted to clear their show schedules, while performers—not unlike the rest of us—became hermits, only to emerge for groceries and to use gift cards obtained the previous month. Fortunately, those days are over.
Between a flurry of great local festivals and some touring comedians and musicians, this particular January is especially stacked. Make it your New Year's resolution to get out more, and use this baker's dozen of can't-miss shows as your guide.
Friday, January 6 and Saturday, January 7
Johnny Beehner (album recording) @ The Laughing Tap
Since starting out in Milwaukee roughly 20 years ago, comedian Johnny Beehner has accomplished quite a lot. The now-Los Angeles-based comic performed on the Late Show With David Letterman shortly before the host retired, and he's become a frequent feature act for renowned humorists like Brian Regan and Jim Gaffigan. Beehner will return to his hometown for a pair of shows at The Laughing Tap. The two performances will also be recorded to be released as Beehner's upcoming comedy album.
Saturday, January 7
N/A Day: A "Dry January" Beverage Festival @ The Cooperage
Our "Dry January Beverage Festival" returns to The Cooperage to give people an opportunity to enjoy unlimited samples of refreshments from the wide-ranging, ever-evolving, and rapidly-growing non-alcoholic drink market. TICKETS ARE AVAILABLE NOW! The N/A Day lineup includes non-alcoholic beer and seltzer, kombucha, mocktails, non-alcoholic wine and spirits, tonics, craft soda, sparkling water, coffee, energy drinks, CBD products, and more. Here's the full vendor lineup!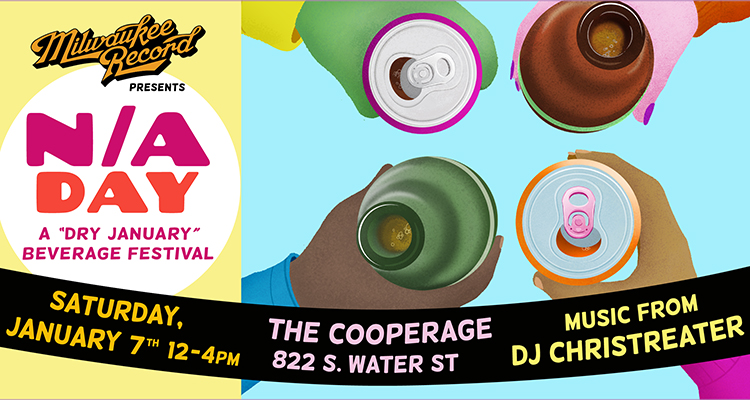 Goblin King Masquerade Ball @ Turner Hall
Awkward Nerd Events will once again transform Turner Hall Ballroom into a magical world of fantasy. There will be themed cocktails and mocktails, performances from The Goblin King Players, and unique photo opportunities. VIP packages are also available.
Thursday, January 12 to Saturday, January 14
Felonious Munk @ The Laughing Tap
Chicago-based writer, actor, and comedian Felonious Munk—who you might recognize from his roles on For Life, Block Party, The Nightly Show With Larry Wilmore or his many years on stage at comedy clubs all around the country—will head up to Milwaukee, where he'll perform a total of three times at The Laughing Tap January 12-14.
Thursday, January 12 to Sunday, January 15
Midwinter Gaming Convention @ Hilton Milwaukee City Center
Since its start over 20 years ago, the Midwinter Gaming Convention has been a source of non-digital gaming fun during the dead of winter. Get ready for four days of family events, board games, creator-run tabletop role playing games, live action role playing events, miniatures, and more.
Friday, January 20
Mondo Lucha! @ The Cooperage
A few months after yet another Turner Hall sellout, the Mondo Lucha folks will bring the ring to The Cooperage for a more intimate (but equally entertaining) blend of wrestling, burlesque, and music on Friday, January 20.
SHAQ's Bass All-Stars @ The Rave / Eagles Ballroom
Roughly 15 months removed from headlining the Miller Lite Oasis at last year's Summerfest, DJ Diesel (a.k.a. Hall Of Fame basketball player and cultural icon Shaquille O'Neal) will return to Milwaukee to get behind the turntables and dole out some jams at The Rave.
Saturday, January 21
Inside A Dream: The Music Of David Lynch @ The Cooperage
Following an impressive first re-imagining of music from David Lynch films, the "Inside A Dream" showcase will take the stage at The Cooperage once again. Expect renditions of compositions Lynch fans will surely recognize from works like Twin Peaks, Blue Velvet, Mulholland Drive, and more.
Wednesday, January 25
Milwaukee Record presents 'Teenage Mutant Ninja Turtles' @ Avalon Theater
Hey dude, this is no cartoon: On Wednesday, January 25, we're screening the 1990 live-action Teenage Mutant Ninja Turtles film at the Avalon Atmospheric Theater. Reserved seating tickets to the 7 p.m. screening are $11 ($9 for kids 11 and under). Cowabunga!

Ani DiFranco + Peter Mulvey, SistaStrings @ Pabst Theater
While a performance from Grammy-winning musician, human rights advocate, and all-around icon Ani DiFranco is great enough on its own, this Pabst Theater performance is rendered even more special with the involvement of homegrown openers Peter Mulvey and SistaStrings (who released a collaborative album on DiFranco's Righteous Babe Records last year).
Friday, January 27
Rhett Miller + Courtney Jaye @ The Back Room @ Colectivo
Americana legend Rhett Miller has been a member of Old 97's for 30 years and, along the way, he's released eight solo albums. Miller's latest album, The Misfit, came out about two weeks before the 97's played The Rave in September. On January 27, the well-traveled troubadour will come back to Milwaukee to play songs off that record, cuts from his numerous other solo releases, Old 97's material, and more at The Back Room @ Colectivo. Courtney Jaye opens.
Saturday, January 28
Ice Bear Fest @ Third Space Brewing
Third Space Brewing's Ice Bear Fest returns! From noon to 5 p.m., the Menomonee Valley brewery will host "an epic '80s Après ski party" in its beer garden to celebrate its tasty seasonal Baltic porter. In addition to the abundance of Ice Bear on hand, the winter affair will feature DJs playing '80s jams, food trucks, shotskis, and more.

Bluegrass Winter Heater @ Anodyne's Walker's Point Roastery
Though it's happening in the dead of winter, the Bluegrass Winter Heater will make Anodyne's Walker's Point Roastery warm and toasty with tunes from a trio of great bluegrass bands. The second annual affair will feature performances by Buffalo Galaxy from Minnesota, Mama Said String Band out of Kentucky, and a headlining set from The MilBillies from—you guessed it!—Milwaukee.