Dan Shafer is the founder of The Recombobulation Area, an award-winning, reader-supported weekly column and online publication. Click HERE to subscribe.
A somewhat surprising announcement arrived in the inboxes of reporters around the state on the morning of February 14. It was a press release from Gov. Tony Evers with the subject line: "Gov. Evers Announces Plan to Keep Major League Baseball, Brewers in Milwaukee for 20 More Years."
The…Brewers? At risk of leaving Milwaukee? This didn't seem right. And it certainly seemed like it was coming out of nowhere.
The governor's proposal, then—as announced to be part of the state budget, which he'd be unveiling in a speech at the Capitol in Madison the following night—would be to commit $290 million of the state's $7 billion budget surplus to go toward maintenance and upgrades at American Family Field. The core of the plan is quite simple.
There's a bit more to it than that, of course. As reported first at The Recombobulation Area, the proposal would also come with a property tax exemption for anything built on land owned by the Southeast Wisconsin Professional Baseball Park District, the special district entity in perpetuity, potentially scuttling any plans for a potential "Beer District." But the basic idea is fairly straightforward, to use state surplus funding for needs at the ballpark.
Of course, it was never going to be that simple. In recent weeks, Republican Assembly Speaker Robin Vos has bemoaned the proposal, saying it's "not going to happen," which is something he has said about virtually every proposal any Democrat has put forth throughout his time as Assembly Speaker. In this particular case, though, his issue is that there's no funding coming from the City or County in Milwaukee. Mayor Cavalier Johnson's office responded appropriately, saying, "The city currently has no money available to consider additional expenditures." The precarious financial position the City and County are in—due in no small part to budgetary issues brought on by state leaders like Vos—looms large over all of this.
But whether in the simplicity of Evers' proposal or the convoluted logic of Vos' response, the overall proposal to spend hundreds of millions of dollars more on the Brewers' stadium may lack the propulsion needed to pass in a tricky political landscape where funding for Milwaukee and for municipalities statewide is among the top issues to be addressed in this year's state budget. Not only would this have to make it through the often anti-Milwaukee halls of the Wisconsin State Legislature, but such a proposal would need to be crafted in a way that would make a meaningful difference for the city the Brewers call home. That doesn't appear to be the case—as of yet.

This initial proposal from the governor simply isn't a good one. In many ways, it mirrors his approach to another megaproject in close proximity to the Brewers' stadium: the proposed widening and expansions of I-94 and the Stadium Interchange. Much like that project, Evers' proposal for American Family Field suffers from a lack of creativity. There's been no examination of the potential of taking any kind of different approach, instead settling to rehash what's been done before. Instead of taking a once-in-a-generation opportunity to leverage a massive investment to do something truly transformative, this, like the highway project before it, is aiming to just do the same damn thing over again.
The billion-dollar expansion and widening of the I-94 project is analogous to the nine-figure maintenance and upgrades requested for the ballpark, a visionless reconstruction project at a time and place where a more creative effort could be a true catalyst for change on Milwaukee's west side. With both projects, the Evers administration could have seized an opportunity to make public investments in a way that could ripple out into the region and state, but instead have embraced a bored stasis, predictably backed by a business community and political establishment (in both instances) that often laments the lack of change in Milwaukee just as it stubbornly stands in the way of any attempt to do things differently.

Between both projects, an opportunity to create a bold new era for the west side of Milwaukee, and adjacent municipalities like West Milwaukee, Wauwatosa, and West Allis, is there for the taking. And while the I-94 project has improved through the public process and a study to reexamine the future of the Stadium Freeway, which would be a genuine game-changer, that's only the tip of the iceberg for what could be done to improve this side of town. Komatsu moving to the Harbor District gives a huge former industrial space an uncertain future, the Journal Sentinel printing plant is now under new ownership (do we really think the Chicago Tribune will be printing there long into the future?), and the nearby stretch of the Menomonee River is woefully underutilized. It's no surprise that talk of a potential "Beer District" outside the park was met with such an overwhelmingly positive community response.
The ingredients are there for a grand reimagining of this side of town, but the powers that be seem wholly uninterested in exploring fresh ideas.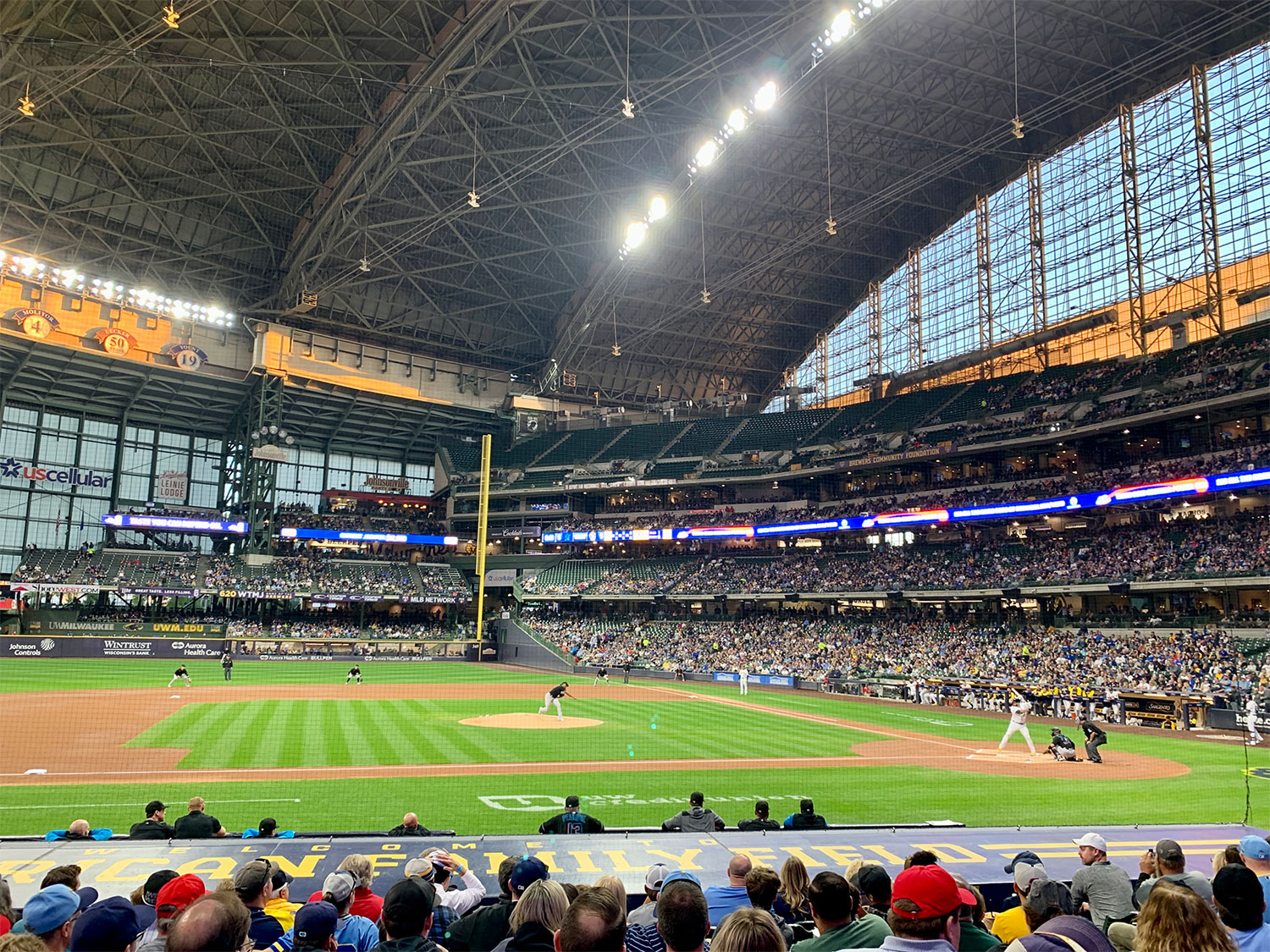 While the Brewers project and I-94 project are invariably linked by proximity, they are of course very different types of taxpayer-funded undertakings. One is public infrastructure, the other is a different kind of amenity entirely. That opens the door to a whole different set of questions and concerns regarding whether or not public financing for sports stadiums is sound policy.
It's usually not. But we do have an example in recent history right here in Milwaukee that provides an example of how such a deal could be successful.
I covered this issue a great deal back in my days at BizTimes Milwaukee and Milwaukee Magazine. In a 2015 column at MilMag, I wrote that while committing public dollars to fund the arena is not good policy, "situational pragmatism is needed when examining Milwaukee's arena conundrum." Meaning, public funding for an arena or stadium can work on a case-by-case basis—if done correctly.
That's ultimately what has happened with Fiserv Forum and the Deer District. Thus far, it has been a success, and in some cases, successful beyond anyone's wildest expectations. It has revitalized downtown west of the Milwaukee River and created an iconic central gathering place for the city. There are challenges still to consider as this growth ripples out, but Milwaukee is better off with the Bucks here, and the arena, Deer District, and surrounding developments are among the highlights of downtown's reinvention over the last decade.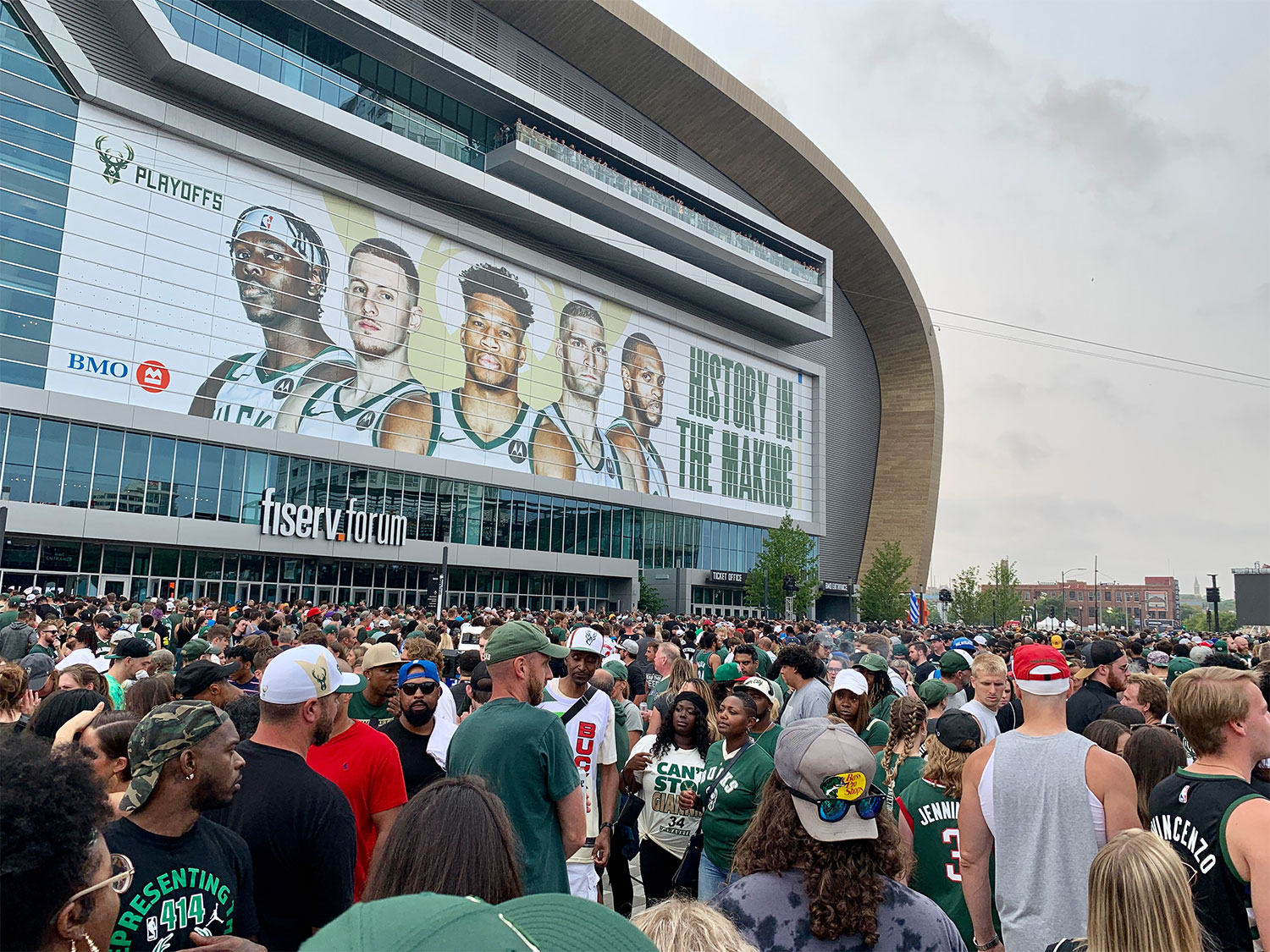 Milwaukee is better off with the Brewers here, too. With the right deal, it makes sense to keep them here. The potential risk of them leaving seems a ways away, though. And Milwaukee and the five-county region have already committed more than twice as much it took to build Fiserv Forum than it took to build and maintain then-Miller Park, and when that tax sunsetted, it was widely acknowledged to be a long overdue end to the stadium tax.
What's happening now with the funding proposal(s) for American Family Field seems extremely rushed and ultimately shortsighted. Less than three years after the tax was set to sunset, Stadium District is asking for this $290 million in state funding to provide more than $425 million in total upgrades.
But while things like $9.3 million for "parking lot resurfacing and repair," $12 million for "video displays and video production," and $8.8 million for "restroom renovations" are important, a deal like this only really works if it's leveraged to make a greater impact on the surrounding area. That's not what's happening here.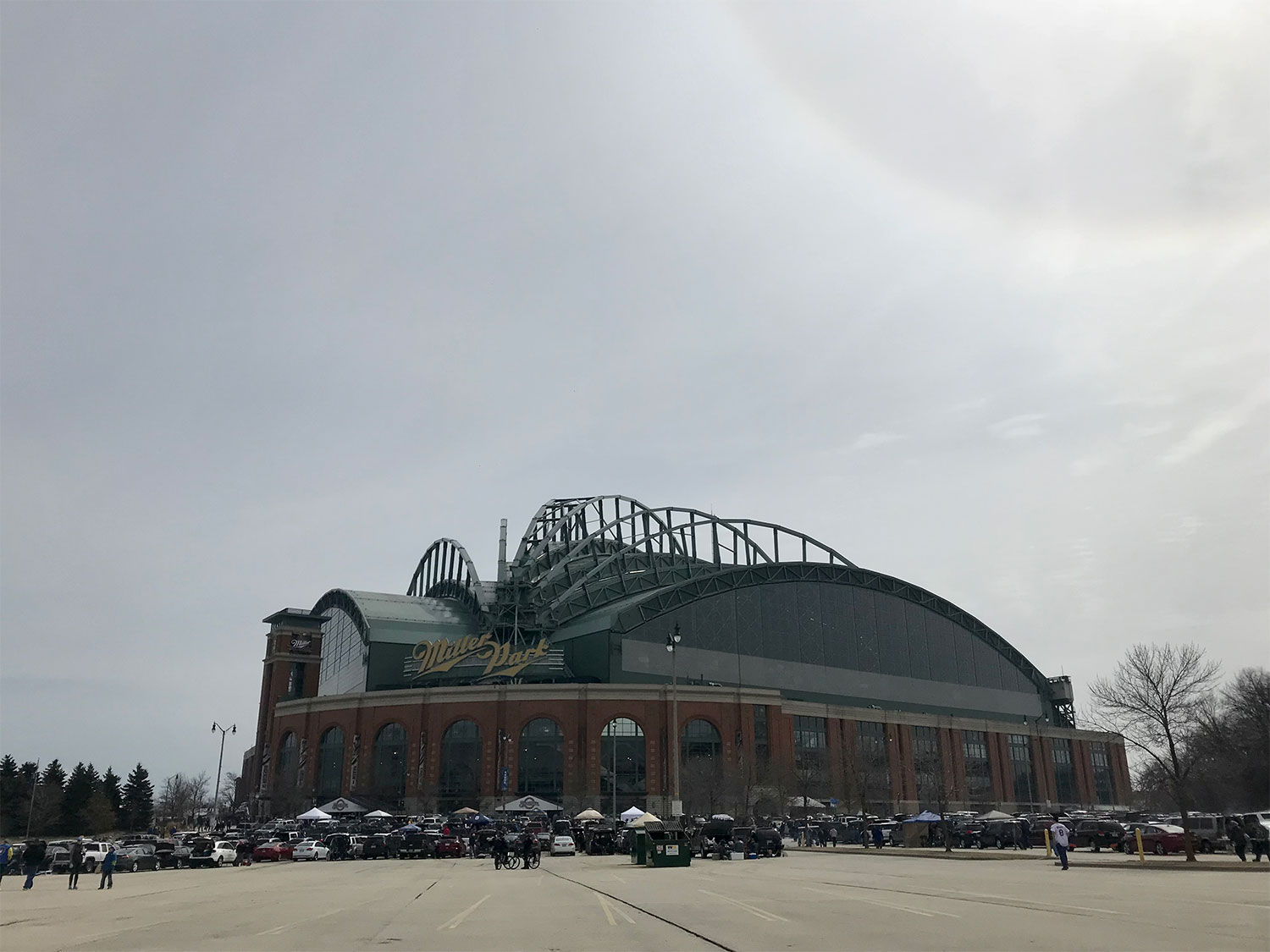 In the years preceding the 2015 Bucks arena deal, this community held a myriad of conversations about the future of the Bucks, of downtown, of all sorts of publicly funded cultural and entertainment amenities. The "Cultural and Entertainment Capital Needs Task Force" (remember that thing?) looked at all kinds of other downtown stadium funding arrangements, along with examining other ways a city and region's cultural and entertainment assets—or more essential services like parks and transit—could be funded in some sort of long-term revenue agreement with the state. Unfortunately (and perhaps predictably), plans for funding those non-arena assets ended up falling by the wayside once the deal was hammered out, but these conversations did help orient these endless discussions toward the proper direction—using the arena deal to make a meaningful, catalytic impact.
That's the piece missing now with the Brewers stadium discussion.
There continues to be a real disconnect between the Brewers ballpark and the surrounding area. Of the many things that American Family Field has going for it, it does not integrate well with surrounding neighborhoods, and its lack of ancillary development is among the weaker attributes of the stadium. If this investment were tied to a larger effort to reimagine and reinvigorate the corridor from West Milwaukee to Story Hill to Washington Park to Uptown and beyond, this could be a good use of public dollars. Right now, it's not.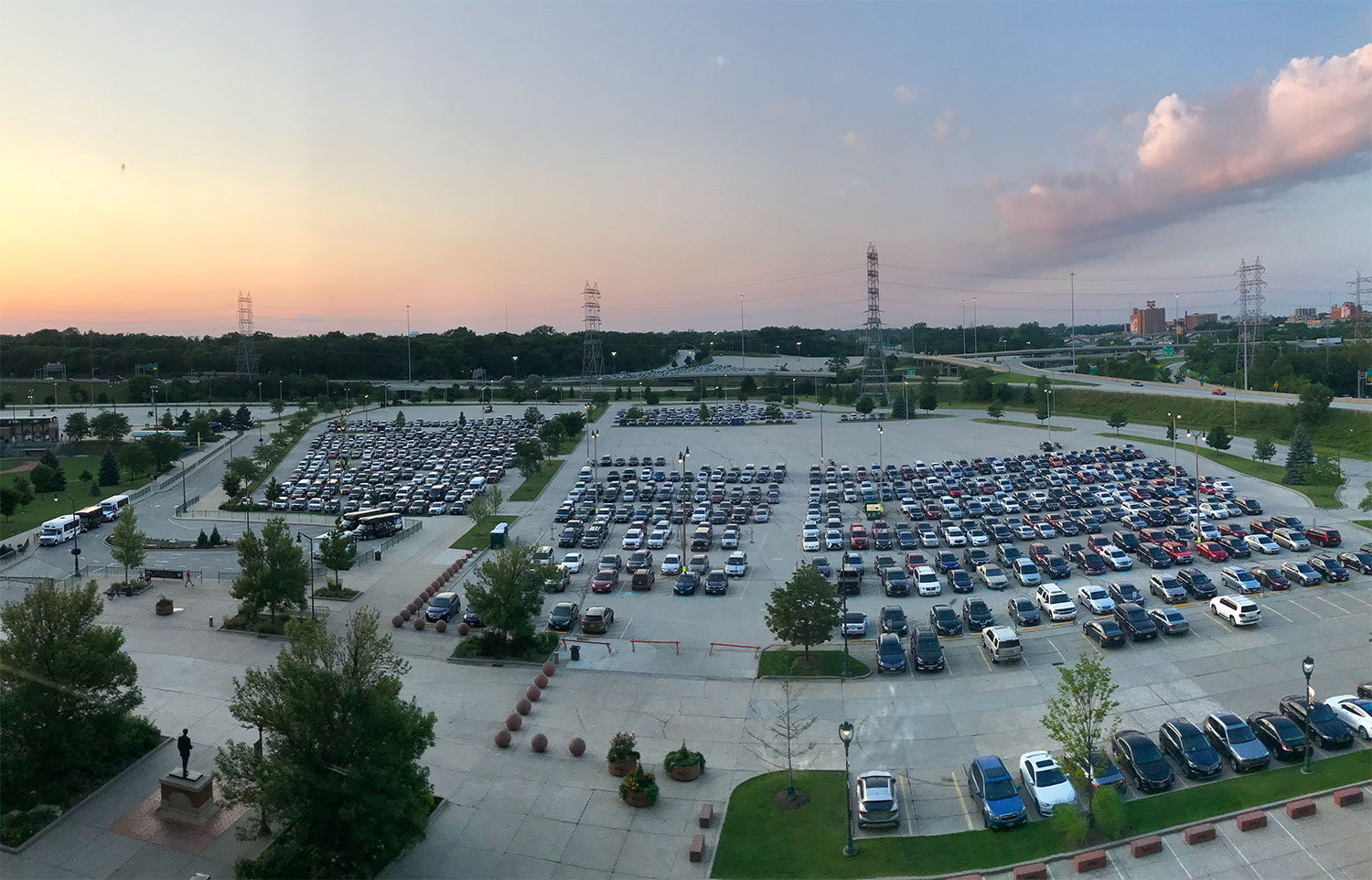 Looming over all of this, of course, is the fast-approaching fiscal cliff for both the City and County, and a potentially imminent deal with the state to boost shared revenue and/or allow for a local sales tax. Or both. Or neither. It's hard to say at this point.
But without a revenue deal with the state, things are going to get very challenging for Milwaukee very quickly. Just this week, the Milwaukee Common Council went through an exercise to examine what cuts of 10% to 25% would mean to the police department, fire department and libraries. That could mean an elimination of up to 890 full-time jobs from those three departments alone, cutting up to 10 library branches, eliminating the Milwaukee Police Department's new Traffic Safety Unit, shuttering MPD District 6 on the city's south side, and closing more than half of all fire stations. County Executive David Crowley has said repeatedly that "by 2027, we are projected to have no local dollars to fund local services."
That is all a bigger deal than maintenance and upgrades at the Brewers stadium. Two decades of a 1-cent sales tax funded more than $600 million for Miller Park / American Family Field. Just think of how far a sales tax or revenue agreement could go toward funding these chronically underfunded pieces of our hollowed out public sector.
With these discussions happening about how to keep the lights on in Milwaukee, this is the wrong time to be talking about hundreds of millions of dollars for a Brewers stadium deal. And no proposal yet has brought forth a true vision for transformation, which is absolutely essential for any public funding for a stadium.
This deal is likely to be spun off from the budget into a standalone piece of legislation. If we're going to do this, we need to take the time to do it right.

Exclusive articles, podcasts, and more. Support Milwaukee Record on Patreon.
---
RELATED ARTICLES
• Gov. Evers announces plan to keep Major League Baseball, Brewers in Milwaukee for 20 more years