While working on my new book Apocalypse Any Day Now, I traveled around the country to learn about different theories on how the world as we know it might end and what people are doing to prepare to live in a post-apocalyptic setting. I attended a weekend survival school, camped out with a group called Zombie Squad, toured Survival Condos built in an old missile silo, and started a dystopian fiction book club, among other things.
All of that end-of-the-world talk has left me with a permanent eye for what advantages and disadvantages random places I visit might have for doomsday survival. If the "shit hits the fan," as preppers say, here are five Milwaukee places to bunker down in after civilization has collapsed.
[Disclaimer: Don't go raiding places unless an actual apocalypse happens.]
This former Coast Guard lighthouse has a lot going for it. It's solid and built to last and it's hard to get to. It's accessible by boat only with no dock, just a ladder of rungs to climb up to get to the fortress-like five-story building. Inside, there are several rooms that served as Coast Guard quarters, so there's plenty of room for a ragtag group of survivors. The inside of the lighthouse is in rough shape as the Coast Guard doesn't keep a resident there, only stopping in for occasional maintenance and repair.
"While things look rough inside, the guts of the lighthouse look like they'll easily make it another couple hundred years," Bobby Tanzilo wrote for OnMilwaukee after he visited the lighthouse for his Urban Spelunking column.
After being deemed an excess property, the lighthouse was put up for sale. A group called Milwaukee Breakwater Friends was interested in acquiring the lighthouse and opening it up for tours, but there doesn't appear to be any public updates from the group since 2015. That means if the place is still up for grabs, you can try to buy it and start work on the perfect doomsday bunker.
Disadvantages: Unless you get this place well stocked beforehand, you'll need to make frequent raids to shore to get supplies. Another disadvantage is the melancholy memories you'll have of shuffling in a more friendly horde as you stare forlornly across the lake at the Summerfest grounds.
The "Underground City" of Landmark Lanes has only two narrow ways in and out—a steep flight of stairs for a front entrance and an emergency exit in the back. There are no windows for dystopian biker gangs or zombie condo dwellers to crash through, and creating blockades with giant impaling spikes in the stairwells will seal you in pretty well. Landmark has plenty of elbow room and things to keep you entertained in a dystopian apocalypse—even if the power is out you can play darts, pool, and bowl (but you'll have to reset the pins by hand).
Nearby places to raid include Whole Foods and several restaurants (including two poke joints!), and axe-throwing bar AXE MKE is just around the corner to brush up on some weapon-throwing survival skills. With all these perks, it's no wonder that the local chapter of Zombie Squad has occasionally held their meetings at Landmark.
Disadvantages: Being deep underground doesn't give you a good vantage point to see what chaos is going on in the streets around you.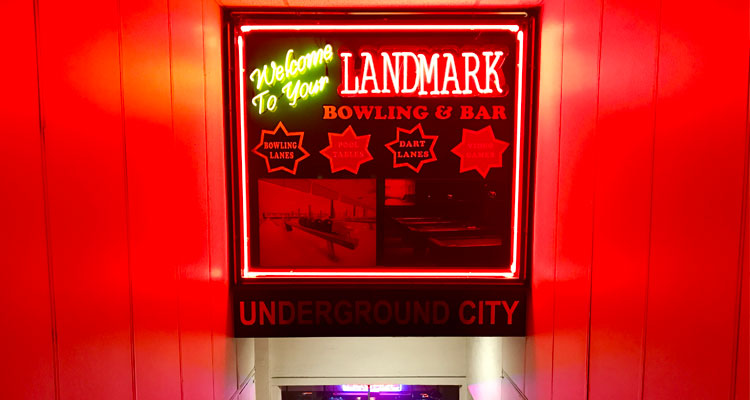 I might be biased on this one as the Central Library is one of my favorite places on earth, but the library could work. You'll want to barricade the ground floor as best you can and then build headquarters on the second floor, barricading the stairwells with book shelves.
After the grid shuts down, you'll need to glean knowledge the old-fashioned way, by reading books. Central Library has volumes referencing every possible skill you'll need to be a survivor, from The Ancient Art Of Ninja Warfare [796.815 H418AN] to The Urban Gardener [635 J283].
The Milwaukee Public Museum across the street is a good resource, too, especially with its massive weapon collections. The Nunnemacher Arms Collection alone features about 3,000 firearms.
Disadvantages: Lots of entrances and windows to keep track of, nearby army surplus store is now closed, and not a lot of good food places to raid, unless you count Domino's or Dunkin' Donuts.
Located in a solid, secure warehouse, Milwaukee Makerspace has transformed its building into a place where seemingly anything can be created, from a sewing room to blacksmithing to 3-D printing. Members have even built an award-winning army of robot villains (the Daleks from Doctor Who), so there are plenty of resources to build a giant catapult, a robot suit of armor with flame throwers attached to it, or whatever else you might need.
Nearby useful resources include the Bay View Library as well as several restaurants and convenience stores. If you want to get your foot in the door, check out the Milwaukee Makerspace website for membership info and start developing building skills now.
Disadvantages: I don't know, there's just something about Bay View that doesn't scream "this is a great place to endure the apocalypse."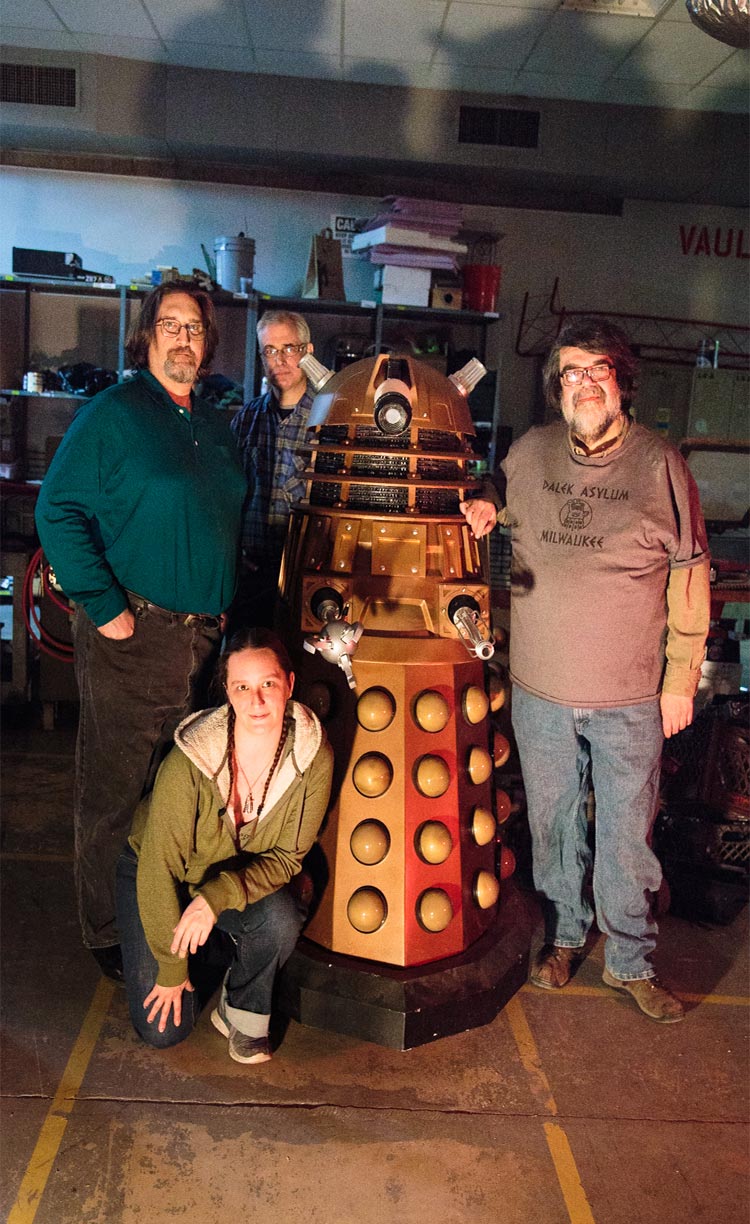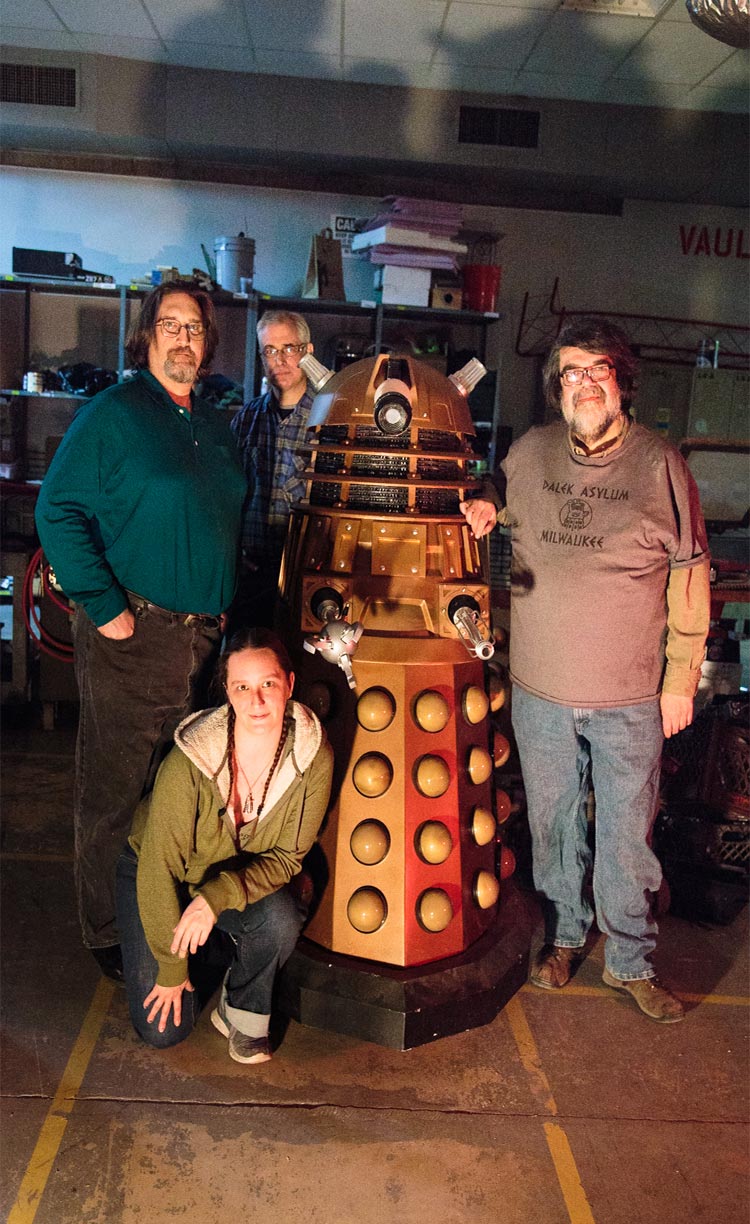 Okay, this might not be the best tactical pick, but come on, it's called Apocalyptic Tattoos (it was sometimes listed as Apocalyptic Tattoos & Suits) and it's already boarded up and ready for the end times. Located at 1950 W. Mitchell St., the former tattoo parlor (and suit store) is near the old, abandoned Modjeska Theater and looks like a set from The Walking Dead.
Disadvantages: Other than the appropriate apocalyptic name, there's not a lot of local resources, so your survival game is going to need to be top notch to make it here.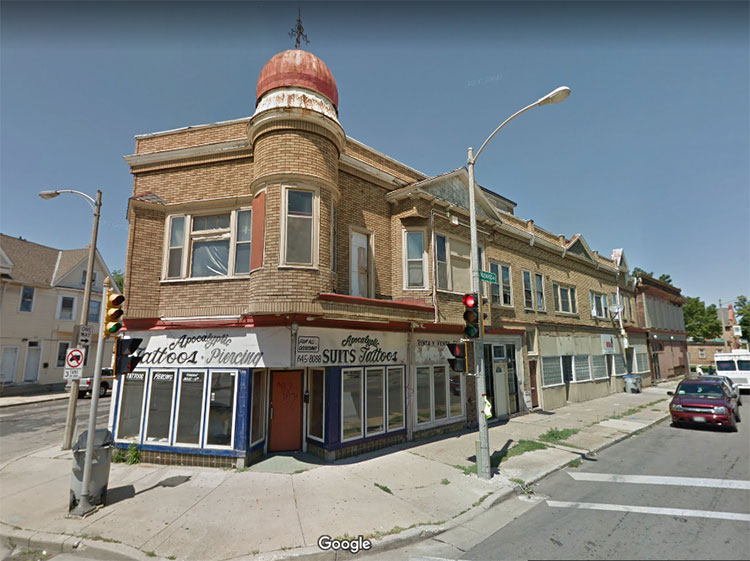 The Milwaukee book release for Apocalypse Any Day Now is at 7 p.m. on Friday, April 12 at Woodland Pattern Book Center. The after party follows in the apocalypse-proof Landmark Lanes at 9 p.m. The book is available online here: www.chicagoreviewpress.com/ApocalypseAnyDayNow