Our fat-free, dolphin-safe Milwaukee events calendar is chock-full of things to do, but only a handful of events are worthy of the lofty honor of "Record Recommended" (patent pending). Here are our recommendations for July 6-11, 2021.
TUESDAY, JULY 6
NBA Finals Game 1 Watch Party: Milwaukee Bucks vs. Phoenix Suns @ Deer District
THE BUCKS ARE IN THE FINALS. OH MY GOD. Games 1 and 2 may be in Phoenix, but you can bet there'll be approximately 8,000,000 Bucks fans crowding Fiserv Forum's much-hyped Deer District to watch the big games on the three big outdoor screens. And hey, you can even watch the away games inside the Fiserv for only $10! GET BUCKS LUST.
THURSDAY, JULY 8
NBA Finals Games 2 Watch Party: Milwaukee Bucks vs. Phoenix Suns @ Deer District
SEE ABOVE. GO BUCKS.
FRIDAY, JULY 9
Valerie Lighthart (record release) + You Win !!!, Black Challenger, Dora Diamond @ Cactus Club
It's been a while on account of the ongoing pandemic and whatnot, but can you remember those rare local shows where absolutely everyone on the bill was great in their own right and all brought something different and compelling to the table? Well, this is one of those shows. This stacked Cactus Club spectacle serves as a belated release show for motivated Milwaukee multi-hyphenate Valerie Lighthart, whose Pt. I: The Goddess EP came out June 18. She'll be preceded by an eclectic and impressive group of homegrown talent that includes the in-person live debut of You Win !!!, a rare outing by Black Challenger, and an opening performance by Dora Diamond.
Horsegirl + Negative/Positive @ X-Ray Arcade
Teenage "nu-gaze" trio Horsegirl will drop by X-Ray Arcade for the venue's first indoor/in-person show since March of last year. The up-and-coming Chicago trio will be joined by the Milwaukee-based music prodigies in Negative/Positive, who will kick off the show.
Boy Dirt Car + Vocokesh, Teenage Strangler
Electric Six + Volk @ Shank Hall
SATURDAY, JULY 10
Gigs 4 Good: Christopher Porterfield @ Tonic Tavern
Christopher Porterfield has experienced a great deal of the ups and downs the music industry has to offer. He's been signed, toured the continent, performed on national television, and shared the stage with some of the planet's most celebrated musicians. Along the way, he's dealt with album cycles, promotional pushes, label changes, and false promises about how his work would be handled. Through it all, the Field Report singer, guitarist, and bandleader is still here, still creating, and more motivated than ever before. This 4 p.m. show kicks off Tonic Tavern's biweekly "Gigs 4 Good" series; proceeds from Tonic's sales will go to the Milwaukee Women's Center and the Milwaukee Center for Children and Youth.
Rhett Miller + Trapper Schoepp @ The Back Room @ Colectivo
Though you probably know him better as the singer of Old 97's, Rhett Miller has plied his songwriting skills into a respectable solo career, too. The crooner will kick off a grouping of summer shows when he drops by The Back Room @ Colectivo to play material from his seven solo records and, with any luck, some stripped-down versions of Old 97's classics as well. Milwaukee troubadour Trapper Schoepp, who just released the lovely May Day, opens the show.
Diet Lite + The Fall Sound, Orange Costanza @ Bremen Cafe
The world is out of control. Up is down, left is right, dogs and cats living together, etc. About the only thing one can depend on these days is dependable bands putting out dependable music to help ease the dependable pain. Enter the Milwaukee-Chicago trio Diet Lite, whose new album, Seems To Be The Way It Tends To Go, is a 10-track slab of dependable indie rock if there ever was one. There's a welcome dash of humor sprinkled throughout Diet Lite's music. And that's not all: Seems To Be The Way It Tends To Go includes touches of harmonica-driven blues ("Flatlander Blues"), crunchy '90s alt-rock ("The Down Low"), and mile-a-minute punk ("Man Ray"). The perfectly poppy "Queen" deserves a spot on any and all summer playlists, and an aggro cover of Talking Heads' "Burning Down The House" (re-titled here as "BDTH") is simply a hoot. Is the final track, "(To You) Goodbye Blues," an acoustic closing-time country ballad? Depend on it.
The Get Down @ Mad Planet
The Get Down is back! After many months away, "Milwaukee's Biggest Dance Party" returns with a night of soul and funk music, dancing, and fun on the Mad Planet dance floor from 9 p.m. to close.
SUNDAY, JULY 11
NBA Finals Game 3: Milwaukee Bucks vs. Phoenix Suns @ Fiserv Forum
SEE ABOVE EXCEPT THIS TIME THE BUCKS ARE PLAYING AT HOME AND THINGS OUTSIDE THE FISERV WILL LIKELY GET REALLY OUT OF CONTROL OH GOD WE CAN'T WAIT GO BUCKS HERE'S A POSTER WE HAVE HANGING IN OUR OFFICE.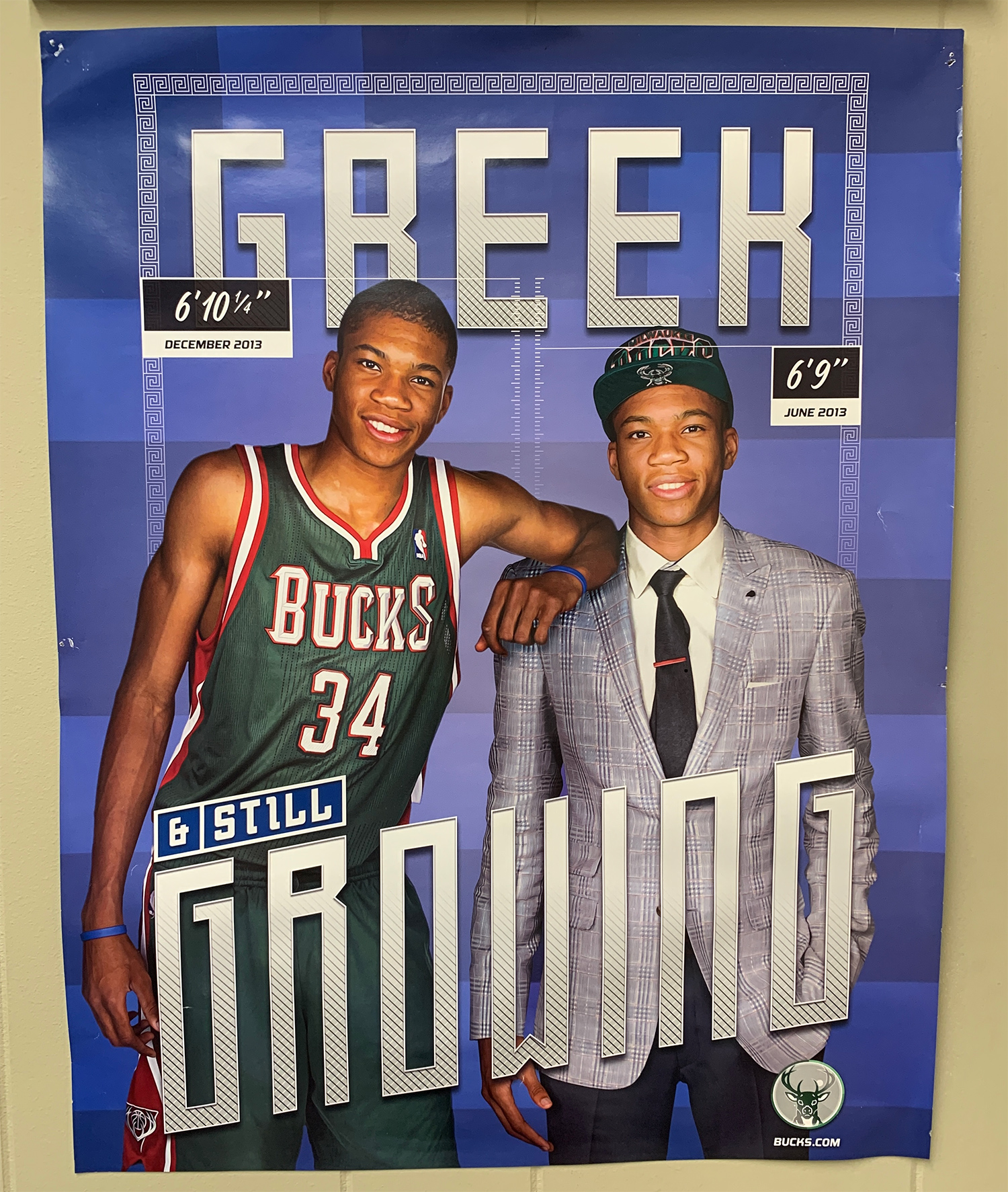 Exclusive articles, podcasts, and more. Support Milwaukee Record on Patreon.