Some places come and go, while some places become icons. Mandatory Milwaukee is all about the latter. Join us as we revisit beloved and well-worn local staples with fresh eyes, and explore how they might figure in the city's future.
Construction of Milwaukee's glorious City Hall (200 E. Wells St.) was completed in 1895. For the next four years, it was the largest occupied structure on Earth. (The building measures 393 feet from sidewalk to bell tower.) For the next 78 years, it was the tallest building in Wisconsin. (It was surpassed in 1973 by the U.S. Bank Center, which remains the tallest building in the state today.)
And, it seems, for City Hall's entire existence, it has been under further construction or reconstruction. Wondering why is as Mandatory Milwaukee as the building itself.
So what's the deal with this seemingly endless work? Before we get to that, please enjoy this quick tour of City Hall, courtesy of Milwaukee City Clerk Jim Owczarski and the all-virtual 2020 Doors Open Milwaukee:
Damn, those doorknobs are amazing. WHY ARE YOU GETTING RID OF THEM?
Anyway, all that construction. The modern flurry of work began in 2006, soon after the German Renaissance Revival-style building was declared a National Historic Landmark. A two-year City Hall Restoration Project aimed to renovate the building's terra cotta sculptures and other exterior features. When the project was completed in 2008, it came with a $76 million price tag.
A brochure from that time details that restoration work:
External renovations have included upgrading 1,900 windows, repairing sandstone, replacing hundreds of thousands of deteriorating bricks and replacing the copper roofing on the building's two spires. The biggest challenge was repairing the bricks, as the original bricks were shaped and constructed differently than those used today. And, the masonry construction method used in the late 19th century is much different than what's acceptable today. Also, 13,000 near identical replications of terra cotta sculptures and forms on the building were created to replace those that had chips, cracks and general deterioration.

The four-face clock on the bell tower was restored to its original look—a backlit white face with black hour markers. The tower itself was rebuilt from the inside out, ensuring its structural integrity for at least another 100 years.
The restoration honeymoon didn't last long, however. In 2011, a chunk of a decorative urn fell off the bell tower and crashed to the street below. (The Mitchell Park Domes followed suit a few years later.) Almost as soon as the scaffolding had been taken down, it was back up again, this time complete with plywood awnings to shield passersby from any more falling urns, cherubs, or gargoyles. The City of Milwaukee sued the firm in charge of the initial restoration work, Janesville-based J. P. Cullen & Sons. The case was settled out of court in 2013.
The out-of-court-settlement honeymoon didn't last long, either. Just one year later, in 2014, Milwaukee announced another multi-year, multi-phase restoration project. This one concentrated on the building's foundation and the fact that it was/is, well, sinking.
A must-read/listen WUWM piece from 2018 explains:
The northeast section of the basement, where some mechanical equipment used to be, is busy with construction workers. Their mission is to take the weight off the long wooden piles that were driven into the soft, river valley ground when City Hall was built.

There are about 2,600 of the 25-foot long pieces of white pine. The piles, along with oak planks and slabs of limestone, help support the 50,000-ton weight of City Hall that rises 393 feet in the building's bell tower. Department of Public Works (DPW) Engineer Craig Liberto says even though the vertical piles have long been submerged in water to protect them, they are slowly decaying.

[…]

The new foundation system consists of long steel tubes called micro-piles that are covered by grout and driven 75 feet deep. Then, a cage of metal rods, known as rebar, is built around existing steel vertical support beams and concrete is poured over the rods.

Later, metal tension rods are installed horizontally to tie the old wooden pile foundation to the new foundation. Over the next decade, as a protective water system is disconnected and the wood continues to rot, the weight of City Hall will transfer from the old base to the new one.
(Shout-out to Mike Anderson, a.k.a. Roshell Anderson, in the above clip. R.I.P.)
Work on the Incredible Sinking City Hall began in 2015; it's expected to last until at least 2022. Projected overall cost (in 2018)? A cool $58 million. Here's what the construction looks like today: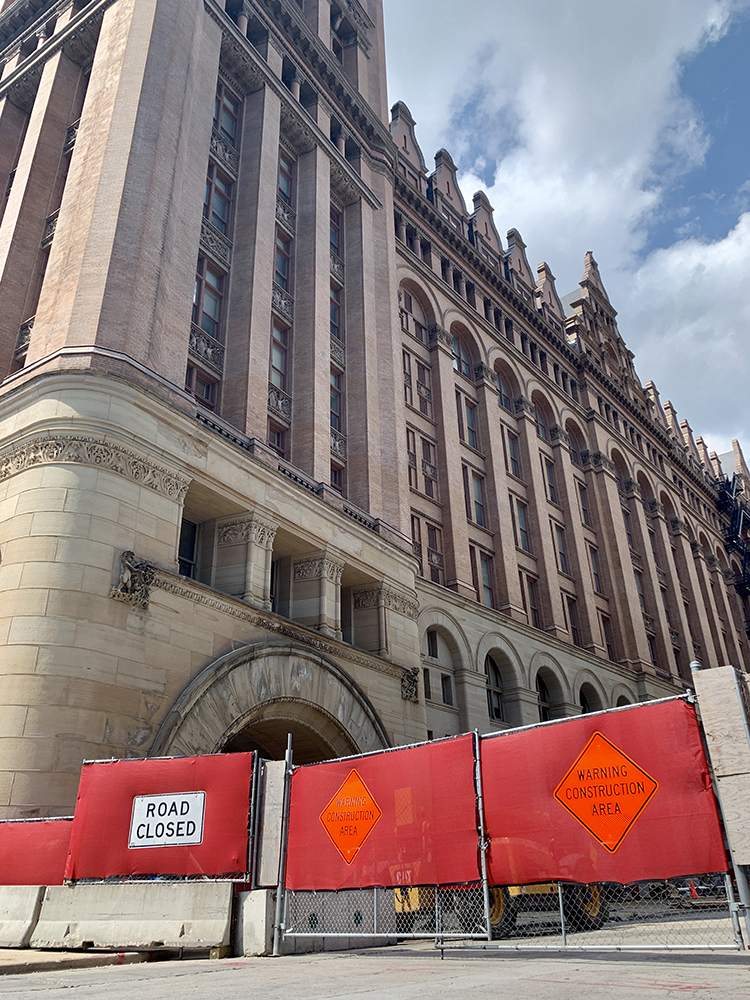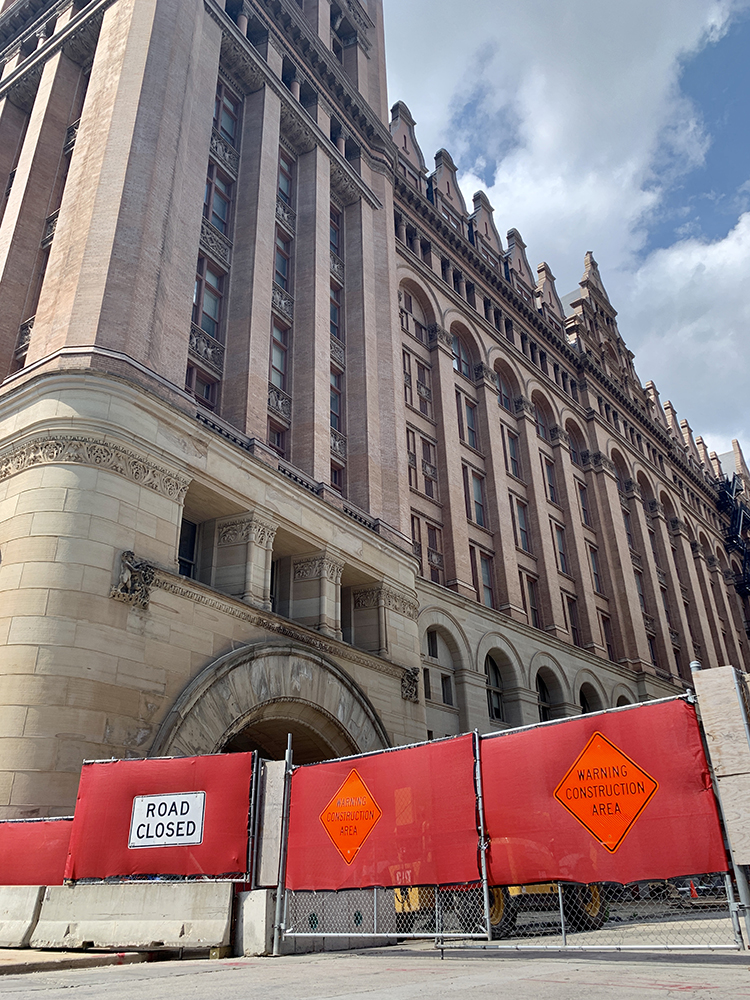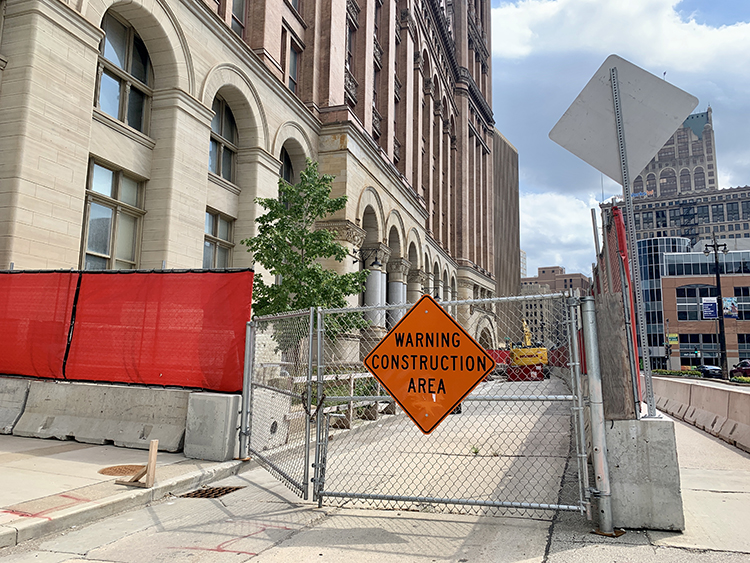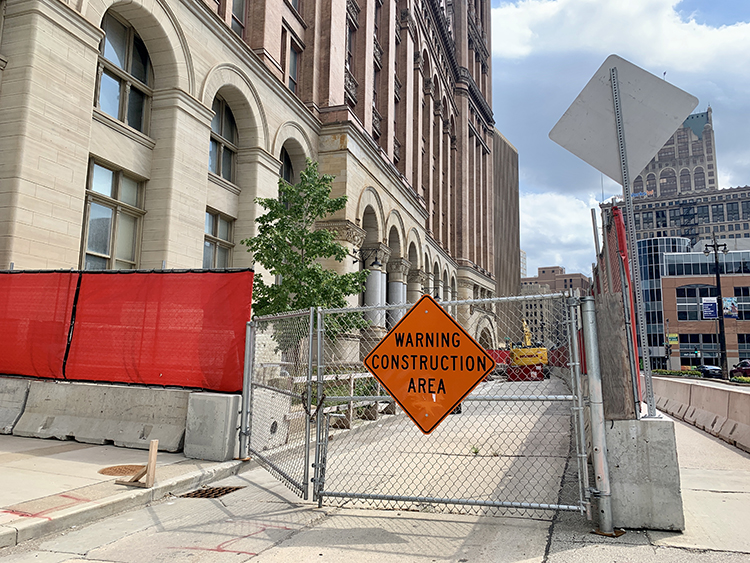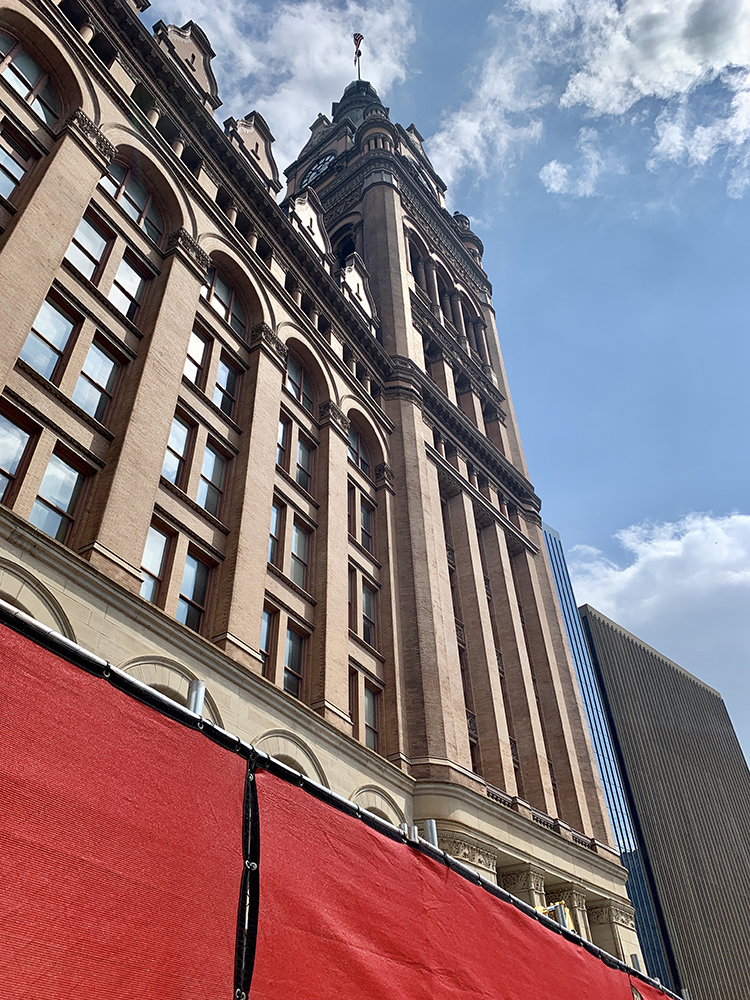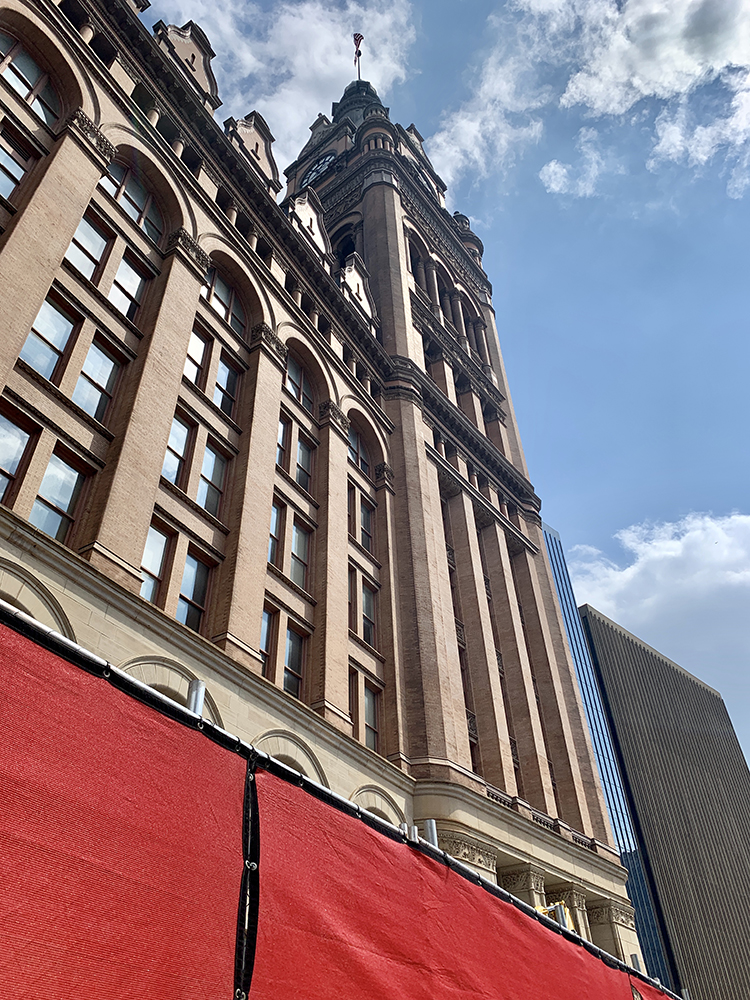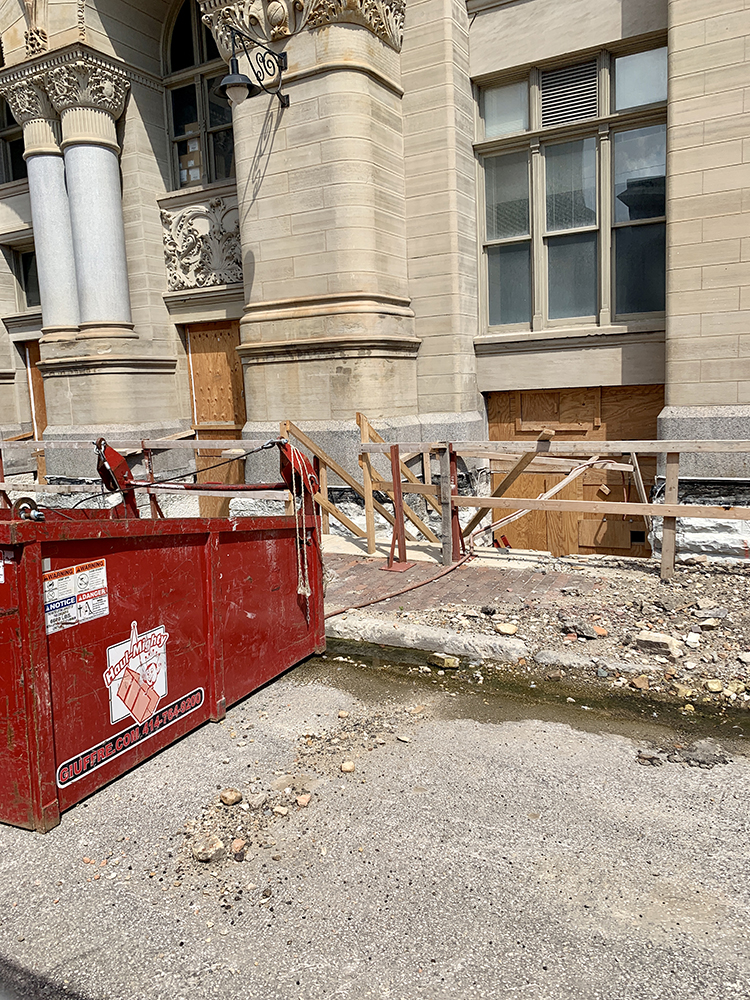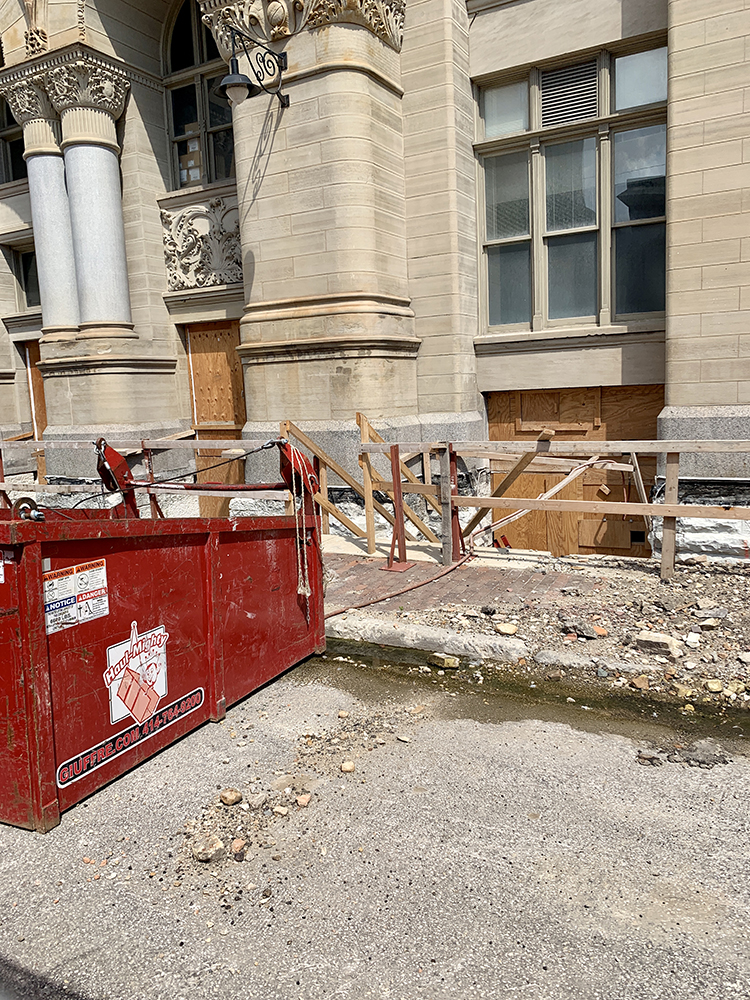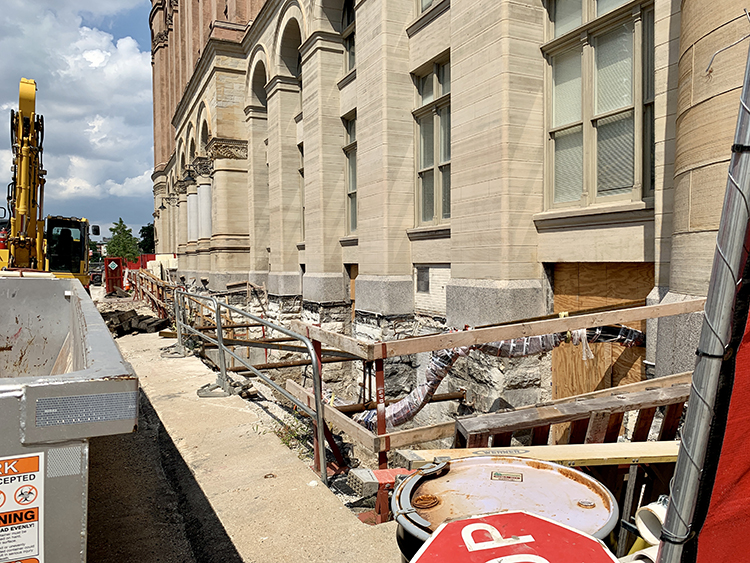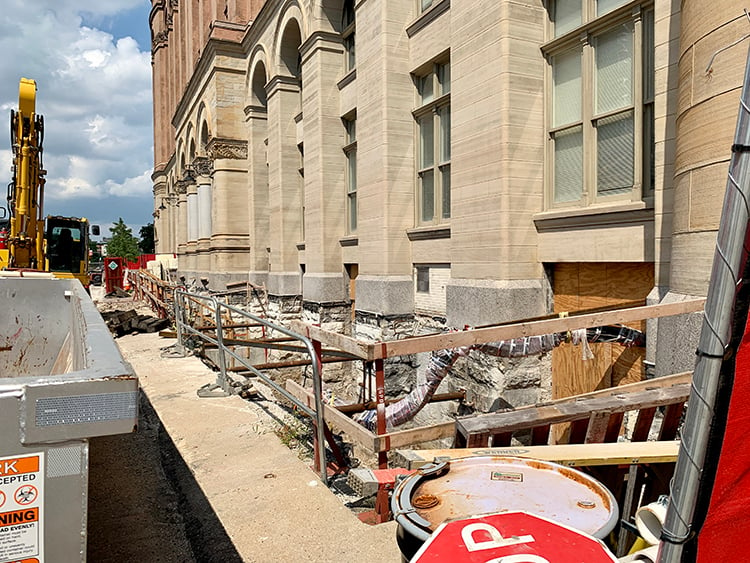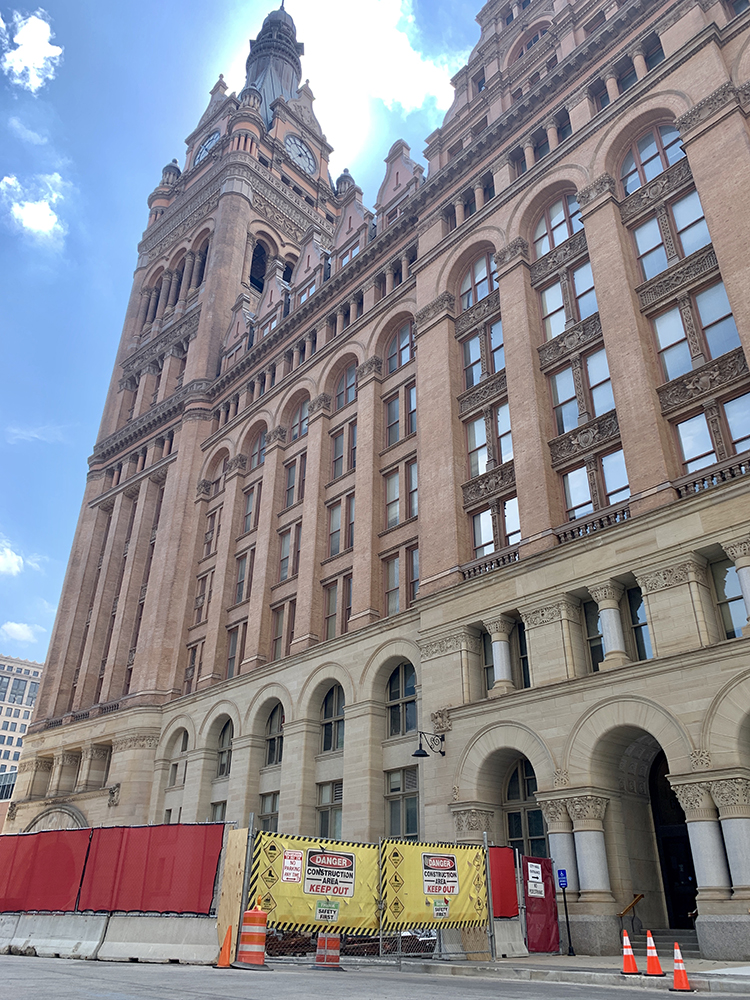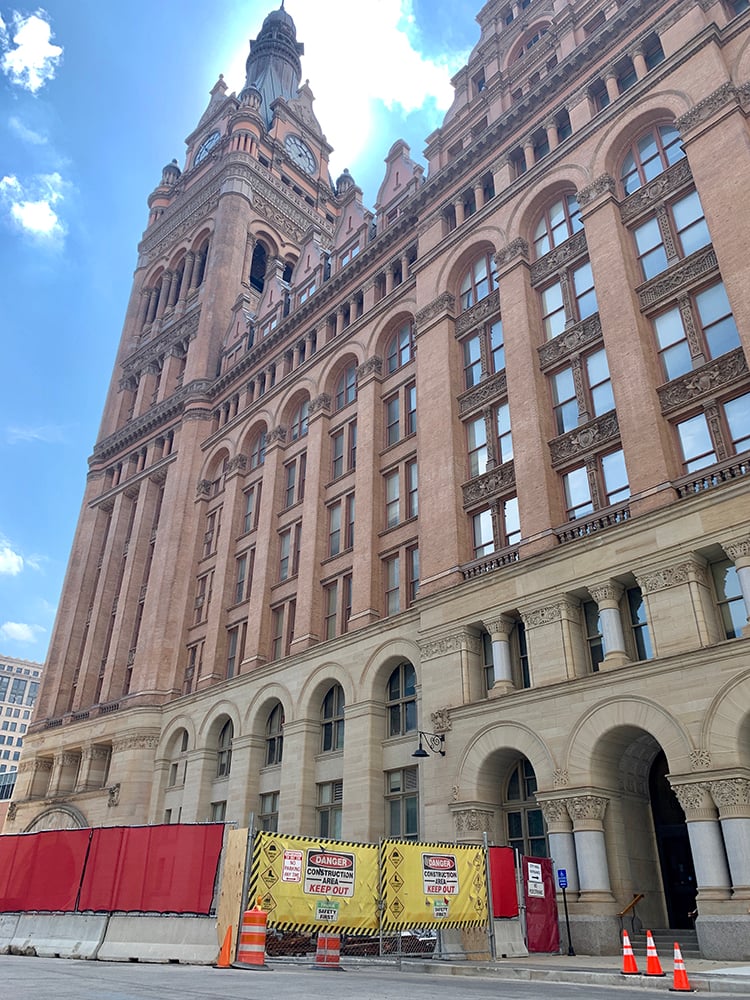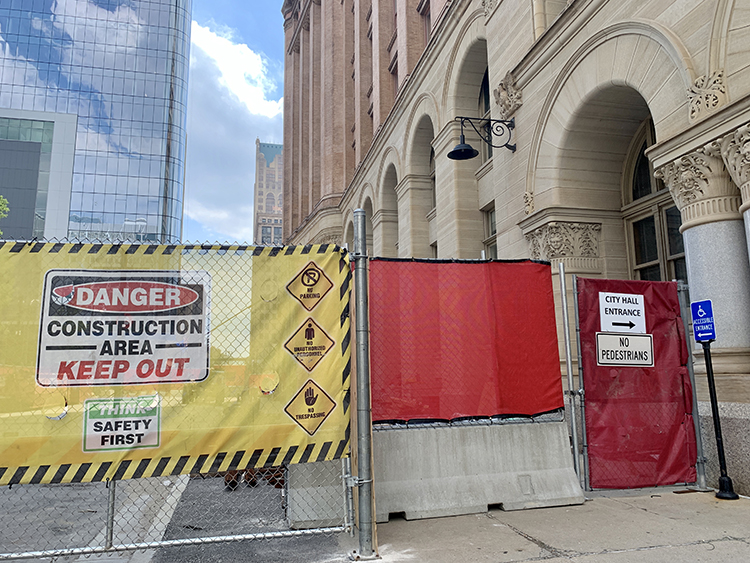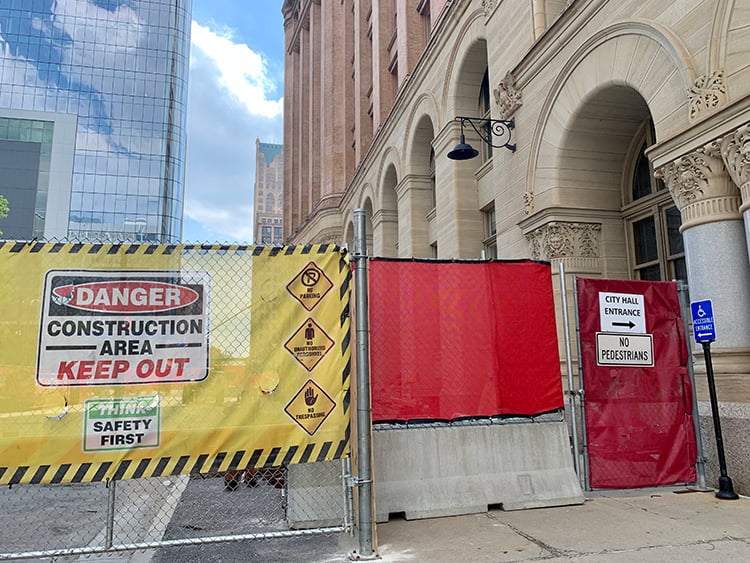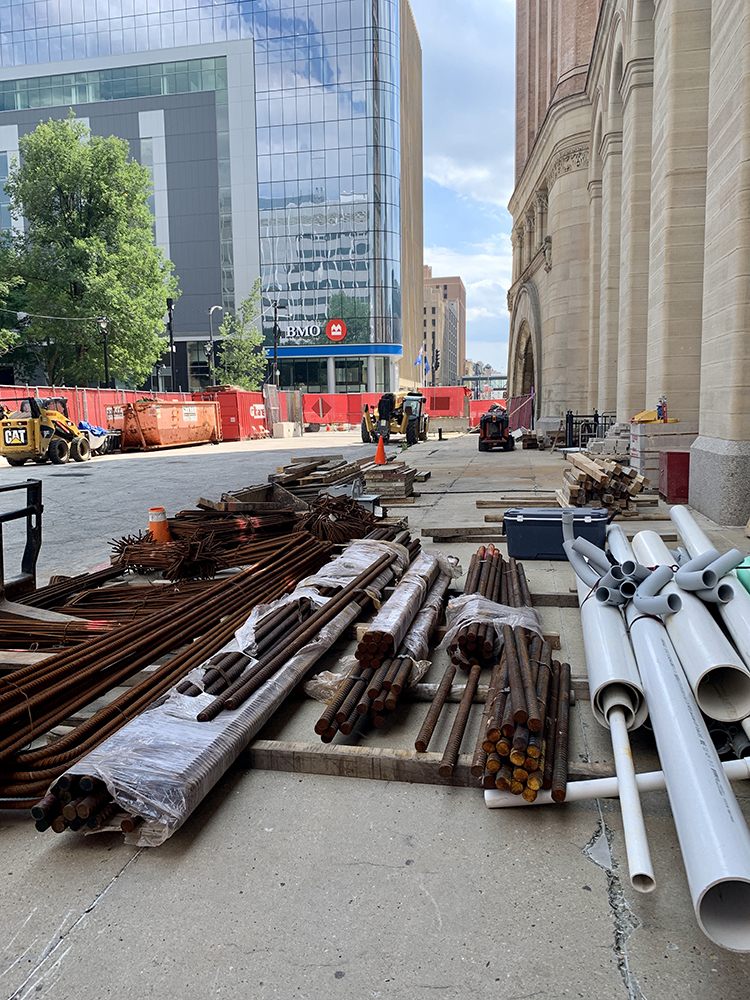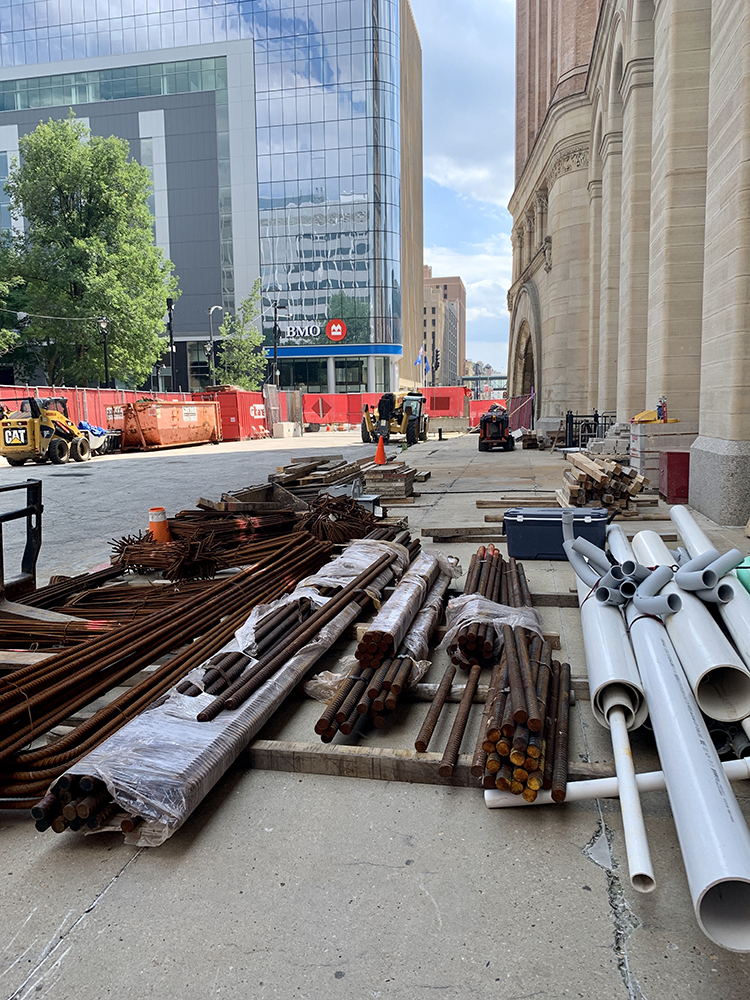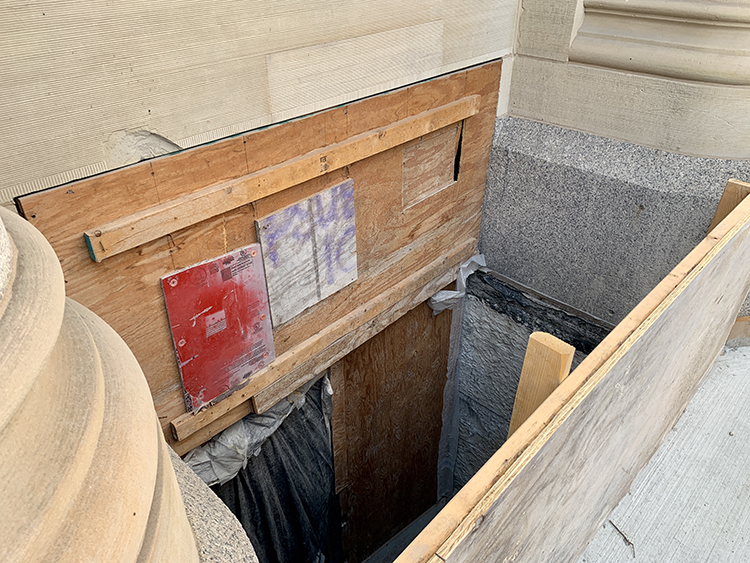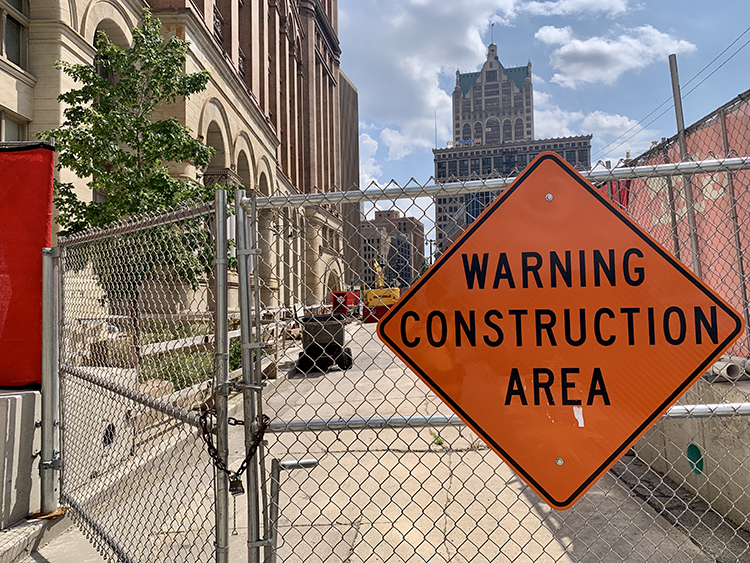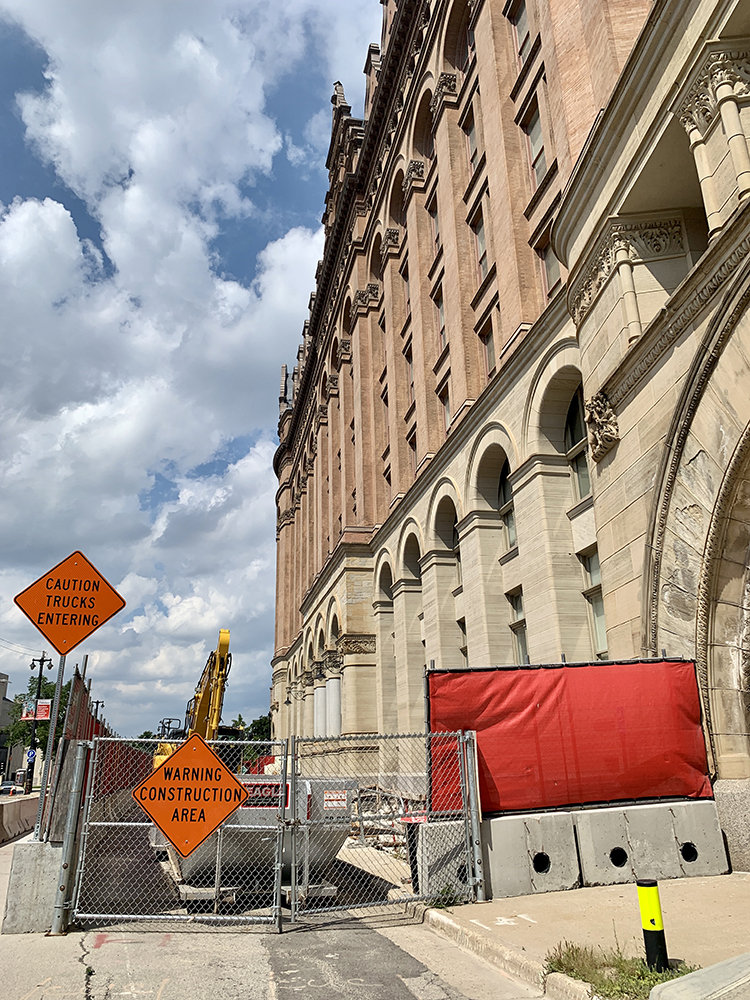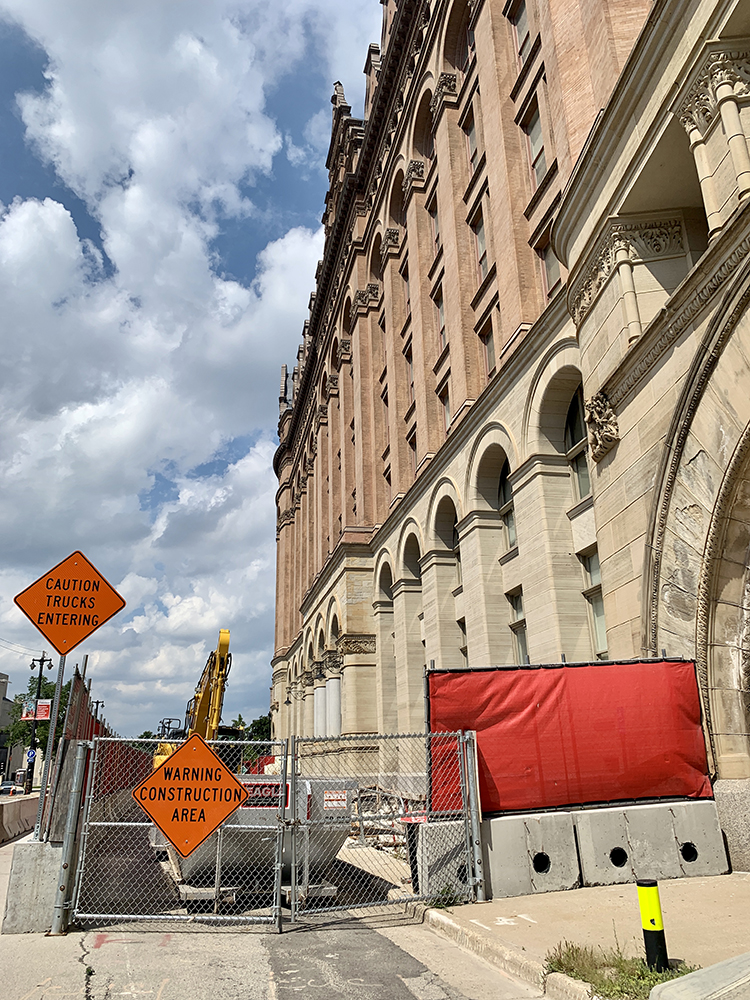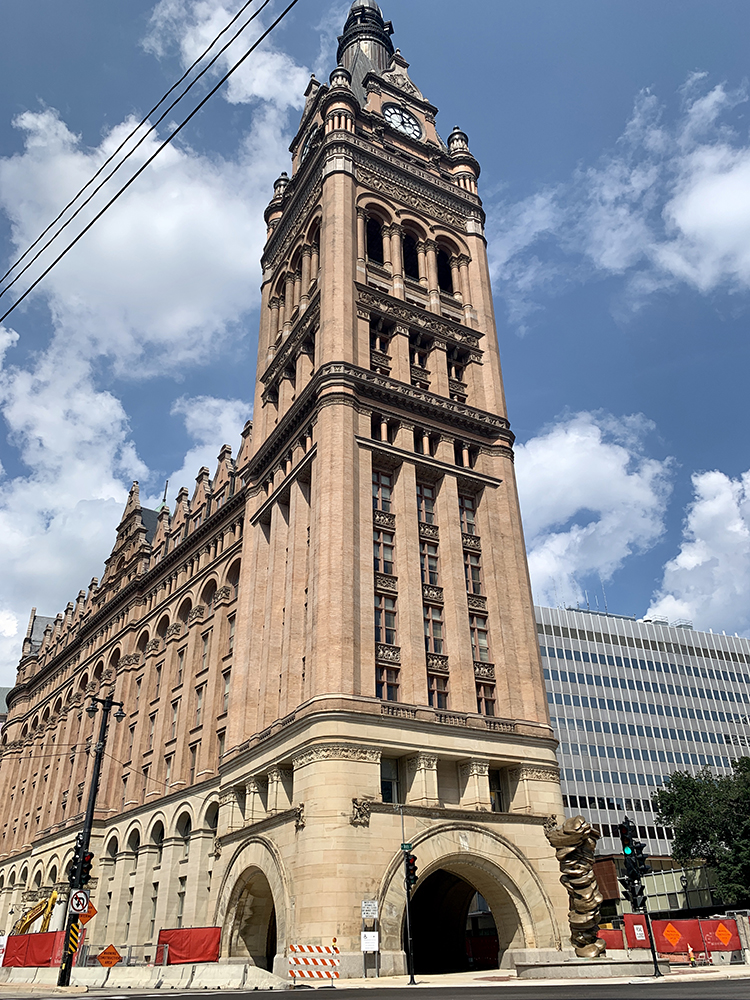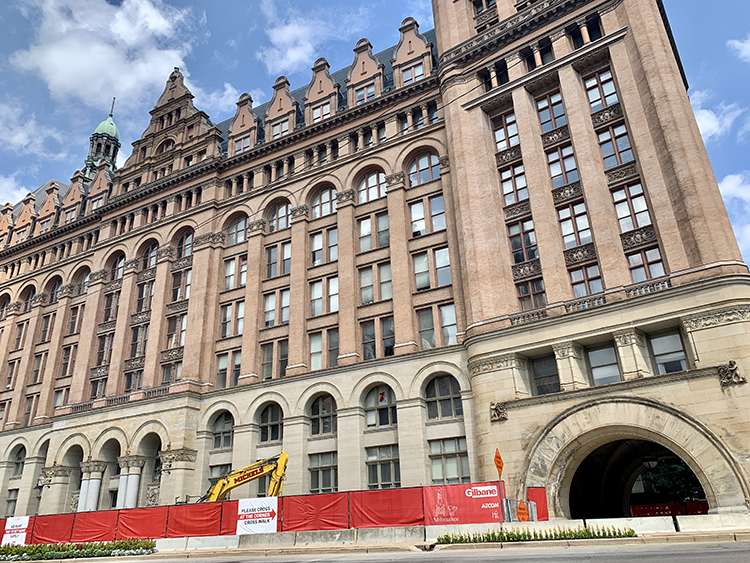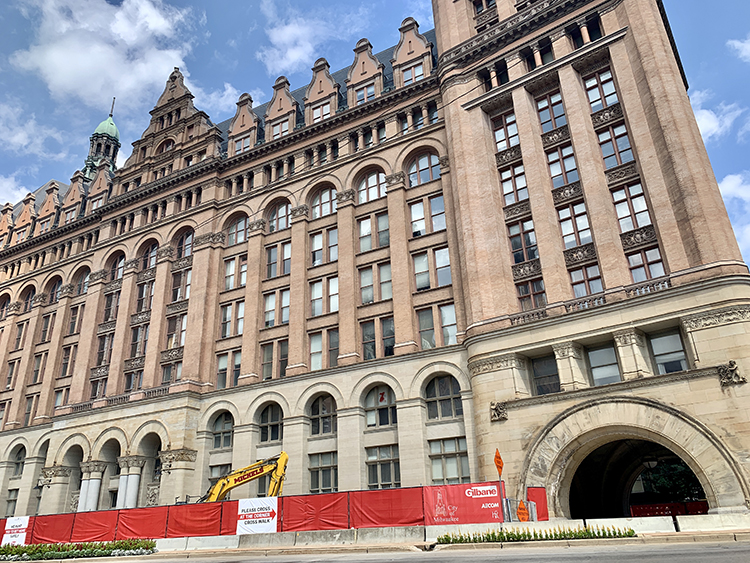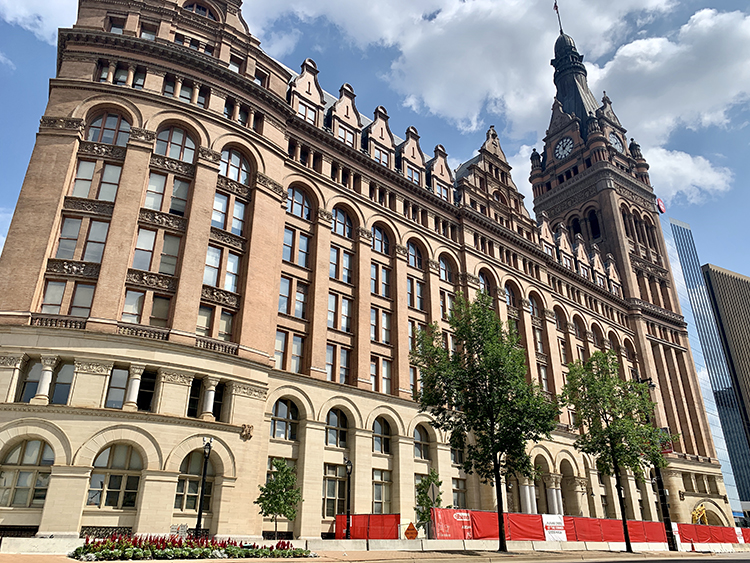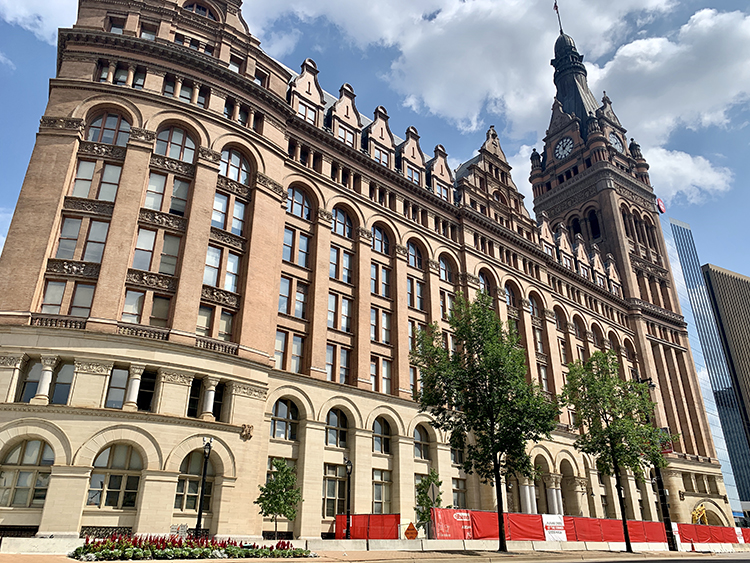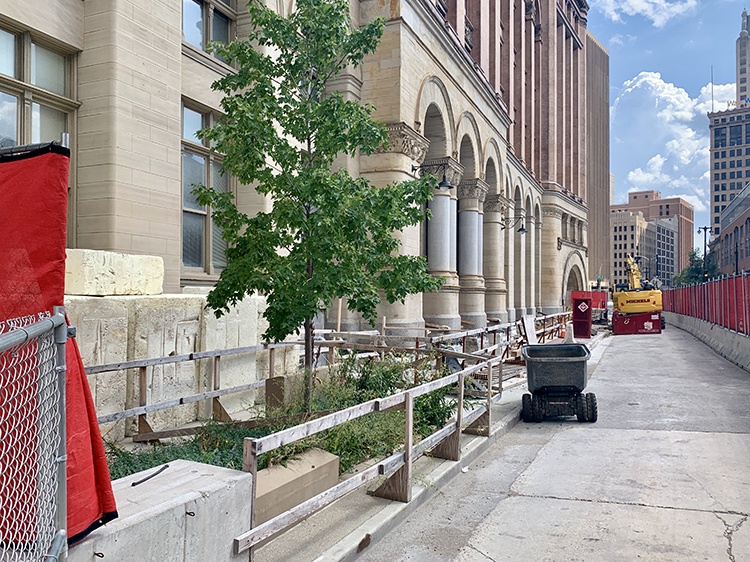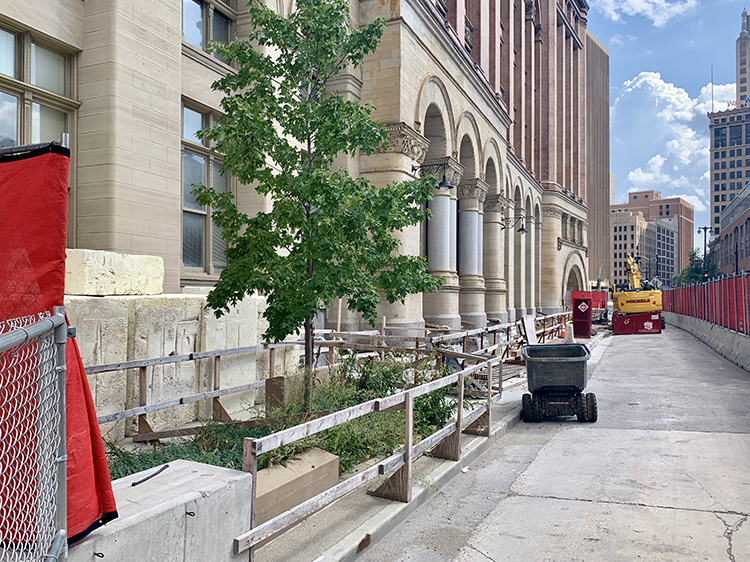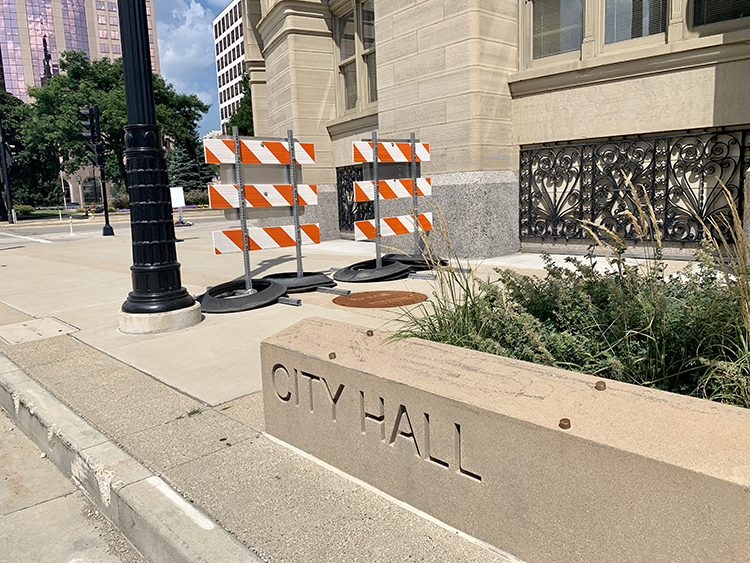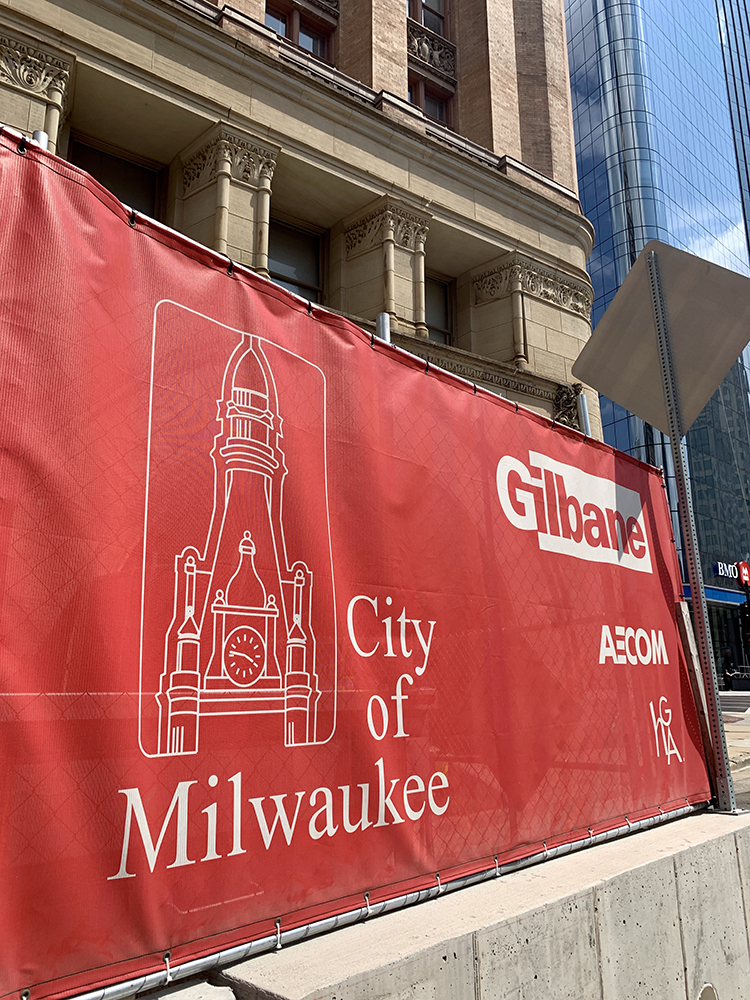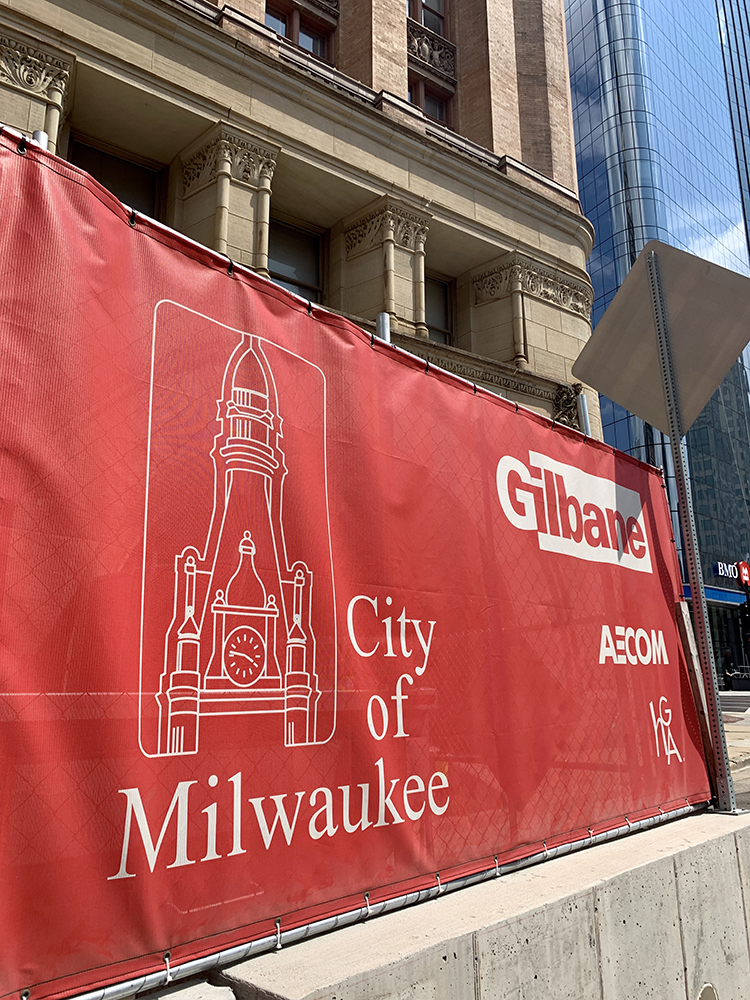 Boy oh boy, is there a better metaphor for Milwaukee than Milwaukee City Hall? If there is, we haven't found it. A proud and unique institution, in danger of sinking, in constant need of repair and upkeep. It practically writes itself.
This is a good time to reflect on the importance of what happens inside City Hall, too. As the country braces for a once-in-a-generation national election, it's crucial to remember the importance of local government. Frustrated with the choices handed to you every four years? Despondent that your voice is just one in a frothing sea of hundreds of millions? Keep up on local issues and vote every single time you possibly can. Follow us here at Milwaukee Record. Follow (and subscribe to) the Milwaukee Journal Sentinel. Follow (and subscribe to) Urban Milwaukee. Follow (and subscribe to) Dan Shafer's excellent Recombobulation Area. Vote national, but don't forget to vote local. It's the first step in ensuring we don't sink into the muck below.