Some places come and go, while some places become icons. Mandatory Milwaukee is all about the latter. Join us as we revisit beloved and well-worn local staples with fresh eyes, and explore how they might figure in the city's future.
Thanks to political leaders, Milwaukee County residents are fortunate to have a large, diverse, and well-maintained parks system. From beer gardens and concerts to picnics and birdwatching, Milwaukee's parks provide much fun and free entertainment for individuals and families.
Lake Park is arguably the most scenic of all Milwaukee parks, with a rich history and many landmarks. In 1849, Gustav Lueddemann purchased a large part of what is now the northern part of park, building his home there. He opened his grounds to the public, who used them for picnicking and recreational activities.
By the middle of the 19th century, democratic-minded city leaders wanted to build parks for all Milwaukeeans to enjoy, as many citizens couldn't afford well-kept gardens. Enter prominent landscape artist Frederick Law Olmsted, whose list of achievements included New York's Central Park and the U.S. Capitol grounds in Washington, D.C. Besides Lake Park, Olmsted designed River Park (now Riverside Park) and West Park (Washington Park). Of the three, Lake Park is most true to the landscape artist's intent: a European-style park with wide vistas overlooking Lake Michigan.
Lake Park spans 138 acres and contains the North Point Lighthouse, a golf course, tennis courts, and an upscale Bartolotta restaurant. And that's not all. Some highlights:
• Lake Park is home to a Native American burial mound dating from 300-400 A.D. In 1910, the Wisconsin Archaeological Society placed a plaque on the site to ensure its preservation. According to nonprofit organization Lake Park Friends, it's the last remaining mound of its kind in the city of Milwaukee.
• The North Point Lighthouse is one of the oldest surviving structures on the East Side. Built in 1855 by the U.S. Lighthouse Service, North Point's tower is 74 feet high. In 2007, The Queen-Anne-style keepers' quarters opened as a museum. Visitors can view maritime artifacts, including an original lighthouse ledger. The intrepid can climb the tower and be treated to a spectacular view of Lake Michigan and Downtown Milwaukee. The museum opens to the public June 14. Hours and admission information can be found here.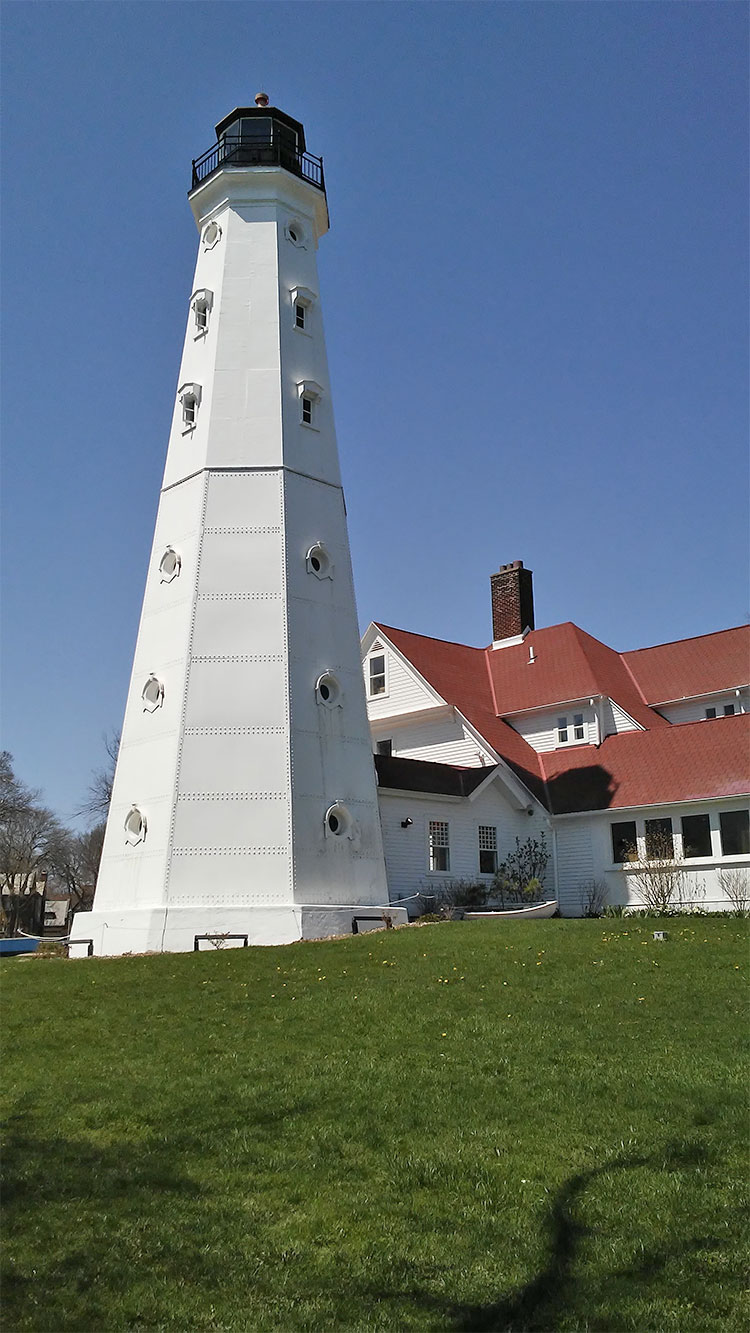 • East of the lighthouse are the Lion Bridges, completed in 1896-97. The perfect place for a leisurely stroll on a gorgeous summer day, the bridges overlook Lake Michigan. The bridges were designed by Oscar Sanne; the lion sculptures by Paul Kupper. Stonemason Otto Lachmund carved the magnificent beasts.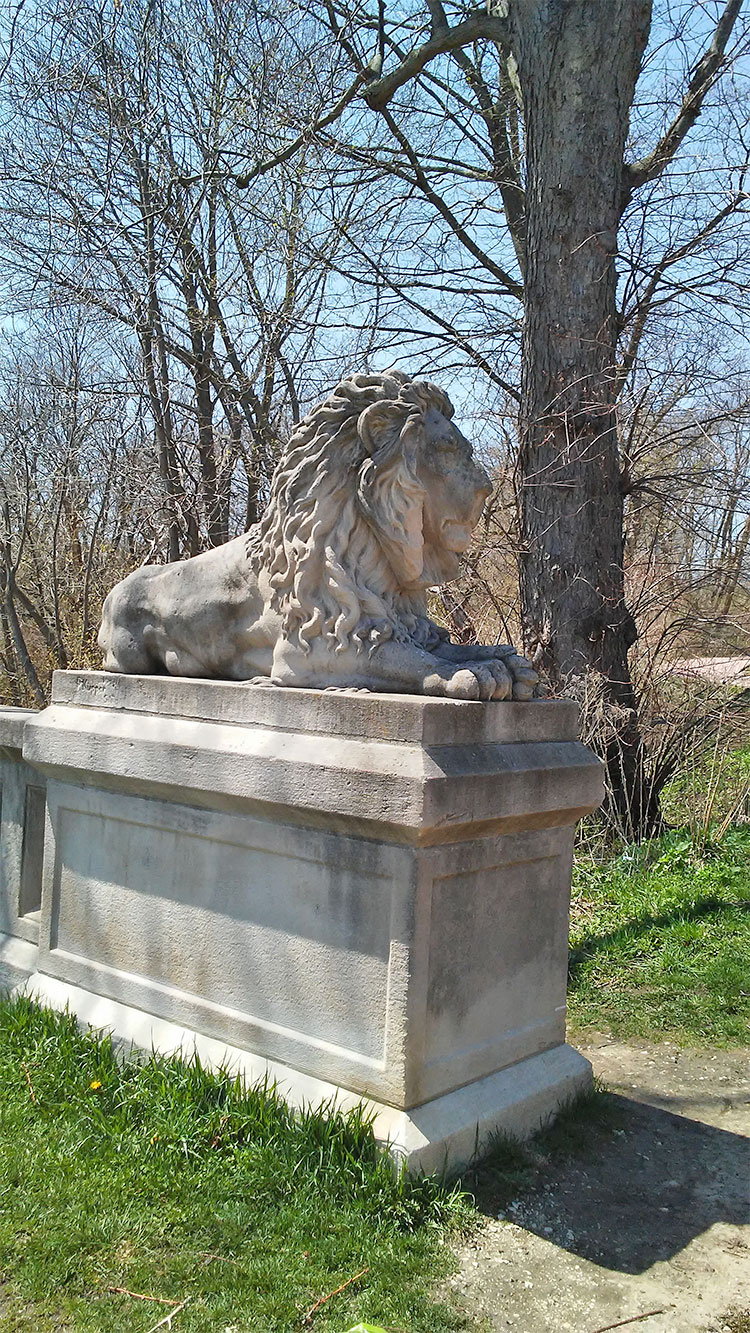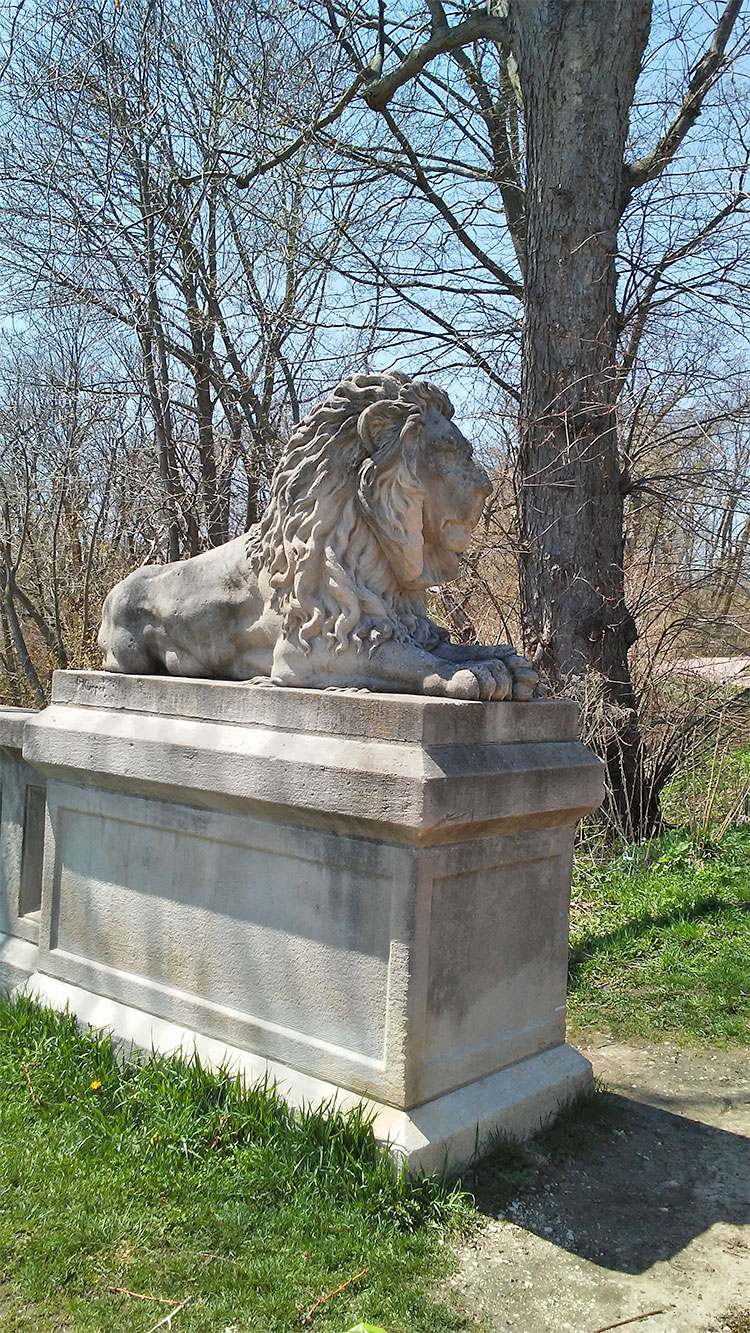 • The Ravine Road Bridge has been closed for several years for repairs to fix cracks in the concrete and damage caused by soil erosion. It is currently fenced off. Jan Uebelherr, vice president of communications for Lake Park Friends, says a lack of funding from Milwaukee County has impeded progress regarding bridge repairs.
"We're always waging that war," she says.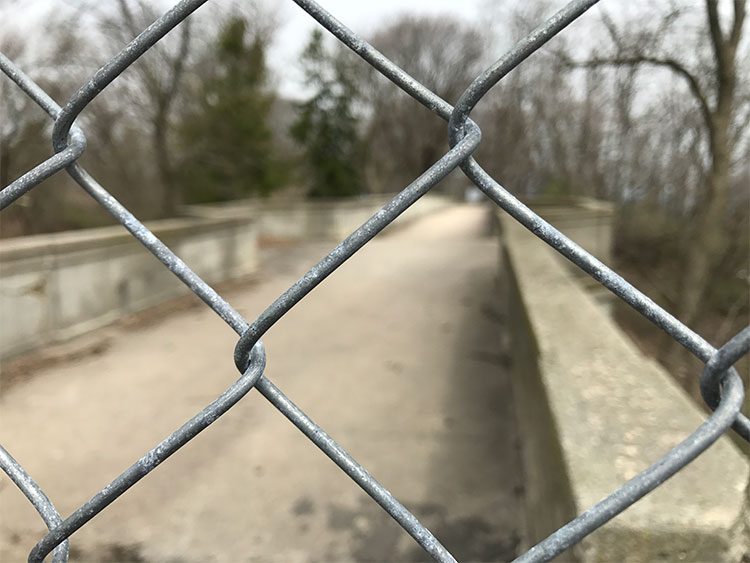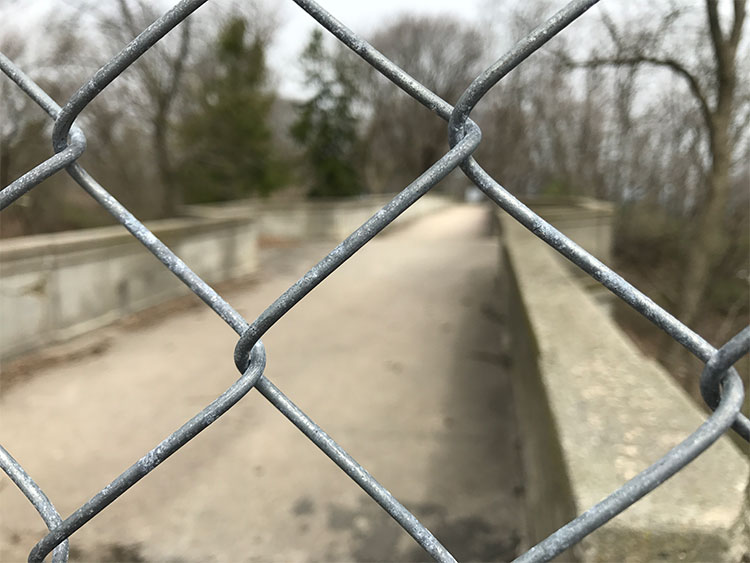 • North of the bridge stands a statue of Civil War physician Brigadier General Erastus B. Wolcott, erected in 1920. The statue was built in accordance with the wishes of Wolcott's wife, Laura Ross Wolcott, who was the first woman physician in Milwaukee County (and only the third woman in the entire United States to earn a medical degree.) She is also said to have also written its epitaph.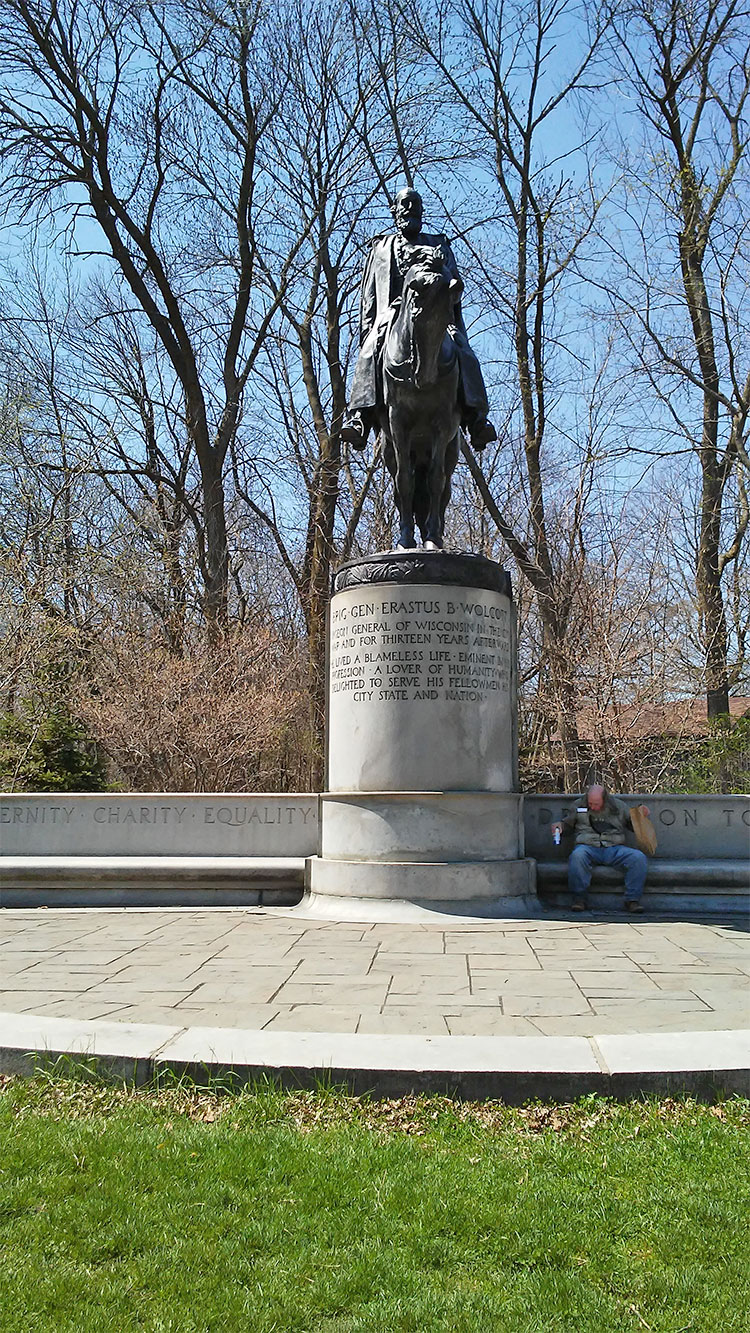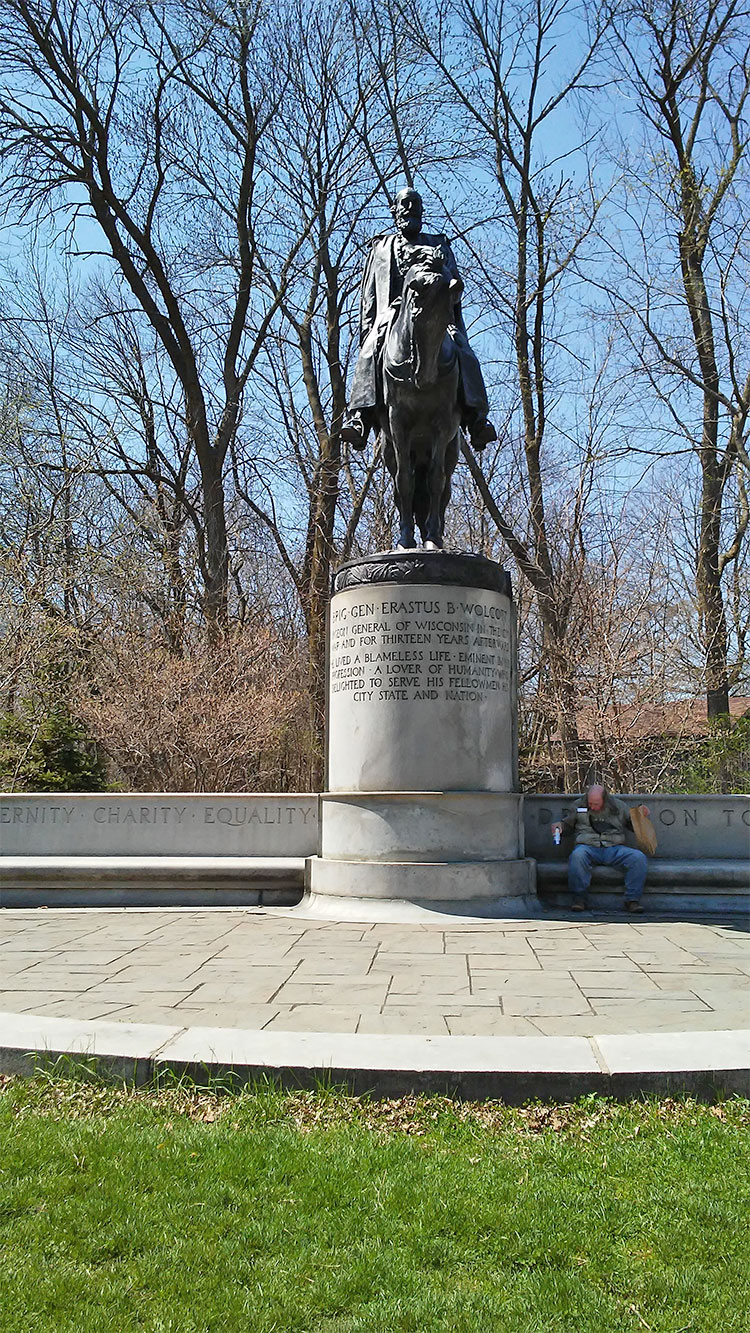 • Visitors can try the award-winning French cuisine of the Lake Park Bistro, located in a park pavilion on the north end. The restaurant's menu features an expansive wine list and French dishes ranging from traditional to modern, from tartare de boeuf to a chicken liver and cheese-and-honey plate. The bistro's picturesque location makes it an ideal place for weddings and other special events.
• Lake Park has always been a popular spot for many forms of outdoor recreation. The six-hole golf course opened in 1903; a children's playground in 1906. Tennis courts were added in 1909; a space for lawn bowling was added by 1919. The park received new bowling greens in 1961 and a clubhouse in 1962. Lueddemann's original home is now the offices of Lake Park Friends.
• Lake Park hosts summer concert series Musical Mondays, beginning July 2 with Chicago ensemble the Gaudette Brass Quintet; and Wonderful Wednesdays, a family-friendly event beginning June 20 with Ms. Jen & The Jellyfish.
• And last but not least, Lake Park visitors can imbibe imported and local brews at the city's Traveling Beer Garden, July 25-August 5, 5-10 p.m.